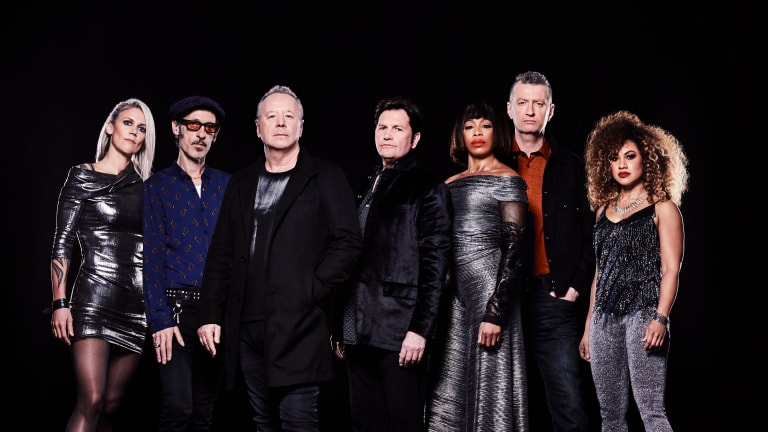 Jim Kerr of Simple Minds on how rock music more utility than cultural nowadays, and more
As an example, the Simple Minds vocalist does not think "Don't You (Forget About Me)" would be a hit if released today.
Get vinyl, CDs, box sets, collectibles and Goldmine-only exclusives in the Goldmine shop! 
By Joe Matera
Having first formed in Glasgow in 1977, Scottish outfit Simple Minds celebrate 45 years this year as a musical unit. Though the group have endured lineup changes along the way, it's two principal songwriters and founding members, vocalist Jim Kerr and guitarist Charlie Burchill have remained a constant.
Their commercial breakthrough first came in 1982 in the U.K. and Europe with their fifth studio outing, New Gold Dream (81–82–83–84) but it wasn't until their 1985 single, 'Don't You (Forget About Me)' which was featured in the 1985 film, The Breakfast Club that the band finally cracked the lucrative U.S. market with the single topping the U.S. Billboard chart. Their seventh studio album, Once Upon a Time released later that same year, further solidified their U.S. commercial standing.
This month sees the band release their nineteenth studio album, Direction of the Heart. During a stopover in France on their recent European jaunt, the 63 year-old Kerr spoke to Goldmine.
GOLDMINE: The new album, Direction Of The Heart is very much an electro-rock sounding record. As it was recorded remotely and in various studios across several countries, did the changing environs have any influence on the end result?
Jim Kerr: I don't think moving around particularly influenced the sound. However, if you've been in a good place where you are feeling good and you've got energy, and you've got creativity then there is no doubt about that being an influence. The thing that overshadows this album was the COVID thing. We were all working around that. We spent many of those lockdown months in Sicily where I live and where Charlie (Burchill) my songwriting partner lives, too. So that gave us a laser light focus which between there and Germany where we also worked, Charlie and I worked away on the songwriting.
GM: Were you surprised at the breakout success of "Promised You a Miracle" which gave Simple Minds their first ever hit in the U.K.?
Jim Kerr: When I first heard the riff to "Promise You a Miracle," after Charlie had come up with it, I thought there and then that it was going to do it for us. With every release we had been climbing up the pop charts and so between that and the growing live audience it was just a matter of time in finding a pop song that was in sync with it all. I think if we had sat down and tried to write a pop song, I don't think that could have happened. But walking in the room that day and hearing Charlie messing with the melody, I knew it was going to do it, just from hearing that riff. It's not so much a pop song, as it's just a Simple Minds pop song. A song I felt that would open doors for us.
GM: New Gold Dream (81-82-83-84) has been cited as a big influence on U2 and their producers Daniel Lanois and Brian Eno.
Jim Kerr: Yes, they have said that and it's very kind of them to say so. I know the band had put out a book several years ago that detailed the recording sessions for The Unforgettable Fire album and there's quite a lot in there about the music they were listening to at the time and New Gold Dream is mentioned a lot. Personally, I can't hear it really, but it is very generous and a compliment for them to say that.
GM: "Don't You (Forget About Me)" has transcended the movie it originally came from, whereas the movie seems dated now, your song doesn't. Do you think the song would achieve being the same kind of hit if released today, whether as part of a movie soundtrack or as part of an album?
Jim Kerr: I marvel at the fact that the song sounds so fresh and so omnipresent. But would it be a hit if released today? No, it wouldn't because what music doesn't get any radio play now? But on the premise that a good song is always appreciated by subsequent generations, I think it became a song of a generation because of the combination of the movie and all the other stuff and I think the other generations seem to relate to the iconic-ness of it; it's an authentic '80s song. Apart from that I think there is so much joy in the song and it is a sentiment that most people can relate to.
GM: That song had initially been offered to and rejected both by Bryan Ferry and Billy Idol, yet having Simple Minds record it, led to the group achieving its first American No. 1 single.
Jim Kerr: We'd rejected initially, too, just because we didn't do other people's songs. We thought, "You want us, but you don't want our songs?" But we were young and brattish and insecure about it all. However, they pursued us so much, that what did it for us in the end was meeting Keith Forsey the producer (and songwriter of the song with Steve Schiff) and director John Hughes and getting their enthusiasm talked us into giving it another go. And literally it was one go, as we went into a studio for three hours and came out with it on the other side. And we all thought it sounded pretty good. I think the success was due to the combination of the movie plus MTV America who were right behind us and all over it. It came at a time where we were about to go through the door into the big league anyway as we already had recorded "Alive and Kicking" which went on to be No. 2 on the Billboard chart in America.
Read a review of the Simple Minds' album Direction of the Heart 
GM: Street Fighting Years (1989) was originally intended to be a political synth-pop opus co-produced by Trevor Horn, but instead saw the band venture down a more folk path.
Jim Kerr: One of the reasons we wanted to work with Trevor was because of all the magnificent productions he had done previously with the Fairlight and the keyboards and all that ground-breaking stuff. And at the same, we ourselves were getting bored with our thing as by that time we were about seven or eight albums in and about 10 years in and we were at a stage where we wanted to strap another engine onto our thing. However, at the same time the reason Trevor wanted to work with us was because he too was bored with his thing! So, it was a really, tough record to make but we found a way. On "Belfast Child" that song was where Trevor really encouraged us on as Mick MacNeil who was our keyboard player was also an accordion player who also played Celtic music but when Trevor found that out, he was like, 'that's a real strength! You've got to find something in that world'. And lo and behold we did, and it became "Belfast Child."
GM: Why was Simple Mind's 2005 album, Black & White 050505 never released in the U.S.?
Jim Kerr: The truth of the matter is that for about 15 years prior to that album, Simple Minds were considered out to pasture as far as those in the industry were concerned. And so, we had to make a decision. The odds of getting where we are today were really very limited at the time and, though it seemed we were done, we still felt good music in us and so we didn't want to stop. But there was no interest in the band in America. It felt like we were on the table flatlining. And how do you get off the table? We thought there was a chance of someone coming along at some point and revaluating us if we just knuckled down and did great work continually and work with a fanbase that we had.
So, we bought into this, and said, "let's do it." And you just can't do it half-assed. You've got to do it almost knowing that your record is never going to be released in America and that the record will never be played on radio. But we decided to go ahead anyway. And then we had to build on the confidence through the years, where people began reappraising us and other bands that came along were namechecking us. Suddenly the landscape changed and here we are today with this record and with a record company in America that are happy to be working with Simple Minds again.
The music industry is such a different beast today compared to when you first started?
Jim Kerr: I've been hearing about the death of rock and roll since the '80s. When was the last time you went into a pub and saw a band playing? There is no pub circuit or university circuit today. Back then pubs were where bands were made. And there's no record companies really wanting to pay for a band like six people and all their wages. It is easier for them to get a kid with a computer and an acoustic, so you could say we're from a period where not only rock and roll drove the culture, but music drove the culture, too. Whereas music for a lot of people now, and there's as many people listening to music now than ever before, but perhaps they're listening to it as a sort of utility.