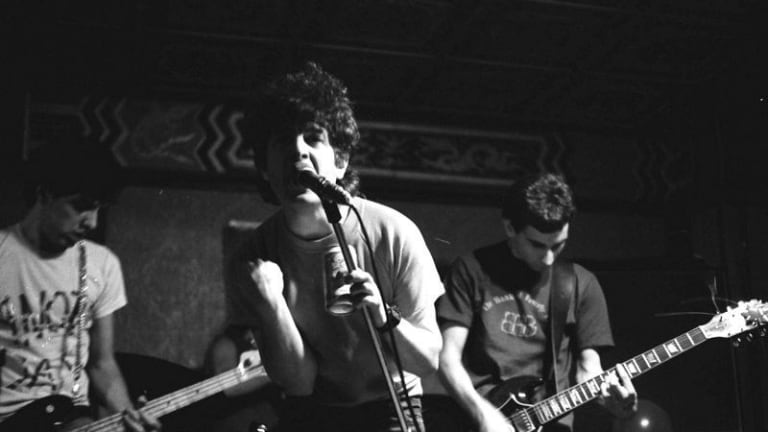 Keith Morris continues to be a monumental force for U.S. punk rock
Keith Morris deserves to be on the Mount Rushmore of U.S. punk rock, and he shares with Goldmine his journey through a full life in music (Black Flag, Circle Jerks, Off Keith) and love for records.
By Alan Brostoff
If fans were ever going to build a Mount Rushmore of U.S. punk rock, Keith Morris would have to be on that monument. Original voice of Black Flag, started and continues to perform with two bands, the Circle Jerks and Off!, Keith has shared his life journey through his songs and one of the best autobiographies out there, My Damage: The Story of a Punk Rock Survivor. Keith was nice enough to let me interrupt his breakfast to talk Circle Jerks, record stores and the secret to picking a band name.
Goldmine: Keith, thanks for taking the time to talk.
Keith Morris: Well, you caught me with a mouthful of food because I was just finishing breakfast. A mouthful of fruit for a healthy breakfast. I'm just going to chomp away here.
Goldmine: How did you come up with the name Circle Jerks for the name of the band? 
Keith: Well, what was happening at the time was that we were scrambling for a name. We had used Mystic Hippy, we used The Runs. There were a handful of other names that that we had used for a few other gigs, but we weren't happy with any of the names. So, one day, Greg Hetson, who is the guitar player in the Circle Jerks, and I were hanging out with Raymond Pettibon, the artist who did all of the Black Flag artwork and some of the Circle Jerks artwork. We are just hanging out and drinking, beer, smoking cigarettes, just being a bunch of goofballs, and we were hitting on Raymond for some artwork, for some flyers, for some upcoming shows. We were standing around the room that Raymond lived in, at his parents' house. It was actually the library and he just thrown a mattress down on the floor. As you can imagine there we all of these books around him and I'm just kind of looking around, checking out some of the book titles when I came across the American slang dictionary. I immediately pulled that down off the wall, because the light goes on over my head, the big idea light bulb and I start flipping through the pages. I go through the As, I go through the Bs. I'm about halfway through the Cs, I'm running my finger down, all of the descriptions all of the words and I came to Circle Jerk. Greg Hetson was standing right next to me. And when my finger pointed to Circle Jerk, that was when we knew we had a name for our band.
Goldmine: Interesting. Obviously choosing a name like that, you probably knew right away that If you make it big, you are probably not going to get too much radio play. 
Keith: We didn't think about stuff like that. We did not care about stuff like that and nothing like that ever entered our minds. We thought what are some of the most outstanding names in rock and roll; The Beatles, The Rolling Stones, you know, just stupid, silly goofy names. We thought The Circle Jerks fits right in the whole with those bands.
Goldmine: Forty years on since the record Group Sex first came out (1980). Fourteen songs, 15 minutes that some might say make up one of the greatest punk albums ever done. 
Keith: And some might say the worst songs ever on vinyl. 
Goldmine: I think I go with those that say it's a must-own record for everyone's collection. Trust Records is putting out a second edition of the 40th anniversary release as the first edition sold out in less than 24 hours. The original album sells for upwards of $200 if you can find it.
Keith: Well, if anybody pays that kind of money, I feel sorry for them. And you're correct about how fast the first edition sold, but I don't really pay that much attention to all that stuff. We're also getting ready to re-release Wild in the Streets (1982). Now I do know about that one a little more because we had to do the quality control and we added some bonus tracks, because Greg (Hetson) found a cassette of a practice session in my garage over in Inglewood, California and the quality was pretty amazing because the cassette players at that time were the ones with the built-in mic. You know, the pop top, plug it in, and let it go. So, the quality is actually pretty amazing. For, you know, just a bunch of guys bashing and banging in a garage. A garage that was insulated with egg cartons and some crusty carpet. Surprisingly, the older people in my neighborhood never complained about all of the noise coming out of the garage, it was the younger kids. The kids complained about the noise and would throw rocks against the side of the garage. When they could not find rocks, they would turn to empty bottle and half-filled cans of malt liquor, occasionally a brick. We actually had dings on the garage from people throwing stuff at us when we were playing.
Goldmine: I read that you worked at a record store when you were younger. Can you share what that was like? 
Keith: Way back in the day I worked at about four different record stores. The first record store I worked in was all English imports. So, we were listening to stuff like Mott the Hoople and David Bowie. I remember when Ziggy Stardust came out and we were listening to Manfred Mann's Earth band, and other sorts of fun stuff. One of the one of the favorite records that was played at the record store was a band called Trapeze. They were like a power trio. One of the guys went on play to for Deep Purple and one of the other guys went on to play in Judas Priest, but mostly we listened to prog-rock. The guys who owned the record store liked America. They were really freaking out when the America album, the first America album came out. I was not feeling this. I just barely liked Neil Young.
Goldmine: About five years ago I got to visit Bill's Records in Dallas and he was so proud of the fact that one of the Circle Jerks wore one of his store shirts on the back of the Wonderful album (1985). Bill passed away a few years ago, but he was really proud of that. 
Keith: That's so sad about Bill. I actually remember going into his store because I still own one of the T-shirts that I bought that day, that he had hanging on the wall above all of his records. I bought a Pogues T-shirt, a UK Subs T-shirt, because we were on tour and our laundry was starting to get real stinky. We were kind of in a hurry to find out where we could eat and score some white powder more than actually stopping the van for a few hours and doing some laundry. So, it was time for me to come up with a handful of new clean T-shirts. I also bought a Gun Club T-shirt, a Damned T-shirt. It was actually the start of a run for the Circle Jerks where we were making around $250 a night so we had a little bit of money being passed around. I do remember that store and I do remember the back of the Wonderful album with Zander (Schloss – bass) wearing the T-shirt. He obviously needed a clean shirt and what's better than a free Bills T-shirt?
Goldmine: Are there any records that you wish you still had in your collection that you might not have anymore? 
Keith: I had an original pressing of The Master's Apprentices, who were an Australian band and their album was done by Hypnosis. They did a lot of really amazing album covers for a lot of U.K. album covers. I got a re-pressing and sold that record a while back. The original now sells for 5-6 hundred dollars. It was in mint condition and I was moving from Los Angeles. I was pissed off and nothing was going on here, so I decided to sell half my record collection and that allowed me to live for a couple of years without having to worry about working a job. I do have a re-pressing of the album and I guess I will have to live with that until I find one hanging on the wall at a store for a few hundred bucks. 
Goldmine: Well, maybe one of our readers will find it and send it your way. 
Keith: I do have my copy of Golden Earring. I remember when Goldmine did a big, four- or five-page, story on Golden Earring, which I really loved. They are one of my favorite bands.
Goldmine: Tell me a little about the playlist you had created to support the re-release of Group Sex. 
Keith: I have actually done a couple of playlists. This one starts with a Wire song, which a lot of people don't really consider them to be a punk rock band. Maybe they are too nice. Maybe they got too much of a pop flavor but then you have bands like the Descendents, who are all about the pop ... Who knows. For me it just all starts with Wire. I don't remember all of the songs that I selected because I have done a few more of these lists since creating that list for Trust Records. I even ended up DJing a club in downtown L.A.
Goldmine: Any record stores that you still like to visit? 
Keith: I actually have a gift certificate from Amoeba that I need to spend and I'm looking forward to getting into the new location. I think it opened months ago but I don't want to head down there with five thousand people waiting to get in. I'm planning on heading down there but I'm in no hurry. I've been busy as I'm trying to learn 25 new Off songs as we get ready to record a new album and then we have Circle Jerk rehearsals. I think we have 30, maybe 40 shows booked. Before Covid, we had 70 shows booked. OK, now I'm looking at a couple of spoonful's of strawberries and raspberries so I'm going to get back to my breakfast. You have a great day and ... cheers!