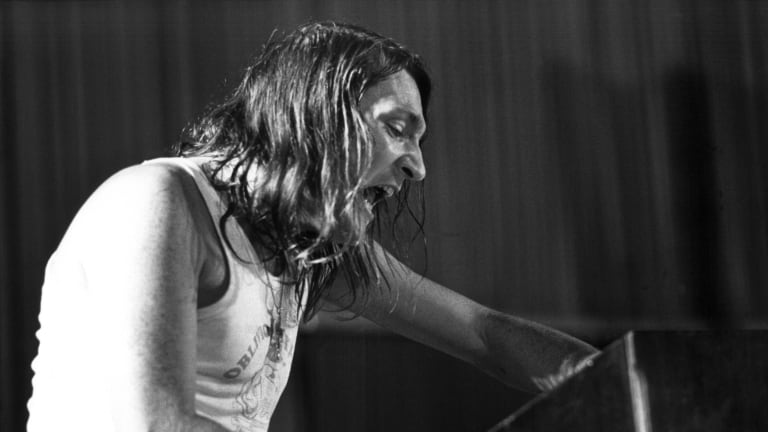 Keyboardist Brian Auger on playing harpsichord on The Yardbirds' "For Your Love," a fun role on a Monkees TV special and releasing a career-spanning set
Reflecting on his life as a musician, Auger says, "I don't know what else I could be that would have made me so happy. But you know, this is it."
By Bill Kopp
Organist, composer, vocalist and band leader Brian Auger is best known for his work leading two bands: in the '60s he launched The Trinity, a pioneering soul/jazz/rock outfit featuring powerhouse vocalist Julie Driscoll. And in the early '70s Auger pursued ambitious yet accessible jazz fusion, fronting Oblivion Express; that band achieved the distinction of an album that charted simultaneously on jazz, rock and soul charts.
But those credits are only part of the story. Even before The Trinity, Auger was part of a short-lived group of future superstars including Rod Stewart. And as a session musician, he provided the most distinctive sonic element to a monster hit single by another important and influential group. Later, he co-starred on television with The Monkees. And in the years after Oblivion Express' most commercially successful releases, he has gone on to create a compelling and formidable body of work, and has toured far and wide with superb bands featuring his talented offspring.
Auger has dozens of albums to his credit. And the most recent is Auger Incorporated, a carefully selected compilation chronicling his career from its earliest days through his work with Oblivion Express. Mixing classic tracks with previously-unheard recordings, Auger Incorporated is designed to appeal both to longtime fans as well as those discovering the work of this iconic musician for the very first time.
Auger's life in music started amid the blitzkrieg, the relentless World War II bombing of his hometown Shepherd's Bush, London. His family had a player piano, and as a toddler, Auger would hang onto the keyboard and operate the foot pumps that drove the rolls. "I'd pedal like a demented cyclist," he recalls with a laugh. "I had all that music going on; that was what surrounded me."
Bomb craters surrounded him, too. Auger recalls that on multiple occasions during his early years, he and his five siblings would be awoken by his parents: "Quick! We've got to go to a shelter – now!" He says that on one of those episodes, "one of Hitler's super weapons, the flying V-1 bomb, dropped behind our house. This thing took out the whole block!" Luckily, Auger's mom had stashed him under a sturdy dining room table, so even as the walls and ceiling came down, he was safe. Other than his father getting cut by a bit of flying glass, the entire family came away uninjured.
Standard practice at the time meant that families whose homes were destroyed would be relocated well outside of London, presumably out of harm's way. Families were often split up. Young Auger was sent with a sister to stay with a family near Yorkshire. "They looked after us, and they were very kind," he says. "And they had a piano!"
A natural talent, Auger quickly learned how to play Glenn Miller's "In the Mood" with his right hand. "I hadn't gotten around to the left hand yet," he says with a chuckle. Completely self-taught, he worked out songs by ear. After two years in Yorkshire, he was reunited with his family back in London. And the Augers' new home still had the piano. "My piano, I called it," he says, smiling at the memory.
By the time he was 12, Auger had mastered an impressive number of tunes on the piano. He regularly listened to the American Armed Forces Radio broadcast from postwar Hamburg. He soon fell in love with the music of jazz greats including Miles Davis, Les McCann, Horace Silver, The Jazz Messengers, John Coltrane, Bill Evans and more. He was especially drawn to the sounds from Jimmy Smith, Jack McDuff and Jimmy McGriff, all of whom played the organ in a style that would come be known as soul jazz.
At 15, Auger was already playing piano in a jazz band; they had a regular gig at the Cottage Club, just off Cambridge Circus in London. The late-night club was a popular haunt with Americans and anyone else into the burgeoning jazz scene. "Anybody who was in town would make a bee line to the place," Auger recalls. Playing piano accompanied by a drummer with a small kit, he entertained the likes of Billie Holiday and members of Duke Ellington's and Count Basie's bands.
At that point, Auger says, he could play almost anything… as long as it was in the key of C or G. So when a well-known trombone player dropped by and wanted to sit in and play "Perdido," Auger asked him, "What key do you want to play it in: C or G?" The trombonist was aghast, and told the teenage pianist that if he wanted to be a serious musician, he'd have to learn songs in the keys in which they were written.
A few weeks later, the trombonist returned, and gave Auger bits of direction: "That tune there, the middle eight goes to an A flat minor 9th." Auger looked at him, perplexed: "What the hell is that?" The horn player was even more shocked, replying, "How can you play these things if you don't know what you're playing?" Auger explained that he was playing by ear. The trombonist – 60-plus years later Auger doesn't recalls his name – recommended some books on musical theory. Auger took the advice to heart. And when the man came back the next time, Auger was fully prepared to play "Perdido" – and other tunes as well – in their proper keys.
Within a couple of years, Auger had begun to make a name for himself in London's jazz scene. He was asked to join a band that played at Ronnie Scott's, The Flamingo and The Dorchester. One night he was called uponto fill in last-minute for pianist Georgie Fame. "He had fallen asleep on the beach in Cornwall and got sunstroke," Auger recalls. When he arrived for the date, Auger looked around and asked, "Where's the piano?" There was only an electric organ, an instrument Auger had never played.
He spent a few minutes with the Hammond M3 and then did the gig. After the set, an audience member approached him to compliment his work. He asked Auger how long he had been playing the organ. "Well," he replied, "about 45 minutes, I think!" He soon bought one of his own.
Not long thereafter, Auger was leading an organ trio at a Manchester club called The Twisted Wheel. There he was approached by a "rather tall guy." Long John Baldry, as he was known, was a household figure in British music, having been a guest on two Beatles TV programs. Baldry asked Auger to come around to his office and meet his manager; they wanted to put a new band together.
Auger was happy to help. "I can use my rhythm section – Micky Waller on drums and Ricky Brown on bass – and I can add a guitar player," he said, suggesting Vic Briggs. Baldry insisted on having another singer in the group, a young Scotsman called Rod Stewart. "Rod was somebody who was just flitting around the scene at the time… very nicely dressed," Auger recalls. And Auger suggested adding yet another singer, siren-voiced Julie Driscoll. "I'd done a couple sessions for her," he says. He told Baldry and his managers, "There's nothing like her out there at all."
Auger had the whole presentation sorted out. "I'd go on, and I'd play a couple of tunes with just the rhythm section and the organ," he says. "Then Julie could come on, and she could do her stuff, and I could sing backup. Then Rod could come on, and me and Julie could sing backup for him if we needed to. Then, John comes on as the star – doing Tamla/Motown and blues stuff – and we could all sing backup for him!" They would call the band Steampacket. The group was a hit everywhere it went, but would record less than an album's worth of material during its short time together.
In early 1965 Auger received a phone call from Paul Samwell-Smith, bassist and producer of The Yardbirds. He was asked to play keyboards on a session for the group's latest single. He showed up at the studio, looked around and asked, "Where's the organ?"
Samwell-Smith explained that there wasn't an organ, and that Auger would be playing an instrument that had been stored in a corner of the studio, under a tarpaulin. Auger pulled off the cover to find a double-tier harpsichord. "Are you guys crazy, or what?" he exclaimed. The producer insisted that he was serious. "Better give me five minutes then," Auger recalls telling him. "Because I've never played a harpsichord before."
The session was completed in about two hours. "I remember leaving the studio and walking down towards the Tube," Auger says with a laugh. "I was thinking to myself, 'These guys are nuts! Who's going to buy a pop single with harpsichord on it?'" Lots of people, as it turned out: "For Your Love" was The Yardbirds' first smash hit, top-tenning in the U.K., Ireland, Canada and the United States.
After Steampacket split, Auger and Driscoll put together The Trinity. Between 1965 and 1969, the group released quite a few singles in the UK, France, Germany, Spain and Italy, along with several albums. The Trinity's energetic jazz foundation and the mesmerizing vocals of Driscoll helped propel the group to the top of the charts. Among their biggest successes was a distinctive cover of Bob Dylan's "This Wheel's On Fire," a #5 hit for The Trinity on the UK charts in 1968. (The new Auger Incorporated collection includes "Jeannine," a previously-unreleased Trinity track with Driscoll.)
Looking back, Auger doesn't characterize his style of that period as easily fitting into one or another genre. "I just thought of myself as a musician," he explains. "But I realized that, at that time, I had the chance to try and make a bridge between the new rhythms of the rock world and jazz." He recalls seeing Duke Ellington interviewed on a TV program. The composer/bandleader was asked what kind of music he listened to for pleasure. "I'll always remember this, man," Auger says. "He said, 'There are only two types of music: good and bad.'"
Auger's successes in music would be enough to keep most artists busy, but he found time for extra-musical pursuits as well. When theatre and television producer Jack Good invited invited Auger to co-star with The Monkees in a television special called 33-1/3 Revolutions per Monkee, the keyboardist gamely agreed. "Jack Good was a very straight [conventional] Englishman," Auger says. "But funny as hell. We hit it off immediately because – of all things – my Latin."
Like many of his generation in England, Auger studied Latin in school. And before becoming an impresario, Good had taught Latin. So the two men bonded. "My family motto is non donamus rectum rodentus," Auger jokes, "Which basically means, "We don't give a rat's ass!'"
Good outlined the role in 33-1/3 Revolutions that he envisioned for Auger. "You're going to be the mad professor," he explained. "You're going to have a psychedelic organ, and you will be in a studio like the transporter on Star Trek." Auger deadpanned, "Well, that shouldn't be too difficult."
He and Driscoll tore into their roles with glee; their campy, over-the-top performances would be a highlight of the program, which aired in April 1969. Among the special's notable musical performances was The Trinity's "Come On Up," featuring a bewitching vocal by Driscoll and incendiary organ work by Auger. The Monkees "seemed to really enjoy having us around," Auger says. The TV special would turn out to be The Monkees' final bow as a foursome; Peter Tork quit that group as soon as filming was completed.
Auger's next endeavor was the launching of a new group, Oblivion Express. He had the commercial wind at his back, but chose to use that moment for his own purposes, not in cynical pursuit of hit records. "I had decided that I would push the envelope forward," he explains. "With Julie I had tried to bridge the gap, so now I was going to push on the jazz side and see if I could make this music go wherever I wanted it to go." He says that he was fully aware that this new group would be "wading against the commercial tide. I thought, 'Maybe I'm headed the quickest way to oblivion.' So I named the band Oblivion Express."
The electric fusion group drew inspiration from across the musical landscape, combining sounds the likes of which one might find on a Miles Davis album of the era with a funky soul and r&b sensibility. Among the Oblivion Express' most beloved recordings is a scintillating Auger original, "Happiness is Just Around the Bend." The song would be an r&b Top 10 single in 1974 when covered by soul trio The Main Ingredient.
Oblivion Express showcased a great deal of excellent original material by Auger and/or his bandmates, some of whom would go on to play with The Average White Band and Santana. And – like any good jazz ensemble – the band truly excelled at interpreting the work of others. Some of the group's most rewarding recordings include covers of Marvin Gaye's "Inner City Blues," Wes Montgomery's classic "Bumpin' on Sunset" and Eddie Harris and Les McCann's "Compared to What."
Auger always intended Oblivion Express to explore musical areas outside the prevailing pop mainstream. He drew inspiration from early and "outside" sources, but channeled that inspiration to yield contemporary results. He recalls having conversations with his friend (and fellow keyboard hero) Keith Emerson. "We used to have a good laugh," Auger says. "Our styles were so different, but when when we started to recount who we'd been listening to, it was all the same people!"
Oblivion Express went inactive after 1977's Happiness Heartaches. Auger stayed busy throughout the following decades with session work and touring, and acting as musical director for a German television series. Once the 21st century rolled around, he re-formed Oblivion Express, this time with a lineup that included members of his family.
Auger explains how that came about. "My son Karma, who is the eldest, started to play drums, and I thought, 'Wow, he's actually really good!' And he starting learning all my tunes." From a young age, daughter Ali was "a Sarah Vaughan freak," Auger says, "and she just has the most wonderful voice." Eventually Ali found that the musician's life on the road was not for her, so she stepped away.
The band needed a replacement, and Karma suggested his other sister. "She had done several plays for her high school and college," Auger says. "But I said, 'Savannah doesn't sing!'" Karma assured his dad that yes, she did. "But you've never heard her," he added.
Intrigued but a bit skeptical, Auger said to his son, "Why don't you ask her to learn a half dozen tunes, and then we'll do a rehearsal?" That happened, and Auger says he was "blown away. I was like, 'Do you want to come on tour with us?'"
Auger – who has long had a reputation of surrounding himself with top-flight musicians – emphasizes that his progeny didn't get any sort of special consideration in getting into his group. "They're all great players, otherwise they couldn't have played in my band. They did a tremendous job." Savannah eventually left to raise a family, and vocalist Alex Ligertwood – a veteran of many '70s era Oblivion Express albums – returned.
Brian Auger will celebrate his 83rd birthday in July. The pandemic has meant that live concert dates weren't an option, but in recent years he's been busy with a number of archival projects. In 2015, the first in a two-part anthology series Back to the Beginning collected highlights from across Auger's long career. 2016's Back to the Beginning… Again! continued the chronological survey. In 2020, a three-CD set, Introspection celebrated his 50th career as a recording artist; 18 of its 35 live and studio tracks were previously unreleased.
And now in 2022 comes Auger Incorporated. Emphasizing that Auger's work has influenced a wide array of artists – his music has been sampled by Air, Common, Jurassic 5, Kid Loco, P.M. Dawn, Mos Def and many others – Soul Bank Music's Greg Boraman notes that the new digital-only release features outtakes and radio sessions that haven't shown up on previous releases. Auger and Boraman have known each other for more than 25 years. "Greg's a big fan, and also an organ player," says Auger. "And he knows more about my music than I do!"
Brian Auger knows what he loves about jazz, and about music with a jazz sensibility. "There is a freedom," he says. "We'll play the 'head' of a tune or whatever, but there's a freedom to play as you like, you know? And you don't get any freer than that!"
Adopting a posh British accent for effect, Auger recalls a conversation many years ago with a stereotypical dyed-in-the-wool Englishman. "He would say, 'God-damn! You're not classically trained?' I'd say, 'No, I just play by ear.' And he'd say, "Wot!? Don't tell me you play that sort of gin mill music!'"
After the uproarious laughter subsides, Auger reflects on his life as a musician. "I don't know what else I could be that would have made me so happy," he says. "But you know, this is it."