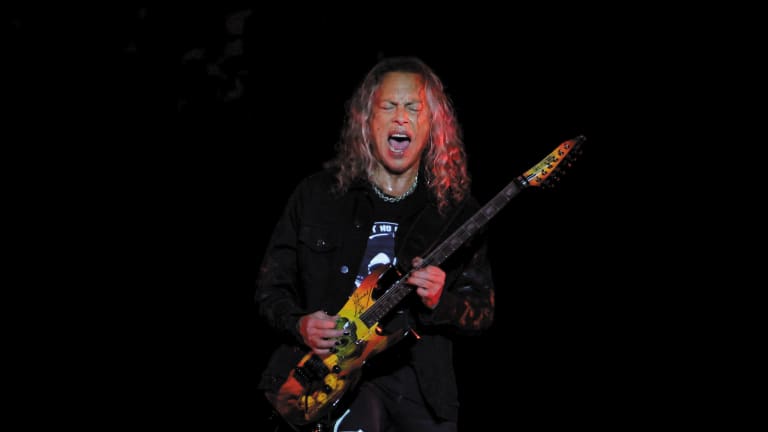 Kirk Hammett on solo EP, becoming a Prog fan and dealing with his own nervous energy
The Metallica guitarist is proud of his debut solo offering, a 27-minute EP named 'Portals,' which is part prog-inspired and part audio-cinematic tribute to horror movies
Get Goldmine's June/July 2022 Kirk Hammett Collector's Edition Bundle (click below) with alternate cover, numbered slipcover and professional 8x10" print of Hammett (mid-1980s!) suitable for framing (photos exclusively from Frank White).
By Martin Popoff
Guitarist Kirk Hammett might best be known for his smart heavy-metal writing, riffing and Mick Box wah-wah madness blessing and texturing multiplatinum-certified (and even diamond-certified) heavy-metal albums with Metallica.
But as of late, he's let us in on his horror-movie memorabilia collection, revealing through class-act museum shows this other dimension to himself. Combined with the surfing and setup in Hawaii and his enthusiasm for creativity and life — endearingly, he calls it "nervous energy" — what you get is the making of a man comfortable in his own skin as he faces 60 years on the planet.
Hammett's recent instrumental EP, Portals, envelops all of the above, and yes, even through its threatening rumble, Hawaii, which Hammett calls a dichotomy, a tropical paradise cloaked in a heavy military presence.
But, says Hammett, the direct cause of Portals is really the monster stuff. "Yes, basically, I had an exhibition for my horror-movie poster collection happening at the Peabody Museum in 2017, in Salem, Massachusetts. What I wanted to do was spend just, like, an afternoon composing a little background piece of music, something that could play on a loop while people were checking out the collection. So, I sat down and started working on it, and in typical fashion, all of a sudden, it's five hours later and I'm knee-deep into it, and it has all these other parts and all these other possibilities. And I'm thinking, yikes, this is turning into something other than I intended it to turn into.
"So, I just went with it and that became 'Maiden and the Monster,' initially. And as I was writing the piece, I thought, oh well, this would be great to incorporate different eras of horror movies somehow, into the music, and so 'Maiden and the Monster' is kind of my representation of those early horror movies from the '20s and '30s. I really tried to capture the atmosphere of those films, the Gothic feel and the presence of something atmospheric and moody."
Indeed, the 7:18 opening track on Portals — it's 27 minutes in all, featuring three other compositions, "The Jinn," "High Plains Drifter" and "The Incantation" — sounds like foreboding and muscle-pound progressive rock.
"Well, it's interesting you say that," Hammett says with a laugh, "because I just really got into prog about five years ago. And all these interesting and crazy prog concepts definitely had an influence on me, I have to say."
"It's pretty crazy that you picked up on that. I wasn't into prog. Just accidentally I heard Jethro Tull Stand Up and I went, 'Wow.' I never ever had paid much attention to Jethro Tull; I just never did. And it didn't help losing to them in 1989 for that Grammy," he says, laughing again. "But that's really not the reason why I wasn't into Jethro Tull, believe me. I just never got around to it. Sometimes you just don't get around to certain things. So, I ended up checking out their entire catalog and now I'm a full-on Jethro Tull fan.
"After that I started listening to Yes and Genesis and King Crimson and all different kinds of stuff. Plus, I always had an affinity for bands like The Mars Volta, Dixie Dregs, Return to Forever and Mahavishnu Orchestra, so I was more attuned to the fusion stuff. So, when I heard the prog, it was just like, this is a bridge between those two worlds: jazz fusion and rock or heavy metal."
Which says a lot more about Portals than it seems: the thematic swells, the classical, the surprises — it's almost as if Hammett arrived at a style, loosely speaking, that he wasn't soaked in from youth, getting there through fusion and metal. Rush (one of Hammett's all-time favorite bands, along with UFO) got to progressive metal through nascent hard rock and prog, and here's Hammett getting to a fresh and future-flung type of progressive metal through heavy metal proper and fusion.
Closest approximation to these ears is Van der Graaf Generator, King Crimson and Porcupine Tree, to which Hammett says, "By the way, I really, really like Porcupine Tree. I definitely think they're one of the better prog bands. I hate to use that term 'better.' I just think what they do, they do particularly well. And I've been a King Crimson fan, but you know, only of one album, and that was Thrak. And that's not as proggy as some of the other stuff. So, there's definitely an influence from that album, and players like Robert Fripp and Adrian Belew, definitely, and Steve Howe, definitely. Players like that are just really pushing it and playing what I call adult chords."
Adult chords — lots of those here, although it's more like adult chord sequences, augmented by string arrangements, brass, arena-rock drums (that sound like Lars Ulrich but aren't Ulrich, rather a couple of guys, Jon Theodore and Abraham Laboriel), acoustic guitar, sitar and even French horn. Not that we talked about it, but the sum total evokes Krautrock as well.
"I was trying to use string instruments to bolster the heavy parts," explains Hammett, "and make them heavier, and then to make the quieter parts more melodic, more beautiful; have the string instruments color certain parts of the arrangement, change the feel and the flow. Through all of it the constant is string instruments in the background, deep in the mix, subliminally. There's a real attempt to use orchestral instruments in a heavier format, kind of like what we were doing with S&M (Metallica's 1999 live album with the San Francisco Symphony). But this is taking that even further, into more of like a classically influenced, prog-influenced direction — and soundtrack-like in its own way, not soundtrack-y in the traditional sense.
" 'Audio-cinematic' is what I call it," continues Hammett. "You listen to it and then a movie forms in your own brain. And for me, that's always been, you know, the most enduring music, ever since I first heard 'Puff, the Magic Dragon' — those pictures that form in my head stick with me. So that's been the goal and a theme throughout all of this was to create a musical atmosphere that leads to a different musical reality, one of your own unique-making, one of your own imagination. Or not! You could listen to the music and just listen to it for what it is."
Specifically on the brass arrangements, Hammett says, "Horns definitely add heaviness. But I like the texture of the French horn. I like the loneliness and the solitude that the tone of the French horn has. The French horn is the most difficult instrument to play in the entire orchestra because you're playing precisely by intonation. So, you have to have perfect pitch to be able to play a French horn. There's very little that is helping you guide toward that perfect pitch on the instrument. Just by that standard alone, it's a difficult instrument to play. And when you can find someone who can play well and when you can find someone who is from the L.A. Philharmonic and who is that enthusiastic about playing it to your music, then it's like, yes! Because, I mean, it's in all those traditional spaghetti Western soundtracks, and it's in so many friggin' horror movies. Again, it's great as a subliminal instrument way down in the mix. It's constant. I love it, and I frankly can never get enough of it."
The heaviest track of the four might be "The Jinn," but it makes sense that this one's augmented with haunting cellos. "Yes, a jinn is a wayward spirit, from Middle Eastern mythology. I just like the concept of it because it's not really that well-known in Western culture. It's a spirit who is doomed to wander the desert plains and is sometimes benevolent, sometimes malevolent. You just never know depending on how you relate to him or her or whatever. It's kind of like a Faustian bargain," — he laughs — "a Faustian bargain all over again wrapped up in a different package, and I love that."
As for why Portals is 27 minutes long and not a full album, Hammett figures, "Because that was about the end of my free time. Things started up again with the COVID situation improving. Metallica was starting to play these streaming shows and doing things here and there. And we're starting to come together again and just formulate what we're going to do for the future. Stuff started opening up and so basically all my energies went elsewhere. But I had this music and it turned out great, and why waste it? I may as well share it with everyone. For me, I want to make great art, you know? I want to make great music. I want to make music that's never been heard. I just want to express myself creatively. I play guitar every friggin' day, so I may as well put a mic on it."
I asked Hammett why Metallica takes so long between records. Granted, the albums are long and there are non-LP tracks all around, but still, in 40 years, the band have 10 albums.
"Yeah, you know, it's not getting any quicker, too," answers Hammett, with an audible sigh. "It's just like, we have a way of working. We have a process that unfortunately takes a long time. It's just the way we work, the way it is, the way it works as a band. And I've grown to accept that. You know, putting out Portals is great for me because it kind of frees me up from that schedule. I can come up with a few tracks, record them and put them out, and I can do it on a completely different time schedule from the band. And that's great because it doesn't seem to get in the way of the band's schedule because, like I say, we move at our own pace."
Contrasting where he is with his guitar playing versus his six-string partner in Metallica, James Hetfield, Hammett says, "James is amazing in that his right-hand technique — you know, it seems like it doesn't require a whole lot of maintenance for him to do. He can roll out of bed and play 'Fight Fire With Fire' no problem. And that's great. I play guitar all the time. I'm constantly looking for new things to learn because I'm just curious, you know? I'm curious about my instrument, curious about music and curious about being a musical artist. I'm always learning stuff. Plus, I'm always finding out stuff that I learned in the past that I learned wrong, and this is how you should really play it. I'm like, oh, this is great — I finally learned that after 30 years. Which is the case with a lot of Hendrix stuff. Because Jimi, that stuff is so hard to figure out and so hard to play. A lot of times I'll come to pieces of his guitar solos, and I'll just dance through that part because I didn't know that particular part. Actually, last week I learned a bunch of Hendrix riffs and that helped free me up to fill in some of the holes."
Asked if YouTube videos are a part of his learning technique, Hammett replies, "Well, I'll put on, like, Hendrix live at the Fillmore West or in Atlanta or something, and watch him. Or I'll put on Stevie Ray Vaughan or watch UFO live footage. I love it, man. It's a total rabbit hole — complete and total rabbit hole. But I love it. I also love jazz and now I love prog. So, I hear a riff and I'm like, oh, 'Siberian Khatru,' what a cool riff — I need to go play that. And I learned it and it's like, oh my God, it's a simple pentatonic thing. I marvel at the simplicity of it and yet how funky and cool and complicated it sounds. That inspires me to sit down and kind of like come up with my version of it. And this is me day in and day out. So, I can't even remember what I sounded like 10 years ago. But I can tell you what I sounded like this morning and yesterday."
Hammett, obviously a known film buff, says Portals just might serve as his gateway into soundtrack music. "Yes, that's something I've been wanting to do for a while. It's just that getting myself out there and selling myself is something I haven't had time to do. So, I figured, I'll just let the music sell that, let it sell itself for me. People are going to hear this and it's going to be obvious, you know? They're going to hear this and go, oh, he can do this stuff! So, whatever is supposed to happen is supposed to happen in that regard.
"I'm always sitting on a ton of material at any given time. And it's not just heavy metal stuff; it's all kinds of material. The great thing about Portals is that this shows a side of my guitar playing that you wouldn't normally see. You know, I have to say, when you listen to 'The Incantation,' after a while, at the end of it you kind of go, 'Wow, did that just happen?!' It's just… it feels like you've just witnessed something, some sorta weird ritual."
And now it's back to Metallica.
"Yes, and you know, when I go in and create Metallica stuff, I give it my full creative energies. The way I look at it is, all the notes are already there. You just have to find them. I'm serious. They're already there! You just gotta friggin' find them. And so there's that but also a reliance on spontaneity, on real in-the-moment creation. I think that's where I'm most effective. It's like, any time I sit down to try and compose something that should be spontaneous, it ends up sounding composed. There's nothing wrong with that, but I think catching yourself in a spontaneous moment is just much more exciting and much more honest. That might not make me sound like Eddie Van Halen, but that's beside the point. I really feel like I'm playing for the song when I play that way."
Get the Goldmine's June/July 2022 issue with Kirk Hammett on the cover (below) in the Goldmine shop.
Get Metallica vinyl and collectibles in the Goldmine shop