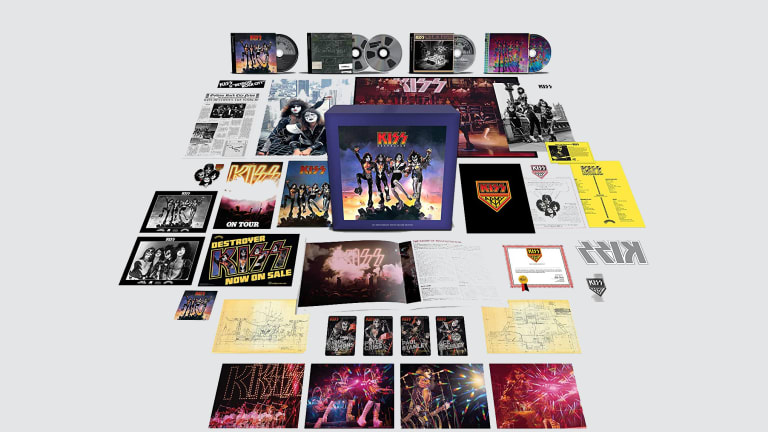 KISS camp agree that "Destroyer 45" is a box set for the ages
1976's "Destroyer" is the KISS album by which all others are measured, and "Destroyer 45," a massive 4-CD + Blu-Ray Super Deluxe box set, is a release for the ages. Interviews with many in the KISS camp show an agreement.
By Ken Sharp
Between 1974 and 1975, while KISS were cementing their status as a band on the rise strutting their stuff on concert stages across America, it was an altogether different story with their slate of studio albums, KISS, Hotter Than Hell, and Dressed to Kill, which failed to deliver the mighty commercial success the band desperately needed. But desperate times lead to desperate measures. The 2-LP set, Alive! was a last ditch effort to save KISS and the plan worked flawlessly; it was the album that ushered them into superstardom. 1976's Destroyer, produced by Bob Ezrin, is the KISS album by which all others are measured. Grandiose and epic, ambitious and adventurous, the album is a herculean leap forward from the previous KISS studio albums showcasing a rich tapestry of heavy rock swagger and non-rock sounds (orchestra, strings, choirs, special effects) and fearless experimentation. Song wise, it's packed with some of the group's most beloved and enduring anthems, "Detroit Rock City," "Shout It Out Loud" and "King of the Nighttime World" and featured their smash single, the ballad "Beth."
In late 2021, Destroyer 45, a massive 4-CD + Blu-Ray Super Deluxe box set was issued by Universal Records. Filled with a handsome assemblage of KISS memorabilia including a 68-page hardcover book detailing the history of the album, reproduction of their 1976 tour book and KISS Army fan club kit, posters, trading cards, KISS logo iron on and loads more, the musical content is revelatory and features a newly remastered version of the album, two discs of demos, alternate takes/mixes and single edits, a live show circa May 1976 from the L'Olympia in Paris and a Blu-Ray audio disc overseen by Stephen Wilson showcasing Dolby Atmos and 5.1 mixes of the record. We spoke to KISS original members Paul Stanley, Gene Simmons and Ace Frehley along with Destroyer producer Bob Ezrin to share the back story behind this classic studio recording.
GOLDMINE: Bob, as producer of the album, what was the plan behind Destroyer?
Bob Ezrin (producer): When I met with KISS, we talked about what they wanted to accomplish with their next record, to take them over the hump from being best of the B bands to top of the A group. I felt that specifically for the Destroyer record we had to build a little more humanity into the group. We had to expand the audience beyond fifteen year-old boys and go after some girls too. But I could see how this was only going to appeal to that particular age group and to that gender and that this was not something that girls were going to be able to get behind. We had to introduce a little pathos. We aggressively went after finding a ballad and things like "Do You Love Me?," songs that reached out to the girls in the audience.
What they were doing was teen boy cock rock and roll and it was fine for that particular constituency, but they wanted to get bigger. They wanted more. They wanted to be stars with a capital "S" and they wanted KISS to be a worldwide renowned band. When we talked I referred to a movie called "The Wild One," which starred Marlon Brando and Lee Marvin as two heads of rival motorcycle gangs that ride into a small town where they're about to have the rumble of all rumbles. They're going to tear the town apart and it's going to be violence and mayhem. Lee Marvin was just plain bad. He's the bad guy and he's all black whereas Marlon Brando plays the hero of the film called Johnny, who is a he's a tough masculine aggressive leader of a motorcycle gang, but he's got a soft spot. And of course, the beautiful girl in town recognizes in the character of "Johnny" played by Brando as somebody that she wants to fix and so there's a love affair. She gets to him in the softest part of his heart and he goes from being monochromatic to becoming a colorful, fully realized character. And somebody with all of his bravado and all of his posturing is quite lovable. So I said to the band, "Right now, you guys are Lee Marvin. There's nothing much a girl can look at and really like about what you're doing. But on the other hand, if we can just inject a little humanity, a little bit of nuance, a little bit of depth into the characters where you're not just cartoon figures, but you're actually people that have aspirations and have, God forbid, fear and longing and stuff like that, I think every girl in the world is going to want to take you home and fix you. And that would make you the most lovable band in the world (laughs) in a kind of left handed way. I wanted to change them into Marlon Brando. I wanted them to be every parent's worst nightmare and it's all our fault. So they loved that because like me they were TV babies. We grew up with TV. We grew up with these movies. We knew all this stuff. And Gene especially, who had learned his Americanism from television and who revered all of these symbols of the American cinema and American TV. So he got it right away and so did Paul. So our approach to the album when we decided to do this together was consciously meant to be a little bit deeper and a little bit more nuanced in terms of how we presented each of the characters and that gave birth to more storytelling.
GM: Ezrin exerted a pivotal role in terms of the subject matter of the songs on Destroyer.
Paul Stanley: Bob was not content to have us write the same songs again. He wanted us to broaden our subject matter and he was a taskmaster. But it was a challenge and that was exciting. It was a challenge to reach higher than we had to as players. As for me, I pretty much played as I play. I don't know that that really changed except perhaps in terms of precision and feel. He had the band cutting as a band, so he chose the best takes. For me it was a challenge to take a song like "Detroit Rock City," which was going to just be a tribute to Detroit and interject into it something that was almost separate as a subject matter and write a verse that told a different story than initially planned. And that was really Bob pushing to go beyond where we had been.
Gene Simmons: We were always able to write different kinds of stuff because Paul came from The Byrds and The Beatles. He could write melodic stuff all day long and some of Paul's lyrics did have a much deeper kind of thing. I've always been fascinated by the Beatles and stuff like that so it's not like we could not write that kind of stuff. Ezrin opened up the door and said, "You're allowed to do "Beth" and you're allowed to write melodies and it's not going to make you into pussies. We were concerned, without sort of verbalizing it, no, this is KISS and there's other stuff over there that's just not KISS because on the surface of it, "Great Expectations" is not KISS except that the fans really like it. You should have seen us we play that song with the Australian KISS Choir. There were people crying, it was that emotional for them.
Ace Frehley: It was an adjustment process working with Bob and I got along fine when I came and prepared and didn't have a hangover. But if I came in and I wasn't spot on then it was an issue. Bob was used to working with professional musicians. When he worked with Alice a lot of times he brought in studio musicians, rather than using Glen Buxton. So that was his mindset and if I didn't get a solo in five or ten takes, there was some frustration that set in. So I was a little intimidated by him but I think the majority of the solos came out great. I have good memories of the sessions overall. There were a lot of funny moments. Gene had made me hysterical laughing one day in the studio because he put tape on his lips and started doing an imitation of Carlos Santana. I completely lost my mind. He jumped up on the table and started imitating Carlos Santana. It was one of the funniest things I've ever seen. (laughs) But back then, it was all for one and one for all except for the differences that we had in opinions. They weren't happy that a lot of times I was late or if I had a hangover because I was in Studio 54 the night before. But you know, somehow, someway it all came together.
GM: Destroyer wasn't a smash album of the gate, right?
Paul Stanley: Initially I think there was a quick 850,000 that had sold and then we kind of hit a wall. Coming on the heels of the live album people were expecting something that was more immediately obvious. And Destroyer was really an album that we hoped would grow on you, that it would last. It was easy and very dangerous to have an album as huge as Alive! because our albums before that sold fairly minimally and it was widely thought that the next album would do the same. We were very concerned that we not go back and do the same thing again.
Gene Simmons: When Destroyer came out the fans hated it initially. Alive! more closely captured what KISS was. We had to do the record because once you do a double live record you go, "Okay, that's the bookend to that part of our career." Either you become trapped by your own doing or your undoing in this case or you try to move on and evolve. We were writing these songs all along but we were editing ourselves a lot more 'cause I had always written Beatlesque stuff. And Ezrin let some of that through. For most people it's, give me that thing that I'm expecting and then when you go a little bit off center or widen the perspective, you're listening not just with your ears but also with your mind because initially Destroyer was a listening record. The other albums before it had a beat and you could tap your foot to it, you know, straight ahead rock and Destroyer was more conceptual. Think of the beginning of "Detroit Rock City" with the radio announcer and there were sound effects, the kids, and then we had the Brooklyn Boys Choir. Well, it took some doing. It was a more immersive record and it worked better when you sat by yourself. It's one of those solitary things where you put on your headphones and you get into it. And the other albums are more like you put it on at a party with your friends and turn it up.
Paul was concerned that Destroyer was too symphonic and too arranged and didn't have the original sound of the band; in some ways it did and in some ways it was the next step for us. So it was Paul who said, "Let's go back with Eddie Kramer, the guy who did our big seller Alive! and do a more rock and roll record." So our next two studio albums, Rock and Roll Over and Love Gun, did well and the fans liked them. We went back to doing stuff the old way, just sitting in a room and working out the material. Some fans like Rock and Roll Over and Love Gun more than Destroyer but I didn't think either of those records are as good as Destroyer.
GM: "Detroit Rock City" is regarded as one of KISS' signature classics, run us through the back story behind its creation.
Paul Stanley: Bob Ezrin made a point of trying to get us to stop writing songs about getting laid, which was valid. But he needed to understand that's all we ever did (laughs). We had a hard time writing about anything else because we barely had our pants on anytime. But he very much wanted us to broaden our writing. I had the basic riff of the song, the "Get up, get down" part but I didn't know what the song was about except it was about Detroit. And then I remembered on the previous tour, I think it was in Charlotte, somebody had gotten hit by a car and killed outside the arena. I remember thinking how weird it is that people's lives end so quickly. People can be on their way to something that's really a party and a celebration of being alive and die in the process of doing it. So that became the basis of the lyric. All the other stuff that got added to the beginning of the song and the end of the album was because we were afraid the album was too short.
Ace Frehley: "Detroit Rock City" was a great song. I thought Paul did a great job writing that song and Bob did a fabulous job coming up with that signature guitar solo. In the early days, a lot of people thought we were from Detroit, not New York, because we spent so much time in the Midwest and playing in Detroit and staying in Detroit because it was like the hub. On tour we were always in Detroit and then we'd play a gig and come back. We were headlining in Detroit at Cobo Hall when we were still playing 2500 seaters on the East Coast and the West Coast. That's why a lot of people in the early days, we were actually a band from Detroit because we broke out of Detroit, ironically, not in New York.
Bob Ezrin: I wrote the guitar solo on "Detroit Rock City." "Detroit Rock City" was kind of like a mini-movie. We got to the point that we had seen the introduction and met the characters, and it was time to set up a little tension with a moment of high drama. I felt like this was the sequence where he was driving and this would be the music that would go underneath it. I wrote that in my head. I don't think I actually picked up an instrument. It's not exactly original. It is pretty well an old fashioned flamenco theme adapted to hard rock music and it's not because I'm some kind of musicology major. It was my take on gladiator music. It was heroic and yet in a strange way because it was so balls out heroic it was foreboding.
GM: In late 2021, Destroyer 45, a new multi-CD Super Deluxe box set was released. What's the album's legacy?
Paul Stanley: The career lasting impact Destroyer had on me was eye opening and ear opening in terms of layering instruments in ways that fortified other instruments or sounds that would make them bigger. Whenever I'm in the studio, I do find myself saying, "What would Bob do?" and to me that's about the biggest compliment that I can give somebody.
Gene Simmons: Destroyer seems to resonate for decades with the fans. But it bears repeating, when the album was first released, the fans were not crazy about it. And initially, sales were somewhat sluggish. Eventually, over time, the songs on the album became a staple of our shows and some of the fans favorites. So while it's important to listen to the fans and their point of view, their perspective tends to be limited to the here and now, without a much broader perspective. Bottom line, to thy own self be true. Do what you think is right. Sometimes we got it right sometimes we got it wrong. With Destroyer, we got it right.
Ace Frehley: I think the reason Destroyer holds up so many decades later has to do with working with Bob and Bob's writing ability and his ability to take us musically to another level than just being regular straight ahead hard rock band and I tip my hat to Bob for that.
Bob Ezrin: For me, the entire Destroyer experience was fun. I know that there were difficult moments and we worked long hours in order to get it done. We had a budget and a schedule. In every part of it was the excitement of building something we had planned to build. That's really important to understand. We didn't go in hoping that we'd get something. We knew what we were going for. We didn't exactly how we were going to embellish it or the new things that we would discover that would make it even better. But we knew what we were going for and that gives you a fabulous sense of freedom for experimentation and sonic sound scaping so it was it was just it was solid invention from the time we went into the studio until the time we left. Destroyer holds up because the songs were really well written. The lyrics were smart. The characters were developed in an interesting multi-layer. The sounds were innovative and different and were an amalgam of really tough basic rock with some theatrical elements and some classical elements and we even had a calliope! (laughs)