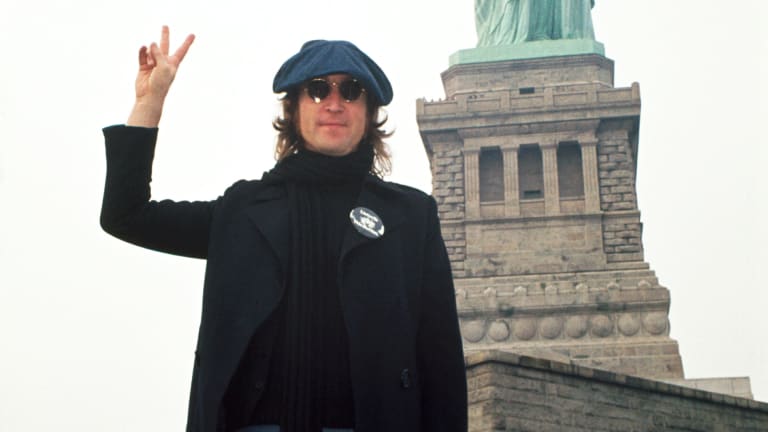 Lennon versus the mobster: How ex-Beatle once got pulled into strange lawsuit
In an interview, author Jay Bergen describes how his book, 'Lennon, The Mobster and The Lawyer,' offers a fascinating window into the John Lennon/'Rock 'n' Roll' album lawsuit leveled by notorious music biz mogul/mob-connected character Morris Levy against the former Beatle.
Shop the Goldmine store for John Lennon and Beatles vinyl and collectibles
By Ken Sharp
Penned by Jay Bergen, the book Lennon, The Mobster and The Lawyer offers a fascinating window into the John Lennon- Rock 'n' Roll album lawsuit leveled by notorious music biz mogul/mob-connected character Morris Levy against the former Beatle. Beautifully written, the story unfolds in vivid detail and is packed with chunks of previously unknown information, supplemented exhaustive transcripts of Lennon's testimony and more gleaned from court documents, lending a definitive portrait of Lennon's ultimately victorious legal battle with Levy. 
Join us for a conversation with Jay Bergen about this heretofore unknown chapter in Lennon's life.
GOLDMINE: For those unaware, give us the background behind the case.
JAY BERGEN: Morris Levy, who was a notorious character connected to the Mafia, had brought one of his many bogus capital copyright infringement cases against The Beatles' company over "Come Together" and [the Chuck Berry-penned] "You Can't Catch Me," which he owned. John settled the case but nothing happened, and I have the complaint: It's only two or three pages long. So it was another one of his slam-bam, thank you man, and pay-me-off-and-I'll-go-away cases. And finally, when John was in California in October of '73, just starting what he called then the Goldies But Oldies album with Phil Spector, where he was going to give his interpretation of the early '50s and '60s rock and roll songs that he grew up listening to, the case was about to come to trial in New York. John did not want to come back to New York, and he told whoever spoke to him — I think it was probably Harold Seider, his then-business adviser — to just settle with them. And so the settlement was that (Lennon) would record three songs on his next album, which everybody understood was going to be the oldies album owned by Morris Levy's publishing company. And when Phil Spector disappeared with the master tape in December of '73 — and Capitol Records and John... nobody could find Phil — the recording had to stop for the oldies album. John went on and did an album with Harry Nilsson, Pussy Cats. And then in the summer of '74, he recorded Walls and Bridges at the Record Plant in New York. All of a sudden Capitol was able to retrieve these hundreds of master tapes from Phil. John did not want to deal with them at the time. He knew a lot of them were bad, and so he went ahead with Walls and Bridges. When (Walls and Bridges) came out, Morris Levy started jumping up and down asking, "Where are my three songs?" Morris knew, of course, that his three songs were from the '50s and that Walls and Bridges was an album of John's original material.
So there was a meeting in October '74 where John and May Pang and Harold Seider met with Morris Levy at a club called the Club Cavallero, which was a bar and restaurant on the East side of New York City. It was during that meeting that there was a discussion about the possibility of releasing the album on TV because John was worried about the critics lying in wait for this album because of all the publicity about what was going on during the recording in the fall of '73. But Levy said, "Oh well, I have a TV marketing company that can sell it." Harold Seider said, "Well, we got to get EMI's permission because John was an EMI recording artist." Everybody in the music industry knew this. So did Morris. But it was based on that meeting that he later claimed he had an oral agreement with John, but nothing in writing to market this album throughout the world on TV. The fatal mistake that John made was that after Morris was harassing him, after John laid down the basic tracks with basically the same band that he used on Walls and Bridges in the middle of October 1974, John gave him a rough mix, which was an unfinished version of the album. He gave him two reel-to-reel 7 1/2 IPS tapes.
GM: John was a smart guy but that was quite a strange move to me.
JB: Well, one of the things I learned during the time I spent with John was that he did not like to say no to people. He would make excuses. Like when Morris was trying to get him to bring the band in October up to his farm, he kept making excuses and Morris would say, "Well, do it the next weekend." "Well, I can't do it the next weekend because I'm going out to Long Island to visit my friend Mick Jagger." And finally he would just give up. He'd say, "OK, I'll go." Morris kept harassing him about the album, listening to his three songs. He kept emphasizing that "I just want to hear my three songs."
GM: How aware was John of Morris' nefarious past and mob connections?
JB: I don't think he was very aware. We didn't talk about it. He looked upon Morris, and I think he testified to this, and I quoted in the book, he thought he was kind of a character. He asked him, "What do you want, a cassette?" And Morris said, "No, I want a reel to reel." So he gave him two reel-to-reel rough mixes of the album to listen to in his office, and those were the tapes that Morris used to put out the Roots album in early February. The other thing is, you ask the question about John: Why he would give him these tapes, I think John was naive about business, and when I interviewed Klaus Voormann in the fall of 1975 before the trial, he said, "John is very naive about business." He'll be talking about, "Well, I'm thinking of doing an album with Bob Dylan," and not even focusing on the fact that Bob Dylan is with one record company and John is with another record company. It was Klaus who said that John's kind of naive about business. Yoko handled the business side of it.
GM: Discuss your memories of first meeting up with John. What were the things that surprised you about him as a person, not John Lennon the famous Beatle?
JB: Well, one of my partners in the law firm I was with, senior partner David Dolgenos, had been hired by John to represent him in connection with the dissolution of The Beatles after he, Ringo and George split with Allen Klein in '73. I had heard rumors around the office. I was a trial lawyer and had worked on some things for David. And I said to him, "Look, if there's a case or there's any litigation about this Lennon album, I'd like to be involved." So he called me one morning, February 3, 1975, and he said, "Can you go to a meeting at five o'clock with Capitol's lawyers at their offices?" And I said, sure. So I went to the meeting, and they were concerned hearing that Morris was going to release the album any minute. And while we're discussing it, the conference room door opened, and John Lennon walked in, and I was completely taken by surprise. I didn't know he was going to be there. I don't know whether the Capitol lawyers did either, but he sat down, we introduced each other, and we were all starting to talk about this problem. John gave us a lot of the background of what had happened. The Capitol lawyers started talking about getting an injunction from a court against Morris putting this album out. And I said, "Look, that's going to be very difficult. There's no guarantee you're going to get one. It's going to be time consuming." And I said to John, "How long would it take you to finish the album?" And John said, "I can finish it in two days. I can go into the Record Plant tomorrow and the next day and finish it." So I looked at Capitol's lawyers, and I said, "What about that" and John interrupted and said, "I want to finish this album now. It's been the longest album I've ever worked on. I'm sick of it. There's been a lot of pressure about it and discussion, and I want to finish it."
So that was the decision that was made. After some further discussion, he would go in and they'd release it as soon as possible. They thought once they got the tapes, which John arranged to have shipped on February 6, it would take a week or more to get the album released. So John and I left the meeting together. We rode down on the elevator. He said, "Are you one of the lawyers?" I said, "Yes, but don't hold that against me" and he laughed. We went out into the street and he said, "Well, good night. I'm going home." And I have a very strong feeling and reason to believe that was the first night he went back to the Dakota with Yoko because they had been separated for about a year and a half, and he had been with May Pang.
After I got over the initial shock of John walking into the room and we started discussing it, he kind of evolved into my client. We met a couple of days later again with the Capitol lawyers on the sixth with May Pang and John and Harold Seider, and we went all over the facts again in detail. In my career as a lawyer, the facts were always the key to me. That is the most important part of the case; the law, whatever the law or the case law was, I was more interested in the facts because you had to get the facts down cold. I think John picked up on that very early, and the more we discussed the facts, the more it became obvious that the facts weren't going to change.
The Rock 'n' Roll album finally came out on the February 13th, and Morris immediately pulled the advertising for the Roots album, which had been out since February 7th or 8th on TV, and I think he sold about 1,250 copies. And a week later, he filed his first lawsuit against John, Capitol/EMI Apple and Harold Seider in New York Supreme Court, alleging a breach of this agreement. He said it was fraud. There were various allegations, but the key, as I mentioned a few minutes ago, was nothing was in writing. So John and I started spending time going over the facts and reviewing the complaint. I called him when I got the complaint.
GM: Why didn't John just settle the case and not have to appear in court each day for a trial?
JB: Well, I don't think he even anticipated being in court every day, but he made the decision very early that he didn't want to settle with Morris. I think he realized that settling the "Come Together" case was a mistake because that permitted Morris to get his clutches on John. I think it was all together with getting back to Yoko, dropping out of the music business and deciding just to become John Lennon, not the icon, but just a New Yorker. "I don't want to settle the Morris Levy lawsuit; I want this to be over and to be rid of Morris Levy."
GM: Going into the trial, were you confident you'd win?
JB: In trial work, this case started off as a jury trial, there's no such thing as a slam dunk, but you've got to be prepared. I learned this very early in my career. You've got to be totally prepared and better prepared than the other side. I don't think we even discussed what was going to happen down the line because we kept going over the facts. I was then getting documents and other things that were of interest. The only thing I was confident of was I knew what our story was, and I didn't know what kind of a story Morris Levy was going to come up with, but I knew he was going to say this was an oral agreement. I thought the idea that John Lennon, first of all, would enter into an agreement with anybody for an oral agreement, he's surrounded by lawyers and accountants and Yoko and everything. I didn't know what kind of a Morris Levy story was going to be told in court, and I didn't really care at that early stage. I just believed that we had a very strong set of facts and the more I talked to John about it and in my one meeting with Yoko, the fact from our side weren't going to change.
GM: Talk about the importance of John coming to trial each day and being on hand, not only as a witness, but just being there as well. What was the importance of that to the whole perception of the case and to the judge?
JB: Well, we never really talked about that. Two weeks after the Supreme Court case was filed, they also filed an anti-trust action in federal court, which completely baffled me. John and I came to the conclusion that Morris was just trying to bully John and Capitol/EMI into some kind of a settlement. In other words, that they would relent and give him the right to sell the album on TV or some variation of that. Seider had told me that on, I think January 30th, he went up to a meeting at Levy's office to explain that Capitol wanted to release the album, and there wasn't going to be any TV album. Morris said to him, "I'm going to put it out." This was said after he turned around and played "You Can't Catch Me" on the reel-to-reel tape recorder in the back of his desk. "I'm gonna to put it out." He kept saying, "I got a shot," and that sounded to me like he was just kind of gambling. And it became pretty clear from talking to John that he was really going to be involved in the case.
We never talked about them being in court every day. But the night before the trial was to start on January 12, 1976, I was staying in the Drake Hotel near my office, because I had a long commute home to New Jersey, and I couldn't do that every day. John called me about midnight and said, "Can Yoko come to the trial?" And I said, "Oh, of course." I didn't know she would be interested in coming, but she's more than welcome. Sean was about three months old. So the next morning, they showed up at my office at 8:30, a limo downstairs, and they came to 20 days of the trial and many of those days, John did not have to testify, but they were there. It was just because they wanted to send a message to the judge and to anybody else who was interested that this was an important matter to them. And those 20 days were spread over January of '76. We then started the counter claims in March and into April. And when the case ended, then they didn't have to come anymore.
GM: The transcripts of John's testimony included in your book offers a fascinating window into the case. From your perspective, was John a good witness with his trial testimony?
JB: John was the best witness I ever had. We spent a lot of time going over the facts and, of course, John was very bright. He rarely, if ever, forgot anything that he and I had discussed, so he was a great witness. I had the idea to write this book when five years ago, I sat down in a store room in back of our garage down here in North Carolina and started reading John's testimony, and that's when I thought to myself, there's a story here and I've got to tell this story so that John's fans and Beatles fans know who John Lennon was between early '75 when I met him and 1977, when the case was over.
When I was talking about writing this book, there were people who discouraged me about using too much of the transcripts, and I just ignored that because I thought the transcript people would be able to read this book and almost hear John talking in the background as you were reading. I thought that was very important because some of his testimony was really fascinating about how The Beatles made records. Bob Gruen sneaked the camera into the courtroom in January '76 when John was on the witness stand and took two pictures of it. And years later, Bob told me that when I started talking to him about writing the book, he said, you've got to put the testimony in because that day when I was there and I took those two pictures, I was fascinated by John's testimony. And I said, "Don't worry, I am going to put the testimony in because I think it's so critical."
GM: Another part of book I really enjoyed were your personal encounters with John where he let down his guard. Let's talk about bonding with John about Elvis.
JB: Well, I mentioned to him one day when we were walking through Central Park about how I had seen Elvis in Philadelphia, and he said, "What? You saw Elvis in '57? You have to tell me about it!" So I had to tell him the whole story about how I saw an ad in the Herald Tribune for Elvis' only Eastern appearance at The Arena in Philadelphia. There were two shows, and I bought two tickets for $3.50 each. I was living in a dorm at Fordham College in the Bronx, and I couldn't get anybody to go with me. I'd never been to Philadelphia. And so I told John the whole story about how I got to Philadelphia on a bus and found The Arena and sold the extra ticket I had for $3.50. I had a seat in the front row of this very small balcony in this venue that was like an ice hockey arena. So I was looking right down on the stage. I told John the whole story, and he was just gobsmacked. He was thrilled and said, "Oh God, you went there by yourself? That's something I would have done." He thought it was really terrific that I had seen Elvis in the flesh before Colonel Parker turned him into Elvis Las Vegas.
GM: There was also a moment you were with John on the street and he was recognized as someone else in The Beatles.
JB: (laughs) Well, that was the next day after the first day of his deposition. The deposition ended around 12:30 — Alan Kanzer ran out of questions. We left his office, and we were walking up the east side of Park Avenue. It was a beautiful May day and talking about what had happened that morning. And all of a sudden, this middle-aged woman stopped in front of us and said, "You're George Harrison?" (laughs) And John, without missing a beat said, "Yes, I am. Thank you," and she then let us go by and we continued up Park Avenue and started laughing hysterically. Yes, he was George Harrison. (laughs) She didn't ask for an autograph, which is unfortunate, because John would give anybody an autograph, but his one rule was not while he was eating. He'd say, "After I finish eating, I'll give you an autograph." The first day of the deposition, we took the lunch break, and we were down on 43rd Street and Madison Avenue. And I said to John, "Come on, let's go over to Grand Central Station for lunch and go to the Oyster Bar." He said, "I've never been in Grand Central Station." And I said, "Well, then you're in for a treat." So we went in, and John being an art student, he was completely knocked out by the architecture of the main building, and all the ticket booths. We came in on the west balcony and stood there, and he took in the whole thing and thought it was really amazing. We went down on the main floor and walked around, and nobody bothered him. I don't know whether people even recognized him because everybody's running for trains and the subway came under there, too. So we went down to the Oyster Bar, and when we talked to the maître d', John said in a whisper to me, "We want a table against a wall," and I asked the maître d' if we could sit over on the south wall, and as we walked towards the table, John said, "Jay, would you sit with your back to the wall, and I'll sit so that I'm facing you." And I said, "Fine, sure." Well, as soon as sat down, two of the bus boys came over and asked for an autograph and he said very politely, "Not when I'm eating but when I finish, I'll give you both an autograph," and he did.
GM: Looking back at your personal moments with John, was there one that was the most memorable?
JB: When I saw the decision... and read it, it was about 28 pages long. The judge just totally dismissed Morris' claim completely. He said Mr. Levy had trouble articulating on the witness stand what the actual agreement was between him and Mr. Lennon and that was because he never got his story straight. I called John after reading it, and you asked about an important moment in our relationship. And he answered the phone, and I said, "John, we won." And he said, "We won, we won?" I said, "Yes. The judge threw out Morris' case." I read him a couple of paragraphs from the case, and then he started yelling, "Yoko, Yoko, we won! Jay's on the phone!" A lot of work went into that victory, and that was an important moment for me.
GM: Can you discuss the importance of bringing in music writer Dave Marsh as a witness?
JB: Well, the judge said, "If you want me to understand this music and the difference between the two albums ..." because our argument on the counter claims was that the Roots album was so shoddy and so poorly done. That album itself contained two songs that John had taken off the Rock 'n' Roll album because they sounded so bad, "Angel Baby" and "Be My Baby." He said, "You're going to need somebody to compare the two albums," and through Chet Flippo at Rolling Stone, I got in touch with Dave Marsh, who I'd never met before. I met with him in his office, and I brought him the two albums. I said, "I'd appreciate it if you'd listen to these two albums and tell me what you think of them. We may need you to testify." The next day I got a hand-delivered, two-plus-page, single-spaced type letter from Dave critiquing the Roots album and comparing it negatively to John's album. In fact, that letter from Dave Marsh is on my website, www.Lennonthemobsterandthe lawyer.com. And that letter just laid out our case. 
GM: You attended the soundcheck for John's last live appearance for the Sir Lew Grade TV special.
JB: I didn't go to the dinner, but John invited me to the soundcheck. It was at the New York Hilton, and I met them that afternoon. He introduced me to the members of the band. Then he went out and he did the soundcheck. The whole band had faces on the back of their heads, which was a message to him that he was two-faced. Each of the three songs John performed that night [had] a little message in them: "Slippin' and Slidin'," "Stand By Me" and "Imagine." He did three songs, but he even changed the lyrics a little bit in "Imagine" very slightly to emphasize women's rights.
I love talking about this book because I think it's important that John's fans know who he was at this time. He loved New York City. He loved walking around the city. He loved going into restaurants where people would not bother him. It was a time when he was very happy, he was very calm, he was collected, and he was dedicated. Aside from being really dedicated to his son once Sean was born, he was dedicated to carrying this case out to the end.