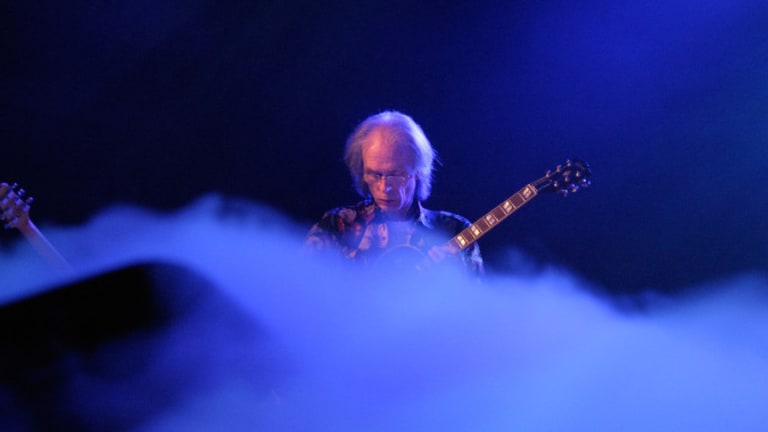 'Love' is Steve Howe's newest solo melody
As a guitarist, Steve Howe has always been a team player. But on his new solo album, "Love Is," he conducts the melody on his own and sings lead on many of the songs.
By Mike Greenblatt
By his own estimation, guitarist Steve Howe has been in 10 bands, the most famous of which, Yes, in 1969, started without him. His debut on the band's third record, in 1971, though, was the one that catapulted Yes into the stratosphere. For the next 49 years, Howe, in whatever project drew his attention, has been one of the most significant, unerring, thrilling, complex and entertainingly satisfying lead guitarists in all of progressive rock.
Now comes his 13 solo album, Love Is (BMG Records), his first in nine years. It's not the progressive jazz-rock fusion instrumental blockbuster that he's totally capable. It's mellow. It's melodic. And he sings lead on five of the 10 songs.
It was an honor to finally speak with him and, as a lifelong fan, this longtime music journalist just had to gush a bit.

GOLDMINE: This new album is very melodic. You've written some melodies that stick in your brain long after the music stops. Was it your intention to write so melodically?
STEVE HOWE: No, not at all. My intention was simply to get some very good material together in building a solid album. There was never any particular focus on melody, though. Maybe it's just me liking that style more in my own solo work when I write. It delights me that you think that.

GM: You also have some very profound lyrical themes as well on this album in an environmental sense. I love the quote from (naturalist) Alexander Humboldt where he warns over 200 years ago about destroying the planet. Boy, was he right!
SH: Isn't that amazing? And I quote 1970 Joni Mitchell, too, on the same subject. It's still going on. We just don't learn. That's probably why we are where we are now.

GM: I didn't realize you were such a good singer!
SH: I do believe I got better over the years. I did get to sing on some of the early Yes records with no experience at all. As I've aged, I liken my voice to a good old piece of leather that wears well. I'm more competent than I used to be. I mean, that's how I sing. If you can't deal with it, then don't!

GM: I guess being in a band with possibly the greatest progressive-rock singer of them all, Jon Anderson, might've made you not do too much singing.
SH: Somewhere along the way, I did have but one singing lesson and it started me on understanding vocal technique. I mean, I didn't want to know too much as I'm more an instinctual singer, but I still maintain my few minutes of vocal exercises.

GM: Closer "On the Balcony" hints at more of a muscular jazz-rock fusion direction. It's been nine years since your last solo effort. Usually, the last track on an album is a portend of what's to come. Might that be true in this case?
SH: Hold on. Before we talk about the next solo album, let's talk about this one. Let me just answer your question... well, it was kind of a question. Those nine years between solo albums were spent recording two records with Yes, two records with Asia, four solo tours of the U.K., and relentless touring with both Yes and Asia. I mean, it wasn't like I was sitting around thinking about this album all the time. 
I love accumulating solo material to develop gradually. I've always been a writing guitarist. I'm not the kind of guy who just wanted to play guitar in a band; although, I must say, that was, indeed, my original dream. When I was a kid, I wanted to be Scotty Moore, but even when I first met Jon Anderson, my writing was important to me. I added my own style to the existing style of Yes and it all became mixed "in the soup," as they say. It was always very much about melody. So it doesn't surprise me that Love Is is like it is, because that's what I wanted it to be. And I purposely segmented it into 50/50 instrumental/vocal tracks. That's precisely how I wanted to get it, so there'd be a balance of the two styles. Certainly the construction of such gives me pleasure. The precise arrangement of each song gives me pleasure. And, of course, playing lead guitar gives me pleasure. And we've already talked about the singing. That's a real factor to it all as well. That's why I moved incrementally in preparation for Love Is with that kind of balance. 
Now, about your comment of the closing "On the Balcony" as indicating some kind of direction going forward, lyrically maybe. But I started writing about ecology in 1967 in the hippie age of love and flowers and the planet. It used to be all about that kind of stuff and that mindset sort of got railroaded through the years when things became highly commercial. The labels, the bands themselves, man, it was like "Let's just make a ton of money and keep milking it!" True, it kept us working, but who's looking out for the planet? We should have been, but we weren't. But, basically, "On the Balcony" is slightly descriptive of a mindset that says, "Shut up! Everybody just shut up and let me hang here on the balcony."
Musically, you're right. That song does have that twisty kind of progressive leaning... actually, I would say more psychedelic. Especially in the verses. There again, the theme that came along of sitting on the balcony, and the way the guitar interacts with the voice, was a development of my sound. I didn't exactly write it on purpose like that, but, in a way, I do like structure. I write, though, in a hundred different ways. Oftentimes, they're recorded in a different way than they were originally written. I feel that that allows for further individuality in each song. It's not why I do it, it's just essentially how I make music. I don't necessarily make it in the same way every time. So no, my writing on this album was not all about flashy guitar and all that stuff as you expected. Not at all. My writing is more about — very much about, in fact — shape and form. 
As a producer, which is another very important side of my persona, particularly when I did Portraits of Bob Dylan, a little-known solo album I recorded in 1999, I could see how important production was becoming to me. This album, Love Is, has a production stamp on it, so to speak, and that's me, the producer, the performer, of course, the singer, and partly the engineer, too. So that last track, "On the Balcony," did take a more edgy, hard-nosed approach, and that's what you were responding to. But to do a whole album of that? I think not. Overall, I'm very happy with the results.

GM: So I'm back to the question of if its complex arrangement could be a clue to your next direction. I, for one, certainly hope so.
SH: Not really. It was just another of many levels of production. I had many more tracks that had to be whittled down to just 10. There's an art in the running order of the songs. You can't just record 10 songs and put them in any old order. Or a random order. That's not what I call an album. Then, once you've got the order you want, the mastering is so important as well. You need to master the order of the tracks in such a way that they not exactly join up but they constitute a smooth ride throughout. It's incredibly important. I used Simon Heyworth who's very very good. He was part of the Tubular Bells production team (1973) with Mike Oldfield. I did that because I care a lot about the running order and the mastering, and that starts with the very first track. You can either give all your cards away up top or you can draw people into listening to the whole album, which is what an album should be. Great classic albums always draw you in. You don't just do the first track and pick other tracks here and there. You have to digest it all. It's all one statement. Nobody gets the picture with just one track. Or two. You might think, "Where is this going?" By the third song, you're starting to get an idea. But to find out, you have to hear the whole thing. That's why I was so confident in myself — not egotistically — to establish a certain running order. It gave me the confidence to put "On the Balcony"— which I knew was a very strong song — as the last track. It could've kicked off the whole album as the first song. But to end the album with such strength? I certainly didn't want to write a little tune that just doodles itself away into oblivion and waves goodbye. No! I wanted a loud bang to close it. And that's the sign of a good running order.

GM: How was it to have your own son, Dylan Howe, as a bandmate on drums? How does that work?
SH: We've always played together even when he was a young boy. There's a very special relationship that develops if you can keep it professional as well as personal. That also went for my other son, Virgil. They were never under any pressure to become drummers. But they both naturally took to it. Especially after we got a Ludwig kit and put it in their room. I'd be up there jamming with them. They were both in bands of their own with people in school. Dylan would tell me, "I'll tell you when I'm ready, Dad." I had previously asked him and he said no. He wanted to get his own career going a bit first before being "dad's drummer." I understood that. I thought it showed great confidence. So when that time came in 1993 on The Grand Scheme of Things album, he came to the sessions, knew about the songs, and recorded them flawlessly. That was the beginning of our relationship on a musical level. We've been teaming up ever since. I especially enjoyed his work on some of things I did with Bill Bruford. He's now finally taken on the mantle of being my drummer, whereas before it was always so casual like "Hey, I'm in the studio, wanna come down?" and he'd be like, "Sure, dad." Now it's his job. Either way, when given the tunes, he always just came in and did the job. Very professional. And we don't really have to talk about it a lot. It is what it is. Of course, if there's something else I'd like him to play in a certain way, I'd say, "Can you go into half-time?" or "Can you double up that roll?" or "Can you give me some more cymbal here?" And he'll just do it. I like that. Basically, he'll listen to me, but then go out and play the way he thinks, which is pretty much how I play the guitar. People would say to me, "Why don't you do this?" And I'll take it into consideration and play the way I think it ought to be played. That way, you get what you get. 
Just to touch briefly on the loss of my son Virgil. [Virgil Howe died of a heart attack at the age 41 in 2017.] We had just started on a career path together with an album called Nexus the year he died. It was such a tragedy him passing away just prior to its release. That's something I'll always miss as Virgil had such great potential, just like Dylan has now. After all, we had The Steve Howe Trio together, although I had to sort of back off that project. Dylan is so focused. We both have our own fields, so I hope he continues to collaborate with me. I'm sure we will.

GM: What's up with the two brands of Yes? You worked with Jon Anderson. Now you work with Jon Davison. How does he stack up to what he's obviously emulating?
SH: There aren't two Yesses. The other "Yes" disbanded. In 2008, I toured with Chris (Squire) and Alan (White), and we held down the Yes fort with keyboardist Oliver Wakeman and singer Benoit David. Geoff Downes came back (for the first time since Drama in 1980) for the album Fly From Here in 2011. Jon Davison joined the following year (replacing Benoit who came down with a respiratory illness). He has never stopped accelerating as a capable singer. Plus, he's always been quite amiable, confident and downright inspirational. Yes could not have developed as it has without him. It's been a total triumph both for us and for him, I hope. I do think it has, indeed, meant an awful lot to him personally to be part of this team. Because that's what it is. It's a team. It does need guidance sometime, but, for the most part, we listen to each other, and we come to terms with what we think we need to do. And certainly now with Billy Sherwood [who replaced bassist Chris Squire who died of leukemia in 2015 at the age of 67], we have that three-part harmony. We're all very up on that. Jon has covered the course really well and he's always extremely agreeable to sing any song from any era of Yes. It's a requirement of any member of Yes today to be able to delve back to any era, instead of pigeonholing themselves into but one. It's nonsense to think we can only do certain eras. Yes is a 50-plus year band and we delve into material from every decade. Jon is great in that position. He responds to whatever is thrown at him. Also, we do so love to play songs in their original key. It's absolutely essential. You can't play "Turn of the Century" in another key! You just can't. It doesn't work. You can't play "Going for the One" in another key. Jon's vocal range permits us the opportunity to play whatever we want. His range is BIG.

GM: Union in '91 had both competing Yesses on one album.
SH: It was an octet, yeah. But it broke up the Anderson-Bruford-Wakeman-Howe band. As such, we should never have done that. It was a mistake. I mean, I liked the idea at the time of the merge, but it ruined a perfectly good band. ABWH had Tony Levin on bass as well as four augmenting musicians to fill out the sound, and it was just what we wanted. It really was a fantastic group. Then we go and do Union and we were like, "Ugh." I mean, it wasn't a whole bunch of laughs, that's for sure. It had some good spots, but overall? At times, the kind of discipline that Yes has now was nowhere to be found. And, believe me, discipline was sorely needed in that big band.

GM: You toured too.
SH: Yeah, but the only really good shows were in the U.K. It was an interesting era for Yes, true, but, truth be told, it was a little too adventurous... and little too, uh, full. In a way, it was too destructive. I lost ABWH over it. And it never went anywhere anyway so what's the point?
GM: When I was 18, the very first Yes song I ever heard was a Beatles cover, "Every Little Thing."
SH: I wasn't on that. We played it live once or twice. It's a clever arrangement. But that original version of Yes did not break through to everybody. Certainly, everyone in Yes always loved The Beatles. How many times have we done "I'm Down" as an encore? I remember loving their "Every Little Thing" also. Hey, if you're going to have a debut, you best have great material. That's what making an album is all about. That's what choosing a live set is all about. You can't go on with a pile of junk and think everybody's going to love it no matter how great a musician you are. You need your craft. You have to have technique. A sound. A look. To make it work, you need all of these things

GM: I liked your GTR band with Steve Hackett of Genesis. He did not have very complimentary things to say about his experience with you.
SH: I don't want to hear what he has to say. I'm sure he regrets those comments because anybody who talks down a fellow musician ends up totally regretting it. I'm sure he's asking himself, "Why did I say that?" I certainly don't talk anybody down. Steve and I had a great relationship. We wrote the whole album together. We performed together and we certainly could have carried on. I mean, true, it wasn't the enormous success that Asia was. It sort of collapsed under its own weight. At least, I could always fall into my solo mode when band responsibilities become so entangled that it doesn't make sense anymore. And that was the case with GTR.
GM: To what do you attribute, at 73, your longevity?
SH: Nobody knows that secret although there are some logical reasons. I've been a vegetarian for 48 years. I used to throw myself around, so to speak, on tour before I learned that wasn't clever. Also, I met a wonderful woman and started a family. I've got more to live for than just music. You've got to be versatile. That's important. Without that versatility, I might've not enjoyed the music so much. Sure, many have died. I mean, you look around you and think, "Why aren't people learning more about lifestyle?" Well, I did. And I think it's done me pretty proud. I don't go around saying, "This is the one true way so follow me." Each person has to find their own way. But people don't. And some don't realize in time to do anything about it. You've got to look after yourself and be healthy. Sure, you can only do so much health-wise before you just want to bust out. Everybody wants to have at least a little fun, eh? Even push yourself a little bit towards the edge. That can be a really dangerous thing if you do it all the time. The mind-body duality, especially if one meditates, is a powerful thing. Good diet, too. Still, you have to have a life of your own choosing. Lately, one of my favorite pastimes is the art of solo guitar. I don't get to do it so much as I'm still dedicated to being in bands. It's those bands that have given me a career. I don't turn my back on that.

RELATED CONTENT:
Read a review of the album "Love Is."