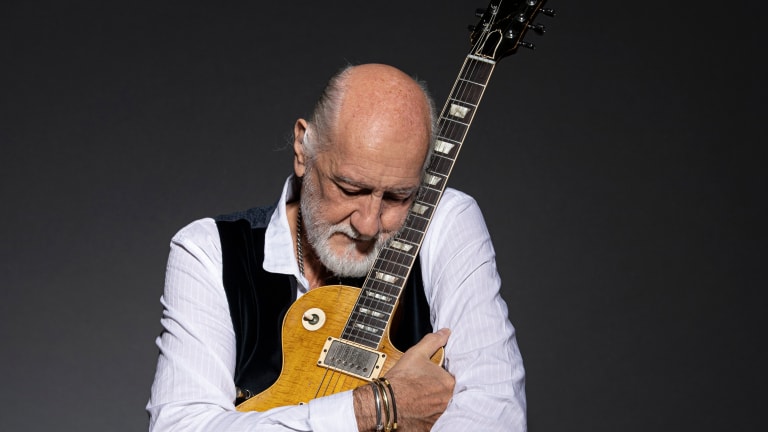 Mick Fleetwood shares memories of Peter Green
Mick Fleetwood reflects on the legacy of Fleetwood Mac's late founding guitarist Peter Green on the release of a magnificent tribute.
If there's any single word that aptly sums up Fleetwood Mac's continuing career, it's adaptability. Indeed, the only thing that seems consistent about the band's trajectory is their very inconsistency. Over the course of nearly 55 years, the band's membership has undergone so many incarnations it's nearly impossible to keep track, with the current count up to nearly two dozen players that have come and gone since the group formed in 1967. While many know them best for the time Lindsey Buckingham and Stevie Nicks spent with the band and brought them to multimillion selling status, there's an entire backstory that led up to that point, one which found them pursuing a direction that was decidedly different from the soft pop, Top 40-friendly sound that came later.
Those hallowed origins are now coming back in focus with the release of Mick Fleetwood & Friends Celebrate the Music of Peter Green and the Early Years of Fleetwood Mac, a 2-CD/Blu-ray set that captures a concert that took place in London on February 25, 2020, just prior to the outbreak of the pandemic. It was an all-star reunion of sorts, one that celebrated the man who literally shaped the budding Fleetwood Mac's seminal sound and set them up as one of the most influential English blues bands of the '60s and beyond. Guitarist Peter Green not only contributed some of the most essential songs of the Mac repertoire — "Oh Well," Black Magic Woman," "Love That Burns," "Rattlesnake Shake" and "The Green Manalishi (With the Two Prong Crown)" among them — but also remained an indelible presence long after he left the band. He remains so now, despite his passing last July.
In a sense, the concert was a catharsis for drummer Mick Fleetwood in particular, given the fact that it gave him the opportunity to pay tribute to his old friend, one who he remained in contact with up until Green's death. It also provided a forum for the reunion of several of Mac's expatiates, Jeremy Spencer, Christine McVie and Rick Vito, as well as a number of the band's admirers and fellow travelers — John Mayall, Pete Townshend, Steven Tyler, Neil Finn, Billy Gibbons, Jonny Lang, Bill Wyman, Kirk Hammett and others.
Goldmine spoke to Fleetwood from his home in Maui, Hawaii, and asked him to share his thoughts about this heartfelt undertaking.
GOLDMINE: One would imagine that this tribute concert was a massive undertaking and somewhat of a challenge perhaps to pull off.
MICK FLEETWOOD: No doubt. It was almost too highfalutin. But it was magical how it all came together. It was a miracle, and I feel sick to my stomach when I'm reminded about that. But it's now become part of the fabric of what this whole thing was about. And, in an unfortunate fortunate way, it may have made it even more valuable, looking at the nuts and bolts of what we're about to talk about. Even the fact that it was able to happen in the first place. It was a huge undertaking, a dormant pipe dream of mine that probably goes back even further than I ever imagined at one point. I remember many, many, many years ago that my love for Peter, as a friend and a musician, was always hugely important to me. At one point, it was difficult to get beyond the dynamic of losing people from Fleetwood Mac, but losing Peter was already a huge milestone to get over back in the day,
GM: Had a reunion ever been considered?
MF: I always sort of imagined that maybe I would play with him again, not necessarily in the context of Fleetwood Mac. But it never happened because of the dynamic of that journey that Peter took. I got close to a couple of times, and then I just realized he didn't want to do it. He didn't want to reconfigure, because he wasn't connected to playing in the way that I imagined him to be. I had to learn to accept that and just take the moments in time that we had on a level that had very often nothing to do with music at all. And that became part of the story. But selfishly I was hoping we would do something together someday. I wanted that to happen. I won't say I was obsessive about it. It was just I wanted it, understandably I believe. I felt the ups and downs of surviving his departure. The end result was the beginning of a new story, kind of like a Shakespearean play. So it became more of a story than I would want it to be.
GM: Given all the changes the band's been through, there are probably people who didn't realize the enormous part he played early on.
MF: I didn't start Fleetwood Mac. People think that I did sometimes. I get why. I've dealt with that my whole adult life. So I get it. But that's not why we all did this. It was more like, who was that? And what was that? And, the further down the track you get, you lose sight of it. And that has something to do with the enormity of what most people might think Fleetwood Mac to be. It's for good reason. And thank God that they do think of it that way. In time, the memory of what Fleetwood Mac was originally gets thinner and thinner, until it reaches the point where maybe no one really does remember how it all started. So this concert was like a line in the sand, a defining point in the history of this band, this crazy band known as Fleetwood Mac, and that's why I'm on the phone talking to you now. And that's the way that everybody on that stage felt about it.
GM: Did Peter know about this event before he passed away? And if he was fully aware of it, how did he feel about it?
MF: Yes, he did, but it really does say something about Peter that he had no ego at all. After he left, he didn't want to be known as anyone or anything special. And as much as he did try to avoid that, he couldn't get away from it. Yet he had no concept of it. He was never able to see the show, but he knew about it.
GM: Was there ever any possibility that he would participate in it?
MF: Well, maybe in a very, very loose way. But there was a point in time when I just had to let go of pushing. You know, I'm that person that says let's do this, come on everybody. And you mutate into some form of cheerleader. But in this case, it wasn't appropriate to do that. So the thought was, if you want to turn up and come to the show, I would love that. And his response was, maybe I will. Maybe. But the reality was that he was completely disconnected, and had no ego about it. Peter lived a very quiet, quiet, life to walk on faith. I didn't know that Jeremy was gonna walk onstage.
GM: So it was a surprise that Jeremy Spencer showed up and played?
MF: Yes. The last week before the show, he said he would do it. I think that's incredible. Plus, he played his ass off. His voice was fantastic. You can see in the video that Townshend clearly had his mind blown. This guy hadn't played in years, and he just comes in and does that. The whole thing was a real fantasy for me, and it almost didn't happen. We were originally thinking we were gonna do two nights, but that was a lot to ask of all these people who were coming in and out. We were really blessed and lucky we were able to manage that one great night.
GM: It was amazing how you were able to coordinate everything and make it happen. What was the impetus?
MF: This all happened with me going to dinner, like two and a half years ago with the people from BMG Records. The head of that company happens to be not only a huge musical advocate, but he really loves the real essence of the business that he's in, and he has a passion for it and he really, really loves all the elements of what he does, which is not just the business of music, but the music itself. So I said, "Well, I've got this idea," and he said, "We're gonna do it." And they were unbelievable. But then Mac went out on the road, and the whole thing went off the radar. I wouldn't have blamed anyone for saying, "Well, that was a good idea, but it's never gonna happen now." But after that, I knew that the end of the Fleetwood Mac tour was looming, and so then we said, "Let's do it." And that's how this whole thing happened.
GM: Still, it must have been such a mammoth effort to put all the pieces in place, not only with the label, as you described before, but also with the artists who all had their own schedules. It seems like the making of some kind of epic. So how do you decide who is going to do which song? How do you pair up the performers with the material?
MF: Well, I knew that Aerosmith had done "Rattlesnake Shake" in concert, so that was a natural. And me and Billy go way back. He knew every Peter Green lick there was to know, so naturally he said he'd love to do it. Zak Starkey is playing drums, and he would have done it even if he had to play a tambourine. But he's got a huge pedigree, and he's a huge early Fleetwood Mac fan. And of course, Christine has been a part of the band practically since the beginning, so she knew most of the material as well. Noel Gallagher and Pete Townshend were kind of the wild cards, but when I asked Dave Gilmour to do it over two years ago, and he originally said, "I don't think I can do it. Peter's work is so magical, and so important. I don't know whether I want to touch it. For now, I'm not going to do it. But if this does come together down the road, please be in touch with me and I may feel different." So I did, and he totally embraced it. This was like over a year later from my original reach-out. I sent him the same letter. And we spoke, and he said, "I'm ready to do this." I jokingly said, "What's the difference? You weren't ready to do this before?" That's my reverence for David. His version of "Oh Well, Pt. 2" was lovely and very special.
GM: Yes, but I would think you could kind of see where he was coming from. Peter's songs and his music are so ingrained in the public consciousness that it seems like it would be a bit intimidating to try to replicate that in any way. That's a high bar.
MF: Well, that is where he was coming from, which was this incredibly gracious reverence. Everyone knew that it was a high bar. It was especially for me, but to have all these amazing musicians was what this whole thing was about.
GM: You're a part of that legacy as well, so that must make you feel very special at the same time, no?
MF: If I have a down day or something, someone that loves me will turn around and tell me, "Do you know how many people you've made happy just by doing what you have been blessed to do?" So I know I should be really grateful. I need to shut up and stop complaining about whatever the issues are.

GM: Did Peter feel the same way?
MF: No. Peter had no concept of even getting that. He was so detached and so ingrained in his dream world. In a way he actually didn't even care about how much he meant to anyone. He had no ego in the game at all, which is mind blowing.
GM: He was obviously a very humble individual then …
MF: Yeah, that was his journey. But I hope this album is a way of saying this is who we were. And very specifically, this is what triggered so much of what was to follow.

GM: When was the last time you spoke with him?
MF: I spoke to him in London when we were doing this show.

GM: As we discussed before, it must have been very intimidating, not only for David Gilmour, but probably for all the players that they had to somehow touch that high bar. And so I suspect that they were all a little bit nervous. Obviously, they're all excellent players, but still that's a high bar to try to recreate something that's so magical. Yet, the irony is that Peter himself was so distant from it and all these other players you know, like yourself, are so attached to it, and trying to get to that level of perfection must have been, like I said before, a little bit intimidating.
MF: I believe that initially it might well have been, but I have to say during that the rehearsals, more specifically when the whip was really coming down, they all excelled. And when we all assembled in London with a lot of the key players coming in for a two-day rehearsal, it all clicked. That feeling disappeared at that point. Maybe before, those thoughts might have been looming. But everyone that walked through the portal left their egos at the door. That's the only way I can explain it. There was no feeling from any of those people that "I need this and I need that." And they, better than anyone, have the right to do that. They were all veteran performers that have integrity, sensitivity, and yet none of that ego was evident. Not for one moment. For me, it was not a problem. I told them to take as long as you want. I was loving the journey. And the fact that Peter had no ego about it helped. He was never, "Yeah, I f**king wrote that song. And I'm happy about it." This was never a conversation, although if it was someone else, it could have been. Kirk Hammett actually went out to see Peter twice during the rehearsal. Metallica connected with Peter's work ages ago. They would do "Green Manalishi" in their live sets.
GM: How did you first meet Kirk?
MF: We were doing a charity gig on the island, and they came up to my house. And I'm sh*tting myself. What am I gonna do? You know, I play what I play. But any Metallica song is like a machine, and if one thing is out of place, it doesn't work. So I said, I'll do my best. I'd met Kirk before that in a funny little shop here on Maui. But I had never met James Hetfield, and he said to me, "This is one of the greatest moments in my life. Do you know how much your band means to me?" It was so humbling. And so that night, Kirk was actually onstage playing on Peter's guitar. It was weird, but not weird. All these connective stories that are almost unbelievable, but that was why they were all on that stage. It was the same way with Rick Vito and Jonny Lang, and even for people like Noel Gallagher and Neil Finn.
GM: When Peter left the band, you were clearly devastated. At that point, did you think that maybe you needed to pack it in? How did you muster whatever was needed to say, "We'll continue from here. We'll somehow make the best of it." It must have been very difficult.
MF: Yes, it was. It was the one moment that could have gone either way. It was like, "This is too much. It's finished." But my instinct, from fear or whatever it might have been, was to keep going. But I knew that the writing could have been on the wall. That's when we made the album called Kiln House. There was a certain charm about that album, and that was the first move. But you're right, it was totally devastating. We had to have a team that could keep going. And we did. We were crippled, and we were artistically lost in many ways. But we made that move on from there, and I think that became the training ground.
GM: When one looks at the history of Fleetwood Mac, it's such a saga. The band is like a chameleon, one that forever morphs and reinvents itself.
MF: Sometimes I wonder how it was possible that this actually all really happened. But it did. And I think that later on for me, speaking for myself, and John (McVie) at my side and vice versa, that it was incredible that we got through that. So what happened afterwards? I think we had an unknowing mutant muscle memory of losing Peter. And we got over that. We were then able to go into boot camp without knowing it. But we've been trained as a navy seal to circumnavigate what looks like an insurmountable problem.
GM: And you did it repeatedly throughout your history, whether it was Bob Welch or Buckingham Nicks or whoever.
MF: I think that's a legitimate explanation, after the fact that it was so devastating. And we survived. And we got back on our feet. So not to minimalize the things that happened afterwards, but nothing could have been worse than that. Yeah. So the information from repeating the phrase muscle memory, I think, if I was put on a bench and asked to explain how I think that happened, I think I had a lot to do with that. Survival. Ultimate survival. It's very crazy.
Related Articles: Fleetwood Mac's beginnings revisited in one glorious book