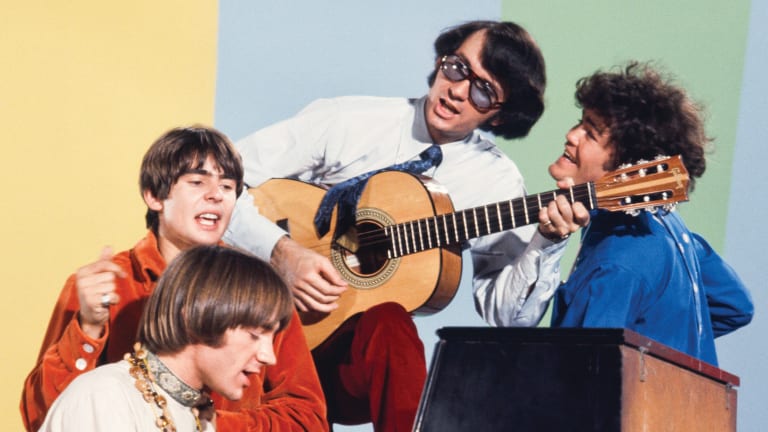 Micky Dolenz presents... more Monkees music!
The Monkees' newest live recording, "The Mike & Micky Show," spotlights Micky Dolenz and Michael Nesmith on the road in 2019 promoting their latest album and celebrating hits from the band's heyday. Dolenz tells Goldmine all about it!
By Mike Greenblatt
Micky Dolenz was born into show business in 1945. His father was The Count of Monte Cristo on TV. By 10 years old, Micky got a lead role in Circus Boy on TV. In 1965, at 20, he auditioned for another TV show based on the comedic aspects of The Beatles in the 1964 movie A Hard Day's Night. The Monkees debuted on TV in 1966. (He won the part by rocking out in front of the show's producers to Chuck Berry's "Johnny B. Goode.") Out of over 400 applicants, singer Davy Jones (1945-2012), guitarist/composer Mike Nesmith and bassist/keyboardist Peter Tork (1942-2019) won the coveted roles as his bandmates. The show was a smash hit but only ran for two seasons. Across the pond, an upcoming British singer-songwriter named Davy Jones had to change his name because of The Monkees' fame, so he changed it to David Bowie. 
The Monkees' first single, "Last Train to Clarksville," written by Tommy Boyce and Bobby Hart, recorded with the help of the finest studio cats in Hollywood at the time, went straight to No. 1. The show won two Emmy Awards. Dolenz wound up directing the last few episodes of the show. The four actors turned into real musicians and toured with the Jimi Hendrix Experience as their opening act. A feature film, co-written by actor Jack Nicholson, called Head, was rather psychedelic.
In 1977, Dolenz flew to London to appear in Harry Nilsson's West End production of The Point. Contracted for three months, he stayed for 12 years producing, writing and directing for the British Broadcasting Company. 
In 1986, MTV started broadcasting reruns of The Monkees and a whole new generation got turned on to their music and comedy.
In 1987, the Billboard "Top 200" contained no less than seven Monkees albums catapulting four of them — The Monkees (1966), More of the Monkees (1967), Headquarters (1967) and Pisces, Aquarius, Capricorn & Jones Ltd. (1967) — to No. 1. 
In 1993, Dolenz wrote his autobiography, I'm a Believer: My Life of Monkees, Music and Madness. 
In 2005, Dolenz became a "drive-time" on-air radio personality for WCBS-FM. 
In 2006, Dolenz was King Charlemagne in the award-winning musical Pippin.
In 2007, Dolenz played Derek Allen in Rob Zombie's bloody Halloween remake. 
It's safe to say that Micky Dolenz — singer, actor, producer, director, disc jockey, comedian and more — has enjoyed the kind of fruitful and wildly successful career most men can only dream of. He's participated in numerous Monkees reunions and at 75 is still going strong. 
I used to run home from school to watch The Monkees, and made my mom buy me those first four albums, which I wore out. For some reason, our paths never crossed. Until now.
GOLDMINE: I took my first LSD trip in Verona Park on the corner of Bloomfield Avenue and Pleasant Valley Way in West Orange. It took me 53 years to finally ask you if "Pleasant Valley Sunday" was written about that particular New Jersey street.
MICKY DOLENZ: Yes, it was. It was written by Carole King and Gerry Goffin. They both worked in Manhattan's Brill Building for Don Kirshner, where so many great songs were written. He had a very good ear for hit songs. He was the one who lived there, right off Pleasant Valley Way in West Orange. Carole and Gerry — who were married at the time — were on the way to his house for a meeting, or so the story goes, and they were looking out the window and just started writing the song.

GM: You've had a remarkable post-Monkees career. To what do you attribute your longevity?
MD: That's a good question but you'd be the one to answer that more than me. I have no idea. I just keep doing what I do. Show business is the only thing I know how to do. There's so many facets to the entertainment industry. They say a moving target is harder to hit, so I keep on moving. Yeah, I keep on keepin' on, man. I can tell you this, though: I am very particular in what projects I choose to do. People always ask me what I'd rather do since I've done it all. Would I rather act, sing, tour, direct, write or produce? My answer is always that I get attracted to a script or a song by the content of the project itself.

GM: That tour you did last year had legs, as they say. You toured with Todd Rundgren, Christopher Cross, Jason Scheff of Chicago and Joey Molland of Badfinger honoring the 50th Anniversary of The Beatles' White Album.
MD: That's a perfect example of a project — a tour, in this case — that I got asked to do and I readily accepted. I've turned down plenty of other theme tours, but that one just felt right.

GM: What's an example of a project you turned down?
MD: Oh my God, I've turned down many more things than I've accepted. I'd rather not name names. I mean, sure, sometimes the project is good, but I'm just not available. Other times the concept sounded cheesy.

GM: Come on, man, spill the beans.
MD: There were a few '60s packages that I just didn't want to be a part of. One of them wanted me to do five shows a week. I can't do that. It wasn't the shows, it was the inherent travel that forced my hand. We have a saying in show biz that we get paid to travel, and we gladly sing for free. There's a lot of truth in that. Or somebody will call my agent and say, "We want Micky to do a cameo" on some TV show. One show just wanted me to walk through a mall so their star could say, "Oh my God, it's Micky Dolenz of The Monkees. Can I have your autograph?" And that's it. I'm not interested in that, even if I'm offered a lot of money. It just doesn't do me any good to do stuff like that. Hey, making money is all well and good, but something like that in no way advances my career. I mean, I can't even put something like that on my reel to show other directors. It's useless.

GM: What show was that?
MD: I'd rather not say. I will tell you one thing. I was asked to do a reality show called I'm a Celebrity...Get Me Out of Here! where they stick you out in a jungle somewhere and it's like one of those Survivor things. They offered me an enormous amount of money. No thanks. A couple of years ago I was offered a two-week Connecticut summer-stock comedy production for not that much money. After reading the script, I readily accepted. It was called Comedy Is Hard! and it was at the beautiful Ivoryton Playhouse in Essex right on the banks of the Connecticut River and it was with Joyce DeWitt from Three's Company. Just us two, written by Mike Reiss who wrote The Simpsons for years. His script was hilarious. I read it, called my agent and said, "I want to do this." I didn't care how much money it was. I knew it wouldn't be a lot because it was summer-stock, but there's a good example of a project I readily accepted. Frankly, that's kinda always the way I've been.

GM: I understand you have a Rhino Records release of The Mike & Micky Show, and you're supposed to be supporting it with a tour, although that seems doubtful at the time of this writing.
MD: A couple of years ago, Mike (Nesmith), Peter (Tork) and I went out. Of course, Mike, Peter and Davy (Jones) had gone out also prior to that. These reunions were always very successful. Davy passed in 2012 [at 66 from a heart attack]. Then Peter passed [last year at age 77 from cancer]. Mike and I kinda looked at each other and said, "What do we do now?" So we thought about it. We knew we wouldn't call it The Monkees.

GM: Half Monkees?
MD: Yeah, right (laughs). We wound up with "The Monkees Present The Mike & Micky Show." Mike and I had always joked in the old days about eventually having our own show, because we really got along in so many ways, especially when it came to comedy, where we had a really good mix, a good dynamic between us. We have similar tastes. Now, that's not to say that Davy and I, or Peter and I, didn't have a particular chemistry — we did. That's the way the network originally cast the show when we originally auditioned. They saw that chemistry we shared with each other.

GM: That must have been really something at the time.
MD: Oh yeah! It was a constant stream of interviews, screen tests and multiple auditions. And, you must remember it was always weighted very heavily towards comedy. But you had to be able to sing. You had to be able to act. You even had to be able to move around and dance a little bit. My biggest hurdle was having to be able to improvise. That improvisation was so tough!

GM: You were used to following scripts ever since Circus Boy, the 1956 children's show where you played the titular character at a young age.
MD: Exactly. I was used to getting a script where you did not, under any circumstances, improvise on the set. I was very careful to say the words exactly as they were written. Improv was very difficult for me. It took me a long while. I mean, sure, I got better at it. Mike, in contrast, right from the get-go, was absolutely brilliant at it. So Mike and I were the two closest and we always joked about one day having a show called "The Mike & Micky Show." And we did! The agents went on a fishing expedition. And guess what? The buyers — the promoters — loved it! They were really happy with it. I think a lot of it, to be perfectly honest, had to do with the fact that I sang the majority of The Monkees' big hits. Come to think of it, I sang the majority of album cuts, too. And Mike wrote some great songs. He'd sing some of 'em for The Monkees. Truthfully, the bottom line is that people who would buy a ticket for "The Mike & Micky Show" come to see me sing "I'm a Believer."

GM: And "Last Train to Clarksville."
MD: And "(I'm Not Your) Steppin' Stone." So once they know they're gonna get that, they come. And I know that's why they're there, so I always give it to 'em. Every single show I do. I made that decision to do that a long, long time ago. I'll never forget when I was living in England and working in London as a television producer/writer. I had stopped singing completely. I wasn't doing any performing whatsoever, be it comedy, recording or otherwise. In fact, people knew me by my real name of George Michael Dolenz, Jr., the television producer. I lived there for almost 15 years doing that.

GM: When was this?
MD: The '70s into the '80s. I remember The Everly Brothers were in the process of getting back together for like the first time in 40 years or something with a reunion concert at London's Royal Albert Hall. I have always been a HUGE Everly Brothers fan. They were my earliest, most powerful influence. So I got tickets for my wife and I. Eighth row center. I remember thinking at the time, "Gee, I certainly hope they do their biggest hits." I mean, you know, sometimes artists just don't! Some artists hate it, in fact. They go out of their way to avoid it. And they're very disparaging about it. I've been to those concerts, too. But the Everlys, to their credit, did every one of 'em. (sings) Wake up, little Susie, wake up! I was up there standing up with everyone else, almost in tears, clapping along, singing along, and I remember thinking — and this is before the '86 Monkees reunion — "If somebody ever asked me to come back and sing all those old Monkees hits, I'm gonna make damn sure I do every single one of 'em in their entirety just as people remember them." Because I would want to see what The Everly Brothers must've seen: all of us standing up, crying, singing, dancing. And I do that. And I do that to this day.

GM: I'm sure you do it with your own solo band, who I believe you just finished a tour with, no?
MD: Oh yeah, I've been doing that for years and years. My percussionist/vocalist sister is in the band. She sings lead on Mike's "Different Drum," which kickstarted Linda Ronstadt's career. Yeah, he wrote that, played it for the producers of The Monkees and they said, "Oh that's nice, but it's not a Monkees song." I remember when he told them, "Wait a minute. Every song I write is a Monkees song, because I'm a f*cking Monkee!" But then he gave it to Linda. And the rest is history. I tell that story every night and end the intro by saying, "but I'm not a young-girl singer so I'm going to have my sister Coco do it."

GM: I must ask you about Harry Nilsson (1941-1994). I know you and he were great friends. In the Harry biography, or it might have been the Hollywood documentary, Harry would knock on your door, I think it was you, and your wife would go, "Oh no, he's going to drag Micky away partying for days on end!" What personal anecdotes can you spare?
MD: That's Harry for you! We lived close to him in Los Angeles. The standard Harry joke is that he'd call you up to go to lunch on a Wednesday and three days later, you'd find yourself at a massage parlor in Phoenix. Everyone who knew him has a similar story. Yes, we were very good friends. I'd even say he was my best friend at the time. It's not like we worked together all that often. He produced one song I did in the later years, but it was just for fun.
GM: The Monkees did his "Cuddly Toy."
MD: Harry was working at a Security Pacific bank in the check-clearance department. It was in Van Nuys where I grew up. He was writing songs the whole time, trying to sell them around Los Angeles. It was 1967. We were in the middle of recording the Headquarters album when our L.A. publisher brought him in. "I got this kid and he writes songs. He wants to play a couple of them for you." So he did. One of them was "Cuddly Toy." Davy Jones immediately said, "I'll do that one." I remember it like it was yesterday. Harry was sitting at this little piano in the recording studio. Years later, when Harry would frequently come around, we got close. We both had kids of the same age. I forget where we were when he said to me, "Hey, do you remember that day when I came into the studio to play my songs for you?" I said, "Yeah, of course I do." And he said, "Well, after I finished, that publisher took me out into the hallway and told me I could quit my job at the bank right then and there." Harry was great.

GM: But the story of Harry Nilsson is a tragic story.
MD: I don't know about that. If you know the whole story of his life, no, not at all, I would not make that his defining adjective. Tragic? Sure, people do tend to sometimes harp on that. It's like the old news axiom, "if it bleeds it, it leads."
GM: Yeah, but he had the most beautiful voice in the history of pop music when he started. I blame John Lennon for getting Harry to ruin that voice during the recording of their Pussy Cats album (1974). Lennon had undergone the primal therapy of Dr. Arthur Janov, who got him to scream his lungs out. Lennon put it in his music ("Mother") and, as producer, forced Harry to scream at the top of his lungs over and over. Harry's voice was too sensitive. It ruined him forever. Am I wrong?
MD: Well, you're half wrong.
GM: Which half?
MD: You don't talk Harry into doing anything. Even if you're John Lennon. Harry and John did have a very powerful and emotional relationship. I was there at those sessions. They had a competitive dynamic to their friendship. It was like a duel. Like "I can do anything better than you." "No, you can't." "Yes, I can." It was always like that. "I can scream louder than you." "No, you can't." "Yes, I can." That's just the way it was with those two. And it spurred them on to do crazy things outside of the studio as well. But make no mistake about it. John did not force Harry into anything if he didn't want to do it. Nobody could.

GM: Tell me about the original Hollywood Vampires.
MD: I started the Hollywood Vampires with Alice Cooper. Nilsson and Lennon joined shortly thereafter. Alice had this idea of starting a softball team to play on weekends for charity. We played some serious softball locally against the fire department, the police department, various boys' clubs and record labels. It turned into an informal softball league that raised a little money. We got good press and everybody loved it. We had a great Hollywood Vampires softball shirt and cap with a big V on it. We played hard. It was Alice and myself with Peter Tork as our pitcher. He was very good. Actor Albert Brooks was on that team as well as Harry Nilsson. John Lennon didn't play. As a Brit, he didn't know how to play softball. But he came to the games. Alice's manager, Shep Gordon, took pictures. Later, Alice became one of my dearest friends. In fact, he wound up moving next door to me just so we could hang out. Alice Cooper used to babysit my daughter! I got a photo of them together. They're poolside. She calls him Uncle Alice to this day. 
We were at The Troubadour one night. All of us. That's when Shep took that famous photo of us with singer Anne Murray. But she was never in the Hollywood Vampires. History has since forgotten our humble softball beginnings and only remember the shenanigans that took place at clubs in the area.

GM: Well, that's because it took place during John Lennon's 18-month lost weekend, when Harry and him got in so much trouble, including getting kicked out of a Smothers Brothers concert for heckling so loud.
MD: Yeah, we would hold court at the Rainbow until ungodly hours, true. There was a private area where we'd congregate, drink an ocean of booze and raise holy hell. It was after the softball games.

GM: I loved the new Hollywood Vampires band with Alice Cooper, Joe Perry and Johnny Depp. You should've been the drummer!
MD: I was always too busy. I went to the rehearsals, though, just to hang out. But the original Vampires never performed as a band.

GM: You just drank and did a lot of cocaine.
MD: I mainly stuck to the drink.