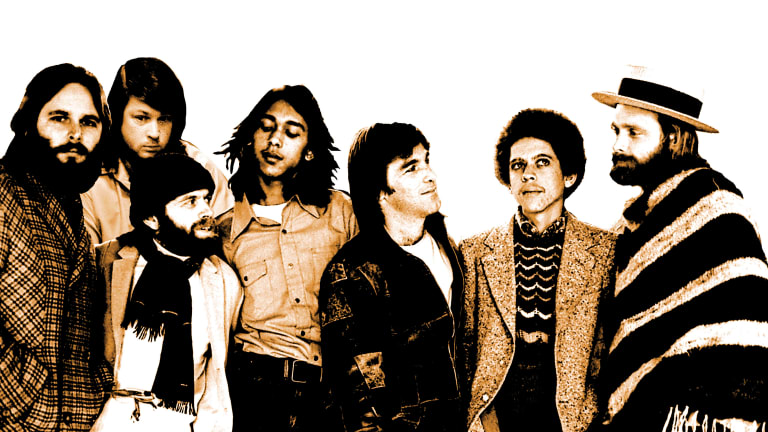 Mike Love excited to focus on "really interesting time" of The Beach Boys with 'Sail On Sailor'
'Sail On Sailor' is the latest Beach Boys box set to emphasize a more unheralded era of the group, and Mike Love cherishes the result..
By Ken Sharp
The Beach Boys' Sail On Sailor-1972 box set draws together the group's Carl and the Passions – "So Tough" and Holland albums, and is enhanced with an extraordinary treasure trove of unreleased material, demos, outtakes, alternate tracks. It also includes the long-awaited release of the group's legendary stint at New York's Carnegie Hall, which finds the band living in the "now," forging new frontiers onstage with a powerful and exciting reconfigured lineup, a time when recent fare like "You Need a Mess of Help To Stand Alone," "Marcella" and "Leaving This Town" meant more than "Surfin' USA."
In the Feb-Mar 2023 issue of Goldmine, Al Jardine and the then new Beach Boy member (singer-guitarist) Blondie Chaplin are interviewed for an in-depth dive into the Sail On Sailor period. Here online, join us for the following conversation with founding member Mike Love as we set further sail on that magically creative era in the band's storied history.
GOLDMINE: What story does the Sail On Sailor box set tell about the group?
MIKE LOVE: You know, I don't know if it has a story. It has multiple stories that are kind of ongoing. But the thing that comes to mind is the song "Sail On Sailor." By that time, Blondie Chaplin and Ricky Fataar from the South African group The Flames were part of the group and they actually joined us and we toured and we made records together. And so that was pretty unique, them being from South Africa, which was notorious for being apartheid and them joining us. It was pretty unique situation, I think.
GM: Blondie and Ricky added a very unique flavor, not only as musicians but as songwriters, too, bringing in a gospel, R&B feel akin to the music The Band was making.
ML: Yeah, it was an innovation. So that's the one thing, of course, then there's the live album we recorded 50 years ago in Carnegie Hall. That's pretty amazing, too. The Beach Boys just played Carnegie Hall recently and that brought back a lot of memories.
GM: With the addition of Blondie and Ricky, it helped broaden The Beach Boys in terms of image, performance and songwriting.
ML: All of that definitely came into play. You used the term broaden and that's right. They brought in such a unique influence and a good one, I think. It gave us a little harder edge in some ways. I just remember the band having a really good feel to it.
GM: The live shows recorded at Carnegie Hall featured on the box set are such a mind blower. Obviously, there's been peaks in the band's career as a live entity, but at least to me, you can't beat 1972 Carnegie Hall Beach Boys.
ML: Well, you're right. That's a perfect way to describe it. It was really a profound time for us and I think it's great to listen to and re-experience it through this box set. And then there's some things which are kind of interesting. The origin of "Sail on Sailor" itself with Brian going over chord changes with Van Dyke Parks in attendance. That was pretty unique, too, just to see some of the origins of some of the songs. That's very interesting.
GM: Moving into the studio for Carl and the Passions album, what was the state of The Beach Boys career at that time?
ML: I think it was just an interesting time period because we were being creative individually and it was more of a democratic process at the time. But also it was at a time when The Beach Boys album sales weren't going great. So it's nice that there's attention put on that period of time through this box set. There's been several box sets released in the last few years that brought a lot of attention to some of our not so successful years in terms of album sales and numbers. But it certainly shows a deeper look into the group.
GM: With this material, whether it's you contributing a song or Brian or Dennis or Carl songs or Blondie and Ricky or Al (Jardine) offered, what we're witnessing is an extraordinary burst of creativity.
ML: Yeah, there's some pretty unique stuff. Our manager at the time, Jack Rieley really helped communicate the evolution of the group. I mean, Capitol Records was still calling us the "number one surfing group in the USA" at a time when there was integration problems and the Vietnam war was heating up. Obviously, you would think with "Good Vibrations" going to No. 1 and being such a unique masterpiece of a song, you would think that they would have come up with something a bit more relevant. I think Jack Rieley did, and in fact, not only did he do a great job in writing lyrics, in particular with Carl on a song like "The Trader," which he did beautifully, but he was the one that gave us a bit of more of a relevance. We did things like the Mayday concert in Washington, D.C. and the Berrigan Brothers benefit. That was sort of an anti-war kind of thing. Carl was being hounded by the FBI because of his conscientious objector status. There was a lot of serious deep change and thought processes going on that were affecting the group and that showed up in some of our music. I think from a historical point of view, it's a very interesting time.
GM: And in a way, Jack helped rebrand the group to new generations, the hip, younger generation. During this period, the band was playing all kinds of venues, from colleges to even playing at prisons.
ML: That's right. Some of that was a result of Carl's need to do things that would satisfy his conscientious objector status. We did, in fact, play at prisons, hospitals and all kinds of concerts. I remember that we played at Terminal Island. We did this tour of Oklahoma and did four concerts and none of them were regular concerts. They were all benefit concerts. So, anyway, it was just a really interesting time. Ricky Fataar is one of the nicest guys you ever want to meet and a great drummer. He's drummed for Bonnie Raitt for many years now. Blondie Chaplin is an amazingly talented guy. Great guitar player, but also a fantastic singer. They really added a lot to The Beach Boys.
GM: Mike, during this period the band was not having big hit records. Did the band feel like outliers in 1972?
ML: I don't know if that word is actually how we felt, but maybe in fact, we may have been outliers for some points of view. But I don't know if we actually took the time to actually think of that ourselves. I think in a career that's been as long as The Beach Boys, there have been periods of ups and downs and times when we were more successful than other times and so it's just one of those things. That's natural, I think. I like celebrating these kinds of lesser known eras because it shows a deeper dive into The Beach Boys and broader perspective. And it's interesting if you're a music fan, it's a really interesting time. You've got your Feel Flows box set. You've got your Sail On Sailor box set. You've got your Sounds of Summer box set. You've got a lot of music, hundreds of songs.
GM: During this time, is it accurate to state that Carl Wilson was the defacto leader in the band as a record maker? Was Carl leading the charge creatively in terms of overseeing everything, or was it more of a separate case by case per song basis?
ML: Well, I think Carl took quite a bit of an increased role of from what he had prior to that. That's absolutely true. But also Dennis was very involved in his song creation. Alan (Jardine) and I cooperated on the "California Saga." The Holland album was pretty interesting. I think we were in Europe for several months, and yet we must have been homesick because we did the "California Saga" trilogy. That was really pretty neat. When Alan came up with the melody and the words for the song, "on my way to sunny Califor-ni-a," I sing it to myself all the time. The poem that I wrote about Big Sur was a beautiful little poem about one of the prettiest places on Earth. There's a lot of individual growth and creativity and productivity on that album.
GM: You've always been a proponent of spiritual growth. Hearing "All This Is That" on the box set with just vocals is extraordinarily beautiful and moving. Lyrically, the message behind that is so forward thinking that we still haven't caught up with it.
ML: Yeah, well, that's straight out of the Vedas, the ancient scriptures from India (recites lyrics) "I am that, thou are that, all this is that" and I heard that directly from Maharishi and Alan and I cooperated on doing that song. And then Carl came in with the beautiful part "jai guru dev" at the end and it's mystical. It's just kind of a mystical kind of thing; it's hard to describe the feeling when that song is done live.
GM: Spirituality was pervading a lot of the band's material at the time.
ML: Yeah, absolutely. Alan and I both went to TM teacher training courses. I remember being in Majorca back in the early '70s and we completed teacher training to become teachers of TM and I personally taught quite a few people transcendental meditation at that time. So there were a lot of things going on in our personal lives that weren't necessarily the normal record making type of things. Being influenced by meditation and Maharishi and that knowledge from the Vedas, that was a wonderful influence on the group and a tremendous growth.
GM: I wanted to talk a bit about Dennis Wilson and your songwriting collaboration with him. You and Dennis got along at times and then there were times you didn't get along. But what I find very interesting is you both were still drawn together and were able to connect in such a beautiful way with a song like "Only With You." He sought you out to work with him on that.
ML: Yeah. The thing is with Dennis it's no secret that he had challenges with lifestyle choices, drugs and alcohol and stuff like that and there are times when we had to tell him that he had to go to rehab. He was showing up for concerts and or recordings and he was not in great shape. It was sad to see and experience. But basically he had loved the environment like we all did. And so we got together and I wrote the words for the song "Pacific Ocean Blue" and also I wrote the lyrics for "Only With You." That song is very similar in its vibe to "All I Wanna Do"; it has a similar feeling; "All I Wanna Do" being a beautiful song. Having done so many songs with his brother Brian, Dennis did turn to me for help and lyrics on a couple of his songs.
GM: One of the unreleased tracks on the box set is "Carry Me Home," which carries in its grooves and lyrics an extraordinary beauty but also a deep melancholy. While Dennis was looked upon at the hedonist in the group, the sex symbol, there is a great depth of soul and sensitivity to his work. Do you think he ever knew how good he was as a writer and where do you think that self-esteem issue came from?
ML: Well, I think he had a definite melancholy about him and his writing and I think that came from his childhood and the influence his dad had on that. He rebelled against his father's oppressive personality and physically as well as emotionally and so I think that probably colored his outlook on life. So there was a certain melancholy mood to a lot of his efforts.
GM: What was your reaction when Brian first played his song "Mount Vernon & Fairway," which is pretty much a tribute to you and your childhood home.
ML: I think it was pretty unique. I mean, it was a childlike look at the place I grew up in. The Love household was beautiful and you could say it's a mansion. It was three stories with the subterranean garage and a swimming pool and a beautiful view of Los Angeles. It had a large living room with a grand piano and organ and a harp in it and my two sisters played the harp. We did our Christmas gatherings there and we just are finishing up on our "'Tis the Season" tour doing some of our Christmas time offerings from the original Beach Boys album and also the Reason for the Season album of mine that I did a few years ago. So it's always been a very special time of year. But the experience of Brian coming over to our house as a young guy and sitting on my grandmother's lap singing "Danny Boy," that probably is the first memory I have of Brian singing.
GM: And he got a lot of love and positivity and support when he came over so maybe that's why it was also a haven of acceptance for him and remembrance.
ML: I think that's true. My mom was a great hostess and she put in so much effort to bring the whole family together, even if my Uncle Murry and my dad didn't get along so great but at Christmas time, it was all harmony. So it was kind of a lesson in itself, just the whole thing about getting together and doing music together, harmonizing together.
GM: Were you touched by Brian writing that song "Mount Vernon & Fairway"?
ML: Yeah, I thought it was a really incredibly unique song. I think it was an innocent, very sweet look at a part of our lives growing up together.
GM: What would we have found inside the bedroom of a 13 year-old Mike Love?
ML: Well, as far as records, I would have the Kingston Trio and Harry Belafonte and all the early rock and roll records and stuff, especially Chuck Berry.
GM: Did you have your own record player?
ML: Yeah, I did and I would listen to the radio. I'd listen to my radio at night when I was supposed to be sleeping. I'd be tuned into the R&B stations and early rock and roll well.
GM: What books would we have found in your room?
ML: Not comic books as much as actual novels and books. I mean, probably Robert Louis Stevenson. Different authors. I was the most well-read kid in my school growing up. I had a fascination for literature.
GM: Mike, who do you think spawned that interest in reading, your mother or your father?
ML: No. For me it was just my nature. I love reading, I love stories. I love history and culture, philosophy, all of it. Like I said, I was the most well-read kid in my school and I think that had to do with the appreciation of lyrics and led to my being primarily known as a lyricist with the group and with my cousin Brian in particular.
GM: In those early years, as a lyricist, you were piggybacking on Chuck Berry weaving these beautiful, evocative stories that reeled off in your mind like Super 8 movies. When I listen to the songs that you wrote, a lot of these songs, I can close my eyes and see the movie.
ML: Yeah. And that was the way of Chuck Berry describing these little vignettes in his lyrics and the syncopation of it all. It definitely influenced the writing of "Be True to Your School" and "Surfin' Safari "and "Surfin' USA" and "I Get Around." All those earlier hits, the up-tempo ones were definitely influenced by Chuck Berry, there's no question about it.
GM: But then when you get to the Sail on Sailor box set, you've evolved so much as a writer, now penning much more poetic, sophisticated lyrics, with those you are the pure originator of that.
ML: The first song I recall writing was a past life experience when I was maybe 12 years old, something like that and that was created in that bedroom and that house in "Mount Vernon & Fairway." It was from a past life experience, like a vision I had. So there are things like that we're not known or talked about, but it definitely is an experience that led to the writing of the song.
GM: I'm going to confine this to lesser known songs, I'm not going to let you pick "Good Vibrations" or "The Warmth of the Sun," are there any lesser known songs that you've written for The Beach Boys that you're especially proud of as a lyricist?
ML: I think "All I Wanna Do" is a beauty. I think that's a very sweet, beautiful, sensitive song of just a pure love kind of being expressed.
GM: With some writers the real writing work comes with continual rewriting and rewriting. Was that your process or when inspiration struck, did it land on the page as is?
ML: If Brian had a melody, I would take that melody and work with it and probably isolate myself and just go deep into this mood and the feeling evoked by that melody and come up with words that would resonate beautifully as closely as I could to the feeling of that melody. Interesting, sometimes the lyrics will come first, but quite often the melody would give rise to the lyrics and the concept.
GM: You're also a master at capturing the rhythmic cadence in those songs.
ML: Thank you, well, that's also having to do with the hooks that I sometimes would have come up with. That, again, that could be the influence of Chuck Berry and other poets and writers and stuff that were an influence as well.
GM: With the Holland album, who was the person who said, let's go to Holland to record a new album? What was the thinking among the band? Was it like, this is crazy, or this is something that's a worthwhile experiment and pursue?
ML: It was definitely Jack Rieley. In fact, I think he lived the latter part of his life in Holland, as far as I know. It was definitely his influence to get us to focus on Holland. There was a place in the south of France that had a mobile studio The Rolling Stones used at one time and I remember Alan and I talking about perhaps we'd go there. But it turned out to be Holland and it turned out to be fine. We all had places all over Holland and then recorded in an old farm house. We flew in all kinds of recording equipment and stuff. It was a very expensive endeavor. But it also gave us a different perspective, I think. And while being in Europe, we were still a California band. Alan and I did the "California Saga" song. He had the Robinson Jeffers poem, "The Beaks of Eagles" and he had me sing the lead on the song he came up with. And I, of course, came up with a Big Sur poem. It was just a very unique time, a very unique perspective. I thought it was pretty unique and pretty cool because the thought was, OK, we've been in California all our lives. We've been doing stuff in the LA area. What would it be like to get a different perspective? It was an experiment and it was costly, but it led to some pretty cool music.
GM: Lastly, tell me about The Beach Boys cruise that's happening in March 2023. What's the experience like for you on these cruises where the fans become a part of the big Beach Boys family?
ML: That is definitely the case. We would do a Q&A with the entire group and we have Jim Hirsch, the co-author of my book Good Vibrations": My Life as a Beach Boy, he and I did a Q&A together. That was interesting. Bruce and I took photographs with everybody on board that wanted to have a photograph. There was a photo session that lasted a couple of hours and so people have a souvenir copy of us with themselves and so there is an interaction with people on board. But the thing is, everybody that's on board is such a Beach Boys fan and they're ready for whatever we're going to dish out. I look forward to doing things like Sail On Sailor and Feel Flows. I want to do some of the songs that we get asked to do that we don't always do. When we did the Sounds of Summer box set, on that collection there was almost every hit we ever did and that's primarily what we do when we do our concerts. Of course, lately we've done the "'Tis the Season" song selection where we include several seasonal songs, Christmas songs, and that brings back a lot of memories of growing up together as cousins and brothers and family. Before we became a formal group, we were all about harmonizing together and literally Christmas caroling around the neighborhood. With these box sets, it brings to light some of the lesser known songs to The Beach Boys and gives them life. 
On the cruise we have enough time to be able to do some of these songs that people request that we don't always get to in our normal concerts. So the cruises give more of an intimate feeling about being together with fans and friends and family. The music is going to be wonderful. You've got The Temptations. You've got the Righteous Brothers. You've got our friend, Mark McGrath of Sugar Ray. He loves the song "It's OK" and we'll probably have him do that along with a couple of other songs with us and we'll back him up in a couple of his songs. And also there's Rain, a Beatles tribute group, an ABBA tribute group and Katrina from Katrina and the Waves is going to be on board as well. There's so much music and so much diversity. I have a lot of fun on these cruises. I enjoy listening to everybody do their thing. We've been friends with the Righteous Brothers for years. Members of The Temptations would come and see us perform when we were in Alabama where one of the original members is from. We've enjoyed a long history with other artists. It's been a fascinating life. The cruise gives us a chance to stretch out and do several more songs that you probably might not ordinarily do and these box sets that have been coming out have been so great because it's a chance to experience for us to re-experience these songs and the cruise gives you an opportunity to bring these songs to life.
Get the Feb-March 2023 issue of Goldmine to read more in-depth material about the Sail On Sailor time period, with talks with Al Jardine and Blondie Chaplin (click below).