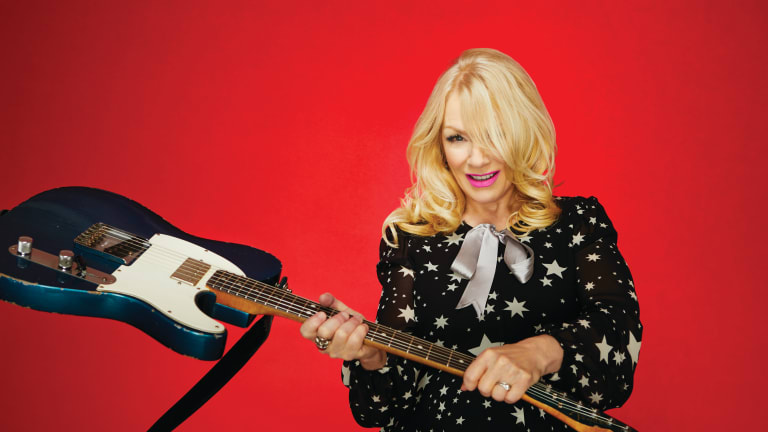 Guitarist Nancy Wilson follows her true heart with solo album
With her latest solo album to tout, guitarist Nancy Wilson is following her heart at last.
By a Goldmine exclusive colored vinyl variant (with extras!) of the Nancy Wilson solo album You and Me in the Goldmine shop!
By Lee Zimmerman
Heart certainly weren't the first group to find women at the helm, but they were one  of the few who featured a pair of siblings taking the primary roles. It also put an end to any notion that a female guitar slinger couldn't hold her own in what had previously been a boys club. Indeed, the combination of Ann Wilson's searing vocals and younger sister Nancy's expressive lead guitar found a formula that brought them an enduring streak of success, one that resulted in their induction into the Rock and Roll Hall of Fame, sales of over 35 million records worldwide, over a dozen Top 40 singles, seven Top 10 albums and four Grammy nominations. More remarkably still, they were able to claim a presence in the upper reaches of the pop charts in three different decades: the '70s, '80s and '90s.
Of course, songs matter more than statistics, and Heart had their fair share of classics, including such radio-ready hits as "Magic Man" (1976), "Crazy On You" (1976), "Barracuda" (1977)," "What About Love?" (1985), "Never" (1985), "These Dreams" (1986), "Alone" (1987) and "All I Wanna Do Is Make Love to You" (1990). To be sure, their success has ebbed and flowed over the years and the band went on hiatus in 2016, leaving their future status somewhat uncertain. Ann busied herself with solo projects, including two full-length albums — Hope & Glory and Immortal — as well as a pair of EPs, various singles and guest appearances on other people's albums.
However, Nancy's individual output has been relatively sparse by comparison. Save a 1999 live recording from McCabe's Guitar Shop and a smattering of cameos here and there, she's never claimed a studio solo album prior to You and Me. To be sure, she has assists from some high-profile guests — among them Sammy Hagar on a moving rendition of the Paul Simon song "The Boxer" and Taylor Hawkins and Duff McKagan on a suitably rowdy rocker titled "Party at the Angel Ballroom." In addition to seven original compositions, the remainder of the album consists of covers — among them a faithful rendition of Bruce Springsteen's anthem of endurance "The Rising," a tempestuous take on the Cranberries classic "Dreams" and a meditative remake of the Pearl Jam standard "Daughter."
Still, the most moving track is the song that comes at the album's conclusion. Titled "4 Edward," it's a guitar instrumental that pays homage to Eddie Van Halen, a friend and fellow road warrior.
"We did a couple of shows together, Heart and Van Halen," Wilson recalls. "We played some festival situations together along the way, as many bands did at the time. So we kind of hit it off, especially since they were two brothers and we were two sisters."
Two sisters with a penchant for authentic rock and roll. Formed in their hometown of Seattle in 1967, the band now known as Heart were originally known as The Army before changing their name to Hocus Pocus. The handle lasted only briefly before the group switched it again, this time to White Heart and, after the Wilson sisters joined, it was then shortened to Heart, which has been the band's brand since 1973.
"When Ann first met Mike, the brother of the group's guitar player, she wrote 'Magic Man' about him later that night," Wilson recalls as she traces the band's beginnings. "She fell for him head over heels. He was a draft evader during the Vietnam War, so he was forced to flee to Vancouver, British Columbia. She had already met some of the other guys in the band and had successfully auditioned to join the group. So after falling in love with Mike, she hitchhiked to be with him up in Vancouver, taking only her guitar and a backpack. The rest of the band was like, 'That was the best singer we've ever heard,' and so everyone followed her to Vancouver and handed her the gig. They all lived in a big band house, and when I decided to go up there to visit her, we all sat around and jammed and made music and just hit it off. But before joining the band, I wanted to take a year and a half off to assert my own independence, so I wasn't just the little shadowing sister. So I went to university and picked up a few classes I really was interested in — literature, creative writing and music theory. What I got from that was some valuable tools that I could bring into the band once I finally joined at the age of 21."
GOLDMINE PODCAST: Hear vocalist Ann Wilson discuss her solo work, Heart's legacy, Grunge and more
Wilson no longer lives in Seattle, but rather in California's Sonoma County after having relocated from Los Angeles. "It's a spring like-day today, and I'm looking at the birds at the bird feeder while watching them out the window," she notes somewhat gleefully as we speak. "We moved before the shutdown and got this nice place where I had actual studio space for the first time ever. I guess it was perfect timing for me to be able to spread out. I've been able to be really creative over this past year or so."
That creativity brought with it the new album, although Wilson says that a couple of the songs were actually completed prior to the pandemic. "I recorded 'Daughter' in Austin, Texas, with some really amazing players," she recalls. "I was there to do to some work on an EP with a guy named Eric Tessmer, who's like one of the best guitar players in all of Austin. We had this assignment to record a song for a soundtrack to a short film that was made in South Africa. It's a true story that deals with sex trafficking, and it sheds light on how prevalent sex trafficking is on a global level, how its impacted not only women in particular, but also men as well. I thought 'Daughter' was perfect for it, an anthemic song for women who have gone through that terrible situation. There's that lyric in the song that talks about how she holds the hand that holds her down, which really kind of describes a lot of what the subject is about."
Other songs go back even further back. "I wrote a track called 'The Dragon' back in the early '90s, in Seattle," she explains. "It was written for Layne Staley, who was the singer of Alice in Chains. We watched him go down that dark ladder, because we knew that his drug addiction was gonna get him. It became apparent that the dragon was gonna take him down, and eventually it did. It was a hard song to sing, but now it's found the perfect home."
"The Boxer" was also an ideal fit for the track list, due to the fact that it had been a part of Heart's set list in recent years. "I've been singing and playing it all my life basically," she reflects. "It's a perfect crowd pleaser kind of singalong, and it's got this storytelling sort of sensibility that's so typical of Paul Simon's songs. It's so iconic that (even) if a girl starts the song singing, 'I am just a poor boy and my story is seldom told,' it's not jarring. There's no reason to think of it as defined by gender. It's a universal song, which translates no matter who sings it."
She notes that she was inspired to cover "The Rising" after seeing Springsteen on Broadway. "I thought about that song and the fact that he wrote it for 9/11," Wilson remembers. "Once the pandemic struck, I figured it would be another good one to cover, just to put something out there for the people that were going through all this terrible loss due to the pandemic with all of this horrific fear. COVID is so horrifying. It's different from polio, different from HIV. It's scarier because it's quicker to mutate. So, I figured, OK, as long as we're going through this terrible crisis in the world, let's share it from a woman's perspective and make it nurturing, and motherly, and helpful to the people going through it. That was the idea."
"Dreams" came about through more direct means. "We were in the car and it came on the radio one day," Wilson explains. "My husband, Jeff, said, 'Oh, my God, you and Liv Warfield have to sing this.' And I replied by saying consider it done. Liv played with Prince, and she's in my band as well. So I told her, 'I'm gonna send you a track, and we're gonna sing harmony, and you're going to be on my shoulder.'"
In a way, the album takes Wilson full circle, back to her beginnings when she was an aspiring guitarist and songwriter who was initially attempting to carve out a career on her own. "Before Heart, Ann and I were in a lot of little groups — folk groups that also played Top 40 tunes and did group harmony, mostly with girls from the school choir. We sang in all kinds of places around our neighborhood. When I was at college, I was playing solo on my own for spare change so that I could buy records. I was playing coffee houses and sharing performances with local musicians that I would get together with and do shows with in Portland, Oregon, and in the little town of Forest Grove, Oregon. I played with a lot of different players, and got my intellectual chops together that I could bring into the rock band."
Of course, one of the more intriguing things about Heart was — and is — the dichotomy of the material. It varied in tone and technique with the soft folky musings of "These Dreams" and "Alone" to the frantic approach of "Barracuda" and "Crazy on You." Wilson acknowledges the diversity, while admitting there was a reason why the band chose to vary the template early on.
"I do think it's unusual to be that versatile," she suggests. "Usually, you could count on your favorite rock band to have just one kind of a stylistic groove, but in our case, we had a dualistic sort of nature to our sound. A lot of the acoustic stuff is what I brought in when I joined. But none of the guys in the band were all that pleased when I joined. It was like, 'Oh great. Now we get to do sappy ballads.' But funnily enough, I learned how to do a lot of big rockers along the way as well."
Still, she admits there were two distinct points of view as far as their followers were concerned. "A lot of the fans early on were like, 'Yeah, like, we love those ballads. You guys do those nice acoustic songs, but why do you have to play those really loud, obnoxious rock songs?' But then the other 50 percent said the opposite. One of the questions we would get is, 'How do you rock out that much, but still maintain your femininity?' It was an interesting time to be imprinting something so different. And while it wasn't wildly schizophrenic, there was a duality to it."
The reason was that the band didn't feel tied to any particular template. "We didn't think there was supposed to be any kind of parameters necessarily, because we were trying to be like The Beatles," Wilson reflects. "We wanted to have that kind of freedom."
Part of the dynamic also had to do with their format, with two women at the fore. It was decidedly different from anything that had come before.
"Absolutely," she agrees. "There had been these striking women up front before, a front person, a lovely lady. Coming out of the '60s, there was Janis Joplin, and then there was Fleetwood Mac and Stevie Nicks. Janis was more R&B obviously, while Fleetwood Mac was more pop. But there weren't too many sisters, either — 'sister acts,' as they used to say. Being military brats was a big part of that. We were seeped in all kinds of music from the word go, and then we learned how to harmonize and sing and play ukuleles. We always had music in our home. Our mom played great piano. Dad was a barbershop quartet singer, and our aunts and uncles, grandparents, everybody, would join in and sing and play their ukuleles. We would listen to everybody from Patti Page and Sandra Dee to Judy Garland and even some classical stuff and early electronic experimental music.
"So it was a real natural progression just to move into all kinds of mind-expanding '60s stuff. So by the time our mid-'70s era rolled around, the sky was the limit. We didn't realize we were supposed to be tied to some sort of framework and be a round peg that fit some sort round hole. And being military brats as well, I think we just had this bit of dogged determination, knowing that we were confident enough to do whatever we wanted. Our parents were very supportive as well. They said, 'OK, just follow your guts. You're gonna do it, you're gonna do good.' So it was all those things combined. I guess it just helped us decide that we were going to be different.
"I've enjoyed doing some solo music with my band, so there will hopefully be more of that," she says. "We'll just put in the pot and stir and see what we make of it."
Needless to say, her heart's in the right place.