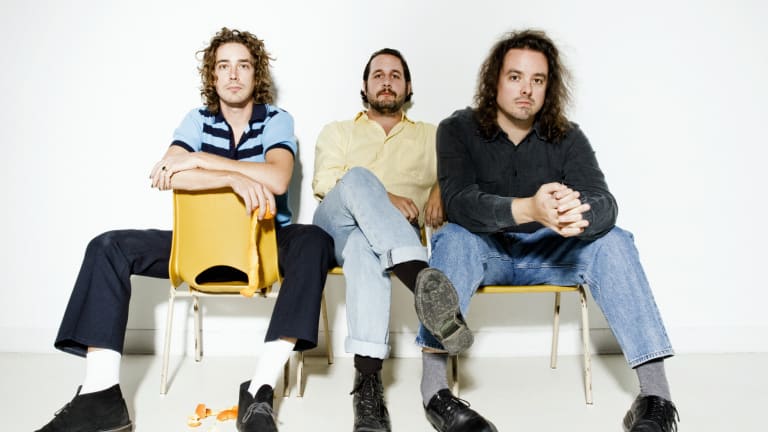 New 'Juice' from Born Ruffians
Luke Lalonde, guitarist and vocalist for Born Ruffians, spent some time bringing Goldmine up to speed on the band's history, a new label (Wavy Haze) and a new album called "Juice."
By Alan Brostoff
Let me put this out there right from the start: the new Born Ruffians album, Juice, is very, very good. Luke Lalonde, guitarist and vocalist, spent some time bringing Goldmine up to speed on the band's history, a new label (Wavy Haze) and the new album.
GOLDMINE: Where did the name Born Ruffians come from? 
LUKE LALONDE: We came up with the name when we were in high school. So it's basically a case of just wanting to find something that sounded cool and unique. We liked the word "Ruffians" and my sister made a list of _______ Ruffians. We liked Born Ruffians best. I think it reminded me of "Sonic Youth" or something, which is one of the best band names of all time.
GM: The new album, Juice, came out in April. How is it different from your other albums?
Luke: It's hard to say. Maybe another 5-10 years will give me the perspective to see. I did recently hear a mix of our discography and realized how similar our sound from album to album actually is. At the time of making each one, you feel like you're making these big strides. But sometimes I think you can't get away from the way you naturally sound as a band. I think we're just always looking to get to the emotion and necessity of each song.
GM: What is it like to own your own label now, and what will that allow the band to do that it might not have been able to do in the past? 
Luke: I mean, essentially it means we make a bit more money and own more of our music. It's an empowering move and we're lucky enough to be able to do it. I think releasing records in various ways for almost 15 years has given us the insight and know-how to do it on our own (with MUCH help from our manager and partners in crime). We love Paper Bag Records — I am releasing records with them under my own name — and Yep Roc Records who put us out everywhere but Canada. 
GM: As a label will you look to sign other acts? 
Luke: We may, we might. Right now we're just focused on us.
GM: What has Covid-19 done to the tour? 
Luke: We'll get back out there when we can, probably in rooms full of pylons and tape markings on the floor. We're rescheduling all of our 2020 dates. 
GM: What has the band been doing differently during the time at home? 
Luke: Like a lot of other people I've been filming stuff at home, doing live streams and stuff. It's great because it's forced me to learn more video editing so I can recording myself doing overdubs and put together more expanded performance vids. I've just been releasing covers of songs I love mostly... I haven't been writing much. I think I need to go back out into the world more to get more songs out.
GM: How has the band been using social media to help promote the new release? 
Luke: I think we have more of a captive audience because of this pandemic, everyone does. I know I'm actually seeking out more live/new stuff more then retreating to Netflix, etc... Mitch (DeRosier, bass) handles the social media stuff and he's been knocking it out of the park as usual. We sent handwritten letters to a bunch of our biggest, longtime fans. It included a link to a new song before anyone else had heard it. We asked them to help us announce the record online. It went really well... it was really special. 
GM: Is the band big fans of Animal Crossing? 
Luke: Mitch got me into it and now I can't stop. Yes.
GM: The new album is available through the website on limited color vinyl. Will there be other color variants available at stores or on tour? 
Luke: Good question! Right now we have clear vinyl from Wavy Haze Records, and Yep Roc put it out on yellow — but that one is sold out. We may have another color on tour, you'll have to come and see!
GM: Tell me about your record collection? 
Luke: My record collection is currently in many boxes in a storage unit. I've moved 12 or 13 times in the last 10 years and I'm leaving them there until I have a more permanent home. My collection started by stealing what was left of my parent's records, about one milk crate (they sold or gave away so many over the years). I started buying records when I was 19 and moved to Toronto. That was mid 00's and you could go to a record store and find '70s pressings of Brian Eno records for, like, $15. I reminisce about those days...
GM: Any favorite Record stores? 
Luke: All Toronto stores: Sonic Boom, Rotate This, She Said Boom, Tiny Record Shop, Dead Dog Records. 
GM: What are you looking to add to your collection? 
Luke: I've had my eye out for Blaze Foley records. I'd also like to fill in my John Prine section (RIP). I've been listening to him my entire life but I think I only have a copy of one of his records.
GM: Who would you like to write or record with? 
Luke: Some of my favorite people making music right now are: Adrianne Lenker (Big Thief), Andrew Savage (Parquet Courts), Luke Temple. I also think the Lemon Twigs would be a lot of fun to play music with, though they are infinitely better players than me, I'd be very intimidated.
GM: When are you expected to hit the road for the tour?
Luke: Honestly probably not until 2021.
GM: Finally, what is the best way for people to buy the new record? 
Luke: Through Yep Roc or through Wavy Haze. Go to our website bornruffians.ca for more specific instructions. Keep your eyes peeled! We'll have some new, exciting announcements soon-ish.