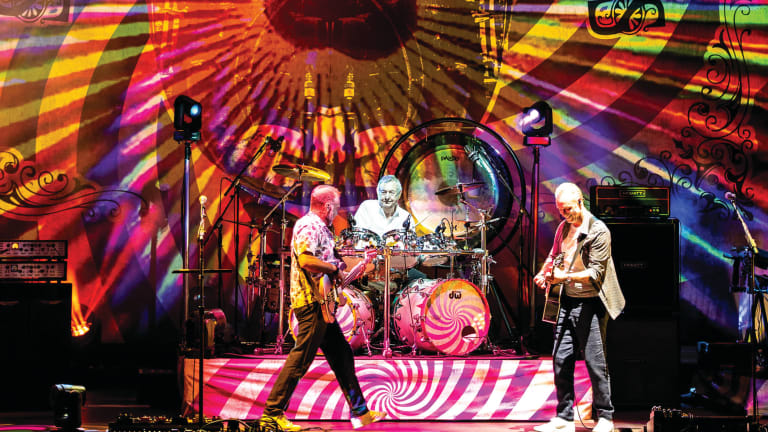 Nick Mason's Saucerful of Secrets interested in an era that allowed Pink Floyd to flourish
With Saucerful of Secrets, drummer Nick Mason wishes to celebrate the blend of artistic freedom and anarchic energy that guided Pink Floyd from the 1960s into the band's most successful decade.
By Dave Thompson
In a perfect world, you'd have had the album more than six months ago, and be looking forward to seeing the show in a few weeks' time. In a perfect world, Nick Mason's Saucerful of Secrets would already have their biggest tour to date poised to tour the USA. In a perfect world.
"I'm fine," Mason answered when the question was posed to him back in March. "Whether one could say that about the rest of Europe at the moment is a different matter."
Today, with all that we've undergone in the months since then, his prediction that "certainly touring is going to be held up for a little while" has been proven several thousand times over. As has his condemnation of the preparations (or otherwise) that were allegedly in place at the start of all this. "It shows we haven't quite made the strides we think we have."
Nick Mason's Saucerful of Secrets is a bit of a mouthful as band names go, but with the vagaries of internet search machines having rendered single words and simple phrases utterly redundant — go on, try Googling 'Yes' and see where you get —NMSoS tells you exactly what you're going to get. The second Pink Floyd album, and more besides, as seen through the drumsticks of one of just two Floyd founding members who are still with us.
Mason formed the band in 2018, initially as a low-key affair whose first live shows, clubs and pubs around London testified to the lack of expectation that went into the band's creation. Mason was joined, as he still is, by sometimes Floyd bassist Guy Pratt, Spandau Ballet's Gary Kemp, guitarist Lee Harris and keyboard player Dom Beken.
Looking around at a world in which tribute bands now outnumber the bands worth paying tribute to, Mason has always been adamant that NMSoS has never been interested in joining the crew. If anything, the group are more interested in the spirit of the era that allowed Pink Floyd to flourish in the first place; that glorious blend of artistic freedom, anarchic energy and, most of all, hope that fired the late 1960s into the history book, and which only slowly dissipated as the new decade emerged.
It's for that reason that there is nothing in the band's repertoire that post-dates 1972's Obscured by Clouds soundtrack album; for that reason, too, that NMSoS received such plaudits once word started to spread. They weren't quite performing the Floyd that history has forgotten, but close.
"I won't say I'd forgotten about 'Nile Song' (from the More movie soundtrack)," Mason corrects. "But most of these tracks certainly haven't been played by Pink Floyd for 50 years, because they were overtaken by more successful records.
"That's true particularly in America — in the U.S., people seem to think we started with Dark Side of the Moon, and the early material is comparatively unfamiliar in America... although there are the fans who will sit on the forums and argue endlessly over which mix is superior."
He laughs as we consider the sheer devotion that fires so much of Pink Floyd's audience, but he would never hide his affection for those fans. They're the ones who do howl with delight as NMSoS launch into another lost Floyd classic; they're the ones whose support pulled the band from three nights at the Half Moon pub in Putney in May 2018, to the showing at the Royal Albert Hall in London.
"We're not playing little clubs anymore," Mason confirms. "We're playing theaters, but that is still fairly intimate. We don't really want to go out in front of audiences of 30 or 40 ... it'd be nice, but it's end up costing an arm and a leg if we took anything other than one roadie with us. Also, there's a big problem with the small venues, which are the lifeblood of starting-up bands, because a lot of areas are gentrifying and the pub with a room above it is too noisy for the local residents. So they're turning the venues into luxury (apartments)."
All the same, he admits "It's absolutely terrific. It's a return to... OK, I suppose by 1967 we hardly did any clubs. Once you got a record deal (as Pink Floyd did in early 1967), the clubs lasted about three months and then you're into the ballrooms and the theaters, and by the end of '67 we were touring with Hendrix and The Move and the Amen Corner, playing proper theaters.
RELATED CONTENT: How to view The Wizard of Oz with Dark Side of the Moon
"But theaters do feel pretty intimate, because you've got that thing of being surrounded by the audience, and it's great because the last Floyd tours were arenas. l like playing to a huge audience, but the reality is, it's not only the audience, it's the band as well. If you're playing a big venue, you're on a big stage, and the trouble with big stages, especially at my advanced age, is you can't really make much eye contact if someone's more than about five meters away."
Plus, on those later tours, particularly in the post-Roger Waters era — that is, from A Momentary Lapse of Reason on — the notion of Pink Floyd as a quartet had long been discarded. Two drummers, two keyboard players, two guitarists, multiple backing vocalists... Mason might be jesting when he adds "golden ticket winners who've been invited to stand on the drum kit or whatever" to the roster, but he might not. In these days of vast sponsorship deals and multi-media saturation, anything is possible.
"But that's absolutely right, there's so many people. Once you're reduced back to five musicians on a small stage, you're actually interacting with them, instead of occasionally catching sight of them from a distance."
With added eye contact comes added spontaneity. "I think that's part of the reason for playing this early material; it has a life of its own. The problem with the more recent stuff, the great classic Floyd opuses, is that your audience is very anxious to hear it exactly as it was played on the record, and what's entertaining for us is knowing that no two shows are identical.
"There's always room for a little bit of changing things around and improvising or whatever. You try to keep the spirit of what was done originally, but I don't feel there's any requirement to stay the same. And I've certainly never got that feedback from an audience, 'Oh well, you didn't play that,' or 'you didn't quite have the guitar break that you did on the record.'
"We're having fun with it. Playing music tends to be fun anyway, and if you take the analogy of actors, you're not really encouraging them to freestyle with Shakespeare; they can put their own stamp on any given speech, but there's no improvisation. Classical musicians are the same — there's still interpretation, but I think we get more leeway with this early material than with 'Comfortably Numb,' for example."
A quick glance at the NMSoS repertoire, the 21 songs that make up the Live at the Roundhouse proves his point. The shorter numbers — "Arnold Layne" and "See Emily Play," from the 45s released before Floyd's first album; "Lucifer Sam," "Remember a Day" and "Point Me at the Sky"— all more or less translate as you remember the records. It's the longer pieces that were more freeform to begin with — "Interstellar Overdrive," "Obscured by Clouds," "One of these Days" and "A Saucerful of Secrets" itself — can be taken as far as the musicians like. And that's what makes NMSoS such a glorious creation.
Go and see most bands today, and the older songs are often so engrained in their DNA that they couldn't deviate from the norm if they wanted to. (Compare The Who playing "My Generation" in 1970, with how they treated it on their last tour for further details.)
NMSoS don't have that problem — Mason is the only one in the band who has ever played everything in the set, with even bassist Pratt, a Pink Floyd sideman since 1987, familiar with no more than a handful. Indeed, looking again at the contents of Live at the Roundhouse, what we are effectively getting is a vastly expanded version of Relics, that 1971 compilation of odd singles and offcuts whose original U.K. sleeve was in fact drawn by Mason himself.
"It wasn't the songs I could remember," he explains. "It was the songs I remembered liking, with a little twist of democracy. What we initially chose, the first five or six numbers, were the ones where everybody went "that'd be great." Then, after that, it would be... we'd still need a quorum of people who thought that particular song would be a good idea, but also, to some extent, once you start playing them, you find things that either work or they don't work.
"Most of us do not feel that we want to bother with playing 'The Gnome,'" he continues. "But, having said that, there's so many tracks there, some of which really lend themselves to playing live, and some of which maybe don't, or are less interesting."
One thing that NMSoS has avoided is digging deep into the archive, pulling out songs that maybe the faithful believe (or have heard) exist, but which the Pink Floyd machine has yet to release. That in itself is a determination that was generously eased by the release of The Early Years box set in 2016, with its vault-busting inclusion of (among other treasures) the long demanded Syd Barrett-era out-takes "Scream Thy Last Scream" and "Vegetable Man" — the latter of which is included on the album.
Mason is certainly conscious of the special place Barrett occupies in older Floyd fans' affection — it would be difficult to have been in the band and not been aware. The voice and face of Pink Floyd across two U.K. hit singles and a debut album that is routinely held up as one of the pinnacles of English psychedelia, Barrett began fading from view during the sessions for the second album; cut two remarkable, but oft-times ragged solo LPs, and then effectively disappeared.
Six of Barrett's songs are in the repertoire, plus a seventh ("Interstellar Overdrive") for which he receives a co-writer credit. But though there are others that could (and some might say should) be added to NMSoS's canon, there are others that will never be, and not just "The Gnome."
"Have You Got It Yet?," for instance, is a song which Barrett apparently wrote with the pure intention of exasperating his bandmates. Every time he tried to teach it to them, he'd change just enough of it to ensure that no, they never got it.
That's the legend, and Mason confirms that it was true. "There was a song called 'Have You Got It Yet?,' but I'm happy to say it was never recorded, not even in the rough form where we started to rehearse it. And yes, he would change it every time."
Which begs the question, were all the other stories about Barrett true?
"Well, it depends which ones, but a lot of them are true. The peculiar behavior things are generally true. But the thing to make clear about the whole Syd Barrett story is, we're talking about a long time ago, about a situation that we didn't understand.
"We still don't actually know what the problem really was — was it to do with taking too much acid? Most likely if acid was involved, it was taking the wrong sort, there were some pretty violent strains around at the time, many times stronger than a regular dose and there was a lot of people who tried them that tended not to come back completely. That could be part of the story.
"But it could also be that Syd was... there are those stories that he was a little on the spectrum to begin with. And there's also the fact that we had no idea how to look after him or treat him. We had the idea that anybody who didn't want to be in the band must be mad, whereas it might be that he'd done a year of being in a band, and just wanted to go back to painting.
"Lots of people drop out of music... but it's become an industry. It's like the James Dean thing, everybody loves the idea of the hero who never fulfilled what they expected him to. Who disappeared or burned out before they achieved what could have been an amazing career."
That's not been a problem for Nick Mason, of course. The drummer with one of the most exciting and innovative bands of the entire rock and roll era is still playing the music that assured that status in the first place, and playing it well. Close your eyes and the NMSoS could easily be an additional disc from The Early Years box, or a hitherto unheralded bootleg, or whatever other fantasy that Floyd fans hold dearest. Open your ears and that is exactly what it is.
And still the Pink Floyd archive has further treasures to divulge. We've had The Early Years box set, and last year brought us The Later Years, wrapping up the band's career since Waters departed. Of course that leaves the middle years, and Mason confirms, "I think what we might try to do is the middle years. That's not going to be a box — the middle years are covered by the Immersion boxes (for Dark Side of the Moon, Wish You Were Here and The Wall) anyway. But we've certainly talked about Animals a lot, so I'm sure it will be out at some point.
"It's an interesting album, a curious one, because it was made in a completely different condition to the other albums, being made in our own studio with far less technical support, and there is also the sort of belief that it was maybe influenced by punk.
"Prog rock had become very pompous by that time, and there was a push to maybe do something a bit more raw, I guess. I don't remember any planning meetings where we talked about punk, and it wasn't really doing anything while we were recording. But it was around, and the album came out exactly as punk was hitting the mainstream."
So that's what's hopefully next from the Floyd. And it's unlikely that the NMSoS story is at an end, either, even if Mason is adamant that there will never be a NMSoS studio album.
"There's the live album, and I don't think we'll do too many of those. We don't have a long-term vision of how this should work — we knew there'd be at least a year of doing exactly what we're doing now, augmenting the set list with new material, but there's no plan that we're going to invade other catalogs or start writing new material or whatever.
"But having said that, we're open to suggestions. If you told me that I'd be hammering around the country playing old Pink Floyd stuff 10 years ago, I'd have gone mad."