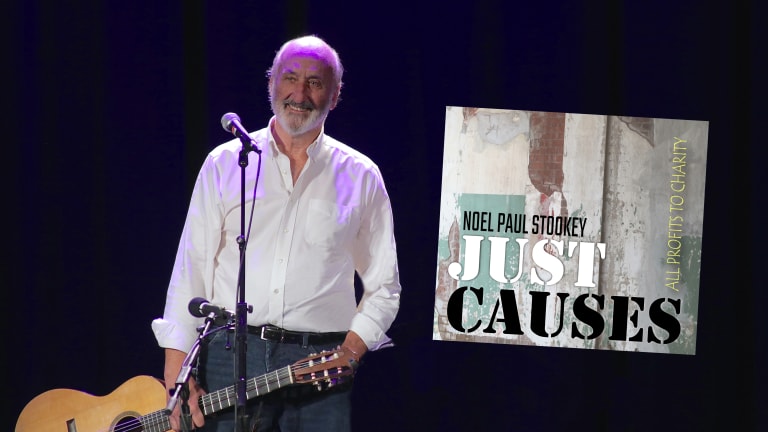 Noel Paul Stookey's "Just Causes"
Noel Paul Stookey of Peter, Paul and Mary fame has self-released "Just Causes," a meaningful album of 15 songs about 15 topics, with each song benefitting a like-minded charity.
By Mike Greenblatt
When the Rev. Dr. Martin Luther King, Jr. gave his iconic "I Have a Dream" speech on Aug. 28, 1963, the musicians who opened for him were Bob Dylan, Joan Baez, Odetta, Mahalia Jackson and a trio known as Peter, Paul and Mary, who popularized Dylan's "Blowin' in the Wind" for the masses, reaching No. 2 and winning a Grammy.
When Peter asked Paul to bless his nuptials, Paul wrote his most famous song, "Wedding Song (There Is Love)," which is arguably one of the most beautiful songs — both lyrically and melodically — of the 20th century. The publishing on that tune alone could've made Noel Paul Stookey a millionaire. Yet, righteous to the core, a disciplined lifelong activist for a host of civil rights and anti-war causes, he gave it all away and didn't receive a dime — on purpose. That kind of commitment is more than rare. It's unheard of. Pete Seeger had it. Woody Guthrie had it. Noel Paul Stookey has it. 
As if to double-down on his unerring complicity to better the world in which he lives, Stookey has self-released Just Causes, an absolutely gorgeous album of 15 songs about 15 topics, with each song benefitting a like-minded charity.
GOLDMINE: You devoted all of the royalties for "Wedding Song (There Is Love)" to charity?
NOEL PAUL STOOKEY: You didn't know that? I was helpless. Had no choice. Ideologically, I had gone through a big spiritual turnaround in 1970 and because of that, Peter (Yarrow) had approached me. "Noel, would you bless our wedding with a song?" I knew I wasn't authorized to dispense blessings, but I knew where I could get one. So I went to my knees and I said, "How would You manifest yourself at Peter's wedding?" And the lyrics just came to me laid atop of each other. I mean, I wasn't that scripturally literate, so I had "I am now to be among you at the calling of your hearts/rest assured this troubadour is acting on my part," all first-person, and written in about as long as it takes to sing the song.
Now, I had been inspired before, but this was not mere inspiration. This was like a direct conduit, an answer to a prayer. So, fast-forward a year later, Peter, Paul and Mary are not traveling anymore because my spirituality had overtaken my heart, and I needed to clear the deck and straighten out my life and my family. But I had already recorded this wedding song. It's a pretty piece! So it's on my first solo album (Paul And, 1971). But, record companies, as well as licensing agencies, have to add the name of the composer under each song. Otherwise, the monies collected goes into rebuilding the new portion of a parking lot or something. So I'm thinking, "All right, well listen, I ain't about to put my name on it, I didn't write it, I received it, and I'm not about to put that God wrote it or Jesus wrote it, so what do I do?" And then I thought, "I'll just donate all of the monies that come in that would have ordinarily gone to me publishing-wise, to this charitable organization" — never realizing how much it would actually accrue.
So I'm in this motel room prior to singing the song for Peter's wedding, I'm reluctant to sing it out loud because I really felt like I was commissioned from on high. This song has a direct purpose, and, man, I'm not messing with that. Finally, my wife says to me, "Well, you need to rehearse it, don't you?" So I sing it to her and she listens to the lyrics and says, "I don't think they're going to understand." That's when I realized that because of the suddenness of my spiritual turnaround, people are going to think I'm declaring myself as the second coming! Given the lack of poetic largesse at the time, particularly associated with my history, I said, "OK, it should be 'He is now among you at the calling of your hearts/Rest assured this troubadour is acting on His part.' " Certainly not mine!
Isn't it ironic that as we grope now for a commonality among all religious entities to find a spiritual center, that the patriarchy issue has arisen? Who says God is a He? History has said? I have this new bumper sticker that I'm creating that says, "In Matters of Theology, It's Wise That We Remember, In Christ There Is No East or West, In God There Is No Gender." I honestly get applause for that when I say it from the stage. And I have returned to doing "The Wedding Song" with the original lyric.

GM: Time out. You wrote the lyrics. You wrote the melody. Period. And it's one of the greatest compositions of the 20th century. It's been used at weddings for generations. Its melody is gorgeous. Its words are inspirational. Yet you gave up almost $2 million dollars in royalties. It's not like you're such a millionaire to do so like a McCartney. That's the type a song you could hang your hat on for the rest of your life had you written nothing else ever. And you gave it all up!
NPS: I'm blushing.

GM: You're too humble. Another thing about you is that you were there with Dr. King.
NPS: Twice! Most people don't know that story. We had a dress rehearsal. We all gathered in the morning on the grounds of the Washington Monument to go through the entire program. And then from there we marched to the Lincoln Memorial. There was a great solemnity that we felt and shared. Mary turned to Peter while we were standing up there and said, "We are watching history." Don't forget she and her parents had taken part in the demonstration against the execution of the Rosenbergs. They marched outside the White House when she was a child. So she had seen, in retrospect, how history treats events of monumental consequence. And this was one of those moments. So she knew. It was a prescient comment.

GM: I didn't expect to like Just Causes as much as I did. The amazing thing about you is that you're still fighting for causes. Dylan's admitted he used folk as a stepping stone to becoming a rock star. Phil Ochs hung himself when he didn't have anything to protest anymore. Hero Pete Seeger kept at it for decades. And you.
NPS: I was a Johnny-come-lately to folk music. In the '50s, I was in R&B bands playing guitar in the Midwest. I didn't even discover Woody Guthrie until I moved to Greenwich Village in the '60s. I brought whatever I had as a cathartic songwriter. I never write by discipline. I write by a calling. I write about what moves me, be it El Salvador or the growing of poppies in Afghanistan that funds the arming of the Taliban, or the Twin Towers disaster. It's more of a response. Underlying it all, I'm hopeful and prayerful that what you took away from listening to the album is the sense that we're all in this together.
The last track, "Revolution," says, "We're a raggle-taggle army/we have no uniforms or guns/but we've been called by coincidence/so maybe we're the ones." That's the crux of it all. We're all like little Don Quixotes, man. We can't battle the huge windmills around us. But we can certainly take care of Pancho riding next to us. We can invite other Quixotes to have dinner around the campfire. We can bake them food if they're hungry. We can shovel their walks if they're infirm. We can visit them and befriend them. That, right there, is how the revolution happens. (The song "Revolution" benefits Sojourners, a faith-based initiative that promotes "spiritual renewal and social justice.") Somebody asked me the other day what my religion is and I told them that I'm a 'none.' I don't want to be identified with mankind's attempt to sub-divide the divine.

GM: How far did you go back for these Just Causes tunes?
NPS: "Tom Quick" is the track that brought this project together. I had rediscovered what the song was really about. I was so moved by the chorus of "and I feel the old world dying spread-eagled on the wall," but the fact that it was about this guy who went around killing indigenous people in the name of revenge, I had never really paid close attention to that. I covered the song in '06 but it's from '71, when we had that big energy scare. The most recent tune is "In These Times," the environmental track I wrote in '07. The human psyche is rather episodic when it comes to causes. If something raises its head, it's in the news for six months, then it's not. "El Salvador, for instance, is important as is "Familia Del Corazon" for the immigration issue and "Jean Claude" for the Holocaust. These kinds of issues are continually renewed. Those are the buttons that pushed for me. So the songs span from 1970 to 2012.

GM: Were any of them rerecorded, remixed or remastered?
NPS: A few had to be adjusted. I mean, they were all looked at again by an engineer to make sure they matched each other on a sonic level. We added an instrumental part to "The Connection." Most of the them, though, are the actual versions from their original releases.

GM: Your voice is just so pristine on these tracks. Singers lose their upper register with age. How do you find singing on a stage these days?
NPS: I know what you're saying. I noticed it about Sinatra. I can't complain. I stopped smoking when I was in my 20s. That helped. On the other hand, let's admit it, is Mick Jagger a good singer today? Hell no. But does he still have the passion? Hell yeah. When you put yourself into the subject material that you're singing about, passion counts for a lot. And when it comes to these particular songs, I'm in them. Totally. I believe what I'm singing about. And that was the whole lure of folk music in the 1960s. Sure, you could sing a love song, but to sing a song that embraced truth and ethics while informing us and inspiring us, that was the great impact that the folk boom on college campuses across the country had for all of us on into the 1970s. It's why folk influenced pop back then.
Most people don't give folk music that kind of credit today. But it really did bust the dam wide open. And it's where Dylan went. I mean, sure, Phil Ochs always lamented the fact that Dylan had left his political leadership, as it were, in the dust but, honestly, the new politic is the internal politic. We have to get our sh*t together, man, before we start pointing fingers at others. To me, that's the choice that Dylan made. He did The Times They Are A'Changin' album in '64 with "When the Ship Comes In," these metaphors about large groups of people who were inhibiting the progress of humankind. Then suddenly in the same year he writes what I feel is his keynote song for the whole Dylan legacy: "My Back Pages" (from Another Side of Bob Dylan) when he sang "Ah, but I was so much older then/I'm younger than that now." That's a judgment where he's recognizing that to a large extent he has the same demons that he has to deal with within himself and he has to get his act together! That's what his music is all about right there! Going forward! Getting his internal action lined up for the future.
GM: "The Connection" gave me the chills what with its message, its arrangement and its vocal (benefitting the Partnership to End Addiction at www.drugfree.org).
NPS: It's my defining song insofar as it's a story-song. It's dramatically staged. I tend to do that. People invariably ask me if I'm the character in my songs. Not really. I try to build a manic circumstance that we can observe to draw conclusions about, inferences, make changes in our own lives based on what we've seen these people doing. This one's intricate. It starts off with these two bozos and ends with the same two bozos in a two-flight walk-up looking to score some drugs, not realizing at all that what they are about to purchase is connected to a farmer in Afghanistan who grows poppies and provides income to the Taliban so they can purchase weapons to wreak their terrorism. There's a 5/4 section that I'm proud to have been able to pull off because the song itself is in 6/8.

GM: I think that's what I responded to on a gut level, that time-signature change in the middle of the song.
NPS: Ever since loving the Dave Brubeck Quartet, and his experiments with time within music, I became aware of the emotional quality that such a dramatic shift can engender.

GM: Well, thank you so much for continuing to do what you do.
NPS: By the way, "Not That Kind of Music," which benefits www.musictolife.org, didn't start out as being about Pete Seeger, but it certainly ended up that way.

GM: Pete's a hero of mine.
NPS: Mine, too.

GM: When he bravely faced the government who accused him of being Communist, he brought his banjo. How cool is that? You, sir, are now our Pete Seeger.