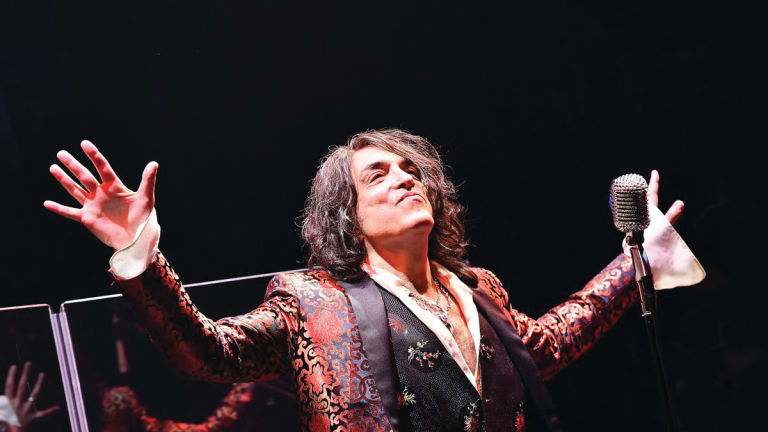 Paul Stanley: Soul Man
KISS frontman turns to soul music and R&B to further his musical passions and create the Soul Station album "NOW AND THEN."
Paul Stanley gets souled out with his spectacular 15-piece band Soul Station on their debut album, Now and Then. While it may come as a surprise to many followers in the KISS Army, Stanley is a lifelong time acolyte of soul and R&B music, and this passion project finds Stanley in a sweet zone, beautifully interpreting classic songs by the likes of The Temptations, The Miracles, The Spinners, The Delfonics, Al Green and others. The album also features five strong and radio-ready original songs penned by Stanley that perfectly capture the songwriting sophistication, vocal stylings and sumptuous production sheen of classic Motown and Philadelphia International Records.
Join us for a conversation with Paul Stanley.
GOLDMINE: When did the idea for the Soul Station project first come to mind?
PAUL STANLEY: Well, my roots are much more broad and varied than some people might realize. This is funny; I was having tea with Jimmy Page in London, and we were talking about this. I said, "Before I ever saw Zeppelin or The Who or any of those bands, I saw Otis Redding. I saw Solomon Burke. I saw The Temptations." So it's very much a part of my DNA. Motown and Philly soul and Stax/Volt, all that music is really unfortunately too nostalgic at this point and used too often for loops and samples as opposed to hearing a great song. What's missing nowadays so much is great live performances of that material. What's being passed off now as R&B is usually a computer and a drum machine. For a while I thought about that, and I had an opportunity a few years ago to put together something that was in essence Soul Station. We did a couple of private shows, we all looked at each other and said, "Why aren't we doing more of this?" It's great to have that coming from people who are not only in demand but working all the time with Stevie Wonder or Smokey (Robinson) or Pink or John Mayer. These are real crème de la creme players, but everybody has the same passion for this music. To be able to re-create it, not in a sterile way but with the same passion and intensity that it was made with, is something that we all feel very close to.
GM: There is a timeless appeal to much of this music; can you put your finger on why?
PS: I think great music always touches a nerve. I think great music connects with you emotionally and perhaps you don't always know why a melody can do that, a lyric can do that. It's amazing to think of the vitality and the passion of the people who were writing those songs. It's weird to think of a Smokey Robinson in the ghettos of Detroit being a kid and coming up with the lyric "just like Pagliacci did, I try to keep my sadness hid," which is from the song "Tears of a Clown." Pagliacci is a great Italian opera and that anybody would know that outside of opera buffs only shows how deeply these writers were. So for me, I found that a lot of that music was the voice of young America and it was color blind. You had Kenny Gamble and Leon Huff in Philadelphia turning out The Stylistics, The O'Jays… So this is the kind of material where an audience might hear the title of a song and go, "I'm not familiar with that one," but as soon as the song starts, you're singing along because you know those songs and they bring that out of you.
GM: Paul, your local record store, Triboro Records, was a nexus of music for you. That's the store where you bought your first soul and R&B records.
PS: Triboro Records was the last stop on the Q44 (bus route) going towards Jamaica, Queens. Jamaica, Queens, was predominantly a black neighborhood. Triboro Records was a two-story, old-school record shop. This is before cassettes or anything. And they just had tens of thousands of vinyl records. And in that the community that it was in was predominantly black, you had a much more diversified selection of records. And I can remember the comedy section (laughs), which was Pigmeat Markham, Moms Mabley and Redd Foxx, stuff that we weren't accustomed to.
GM: Redd Foxx had a great comedy album titled You Gotta Wash Your Ass.
PS: (laughs) Oh, yeah. The funny thing is, the property that our house is on now was once Redd Foxx's. (laughs) It all comes full circle.
GM: Was Triboro Records a place could go into a booth and play records and be turned on to things, or were their employees were saying, "Hey, you should check this out"?
PS: No, there was a place in New York City called the Record Hunter, and that place was great because they actually had booths and turntables, and you could ask them for records. And when I used to not find my way to school, I would find my way to record stores and listen to music, and Triboro Records was such a place. There were James Brown albums there way before James Brown was in the consciousness of most of America. It was a place that I loved going to. I also loved going to the music stores on 48th Street in Manhattan. There were two places where I would escape in Manhattan. I would go to 48th Street, where at one time there were probably about 12 music stores selling guitars and amps and drums. It was like going to a car showroom for a car nut, and the other one was Triboro Records. And if nothing else, it opened my eyes that there was much more music than what I was aware of.
GM: What was the greatest challenge putting together the album for you?
PS: I'm laughing because it originally started as basically the set we were doing live at the time. And as we were recording, I thought, I should write a song for this. And I did it and arranged it and did the strings and horns, and it came out so good that I found myself going, "I should write another one." That kept happening so we wound up with five original songs on the album, and it really became a real body of work. It encompasses enough of the live set and then is offset with new songs that seamlessly take it into 2021. In the midst of really focusing and immersing in Soul Station, I found writing these songs easy because it wasn't a case of "Gee, let me write in the style of," it was being part of it, so it's not like wearing a different hat. It's very much a part of who we are and what we were doing. So it wasn't second-guessing a style. I mean, it's as much me as pretty much any music. It kind of goes back to what I've said before about singing. When I did Phantom, somebody asked me if I was reinventing myself and I said, "I'm not a rock singer, I'm a singer who sings rock," and that's a choice and it's no different now. It's part of this journey.
GM: All of these new songs are very sophisticated; did you compose these on piano?
PS: No, no. And that's really a difference because I wrote them on guitar knowing that the chord structures and sequences would be piano-based. So although I wrote on the guitar, the idea was never to really feature the guitar, but rather by transition to piano voicings.
GM: Let's talk about some of the new songs starting with "I Do," which sounds like a Philly International track, something The Stylistics would do.
PS: "I Do" is definitely much more Philly International, Philly soul than a few of the others, and again, the Delfonics were just a killer as was Blue Magic. The melodic quality and the lyrical content is very much in that vein, and the string and horn arrangements, too. I love Gamble and Huff and Thom Bell and the writing he'd do with Linda Creed. But the orchestrations are so wonderful. They're so melodic and lyrical and they often play against each other. And, yeah, it was just a natural progression from when I started writing it.
GM: "Save Me (From You)" has kind of a killer Four Tops/Temptations vibe, but it also feels modern, too.
PS: "Save Me" was the first one that I wrote for the album. I just found it going towards Motown; the bridge in it comes out of left field. But that's some of the beauty of the Motown music. It would breathe life into the middle of a song that you weren't expecting, and I think there's some of "Bernadette" in there and there's a bit of "Love Child." It's not using something else as a template. If you absorb music, you have so much to draw from without imitating, you can be inspired.
GM: "Whenever You're Ready" features you in a duet with Crystal Starr.
PS: Crystal's dad comes to all the shows, and Chris Crystal's dad backed up with Jackie Wilson, so she's got the DNA. He's more than supportive, he's kind of, if not in awe, just jubilant at what the band sounds like. I wanted a duet. I loved what Marvin Gaye did with Kim Weston or did with Tammi Terrell. I love that interplay; there's something exciting about that. I wanted to write a song that captured this situation and two people saying with optimism, "Whenever you're ready, I'm here."
GM: I understand that Rod Stewart is now a believer. What were the songs that you played him?
PS: I think Rod heard "Just My Imagination." He's away right now, but when he's back, he'll get to hear the new songs. But, you know, it's a hoot when somebody is either baffled or kind of stopped in their tracks, and I understand it. I see Rod and we'll sit at Starbucks and when I mentioned my 15-piece band, his first words were, "Well, who sings?" (laughs) OK, I had to laugh. And I said, "Me." And he said, "Can you handle those songs?" And that's when I pulled out my iPhone. And he talked to my wife, Erin, about it, and he talked to his daughter. It was very funny but very gratifying. Rod used to spend time in Detroit with David Ruffin, and Rod was a huge fan of David Ruffin. So Rod's the real deal, and there's other people who I consider top tier, and they've all been wowed.
GM: For people that follow you in KISS, I don't think it's a surprise that you love soul music. And I'm going to give you some examples, starting with the use of falsetto on a lot of KISS songs, whether it's "Firehouse" or "Black Diamond" or "I Was Made for Lovin' You," "Shandi" and even on "The Oath" you use your falsetto. The chorus in "Shout It Out Loud" was something you've referenced as being akin to something The Four Tops would do.
I found it interesting that you copped Stevie Wonder's rap from "Fingertips Part II" for the live version of "100,000 Years." It's funny but the majority of the KISS fans would not know you were tipping the hat to him.
PS: When I first heard "Fingertips," it was so unlike anything on the radio because, first of all, it was live and it was improvised. The song pretty much ends and falls apart and then one of the background musicians asks "What key?" and they start up again and then you hear the announcer announcing Little Stevie Wonder. That was exciting and painted a picture that I wanted to certainly be a part of. The influences of music come out and should over the course of your writing and your career. "What Makes the World Go 'Round" from Unmasked is like a Spinners song. The only thing we did differently was arrange it for guitars, and that very easily could have gone in a different direction.
GM: "Easy As It Seems" is another one from Unmasked with a soul vibe.
PS: Yes. "Easy As It Seems" is the same thing. The riff of "Tears Are Falling" is actually a little play on "Uptight" by Stevie Wonder, but whether those influences are apparent or not is irrelevant because, in a perfect world, you draw on your inspirations and that's what makes music diverse and have depth to it. Otherwise, if you're playing the exact same music that three or four bands that you like play, well, then that's kind of like incest. (laughs) You're going to wind up with some very peculiar-looking kid.
GM: To me, "Easy As It Seems" and "What Makes the World Go 'Round" could easily transition into being performed live by Soul Station in the soul manner they were originally intended.
PS: Totally. But I believe that neither of those songs are anywhere near as good as what Soul Station is doing.
GM: What are the greatest challenges you face in delivering this material in a live setting?
PS: There's a big weight on my shoulders because I'm singing songs by some legends, and if I can't deliver them, I shouldn't be doing them. So if I'm gonna sing Smokey or if I'm gonna sing Al Green or David Ruffin or Eddie Kendricks, you better be on point or you shouldn't be doing it, plus the rest of the band is so damn good.
GM: You probably haven't used your falsetto as much in a hundred KISS shows combined as you do in the Soul Station shows.
PS: Yeah. It's a change for me rather than singing songs by Edwin Starr or David Ruffin or Dennis Edwards. I'm kind of sticking more in the wheelhouse of doing the more falsetto soul/R&B stuff. It's fun and first of all, it's not easy because your singing can't be mechanical. There is an intent and an emotion in those vocals that you don't want to miss. The idea isn't to re-create something in a sterile way as much as to emotionally inhabit it.
GM: What makes a great R&B/soul singer?
PS: I guess communicating or telegraphing to people and honesty, whether it's their voice or their phrasing. What comes across is either an honesty or a confessional, which is what makes it so intriguing.
GM: Back then it seems the classic R&B/soul singers were less worried about showing off with vocal acrobatics like the singers of today and more intent on delivering emotion and connecting with an audience.
PS: Well, firstly, I think that you have to respect the melody, and if you become more about showing off what you can do at the expense of what you're singing, then you've lost the plot. So I'm not a fan of that at all. Certainly I can remember a time in my career with KISS when I was more enthralled with some of the notes I could hit rather than whether they actually belonged in a song. (laughs) So I think it's far more important to understand what you're doing and certainly when you're singing somebody else's material that is so great there's an eloquence to it, and you don't mess with that. I think sometimes when people rerecord songs, besides trying to reinterpret them, sometimes it just comes down to somebody trying to replace passion with perfection, and some people don't realize that's what they're doing. That's why some rerecords and re-creations fall so flat because the greatness of a lot of that music is that it wasn't perfect.
GM: You have described the songs you are performing with Soul Station as "beautiful songs," and I agree. These are songs rich with melody, commanding singing and consummate production and instrumentation.
PS: You could only write most of those songs I'm doing with Soul Station on a piano. They couldn't be written on a guitar. They are naturally piano-based, and there's a brilliance to a lot of that writing, and then on top of it to add these great arrangements and strings and horns. The embellishments on a lot of those songs made it so grand. That's what I love with Soul Station is that the music is grand; it's lush and yet it's got incredible power and passion. I didn't want anybody to think that this was gonna be sappy or soft. Look, when you've got Sean Hurley and Eric (Singer) and Ramon (Yslas) playing percussion, you've got a foundation that kicks you in the stomach, so this music encompasses everything. It's got a great low end and kick to it, and then you've got these amazing swirling strings and horns and vocals. It is beautiful music and the sentiments are beautiful, and that doesn't mean they're sappy.
GM: What are the plans for Soul Station in terms of playing shows?
PS: In terms of playing, it's much more realistic in the foreseeable future for Soul Station to go out and do shows than it is for KISS. I would say that's very probable because right now the idea of arenas packed with people is a pipe dream. It's just not in the cards for anybody. And, you know, this pandemic and COVID is a changing scenario daily. So the idea of having mass crowds is not going to happen for a lot longer than most people probably have any idea. But in the meantime, could we go out and play? Probably. And that's very much in in the world of possibility and probability.
The Soul Station band
Alex Alessandroni (musical director & keyboards)
 Alessandroni has performed, directed and/or recorded with artists such as Babyface, Whitney Houston, Christina Aguilera, Pink, Nelly Furtado, LeAnn Rimes, Faith Evans, Tony Braxton, Bobby Brown, Natalie Cole, Mike Patton and many more.
Rafael "Hoffa" Moreira (guitar & backing vocals)
 Moreira has performed and recorded with the likes of Pink, Christina Aguilera, Steven Tyler, Backstreet Boys, New Kids On The Block, Sheryl Crow and Stevie Wonder.
Sean Hurley (bass)
 Hurley is an LA-based recording and touring bassist for John Mayer and many others including Robin Thicke, Annie Lennox and Ringo Starr.
Ely Rise (keyboards)
 Rise has written and produced for acts such as Adam Lambert, Macy Gray and Mike Posner. He stands as the go-to session player for some of today's biggest producers.
Eric Singer (drums & backing vocals)
 Singer has been a member of KISS for over 20 years, recording and touring worldwide to millions of fans. He has also toured with Brian May, Black Sabbath, Lita Ford and Alice Cooper.
Ray Yslas (percussion)
 Yslas is one of modern music's most accomplished in his field, having done world tours and performances with platinum artists including Christina Aguilera, Bonnie Raitt, Jennifer Lopez and the Backstreet Boys. He has made numerous network television appearances with the likes of Stevie Nicks, Martina McBride and Carlos Santana and is currently a touring member of Chicago.
Jon Papenbrook (Trumpet)
 Papenbrook has played lead trumpet with Natalie Cole, Aretha Franklin, Paul Anka and Frankie Avalon to name a few. He has also played lead with the Harry James Orchestra, Louis Bellson Big Band, Buddy Rich Big Band.
Gavyn Rhone (backing vocals)
 He's toured/shared the stage with Pitbull, Nick Jonas, Stevie Wonder, Trey Songz, Justin Timberlake, Usher, Babyface and is currently the lead singer for The Gap Band. Gavyn is also featured on 7-time Grammy nominated Keyshia Cole's hit single "Party Ain't A Party."
Crystal Starr (backing vocals) 
Starr has backed artists such as Jessica Simpson, Stevie Wonder, Kanye West and Ariana Grande in addition to competing on American Idol and starred on Broadway's Baby It's You. Starr has also been a background vocalist on The Voice.
Laurhan Beato (backing vocals)
 A veteran of the Los Angeles music scene, Beato's credits include shows from The Video Music Awards to The Academy Awards with artists and artists ranging from Tori Kelly to John Legend.