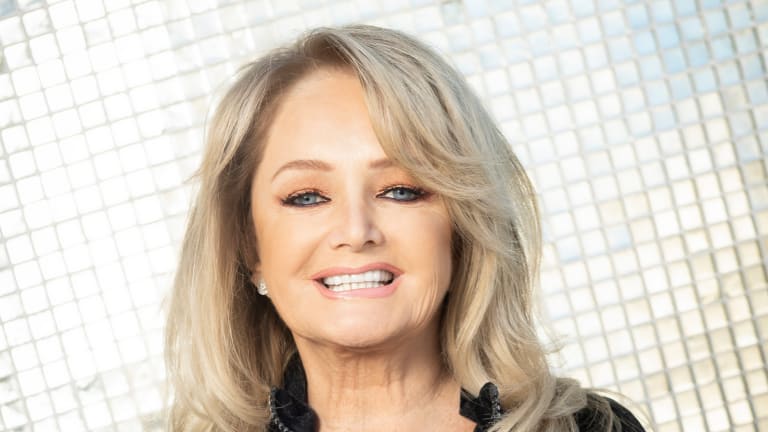 Bonnie Tyler feels "The Best Is Yet To Come"
Power ballad singer Bonnie Tyler feels "The Best Is Yet To Come" is the perfect album title for her latest full-length record.
By Rush Evans
Bonnie Tyler has learned to swim. It's something she'd always wanted to do but simply hadn't gotten around to, so in the final year of her 60s, unable to tour during the pandemic, she decided to swim. Such forward thinking and determination is all part of who the hit making Welsh singer has always been. Her hopefulness and eye toward the future come through in her perfectly title new album, The Best Is Yet to Come. It was really always there in all her previous 17 albums over a singing career spanning half a century.
Tyler was already quite well-known in Europe, thanks to her 1976 hit "Lost in France," but it was the 1978 release of "It's a Heartache" that broke her in America with a gloriously raspy (or as she calls it, "husky") voice that has become her distinctive trademark. Vocal cord surgery in her 20s had rendered her voice that way, and in typical Tyler optimism, she took a sad song and made it better by embracing the very thing that might have made other singers leave the practice of music altogether.
It was a great song rendered perfectly by someone who knew both how to sing beautifully and broken at the same time. It sounded like a heartache.
The next single, the excellent "Here Am I," was embraced by audiences across Europe, particularly Germany, though it didn't do anything in the States. But Tyler was by no means done with America.
She was a big fan of the songs Jim Steinman wrote for Meat Loaf, whose Bat Out of Hell album (written entirely by Steinman) had taken rock and roll into a new territory of epic songs with grandiose vocals and arrangements. Tyler's voice was perfect for Steinman's musical vision.
Steinman produced her fifth album, 1983's Faster Than the Speed of Night, and he wrote a song especially for her called "Total Eclipse of the Heart." It was and is the ultimate power ballad in the hands of the ultimate power ballad singer. It came out during the heyday of MTV, and there was Tyler looking majestic and beautiful in the video in a white dress, her blond hair windblown, singing with equal parts strength and devastation. This heartache was so much bigger.
The following year, her song "Holding Out for a Hero" became a cornerstone track for the hit movie soundtrack of Footloose and another larger-than-life anthem.
And she's never stopped. Tyler has kept making records, continued touring (primarily in Europe), refusing to let a worldwide epidemic crush her hopeful spirit. She truly believes that the best is yet to come.
We had a great overseas call in which she looked both forward and back on her great career, doing so with the thick Welsh accent she's never lost. She was calling from her home in Portugal, a home with a great swimming pool she can now enjoy.
GOLDMINE: This new record has the same great voice and feel of your earlier records. Also, it rocks. Does anybody remember rock and roll?
BONNIE TYLER: It's timeless, rock and roll, you know? It's got that feel of the absolute brilliant Bruce Springsteen and Rod Stewart albums. I've always loved that kind of sound. I think the album is probably that kind of (sound), gone back to the '80s. It's really uplifting, don't you think?
GM: I'm the perfect age for that. I was in high school when "It's a Heartache" came out. The new record pulls me right back. Listening in my car, I feel like I'm a teenager again.
BT: I had a good time making the album, working with my producer, David Mackay, who actually produced "It's a Heartache" for me. It's great working with him after all these years because we hadn't seen each other for about 40 years! We started working together again, and it's been a joy, an absolute joy working with him. I did the last album with him two years ago, which was very successful, Between the Earth and the Stars. And we're already collecting songs for the next album.
GM: I wondered if you wanted to work with David again in order to capture the feel of those early records.
BT: It didn't happen that way. I'll tell you how I came to work with him again. My old bass player that played on "It's a Heartache," Kevin Dunn, sent me some songs. He'd been working on them with David, and he said, "Oh, it's great working with David again." And I said, "Oh wow, since when?" And he said, "Since I've written these songs, he's been knocking them into shape for me. How do you fancy getting in the studio and putting a few demos down, see how my songs are working?" I got back to David that way, and it was like we'd never been apart. Great fun! None of us are spring chickens anymore, but we love what we do! This album was finished before COVID. It was due to come out April last year, and then because of COVID, it got put aside. But I think everybody's in desperate need of some uplifting music now, and I really believe that this is it, amongst a lot of great songs that people have been doing in lockdown. Myself, in lockdown, I've learned to swim. I learned to swim at the beautiful age of 69, and finally, I can cook! I've used the time wisely.
GM: Learning to swim later in life fits the spirit of the record, the notion that the best is yet to come.
BT: I didn't ever have the nerve to do it before. Once you know how to swim, it's like riding a bike, isn't it? It's some madness that I've missed out all these years, the fun of the swimming pool that I've had for many years. Having so much time on my hands, it finally just clicked, and now I swim all the time. I know I'm blessed, darling, but I've worked very hard for all I've got, you know? I do realize I'm in a very nice position. I'm always on the road with my band. This is the first year I haven't worked since I'm 17.
GM: You mean this was the first year without gigs since you were 17?
BT: Yeah! The only time I wasn't on the road or working was when I had to have a throat operation, when I had nodules on my vocal cords, and that was for about six months. Apart from that, I've worked all my life. And loved every minute of it, too.
GM: I wanted to ask you about those nodules on your vocal cords. I wasn't sure when that happened in your career. Did you have this glorious rasp of yours before the issue with the nodules, and did that incident scare you at first, as a singer?
BT: I did record "It's a Heartache" after the operation. "Lost in France" was my very first hit record, and if you've heard that, you'll realize that my voice was a lot sweeter in them days than it is now. But I couldn't stop talking, as you can tell, I'm a bit of chatterbox. I just couldn't do as I was told and shut up, you know? You're supposed to write everything down? I just couldn't do it. So in the end, the surgeon said to me, "You've really gone and done it now. You're always gonna be husky now." But when I went in the studio and started singing, "It's a heartache, nothing but a…," they were like, "Wow, Bonnie, your voice is even more husky now!" But anyway, it worked.
GM: Do you see that throat surgery as a gift now? You have a very pretty voice, but that rasp is your calling card. It's special.
BT: They used to call me the female Rod Stewart before I had the operation. But I could never understand why. I was very flattered that they thought that, but I could never hear that much heftiness in my voice, but obviously other people did, so I must've been husky before, but nowhere near as I am now. So I'm very happy with my husky voice!
GM: I know you've always been a fan of singers like Janis Joplin.
BT: Yeah. In the early days, when I first started singing in my bedroom with a hairbrush, it was Tina Turner and Janis Joplin. Oh my God! I used to think her voice was magnificent, the power, the feeling, the depth of feeling. She wasn't always in tune, but the feeling, from the heart. It came from her boots, you know? I just loved it. And Tina Turner, too, oh my God, yes.
GM: My favorite on the whole record is your version of 10CC's "I'm Not in Love." I always loved that song, but I realize now that it belongs in Bonnie Tyler's hands.
BT: I have made it my own, haven't I? It's such a beautiful song, but I'd never heard anybody do it without making it their own. There's no point in covering such a classic song if you're just going to copy the (original) version, so I just went to town on it, you know? It's such a gorgeous song. He's desperately in love, isn't he? It's not, "I'm not in love." It's "I'm breaking my heart 'cause I love you so much."
GM: Again, I was in high school when "It's a Heartache" came out. It sounded like the guys I was already listening to with rough-edged voices. You were new to us here in America at that time. How big a deal was it for you to break in America?
BT: I'll never forget the day I arrived at the airport. I arrived in Los Angeles, this was in 1978 or 1979. In those days, singers were picked up in these massive limousines, and this limousine came to pick us up, and we got in there. You have so many radio stations in America, and while I was in the limo, I was flipping through the radio stations, and bloody hell, "It's a Heartache" was on so many of them at the same time! I felt like rolling the electric window down and shouting, "This is meeee!" it was so exciting to be in America, and to have a hit record. Also, at the same time, I was working with Tom Jones in the Greek Theater, which was an honor in itself to be on the same stage as him. He is amazing. He's 80 or 81 now, and he's singing as strong as ever.
GM: I'm also a huge fan of your other fellow Welsh singer, Mary Hopkin. Didn't you sing "Those Were the Days" in a talent competition?
BT: Yes, the very first song that I sang on a real microphone in a talent competition when I came in second. Somebody said to me the other day, "Who the hell came first, Tom Jones?" I said, "No, an accordion player, of all bloody things!" I said, "I know a joke about accordion players: What's the difference between an accordion and an onion? Nobody cries when you cut an accordion up." My mother wouldn't have liked that joke. When she was a young girl, she used to play the accordion. Oh, my mother had the most amazing opera voice, believe it or not. She was like Maria Callas. She didn't do it professionally, but she had the most fabulous voice. Everybody used to just love listening to mother's singing. I'm from a big family: three sisters, two brothers, 16 nieces and nephews, and 12 great nieces and nephews. I'm very family-oriented. Always music in the house when I was a kid, you know.
GM: Speaking of your mother, you included her on your version of Jim Steinman's "Making Love Out of Nothing at All." How did that come about?
BT: Yeah. I took a cassette tape to Jim Steinman of my mother singing by my grand piano in Swansea. My mother was playing and she was singing, so I taped her, and I took it to Jim Steinman, and I said, "Jim, listen to my mother on this cassette." He said, "Bonnie, your mother's got the most beautiful voice. I could make a sample of some of that." I said, "Oh my gosh, that would be wonderful!" So he sampled a little bit of it, and he mixed it in with a sample of Maria Callas, and he put it on the record. It's amazing.
GM: You mentioned Jim Steinman, so it's time for me to ask it, and here's how I'm gonna ask it: I always loved that Tony Bennett said he never gets tired of singing "I Left My Heart in San Francisco," because it gave him the keys to the world. Did "Total Eclipse of the Heart" give you the keys to the world?
BT: I've never thought of it that way, but yes, I think you're right! It gave me the keys to the world, as well! Wow, I never heard that, but that is great, Tony Bennett saying that. It's my ace card, darling. It's an incredible song. I never get tired of singing it. Of course, my show will have a lot of new songs in it now to choose from, but I would never dream of doing a show without "Total Eclipse of the Heart," "Hero" and "It's a Heartache." People love to hear what they're familiar with as well as new stuff.
GM: I was a DJ at an adult contemporary radio station in the '80s when that record came out, and we played the heck out of "Total Eclipse of the Heart," and I never got tired of it either.
BT: Ha! I'll bet you played the long version, so you could go to the toilet for a long time!
GM: How special was it for you to sing "Total Eclipse of the Heart" during a total eclipse?
BT: Yeah, I sang it on a big cruise ship. That was a fun time. We flew back home, and within two days, the airport that we had flown from got blitzed by that terrible storm in Florida. We were lucky we didn't have that while we were on the ship. With all the streaming now, "Total Eclipse of the Heart," during (the time of the 2017 solar eclipse), had millions and millions of streams. But it's rubbish now. The music business changed so much that it's hardly worth recording, but I do it because I love it and because I love having songs like this, "The Best Is Yet to Come," and all the songs on the album. I get a thrill out of doing new songs, you know? That's what it's all about now. We do it for the live shows.
GM: I wanted to mention another of the new ones I love: "When the Lights Go Down." You talk about the music business changing. That song has that sound we were talking about earlier, that great big sound.
BT: It's got the magic. When I learned that Steve Womack demo, I thought, "Oh my God, I can hear all my favorite Bruce and Rod songs in this song." Like I said earlier, it's timeless! I love it. "We take the radio out on the back porch, we dance all night." Let's hope that people will take this album out on the back porch and play it on their … whatever!
GM: I was just about to mention that radio-on-the-back-porch line, best line in the song. It's so vivid.
BT: (Singing) "Radio out on the back porch!" Aw, I love it!
GM: How special was it to perform on the other side of the iron curtain before the wall came down?
BT: In them days, it was quite normal for me to go through Checkpoint Charlie. A few of the bands from the '70s and myself went over the border to do shows for East Berlin, and when we came to Checkpoint Charlie, they'd slide the mirrors under the car, check out the boot, check the inside, making sure we weren't taking anybody in or taking anybody out. It was wonderful, but the audiences couldn't do what they wanted to do; they wanted to just enjoy the music, but they were lined in like soldiers and then lined out again like soldiers. Now when I go to East Berlin, it's like everywhere else, just crazy as it should be: everyone having fun, running to the front of the stage, singing with their arms in the air. That wasn't allowed before. They had to sit there like soldiers. But they never forgot me. I think I was on the black market then with the records. They'd get them somehow, and when the wall came down, I was always invited back. I love it there. I've even got a little bit of the wall!
GM: Thanks for keeping that big rock sound alive in the 2020s. It's important. I want my kids and grandkids to know this kind of rock and roll from a voice like yours.
BT: That's wonderful! My voice is as strong as it ever was, because I'm using a voice coach three times a week. Actually, earlier on today, I did a session with him. It doesn't matter that I'm not on the road; I still keep my voice in trim for when I can get out there. By the end of the summer, I hope we'll be living a normal life again, thanks to the wonderful scientists doing these vaccines. I miss my audiences, I miss my band, my crew, and we're determined that the best is yet to come, 'cause we got the bad days on the run, honey!