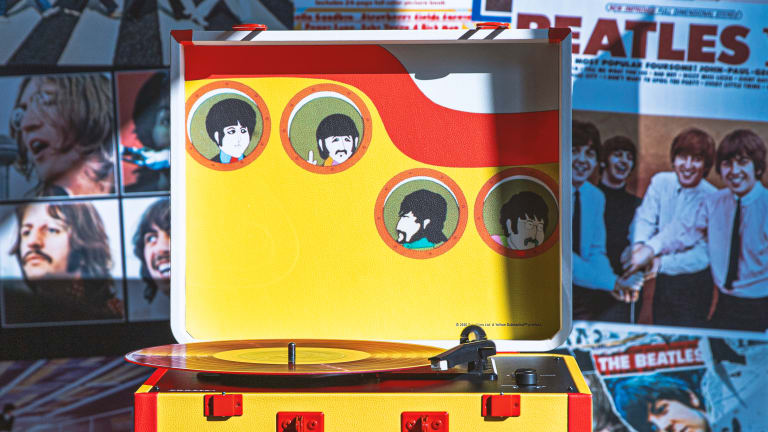 Record Store Day CEO gives his report on RSD2021
In an exclusive interview, Record Store Day CEO Michael Kurtz gives Goldmine his full report on RSD2021.
By Patrick Prince
As is the annual tradition, Goldmine covers Record Store Day with an informative conversation with Record Store Day CEO Michael Kurtz; this time discussing the decision to continue 'RSD Drops' into 2021 (on June 12 and July 17), the quality of 'The List' and a Beatles turntable, among other things. 
GOLDMINE: Considering all the chaos of 2020, how did the RSD Drops do across the country with record stores? What's your feedback? What was the overall feedback from record store owners?
MICHAEL KURTZ: The RSD Drops were not easy to execute for everyone involved, but the overwhelming response has been very positive. We helped the stores to guide over 650,000 vinyl records into the hands of music fans during a pandemic and we did it safely. The record store owners were supportive. When the results from all three RSD Drops were compiled, we sold more RSD releases than any previous year.
GM: It must have been strange not having record store day events — in-stores/performances — last year?
MK: It was strange but we — along with just about everyone else — were in survival mode. We just didn't want to add anything to the chaos or impact anyone's life in a negative way. But there were some innovative and inspired record labels and stores who did virtual in-stores.
GM: How did you organize The Beatles "Yellow Submarine Portfolio Turntable" into a Record Store Day exclusive for 2021?
MK: Crosley has been supportive of Record Store Day from almost the beginning. We've done really cool collectors turntables with them for Charlie Brown/Peanuts, Disney, Star Wars and the Ramones. Because I'm a big Beatles' fan this one is my favorite. It also has quite a few upgrades, like a moving magnetic cartridge and Bluetooth. It's super cool.
GM: Generally speaking, anything Beatles is golden for a music collector. Agree? Do you think this will be the most successful RSD exclusive for that reason alone?
MK: Yes, I do. Beyond that The Beatles were an inspiration for everyone in the music business and their spirit still affects pretty much everyone who is exposed to it. My favorites of all of The Beatles' RSD releases was the "Long Tall Sally" EP, and the reissue of the "Strawberry Fields"/"Penny Lane" 7-inch single. But as far as the most successful, I'm not sure. Every single Record Store Day Beatles' project we've done has been successful, so I expect that this one will be the same — with the Yellow Submarine turntables selling out pretty much right away.
GM: Talk about Fred Armisen being the RSD ambassador this year. That's a different type of ambassador. How did that come about? It's interesting, there seems to be a lot of crossover with actors being musicians/record collectors.
MK: I first met Fred on Record Store Day about nine years ago in a NYC record store called Generation Records in Greenwich Village. He was crate digging along with everyone else and someone mentioned to him who I was and he turned to me and said, "Thank you. Record Store Day is my favorite holiday." Over the years he's done multiple appearances in record stores on Record Store Day, sometimes performing live. He was also an early supporter of Record Store Day's Podcast with Paul Myers, appearing on one of the first shows. When the discussion started about who we should have as our Record Store Day Ambassador, Fred rose to the top of the list. He's making a new movie right now, so I'm not sure if he'll be able to make an appearance at a store this year, but he did go into the studio to record a Record Store Day record with Ty Segall that will be a serious collector's piece this Record Store Day.
GM: Also, Triumph is a Canadian ambassador of RSD this year.
MK: We love working with the RSD organizers in Canada and we're psyched that they picked Triumph, a very successful band, but kind of unsung heroes here in the USA. We're working on a possible RSD Triumph T-shirt for fans so that we can help spread the appreciation for Triumph here in the USA.
GM: Which release seemed to get the best overall feedback last year?
MK: The Notorious B.I.G. box set, the Bill Evans record, as well as the Billie Eilish RSD releases, were some of the most sought after. Brandi Carlile went into the studio with members of Soundgarden to make her RSD release and that was in big demand, along with My Chemical Romance's "Life on the Murder Scene." I think that these records pretty much say it all as to who the fans are that celebrate Record Store Day these days. It's pretty much everyone, young and older.
GM: We're going put you on the spot again and ask you to pick some of your favorites for RSD Drops this year, and why?
MK: The re-imagining of Tom Petty's She's The One soundtrack as the RSD Angel Dream with unreleased tracks is pretty exciting to me. The unreleased tracks on the recent Wildflowers reissues are fantastic, and as good as any songs Tom put on any of his albums. I want this record. Also, Rhino has done some fantastic alternative albums for RSD, like the Fleetwood Mac alternative RSD records, so I'm really looking forward to getting the Crosby, Stills, Nash & Young Déjà vu alternative album. I'm hoping to pick up the Pearl Jam Alive RSD release, so I can check out their cover of The Beatles' "I've Got A Feeling." The other really big one for me is The Clash's If Music Could Talk album. Because this record is being manufactured in Europe and imported here to the States for a limited run, it's not going to be cheap. Whatever, it's The Clash, one of my all-time favorite bands, so it's going to be pretty damn cool.
GM: Are you surprised how popular colored vinyl has become in the last few years? It appears that every release now comes out with a limited edition colored vinyl edition — even Walmart, Target and Best Buy have jumped on the bandwagon.
MK: Not really, the creation of colored vinyl albums for Walmart and Target is the new version of corporations giving the big box stores a leg up on record stores. Intentional or not, it's a double-edged sword. We want more people to discover music on vinyl, but the plants are under a lot of strain already. So adding the production of large numbers of vinyl variants for big box stores is not a good thing. It's possible that some of the majors are going to do the unthinkable and begin to ruin the vinyl business for record stores.
GM: It appears — at least to us — that the record stores that were able to smoothly handle website mail orders/curbside pickup throughout the pandemic were the ones to survive this last year. Do you agree with that observation?
MK: Very much so, the stores who were in the position to do it have expanded their online business through their own websites and through Discogs and eBay.
GM: What is your feeling about how record stores made it through this crisis?
MK: Overall, its good. COVID-19 forced record stores and Record Store Day to pick the best of a lot of bad choices, and came out OK. There were a few store owner's whose anxiety and worry made it very difficult, which is totally understandable. We didn't really disagree with their worries, but it's just that the pandemic is so much bigger than all of us. So everyone did the best they could. The main danger that faces stores right now is the diverting of vinyl production for Target and Walmart. This combined with COVID-19, the Texas freeze that shut down manufacturing for a period of time, and the staggering increase in costs due to Trump's tariffs on Chinese goods, are all coming together to cause a major back-up in production and a significant increase in the cost of doing business. Stores are finding it harder to get the new releases and catalog vinyl that was previously easy to get. We'll get through it, but it will make it more difficult over the next 12-18 months.
GM: What is the general feedback from record store owners now? Cautiously optimistic? Have they found a sliver lining with using the internet more for sales?
MK: Most stores have had a very strong year and are optimistic about the future. And, yes, increasing their online presence was a big help. A lot of serious music fans now come to their favorite record stores to buy the records that are being made specifically for them by companies like The Orchard and Run Out Groove.
GM: How are the 3-inch records and mini-turntables doing as far as popularity and sales?
MK: The technician who was in charge of making the 3-inch records and 3-inch record players for 8ban in Japan passed away at the age of 92 last December. His apprentice was 78 and decided to retire, too, so we are going through a transition with Toyokasei — the Record Store Day organizers in Japan. The 3-inch records are pretty much made by hand so it is a tricky process. The last two 3-inch records to be made by the original Japanese team will be the Weird Al Yankovic's cover of the Ramones' "Beat on the Brat" and the last project MF Doom did with Czarface before he died, called "Meddle With Metal." Both have beautiful posters included inside the shell and will be limited to about 1,500 each. We're talking with Traffic Entertainment about continuing past the Czarface/MF Doom 3-inch with other great hip-hop artists and we're considering a punk music series.
GM: I'm still waiting for the day when there will be an exclusive 8-track on RSD.
MK: I'd go along with it if the 8-track was something rare, like the legendary Ray Davies-produced Badfinger demos. Of course, if it was on 8-track we'd want it offered on vinyl, too.
GM: What is your opinion of Cassette Store Day or National 8-Track Tape Day? Have you heard of these events?
MK: There are quite a few RSD copycat events. I'm generally fine with them if they don't mirror exactly what Record Store Day does, but I didn't really like the name Cassette Store Day as there really aren't any cassette stores. If it continues, I hope the organizers will consider doing more with mix tapes. In my mind, that is the soul of cassette culture. Hmm... maybe that's something RSD should do ourselves?
GM: As we get past this pandemic, any new goals you'd like to accomplish for RSD going forward?
MK: Next year is Record Store Day's 15th Anniversary. Author/journalist Larry Jaffee is writing the story of Record Store Day, telling the inside story of how this phenomenon came about and the inside workings. The plan is to have the book published and distributed in time for Record Store Day 2022. This could possibly lead to some type of Record Store Day film, maybe a biopic or a documentary.
Click here for the Record Store Day list of releases!