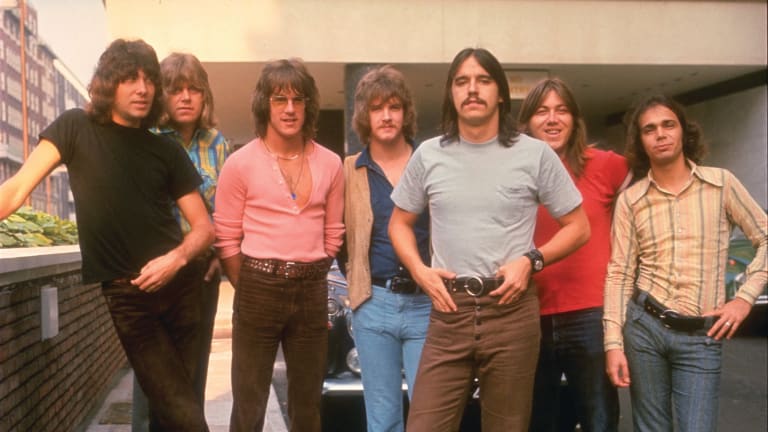 Reliving a 1971 performance by the band Chicago
Chicago's Lee Loughnane remembers the band's triumphant Carnegie Hall shows of 1971.
By Rush Evans
It was a hot Saturday in Dallas, Texas, June 26, 2021, at a big outdoor setting for a big rock show, the Dos Equis Pavilion at Fair Park. You might even call it a Saturday in the park. All 10 members of Chicago bounded onto the stage like it was their first time. It was not. I mean as far from "not" as a band can get. Thanks to this show and more to follow (along with shows in the first quarter of 2020), Chicago have not missed a calendar year of live performances since they first formed in the Windy City in 1967. That's a staggering 54 years filled with hotels and planes and vans and buses and music, lots of music, played from the heart with passion in one of the most original and vibrant bands that rock and roll has ever known.
Chicago still bring the big wall of sound with their high energy infectious music, a larger-than-life approach presented with the same urgency with which they started, I'm gonna say it again, 54 years ago.
The Dallas show opened with "Introduction," the first song from the band's first album, released at the beginning of 1969. Then came "Questions 67 and 68," also from the first record, followed seamlessly by a barrage of timeless hits — "Dialogue," "Call on Me," "(I've Been Searching) So Long," "If You Leave Me Now," "Old Days," "Does Anybody Really Know What Time It Is?" "Alive Again," "Just You 'n' Me," "Saturday in the Park" — a two-hour march through an extraordinary career driven by positive inspirational songs, fully evident in the happy crowd waving its cell phones in a sea of little lights during "Hard to Say I'm Sorry/Get Away." Holding up cigarette lighters at concerts has been replaced in the digital era, but the music has not and neither has the joy.
Among the hits at the Dallas show were "Make Me Smile" and the high school dance highlight of my entire youth, the slow-dance love song "Colour My World," but neither of these songs was played on its own. Even in 2021, each of those songs maintained its place in the suite originally issued on the band's second album in 1970, an ambitious 13-minute James Pankow epic called "Ballet for a Girl in Buchannon."
To just trot out the two tunes as standalones would be too easy, and that's not what the band Chicago have ever been about. Their complex, nuanced music designed to showcase every instrument, designed to fill up the senses of everyone in the room and everyone listening to the group's expansive and experimental records.
If your band's first three albums are all two-record sets, it's a good bet that you have something to say. And if your fourth album is a four-record set, it means you have a live experience to share, a souvenir for the fans who came out along the way.
Chicago's first album was recorded when their name was Chicago Transit Authority, shortened after the city's actual transit authority expressed its objection to the use of the name, and it was amazing. There was no obvious leader or frontman, and that was really the point. In 1940s western swing, a Bob Wills and His Texas Playboys dance was never about Bob Wills. When he pointed his fiddle bow at one of the Playboys, he wanted him to play, to give it all he had on whatever the instrument in question was. That's how Chicago worked. Everybody brought something special to the table. And that's how it still works for this band.
Chicago never broke up, so their current members aren't latter-day additions hired by someone who still owned the rights to the band name. They are full-blown members of a dynamic evolving band with a singular vision, that of keeping the music alive and fresh. But for those keeping score, there are indeed three founding members still in the band, each of whom has had a major creative role. Keyboardist and singer Robert Lamm, trombone player James Pankow and trumpet player Lee Loughnane have all remained active in all aspects of the band's career, from writing to recording, producing to arranging.
I spoke with Loughnane (pronounced LOCK-nane) just two weeks ahead of that Dallas show to talk about the massive 16-disc set on which he has been working with fellow producer Tim Jessup of the expanded version of that fourth album, Live at Carnegie Hall. But this time, all eight Carnegie Hall shows from April 5-10, 1971, will be included in their entireties, capturing the no-two-alike solos from late guitarist Terry Kath and those of all six other members. And when it came to musical cues on stage, the guys from Chicago didn't need Bob Wills' fiddle bow. They had Kath's whistle.
Kath represents an important part of the Carnegie Hall project for Loughnane, who is happy about getting more music out into the world from the late genius guitarist, who died of an accidental gunshot in 1978 at age 31.
"There was a lot of Terry's solo work, which no one has heard before," says Loughnane. "He was a master guitar player. He was pretty much, I would say, the musical leader of the band at that time. Robert was writing more of the songs, Jimmy was doing all the brass parts, and Robert was doing some of the brass work as well, at that time, until he realized how hard it was to write brass, so he let Jimmy do it all the time! But Terry was mainly the musical leader onstage. You can hear his high-pitched whistle at the end of these long solo sections on stuff that was long-winded and there was really no ending, Terry would feel where the musical ending was and then give us like eight bars and then we'd go into the next section. If you listen real carefully, you can hear the whistle over everything else, no matter how loud we were playing."
It was Kath's innovative guitar abilities that had caught the attention a few years earlier of the man still considered to be the greatest rock guitarist that ever was. And Jimi Hendrix believed that Kath was the better player.
"He actually talked to Walt (Parazaider, original saxophonist) more than any of us and said he wanted to take us on the road with him," says Loughnane of Hendrix. "Walt said sure and put him in touch with our manager. We set it up, and he got us our start, our first foot in the door on the road, he and Janis Joplin. Jimi was the first one to do it. He saw us play at the Whisky a Go Go, that's where he talked to Walt and said that iconic line that Walt always brings up, 'That guitar player is better than me.' So he asked us to come on the road with him to open up. Ironically, when we opened up for him, the audiences didn't want to see or hear us. 'Where's Jimi? Where's Jimi at?' We would play our set, and by the end of it, they were usually pretty receptive to wanting more of us. But they still wanted Jimi to come out. It was fun, because we were able to push forward, play a set. No matter what somebody said to us, we were able to win some of them over by the time we got finished."
Revisiting that historic week in New York City has been a meticulous labor of love for the trumpet player. "It was really Warner/Rhino's idea to put it out," Loughnane told me. "I'm happy that they asked me to put it together, because I don't think anyone else would've known 'where the bodies are buried' other than me. I might not remember the exact nights and playing the songs particularly, but I remember doing it, I remember being nervous about it, I remember it being Carnegie Hall and a huge deal, but once we got started, we just played. After all these years, I thought we didn't play that well that week, and when I started editing the parts, I realized that we played very well. Once we started playing, we were into it. We were just young kids playing the best we could at the time and having fun doing it."
Some members of the band were not originally enthusiastic about the Carnegie Hall album in its original release. It may have been the famous Carnegie Hall, but that place wasn't really designed for recordings like this one. Fortunately, new technology can fix this.
"We're able to manipulate it much more, but it's still there," says Loughnane of the week's worth of original show tapes. "It's Carnegie Hall, it was built and made to make orchestras sound as good as possible, so the ambience is there for instruments like flutes, orchestral instruments of all kinds. They can play double pianissimo; you can hear it all the way to the end of the theater. When a rock and roll band gets in there, it's not built for that. You could probably go in there now and still hear some of the notes we played in '71!"
Loughnane feels certain that the work he and Tim Jessup have done will be to the pleasure of Chicago fans and band members. "(The other band members) haven't even heard what Tim and I have done, what we spent 10 months doing. Warner Rhino hired me and Tim to fulfill the project. They knew I was doing it, but no one else had come out to listen to what we were doing at the time. Now that it's done, I get to play little pieces of different nights for people as they come into the studio, so it's pretty cool watching them go, 'Wow, that sounds really good!' and then we do a comparison on the one we just listened to, and it sounds much better because 49 years later, we're able to use more techniques of taking out the ambience of the hall and we're able to push out the actual music. You go into each instrument, trumpet, trombone, saxophone, each vocal background part, and sing a note or play a note, you leave everything up to that note, and then you have to fade it in, so it doesn't just come out of nowhere from no ambience to everything, and then you fade back out of that one and you delete all the noise, all sound, to the next note. And even after you do that, with each vocal, each horn, there's still plenty of ambience left, and you still have to corral some of it and only use the hall when we need it."
Revisiting the tapes has also stirred up some memories, one of which could now be repaired. "I remember parts of that week," says Loughnane. "I remember coming out and starting that first night. We actually screwed up the first song. We didn't stop, we just kept going and played it all the way through to the end. It was 'Someday (August 29, 1968)', and 'Someday (August 29, 1968)' did not make the album; it was incomplete. Because of the technology that exists now, Tim and I were able to fix the problems that occurred in the first couple of bars. Danny (Seraphine, drummer) did a fill that turned out to be in two rather than one, (bassist/singer) Peter Cetera did a 'voom' on one, so that was off already. Robert (Lamm) was probably already a little freaked out, so he didn't sing at least the first line of the vocal, so we had to go get that from a different place in the song, copy it, and move it over. We made it sound like we played it correctly. That is now the first song that you hear!"
Playing Carnegie Hall was and is a big deal, but ultimately, it was just another stop on the never-ending musical tour of the band called Chicago. "I think initially it was probably an emotional turning point, but we were just using it as another gig, because before we played Carnegie Hall, we played something else the night before," says Lee. "Then we came in and we played six nights, eight shows at Carnegie Hall, and I think the very next day or at least the day after, we were off playing another show somewhere. So as historic as this turned out to be, it was just another gig in the course of a tour. As Robert (Lamm) says, this whole 50-plus years has been one long, long, long tour."
Loughnane's own storyline is an unlikely one for a trumpet player. How many musicians spend decades on that instrument in the world of rock and roll instead of jazz or classical? "I knew I wanted to be in music in some form, but I figured it was gonna be more classical, because I'm not really a jazz player, I'm more of an ensemble player. But being able to do it my entire life was not in the cards."
Like fellow founding members Pankow and Lamm, Loughnane is in his 70s now, and you wouldn't know it by his energy and animation onstage in Dallas, Texas, 2021. "I think I'm probably more animated now than I was in 1967," he says. "I was Mr. Shy trying to hide away in the midst of six other guys."
Mr. Shy's first composition for the band was a song called "Call on Me," which was a huge pop hit, No. 1 Adult Contemporary hit, and the first song he had ever written. "When I presented it to the band, it was very sheepishly. 'You guys wanna listen to my song? I've got this song here if you wanna hear it.' It was pretty pathetic, but Peter (Cetera) decided that he wanted to sing it, and I think they had a problem lyrically with it, what are we gonna do with these lyrics? But they were wrong about the lyrical content, as simple as it is! It was a love song, it was unrequited, it was the end of my first marriage. I've gone on to end three others beyond that. This business is not one for long-range relationships. It was amazing that the song became a hit. I was excited about it, and I had another one with 'No Tell Lover' after that. Danny and Peter were co-writers on that one. 'Call on Me' I wrote myself. Pank wrote the brass part, but I wrote the song, music and lyrics. If I hadn't been in Chicago, I would've been in the one-hit wonder category. But then we had 'No Tell Lover' after that, so I would've been a two-hit wonder!"
I told Loughnane that I had previously seen the band in Austin, Texas, at the Austin City Limits studio, where a beautiful statue of Willie Nelson is displayed right out front. I told him that when people ask Willie if he's ever going to retire, his standard answer is, "All I do is golf and play music. Which one do you want me to quit?"
"My answer is, 'Retire to what?'" says Loughnane. "You want me to take up golf now? If I had started golfing, I don't think I would've kept practicing the way I do. In order to be a good golfer, you've got to put some time and effort into it. And I don't have that kind of time."
I asked if Chicago the band would ever slow down. "I don't think so," he said. "There's no reason to slow down."
Does he ever tire of playing the Chicago hits? "I don't think I do, no. There's some difficulty involved musically with each one of them on some level. They're interesting musically as well. I don't get tired of playing them. Not everybody can just get up there and play those songs. That's why we're not covered as much as some other artists, because the songs are more difficult to play."
The crowd in Dallas was not tired of a single note of any of the great Chicago hits they heard in 2021, 50 years and two months after the band's triumphant eight-show stand at Carnegie Hall in New York City.
The classic rock song "25 or 6 to 4" appears six different times on the new expanded Carnegie Hall box set, and it's how the Dallas show wrapped up for a park full of happy Texans. During the pandemic, the members of Chicago performed a Zoom version that went viral on YouTube. Each of the guys was alone at home playing his instrument, doing so once again with demonstrable joy, just as they did six times at Carnegie, just as they did to all us Texans in Dallas, 2021.
How many times has Chicago played "25 or 6 to 4" in the 50 years between Carnegie and Dallas? My guess is 25,624 times. And every one of them was as fun as the time we all had in Dallas.