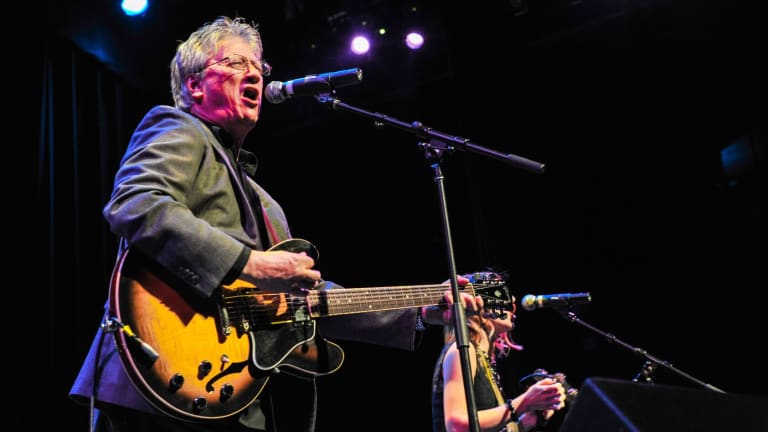 Richie Furay "Deliverin'" live once again
From Buffalo Springfield to Poco to the Souther-Hillman-Furay Band, Richie Furay checks all the boxes when it comes to "Hippie Country," better known nowadays as Americana. Furay believes his latest release, "50th Anniversary: Return to the Troubadour" explains his musical journey best.
By Mike Greenblatt
With the release of 50th Anniversary Return to the Troubadour: Deliverin' Again, it's time to reassess the career of Richie Furay in the context of today's Americana music scene. As part of Buffalo Springfield, Poco and The Souther-Hillman-Furay Band, this Colorado legend has had a hand in forming, creating, fermenting and popularizing what used to be called "hippie country" into a new genre by injecting it with a solid dose of rock and roll. 
The 22 songs on two discs include Poco's groundbreaking 1971 Deliverin' album in its entirety. Eagle Timothy B. Schmit is on hand to add his distinctive vocals, as does Jesse Furay Lynch, Richie's daughter. Add banjo, tambourine, more guitars, keyboards, harmonica, drums, pedal steel and dobro and you've got one big-time evening where the Troubadour denizens go righteously wild.
GOLDMINE: Why wasn't Poco bigger than it was?
RICHIE FURAY: We paved the way. We laid the groundwork, but, for whatever reason, there was a lack of connection with AM radio. And that's the bottom line for me. Had we connected with AM radio, I think things might've been different for Poco. They did have some AM success after I left the band, but why AM radio should make such a difference, I'll never know. New York City and Boston, though, always loved us. We sure had some fun in those two towns. Good times for sure.

GM: Where were you in the 1980s?
RF: Right after Souther-Hillman-Furay, I made some life changes. That's when I became a Christian, a believer. I accepted Christ. Started a church. There were some other things going on as well. I had been separated for seven months from my wife of seven years. My whole focus at the time was to put my family back together. I did and we've been married now for 54 years. It's a great blessing.
GM: In 2015, you told me the story of the missing guitar. You were heartbroken when you lost it. Your wife said she'd pray for its return. You scoffed at such a notion.
RF: She was right! Her prayers brought my guitar back! She had always been a believer. Prayer was an important part of her life. When we reunited, it became an important part of mine as well. We had gone to Hawaii, and she prayed for the return of that guitar every single day. When we came home, my accountant, who I put on notice to help me when the guitar was stolen during the recording of the first Souther-Hillman-Furay album, told me he had found it. I'm looking at it right now. A 1962 D-28 Martin.

GM: Your fabulous 50th Anniversary Return to the Troubadour double album made me smile from ear to ear. I can't believe your voice is so good. You've got to be 80 now, right?
RF: (laughs) I'm pushing it, man, but I still got a few years before that.
GM: Talk about a God-given gift! Some guys lose their voice but adjust. I think of Robert Plant. He ain't singing "Communication Breakdown" any time soon. But he's had a beautiful post-Led Zeppelin career of singing Americana music, first with Alison Krauss and then with Patty Griffin. Stunning stuff. But he's like five octaves lower. You, on the other hand, are still unbelievably pristine.
RF: It's still staying with me, yeah. Night after night, it takes its toll, but just being able to sing a set, do a gig here and there, have a night or two to rest, it still works. Amazing, huh? Y'know, I recorded with producer Val Garay about a year ago. He produced my I Still Have Dreams album in 1979. Great guy. He's engineered or produced Linda Ronstadt, The Motels, and Producer of the Year for "Bette Davis Eyes." We've been friends ever since my Buffalo Springfield days. So he asked me to do this Nashville project with him recording some country classics. I readily agreed, and we convened in Tennessee before COVID put such a damper on things. We laid down 14 songs in four days. It's all done now and ready to be released by BMG later this year, probably the fall. Val said, "I'm amazed. Your voice! It sounds like you're a kid again." I was able to sing probably 90% of it live. I mean, sure, we had to tweak some of it. That's how they do it these days. It's going to be quite a project. I've got so many things going on right now! I'm supposed to be retired! This Troubadour thing, too … what a blast! I still can't believe some of the high notes I can hit. To be truthful, I've lowered the key of some of my old songs, too.
GM: Wait, you have another album all wrapped to follow up the Troubadour project? This is news! What are some of the country songs you've covered on this upcoming album?
RF: I go all the way back to "Lonesome Town" by Rick Nelson. We did Keith Urban's "Somebody Like You," Marc Cohn's "Walking in Memphis," Lee Ann Womack's "I Hope You Dance" and Lonestar's "I'm Already There." I told Val, "You send me some songs and I'll send you some songs." The first song he sent me was John Berry's "Your Love Amazes Me," and I had been wanting to record that forever. I first heard it when I was fishing in Montana in 1994. And John Berry came in and sang it with me! We had some other people come in and sing, but I'm going to keep that to myself for now. We also did "The River" by Garth Brooks. All of these songs, somehow or other, have touched me personally over the years. It came out wonderful.
GM: Did you do "They Don't Make Jews Like Jesus Anymore" by Kinky Friedman & The Texas Jewboys?
RF: No, man, that'll be on the second volume.
GM: Let's get down with this Troubadour thing. Man, what a band! What arrangements! And, in this day and age, live albums can sound as good as studio projects. The crowd isn't overbearing. There's no stupid singalongs. You did it up right!
RF: It's pretty much all about the music. It was so much fun. When the idea first came to me to do this, (manager) David Stone said to me, "Y'know, there's artists out there today rerecording their albums from head to toe."
He asked me what I thought about that. It seems to be in vogue. At first, I was like, "Nah, I really like doing my new music and just throwing in a few of the old ones." But, the more I thought about it, we were already doing probably two-thirds of the original 1971 Deliverin' album in our set anyway so I went back, looked at it and said, "Yeah, we can do this." The interesting thing was that we did a live recording of a live recording. I don't think anyone's done that. Peter Frampton never did it for his (1976) Frampton Comes Alive.
I really am proud of it. It was mixed beautifully. I think it came out really well. I was happy to have my friend Timothy (B. Schmit) show up and sing a song. Wish he could've sang both of 'em but, as it were, he had his little piece of paper there so he could read the lyrics to the one song.
GM: Wouldn't want to strain him to have to sing two, huh?
RF: The people in the audience really enjoyed it. That place was packed! We did two sets with the first a career overview, and the second the entire Deliverin' album, 22 songs in all.
GM: They say the music you first loved stays with you your whole life. That's true with how I react today to songs like "C'mon," "Kind Woman," "Pickin' Up the Pieces," "You Better Think Twice" and "Good Feelin' to Know." There's a joyousness there that has yet to abate through the decades. These songs have stood the test of time and have been tattooed on my brain and heart. They're part of my DNA. I think a generation or two can say that. There's a comparatively new song in the mix that I liked upon my first 2015 listen, but now I love as much as any of your classics, and that's "We Were the Dreamers" from your Hand in Hand album. That song resonates in my soul something like "When We Were Fab" by George Harrison.
RF: Exactly. I was proud of that song and that album. I got some little thing in me that I can't seem to shake. The song tells a neat little story. It's interesting how that went down. I had the music. I had the little riff in the beginning of that song for a really long time. But I wasn't able to write a song to it. My manager at the time wanted me to co-write it. But I remember taking a shower and I came out with the whole song in my head looking back at Poco's career, or at least as far as I went with Poco. And I had been thinking about how country music was an inspiration for all of us back then despite us being rock and rollers. I was thinking about how Poco paved that road. I was thinking about how country folks were listening to what we were trying to do way back in the mid-'60s with Buffalo Springfield.
GM: From that band to Poco, you, and a few others like Rick Nelson & The Stone Canyon Band, Gram Parsons, Chris Hillman, basically invented country rock. They used to call it "hippie country music." A handful of guys, man, and it morphed through the decades into what's now called Americana. Does it ever give you pause? Do you ever really think about your role in this sub-genre, this melding of rock and country that you had such a hand in pioneering?
RF: Yes, quite often, actually. I think about how it was just where we were at back in the day. I always loved country music. My dad influenced me in that direction. He wasn't a musician, but he was always listening to it. So I had that going for me as a child. When Buffalo Springfield broke up and Poco started, there was a feeling amongst us that this is what we needed to do. We needed to create this sound somehow that crossed rock and country. And, man, we did. To be honest with you, and I certainly don't want to sound bitter, but in some of these recent music documentaries that have come out in the last couple of years, I feel like Poco has been dissed. It's really affected me. I'm an old man now. I get cranky at times. Poco was there, man! Right in the thick of it. That cannot be denied. But somehow it has been. We were the ones digging up the hard soil. We made a new kind of music. Period. We made it palatable. People who never listened to country music started liking it because of us. And stayed with it. That should mean something. The Eagles came along in '71, but we were doing it in '68. Sure, they deserve their accolades. They're great songwriters. I give Don (Henley) and Glenn (Frey) all the credit in the world. But truthfully? I was really disappointed in how Poco has been treated in current documentaries on country rock. It never ends, does it? But hey, that's just me. I'm sorry. It's just the grumblings of an old man.
GM: You're right. You cannot discount the tremendous influence of Poco. And as far as the Eagles are concerned, you practically gave them half their band!
RF: I certainly provided bass players for those boys.
GM: But where does the real essence of Richie Furay lay? Is it in Buffalo Springfield? Poco? Souther-Hillman-Furay? There's traces of you in all of them, of course, but where do you think you shined as yourself most?
RF: I started to have the opportunity to take the lead obviously in Poco. That was the start. I didn't even have any songs on the first Buffalo Springfield album, but as the second and third ones came out, you could hear my influence in that band. "A Child's Claim to Fame" (off the '67 Buffalo Springfield Again album) had my country leanings all over it. "Kind Woman" (off 1968's Last Time Around) had my distinctive country flavor. It was a natural progression, and it led the way for me to move on. So in Poco, I honed my skills as a songwriter, in an effort to keep that genre of music alive. And that's where the heart and soul of my music is. It's that good country sound, although, I must say, I hate being labeled as such. I can write all kinds of different songs. But the heart of it lies within country … and in Poco.
GM: Would you agree with the theory that Neil Young in Buffalo Springfield and J.D. Souther in SHF were birds of a feather in that they were not exactly at their best in collaborative or band situations? They both, at heart, are solo performers, and that fact might've led to the dissolution of both bands?
RF: I think that might be an oversimplification. I do hear what you're saying about the solo artist in both J.D. and Neil. Neil was always in and out and in and out again when it came to Buffalo Springfield.
MG: And CSNY.
RF: Neil, back then, I know, wanted to be a solo artist. J.D. was the same way. But they were different individuals. Both are primarily songwriters. J.D. especially. I was so happy when J.D. came to the studio when we did the recent Nashville recording. I wasn't sure he was going to come. We hadn't talked in years. And y'know what? It was just the most wonderful reunion. It was so sweet. We talked a lot and totally reconnected.
GM: That must have felt good because you and J.D. really butted heads in SHF. I'm looking at some of J.D.'s lyrics for those two albums, and it just doesn't read like anything even remotely close to what you personally would even want to sing about.
RF: Yeah, he was definitely in a different place. But it's the same as in Buffalo Springfield. People like to say how we had all this stuff going on, how Stephen (Stills) and Neil couldn't ever get along, and that's not really true. I think people just need to make something up to write about and sell magazines. Stephen and Neil still played together as recently as just a few years ago. When we got together and did our reunion about 10 years ago, we all had a great time with each other. And as far as J.D. is concerned? SHF came together at a time when I had so many different non-musical things going on in my life. It had less to do with "butting heads" than it did with my focus being someplace else — and not in that band.
GM: But wasn't that band artificially put together by David Geffen with a false super-band premise? Didn't he have visions of Crosby, Stills & Nash in his brain when he originally concocted this Souther, Hillman & Furay idea? And then the chemistry just wasn't there? I mean the first album was great but the second? Boy, was that named right: Trouble in Paradise (1975).
RF: Yeah, that's true. David, Graham and Stephen kind of sat around and played, and it organically evolved from that kind of informality. With J.D., Chris and myself, it was put on paper as a corporate plan. I was disheartened at the time when "Good Feelin' to Know" didn't have the success all the suits were telling me it would have. I was complaining to Geffen when he said, "Well, then let's just put you with Chris and J.D. and we'll have another CSN!" I thought to myself, "I've been doing this for years and that's not how it works." But it looked good on paper, so I went along with it. How could it not look good? It also had great players like (guitarist) Al Perkins and (keyboardist) Paul Harris. What a band! What fun it would be! But, as oftentimes happens, what looks good on paper doesn't translate into reality. Plus, as I said, I had baggage at the time. And I was more consumed with that than anything.
GM: Plus you had a paranoid schizophrenic on drums: Jim Gordon. Was he exhibiting any symptoms?
RF: Only when he was drinking. Alcohol brings out a different personality in people. When Jim was right, he was one of the great rock drummers.
GM: I know! First for Delaney & Bonnie, then as part of Joe Cocker's "Mad Dogs & Englishmen," then for Eric Clapton's Derek and The Dominos and you guys.
RF: And, I might add, when he wasn't drinking or drugging, he was just a big old sweet teddy bear. We just loved him. Then, at a certain point in time, it was like, "Oh my God, who is this guy riding on the airplane with us?" When we started playing together, he had three different sets of drums. They'd be set up for him all over town, for whether he was gigging, rehearsing or recording. There was a time when he was the go-to guy. Everybody wanted him. It's so sad.
GM: Timothy B. Schmit, on the Troubadour record, says about you, "I love this guy! I wouldn't be doing what I get to do on such a level if it weren't for him."
RF: That's humbling. We have a very special relationship. He's been on more of my projects over the years than anyone. He's always been there to support me. Tim is that person who realizes and knows the reality of the situation. Poco auditioned Timothy and Randy Meisner on the same day. At least that's how I remember it. Randy got the job ,and I received a note from Timothy that read, "Thanks for letting me audition for the band. I know you guys are going to make the right decision." I framed that letter and showed it to him years later. Then, when Randy decided to move in another direction, I went up to Sacramento to find Tim, and we've been together as friends ever since. He's on the new Nashville project as well.
GM: You've played with a veritable who's who of country-rock royalty. In the course of human affairs, you're always going to get along better with some guys than other guys. It's only natural. Talk to me a bit about Jim Messina. He told me once you wouldn't let him sing a "Your Mama Don't Dance" verse with you onstage because you objected to the line about sex in the backseat of the car "where you know it's nice and dark/you're just about to move in thinking it's a breeze." "That's my song," he told me, "how dare he?" Do you know what he's talking about?
RF: (softly) Yeah, I do. All I can say is that it was right after I had accepted the Lord. But, not only that, I was the pastor of a church. I was very sensitive at the time. That's basically it, as far as I'm concerned. I wish Jimmy and I could've straightened things out between us. We haven't spoke in years. Jimmy lives in Nashville. I tried to get him to come on in the studio with us for my country project there. I tried three times to contact him. He wanted no part of it. So, fine. I know I reached out in good faith. Leave it at that. I still love him as a brother. I appreciate him as a musician. He was a big help to me along the way as a producer and bandmate, and if I've offended him in any way, I'm truly sorry. I certainly didn't mean to. We were kids together, moving and doing great things early on. Then, as time went on, we stayed close as adults, but sometimes stuff just gets in the way. When you're older, you can look back and see foolishness for what it is. That's what I was trying to do when I was reaching out to him trying to get him to be part of my Nashville project. It would've been real nice. It obviously didn't resonate with him.
GM: My favorite out of all 22 songs on the Troubadour project has to be "Anyway Bye Bye." It has that blue note. And you sing the hell out of it. It's different. It stands out. And its new eight-minute arrangement gave me goosebumps.
RF: Yeah, ain't that cool? And it proves I'm not just confined to country music. I can bend a few notes too, y'know? I think Randy sang the original lead on that one. It's one of those songs that we felt we could expand musically, one of those heartbreakers when you look back upon the past. I sing it now for Buffalo Springfield, almost as a song of regret.
GM: And how cool is it that you have your daughter in the band?
RF: Yeah, Jesse's got her own solo project as well. She's been singing with me for almost 20 years. Now, with the pandemic and everything, I don't really have a band anymore. Plus, even pre-pandemic, it was getting hard for us to travel around with the whole band. But we always tried to put on the best show possible. I think you saw one of the best ones in Sellersville, Pennsylvania when last we spoke.
GM: Yeah, you were great that night. I was stoned and rockin'. And the fact that you're still doing it, and doing it so well. God bless you, man, and I'm no believer, but I can say that honestly. In fact, when we spoke, we had a sort of religious debate and I told you I was an agnostic. Do you remember what you said back to me when I told you that?
RF: I don't.
GM: You said, agnostic in Latin means ignoramus.
RF: (laughs) I'm sorry, please forgive me.
GM: I deserved it. I was tweaking you. I think I even pulled a joint out of my pocket and asked you if you wanted to get high. That's when you said you would pray for me.