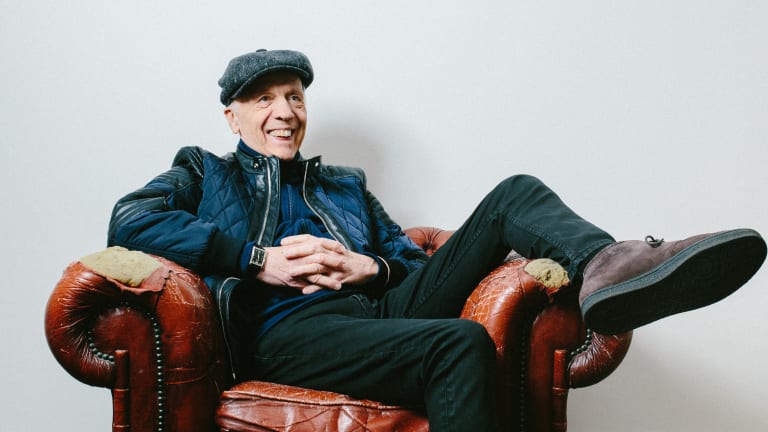 Robin Trower talks about Hendrix's impact on his guitar playing, the weakness of Rock Hall, more
Playing magnificent guitar for six decades, Trower experienced the success of Procol Harum and his own solo career, and knows quite a bit about rock history. Now in his 70s, he has the pleasure of releasing his latest studio album, "No More Worlds to Conquer."
By Elliot Stephen Cohen 
Veteran British guitarist Robin Trower admits he's not very pleased with having something very close to his heart taken away from him — not once, but twice in the past two years, having to cancel this year's proposed concert tour again. With the COVID pandemic having wreaked havoc on the whole music industry since 2020, it's totally understandable why Trower, 77, has reservations about the prospect of playing to large indoor crowds right now.
"It's still too difficult for me to think about doing that at the moment. You can still catch COVID and get very sick from it or worse," he says.
For someone who had been performing for more than six decades, and had been looking forward to going on the road to promote his latest album, No More Worlds to Conquer, as well as reconnecting with his many fans again, this has to be a major disappointment. However, Trower says he is more than pleased with the way the album came out, and he hopes his fans will enjoy it, despite not being able to hear the songs in concert for a while.
Born Robin Leonard Trower on March 9, 1945, in the Catford area of London, England, Trower taught himself to play guitar at a very early age, before forming a band that became known as The Paramounts. As fate would have it, the group also included future Procol Harum band leader, the late Gary Brooker. Fate was not on his side, though, when Trower left the group just prior to the recording of one of the most iconic songs to come out of Britain, "A Whiter Shade of Pale." However, Brooker gladly offered Trower a chance to rejoin the now very popular group, and he stayed with them for the first five albums, leaving in 1971 to start the first Robin Trower Band.
Since then, Trower has had a very successful and critically acclaimed solo career. He has recorded 26 albums, with 1974's Bridge of Sighs being his biggest seller to date and including some of his most popular concert favorites, "Too Rolling Stoned," "Little Bit of Sympathy," "Day of the Eagle" and the title track, whose origin was a bit of a fluke.
As Trower recalls, "I was having a very hard time coming up with a proper title for this particular piece of music I was writing. Then one day I was reading the newspaper, and there was a horse running that day called Bridge of Sighs that was favored to win. I immediately thought, 'What a great title that would be for a song,' and it obviously worked out very well."
No More Worlds to Conquer continues the tradition of musical excellence that his longtime followers have come to expect from Trower, who plays bass in addition to guitar, augmented by drummer Chris Taggart and singer Richard Watts.
GOLDMINE: Having previously contributed vocals on several Procol Harum and solo albums, was there ever any thought of doing all the singing on the new album?
ROBIN TROWER: I did initially, but after writing some of the songs, I realized that I just don't have the instrument to do them properly. They were way beyond what I could do, so I asked Richard to come in, and he very kindly agreed to sing them for me.
GM: Do you have any particular favorite tracks on the album?
RT: To be honest, I like all of them, but if I had to pick one song, I would say "Birdsong" is my favorite.
GM: What was the initial inspiration for your readily identifiable guitar sound?
RT: I had heard that Albert King used to tune his guitar down quite a bit, so I thought it was something I should try. It enabled me to still be a vibrato and bend the strings, even though I use much thicker strings than most guitarists, especially on the low E string. It gives me a much heavier sound that I prefer.
GM: At what point had you decided to switch from a Les Paul to your now very famous Stratocaster?
RT: It was back when Procol Harum was opening for Jethro Tull. Their guitar player, Martin Barre, was using his Gibson as his main guitar, but he also played a Strat for certain things. So one day at a soundcheck, I picked up his Strat, very rudely without asking permission (laughs) and thought, "I'll give it a try to see what it sounds like." I plugged it in and immediately responded to it. The next day I went out and bought one, and haven't looked back since then.
GM: When you were growing up in England, who were some of the very first performers you heard that made a real impression on you?
RT: It was quite a few of the early rock and roll people because I had an elder brother who was bringing in records by people like Gene Vincent, Elvis Presley and Jerry Lee Lewis. So those were sort of the first of rock and roll records I was starting to get interested in. I really liked Gene's guitarist Cliff Gallup, especially on "Race With the Devil," "Bluejean Bop." All that stuff was great.
GM: Were you also hearing these records on Radio Luxembourg or the BBC?
RT: I don't think so much then. They weren't getting a lot of airplay on the BBC. I think that came a bit later. It was just mainly my brother's record collection.
GM: So how influential was someone like Scotty Moore to you as an aspiring guitarist?
RT: Well, it's because of Scotty Moore that I wanted to play guitar because I just loved the sound of the guitar on the early Elvis records, and that was my main inspiration to pick up the instrument.
GM: Any particular Elvis records?
RT: Well, things like "Mystery Train," "Hound Dog." They had fantastic guitar playing on them… not only that, but what a great sound it was.
GM: Scotty had to work a lot harder than a lot of other guitarists because he was using heavier strings at the time.
RT: Yeah, that's right, but he got a great tone.
GM: Your admiration of Scotty reminds me of a famous quote of Keith Richards who said, "I never wanted to be Elvis. I wanted to be Scotty."
RT: That's probably true of a lot of guitar players, especially ones around my age.
GM: What was the first guitar you started out on?
RT: It was a cello-bodied acoustic guitar with F-holes made by a company called Rosetti, but after a few months I decided I needed to electrify and got a pickup for it. I think my dad must have bought it for me. I tried plugging the guitar in the back of a radio just to see if I could get it amplified, but eventually I got my first real amplifier.
GM: Were you influenced at all by any of the early British rock stars like Cliff Richard, Marty Wilde, Billy Fury or any others who were popular at the time?
RT: No, not really. I was always very much into American music right from the go and never really changed. I really got into black music, people like B.B. King and Howlin' Wolf, stuff like that, and never really looked back. That's always been my path.
GM: But even years before getting your first Stratocaster, you must have been aware of Cliff's great guitarist Hank Marvin, who played a Fiesta Red Strat with a tremolo bar.
RT: Yes, definitely. That was one of first Strats I'd ever seen, although I think the first one I remember seeing was when Buddy Holly came to London and played one on a British television show.
GM: Hank told me he couldn't originally figure out how James Burton was able to bend strings the way he did on those early Ricky Nelson records like "Believe What You Say" and "It's Late." He was unaware at the time that James was using really light-gauge strings, and jokingly said he thought it had something to do with the American diet of cheeseburgers and Coca-Cola.
RT: (laughs)  James was great. I used to really like his guitar playing on those records, particularly Ricky's version of "My Babe."
GM: Let's talk about some of the American guitarists who had the most influence on you, like B.B. King, who got his unique sound just by shaking his left wrist, not relying on any electronic effects.
RT: B.B. was a huge influence on me because everything he played had a great melody. That was the main thing about his lead work. Every one of them was something you could sing. Just fantastic. His Live at the Regal is still one of my favorite albums.
GM: Did you ever get to meet him?
RT: Yes, I did get to meet B.B. one time, just very briefly at the Miami Pop Festival in the late '60s when Procol Harum was on the same bill. I went over to him and said hello. That was all.
GM: Did you get a photo with him?
RT: 'Fraid not. I never wanted to bother people I was on the same show with.
GM: Who are some of the blues singers who were a big influence on you?
RT: Howlin' Wolf. Huge! I mean, I would have to say he still is. I listen to him a lot to this day, and after all these years I listen and wonder. … I just can't figure out how it's done. It's so magical. He was really an exceptional artist, in my opinion.
GM: When he sang, "I asked for water, she gave me gasoline," you really believed it. He also had a great guitar player, Hubert Sumlin, who worked with him for many years.
RT: Yes, but it was really Wolf's vocals that impressed me, because they were just so powerful and soulful. High energy. Just fabulous!
GM: Any other particular favorite singers?
RT: Yes, Bobby Bland. His Two Steps From the Blues. What a great album, and also James Brown for his Live at the Apollo album. They are still two of my most favorite albums.
GM: What about British singers, like Eric Burdon or Rod Stewart?
RT: I don't really have any favorites among British singers, but Rod Stewart had a good tone. No doubt about it.
GM: Your guitar style has of course been noted by critics over the years as being very influenced by Jimi Hendrix. I understand you saw Jimi perform just a few months before his untimely death in September of 1970.
RT: Yes, I did. It was in Berlin when Procol Harum was supporting him and Ten Years After. Jimi, naturally, was the top of the bill. That was the first and only time I ever saw him play live, so it had quite an impact on me.
GM: What do you recall most about his performance? Was it a good show?
RT: No, no. It wasn't a good show at all with the band that he had. It just wasn't happening for him that night, although some of his playing was phenomenal.
GM: Was his drummer Buddy Miles or Mitch Mitchell?
RT: It was definitely Mitch Mitchell. I remember very distinctly talking to him that night. Mitch was a phenomenal drummer. His playing worked really well on record, but I don't think it worked so well live, because it was a bit sort of… "2…3"… but on record you could really see his talent.
GM: Now your very last recording with Procol Harum in 1971, "Song for a Dreamer" was also a tribute to Jimi.
RT: Yes, it was definitely a tribute. It was (band lyricist) Keith Reid's idea. He had come up with the lyrics and asked me to see if I could write some music to it. How it all happened was, I didn't have any Hendrix albums, so I went to a friend's house and listened some of Jimi's all the way through to see if that could help me write the music for Keith's lyrics. That experience really inspired me.
GM: Besides Jimi Hendrix, who were some of the other acts that Procol Harum shared bills with?
RT: When we played America, we were second on the bill to The Doors and also did that for Pink Floyd, but I think there were other gigs where we were top of the bill.
GM: Let's go back to your history before Procol Harum. You were in a band called The Paramounts, who had a very significant claim to fame.
RT: Yeah, well, what is that? I don't know what you mean. (laughs)
GM: Well, didn't the band open for both The Beatles and The Rolling Stones? I'd say that's pretty impressive.
RT: Yeah, that's right. We did open for both of them. We used to do a lot of what they called "package tours," with a lot of different artists on them. If you were one of the opening acts, you'd get to do 15 minutes.
GM: Opening for The Beatles must have been a very unenviable position for any band. Weren't all the girls screaming, "We want The Beatles!"
RT: Well, it was just a straightforward gig for us. There were probably four or five other acts before The Beatles, but once The Beatles came on, with all that screaming, no one could hear anything anyway.
GM: What special reminisces do you have of Gary Brooker, who we sadly lost earlier this year?
RT: Well, the thing is, I always credit Gary for my whole career really, because if he hadn't asked me to join Procol Harum, I would not have had the career I've had. Being in Procol Harum was a great schooling for me. I learned a lot about recording, which helped me when I got to do my own music, and what it was like to tour a huge place like America. It was all a great time.
GM: As you left the band just prior to the recording of "A Whiter Shade of Pale," before rejoining them afterward, do you regret missing out on being on one of the most famous records of all time?
RT: No, not at all. (laughs) I was just very fortunate to be asked to come back to the band after they were going strong.
GM: Unfortunately, in America, most fans of music from that era probably think of Procol Harum as just another one-hit wonder, when of course, the band went on to make so many great albums like Salty Dog, my personal favorite, and Shine on Brightly, Grand Hotel and others. There was so much depth and creativity there.
RT: Well, the public in general tend to only know about hit singles. So you're just as famous as your big hit single sort of thing. Unfortunately, that's usually about it.
GM: Over the years, many Procol Harum fans have been campaigning to get the band inducted into our Rock and Roll Hall of Fame. Is that something you would like to see happen?
RT: Ah, l'm not sure if I'm really bothered by that sort of thing, to be honest.
GM: There seems to be a sort of prejudice towards British prog bands. How can you not have bands like Emerson, Lake and Palmer and Jethro Tull, but this year they've nominated Dolly Parton. A terrific songwriter and performer no doubt, but more influential to rock music than those bands?
RT: You can't really call a lot of people they've put in as rock and roll, could you, so how can you call it The Rock and Roll Hall of Fame?
GM: Perhaps one reason Procol Harum is not as well remembered as they should be is that the band's photos weren't featured on the album covers, so they were, in a sense, a "faceless band" — like, say Chicago, for instance. Probably only Procol's most ardent fans would have known what any of the band's members looked like — even Gary.
RT: Yes, you could be very well right about that.
GM: Was there every any consideration about the band playing Woodstock? It would have certainly raised the band's profile.
RT: I think we were asked to play Woodstock, and I can't remember why we couldn't do it. It's just become for me one of those "if only" moments. Isn't it?
GM: After you left Procol Harum and formed your first three-piece band, what is it that you found more appealing than having a second guitarist or keyboard player? It's obviously a lot harder for you in concert because you have so much more space to cover.
RT: I think I just like having that extra space to fill. It just makes the music more dynamic because you have to make up for that missing instrument.
GM: You've obviously had a very long and very successful career. Could you have ever have imagined it would it work out the way that it has?
RT: No. When I started out over 60 years ago, I could never have imagined that at 77 I would still be doing this. I originally thought I'll be lucky if I'm still playing music at 30, so I've been very fortunate.