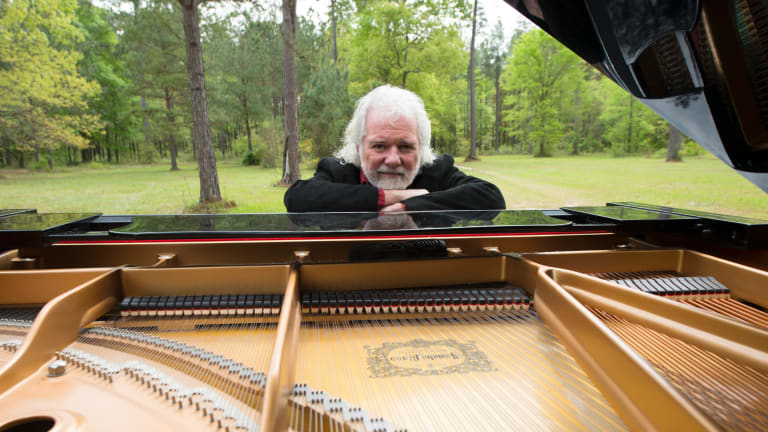 Rolling Stones' pianist Chuck Leavell explores his "roots"
Rock documentary "Chuck Leavell: The Tree Man" is a wonderfully poignant look at one of rock music's most celebrated keyboard players. To talk about the documentary, Goldmine goes right to the source.
By Ivor Levene
My first thought on viewing Chuck Leavell: The Tree Man is, "Why did it take so long for this movie to appear?" I'm not referring to the three and a half years that Chuck and director Allen Farst took to make the film, I'm wondering why a film this great took so long to show up. I've seen plenty of rock documentaries in my many years, and this one honestly is one of the best rockumentaries you'll ever see. So apparently, all the best things in music cinema aren't in the past. As to the three-plus-year gestation period, Chuck states, "We interviewed and explored three or four documentarians, but Allen Farst proved to us that he really wanted to do it, and would put his heart and soul into the project, which he certainly did. Allen filmed us in many different settings and places around the world for three and a half years to get a full and clear picture of things…and then of course had to edit it down to 1 hour and 43 minutes. It was a monumental task for him, and he did an amazing job both in the raw filming and the editing."
Trying to cover just the high points of Chuck Leavell's storied career in music can easily fill a hundred-minute documentary. When you add in his work in conservation, and his family history, you end up with a wonderful documentary that's a love letter to his wife of 47 years, Rose Lane, and to mother earth. Forty-seven years is an extraordinary feat, even more so in the world of music, and as Chuck explains his secret, he says, "Well, I like to tell folks that a good and long marriage is like the old photographic film….it has to be developed in the dark!" A Rolling Stones tour is essentially a family vacation mixed with the business of performing. Chuck stated, "Rose Lane does tour with me. She actually works backstage with the team that gets us ready for a show. Wardrobe, hair and makeup, general "gofer" duties. She likes to call it "cat herding," which is pretty much what it is."
The film is interspersed with accolades from fellow musicians, conservationists, actors, and even President Jimmy Carter. I asked Chuck how he ended up with our 39th President, to which he replied, "The President and I have been friends for many, many years. Back in '73, when he was governor of Georgia, he came down to Capricorn Studios when we were recording Dickey Betts' first solo record, Highway Call. He stayed for a couple of hours and asked great questions, showing serious interest in the music business in Georgia. Not long after that, he decided to run for President, and we (The Allman Brothers Band and other southern bands) did a few benefits to raise money for his campaign. My band, Sea Level, played at one of his Inaugural Banquets. In subsequent years, when he was out of office, we communicated some and hunted together several times —once was at our place, Charlane, which was such an honor. We have much in common…love of music, love and interest in conservation and the environment, and more. He is the most interesting and amazing human being I've ever known."
When asked which of all the accolades was the most poignant, Chuck responded, "Oh, goodness…what comes to mind is that when we were rehearsing for the Chuck Berry movie, Hail Hail Rock and Roll, we had the great Johnnie Johnson on piano, and I was playing mostly Hammond B3. But a couple of times during breaks, or when some jams would occur, I would jump on the piano. At one point, Johnnie said to me: "Man, hearing you play the piano makes me think I am hearing myself"…that rocked my world big time!"
In the film. you see Chuck engaging with his fans, signing autographs, posing for pictures, distributing guitar picks, always giving of himself. Back in February, I had the good fortune to find myself in a jam with Chuck and I can attest to the man's absolute generosity, he makes you feel good, and so will this film. If you put Chuck in a room filled with fans seeking autographs, Chuck will be the last one to leave…
Much of the film takes place at Chuck's home, a property outside of Macon, GA, called Charlane, which Chuck tells, "We started back in 1981 with about a thousand acres that my wife, Rose Lane, inherited from her grandmother. Since then we have been blessed to take advantage of opportunities to acquire more, and at present, we are at 4,000 acres."
Those 4,000 acres are all maintained by Chuck, Rose Lane, and his "ranch hands", and the property is put to good use, hosting everything from quail hunting parties to corporate events. Chuck tells, "For the accommodations, we can house up to 14 guests if some guests share a room, but if everyone prefers single rooms, we can accommodate nine. Our hunting is focused on the traditional southern quail hunt…with excellent pointing and retrieving dogs, experienced guides, jeeps and buggies. Other activities include retreats focused on particular themes…like art (painting), bird watching or a group that just wants to spend a relaxing couple of days in the country. Our bookings are strictly by appointment only…in other words, we are not a typical "Bed and Breakfast," but arrange bookings according to availability. Our website, www.charlane.com, has excellent information, including a virtual tour of two of our facilities, The Bullard House (restored 1835 farmhouse) and The Lodge, which we build out of wood that came from our own forest."
When asked what it takes to run such a large property, Chuck stated, "Employment varies according to the season and bookings. We have two full-time employees that help me work the land, perform maintenance and such, and several part-time employees (like the quail guides, cooks, etc.). At peak times, there are probably about eight folks working here." Charlane happily, has not been affected by the pandemic and according to Chuck, "Most everything we do is outdoors, we are very "Covid-safe."
Calling what Chuck does with Charlane "maintenance" would be a huge under-representation because Chuck is an acclaimed environmentalist, tree farmer, and has been recognized and awarded the title of both State and National Tree Farmer of the Year. This may seem like an obscure title to you, but there are more than 74,000 people in competition for the national title. The award is given by the American Tree Farm System to private landowners who have "done an exceptional job of forest management while promoting sustainable forestry." Very rarely will a single dead tree be left to just rot on the forest floor at Charlane. It can be harvested for lumber, turned into mulch for landscaping, or turned into fuel for generating power. Part of Chuck's house was built with lumber that has been harvested from the land, and there is also furniture made from Charlane Plantation Pine.
Chuck is as "hands-on" as one can be, whether he's creating a fire break for a controlled burn, wielding a drip torch to ignite the burn area, or cutting up felled trees with a chainsaw. Controlled burns are done as a means of protecting a forest from wildfires, and also help to nourish the earth, providing nutrients for the soil. There is a huge amount of work and science that goes into forestry and Chuck is an expert. He has been appointed to the Georgia Land Conservation Council by former Governor Sonny Perdue and has served on the board of the American Forest Foundation, and the United States Endowment for Forestry, and was given the title of Honorary Forest Ranger by The United States Forest Service. He has made trips to Washington DC to discuss forestry and environmentalism with politicians on both sides of the aisle. He's also written books on Forestry, his most recent being Growing A Better America: Smart, Strong, Sustainable, which has been lauded as "one of the best 'common sense' environmental books of all time". His 2005 autobiography, Between Rock and a Home Place is acclaimed by Wikipedia as being "one of the best rock autobiographies ever published."
Chuck Leavell is the only rock star I know that can create a controlled burn in a forest, wield a chainsaw, and play some of the best honky-tonk piano in music. Somehow, I think perhaps his bandmate, Keith Richards is envious of the controlled burn and the chain saw.
I asked Chuck if he thought we, as a nation could be doing more to combat climate change, and he replied, "The Obama Administration had us on a pretty good path back in '08-'16. While I believe more could have been done then, at least it was going in the right direction. Then quite frankly, Trump just dropped the ball and ruined the good things that were being done. A story of "one step forward, two steps back". It has been a very tough four years for our country's environment. Thankfully, I have no doubt that Biden will repair a good bit of that and put us back on track. I'm confident he will get us back into the Paris Accords, and do some things that will improve the situation. But so much damage has been done, it means that it will be a lot harder now that it would have been four years ago. Still, I am hopeful and optimistic. Our website, www.treehugger.com, has a great staff, great eco-writers, and is a strong resource for environmental news, education and practical approaches to understanding and improving our environment."
Environmentalism isn't limited to people with large swaths of land or the government, so I asked Chuck if there was more we as individuals could be doing to help combat climate change. His advice to all of us was, "There are several easy and practical things. Like planting trees…in your yard, in your neighborhood, in schoolyards, in parks, throughout your community. Supporting policies for alternative energy sources, supporting regulations on emissions of all types. Lowering your own carbon footprint with eco-friendly vehicles, good insulation in homes, leaving the car in the garage sometimes and walking or biking around…and many other things. I laid out my thoughts in my most recent book, Growing A Better America: Smart, Strong and Sustainable."
The film does leave plenty of space to examine Chuck's music career, and it does so lovingly. There are plenty of Rolling Stones and Allman Brothers Band moments, with appearances by the entire band, along with Eric Clapton, David Gilmour, John Mayer, John Popper, Dickey Betts, Bonnie Raitt, Bruce Hornsby and many more.
The timing of the film's release is coincidentally perfect, we could all use something right now to lift our spirits and make us feel good. Tree Man does exactly that and in spite of what Billy Bob Thornton says, "Chuck is the kind of guy who can make you feel bad about yourself because he's so good!" — you're going to feel good. You're going to feel good, because that is essentially what Chuck does, he makes people feel good!
The film will be available on December 1st on most streaming platforms, and there are also virtual screenings across the US and Canada. Further information about screening dates can be found at https://www.chuckleavellthetreeman.com/theaters-virtual-cinema