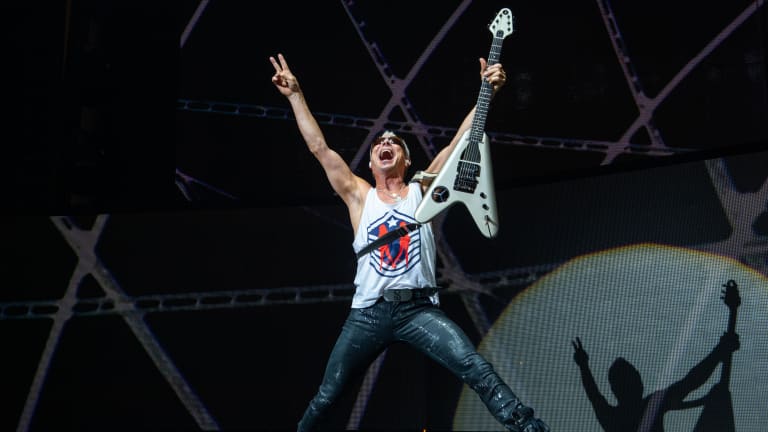 Scorpions guitarists Rudolf Schenker and Matthias Jabs on the philosophy behind 'Rock Believer'
Is 'Rock Believer' the Scorpions' best studio album in 40 years? Let's philosophize on the virtues of hard rock!
Get Scorpions and hard rock/heavy metal vinyl and collectibles in the Goldmine shop
By Martin Popoff
It's no secret that German metal legends Scorpions have been staring down Herr Time defiantly, proving as much by their athletic live shows, suddenly peerless against any band of their generation, which you might say is the 1970s, although rhythm guitarist Rudolf Schenker reminds me that he first pulled up to the pumps for a tank of heavy metal-leaded back in 1965.
But with the latest album Rock Believer, the band — Schenker, Matthias Jabs, Klaus Meine, Pawel Maciwoda and new firecracker drummer Mikkey Dee — prove that the fine fettle mettle that you see onstage has translated boldly to record. Rock Believer, across the 16 tracks offered in limited deluxe edition, contains but a single ballad, "When You Know (Where You Come From)," granted done twice, in acoustic and electric versions. On the 11-track regular edition, there's just the single full-band rendition of the song.
Get Rock Believer Deluxe 2-LP Set in the Goldmine shop
The rest of the album is varied, high-quality classic Scorpions heavy metal, specifically of a style that spans Animal Magnetism, Blackout and Love at First Sting (and no, not particularly Lovedrive, the first of the Jabs era), although, as you will see, Blackout features prominently in the direction of this thrill-ride.
"First of all, a new drummer, Mikkey Dee, brought some fresh wind into the machine," begins Schenker, asked about the personality of this slamming new collection versus the band's last album, Return to Forever, from 2015. "Especially by finding out that he plays so much ahead of the beat, pushing the beat. You know, when I play, I'm a little bit before the point, because of the energy. And when we play together, Mikkey does the same thing. I noticed this already the very first time we played together. This gives an extremely good drive to the music."
But the DEE factor — the Swedish dynamo is best known for his work with Motörhead and King Diamond — reveals itself in another key way as well.
"With James, we usually recorded the modern way," explains Jabs, referring to previous drummer James Kottak, who played with the band on five studio albums (depending on how you count) stretching back to 1999's Eye II Eye. "He played last, because we had done all the arrangements and recordings to programmed drums, a programmed drum track. That was the way the Swedes (producers Mikael Nord Andersson and Martin Hansen) were working. You know, it saves time, it saves money: It's one of those, fly the drummer in, he knows the complete arrangement because he could rehearse it and get ready, and the album is done in two days and that's it. That's that way of thinking.
"With Mikkey, we did it the other way around, playing live with the drummer there, the old-fashioned way, which brings in what the drummer has in terms of arrangement ideas. But first of all, Mikkey's a great drummer, plus he's a very positive personality and he has a lot of energy, which you can hear on the album. But also that means you can play with him for six to eight hours and he doesn't get tired. He's one of those powerhouses. Of course, we know him from Motörhead, but he's smart enough and a musician enough to know that when he plays for the Scorpions, he knows what to play and what not to play. We've played together now since 2016, like countless concerts, and he's really great; he fits right in. The chemistry is wonderful and yeah, you know, a very fun guy, too."
Now here's that Blackout thing, which, when you hear the album, the connection will ring through loud and clear.
"Return to Forever was, I think, a pretty good album," reflects Jabs, "but we were coming to a point with our friends from Sweden, our producers — they are really our friends as well — where things were a bit too clean, too polished. We decided if we do another album at all, which wasn't clear, like for a long time, we have to go into a harder direction and make it more rock, make it more rough. But I would say that the earliest point when we considered making another album was some time in 2018 when a good friend and fan, and also somebody who works for the record company, addressed us with, 'Oh, guys, it would be fantastic if you could do an album again like Blackout, from the early '80s.' This is his favorite album. And he said that the fans would love it. And you know, it's easier to say than to do, but we thought about it — somehow he planted that thought in our minds."
As a sort of parallel to having the drums in early, Schenker explains that a similar thing happened with the lyrics, with both procedural differences resulting in extra life across these Rock Believer songs.
RELATED ARTICLE: 10 greatest Scorpions songs of the '70s
Confirming the same story about the label request for an album like Blackout, Schenker says his answer was, "Yeah, that's a good idea, but let's see. And then Klaus somehow got the inspiration to write lyrics. He wrote very inspiring lyrics, looking at the history of the Scorpions and also what you experience along the way by playing around the world. And he was sending them to me in Thailand, where I was at that time avoiding the wintertime in Europe. We have a studio there, and I got the lyrics, and the first lyric was 'Gas in the Tank,' which I thought, yeah, right, good stuff — do we have some gas in the tank? But now I was able to write songs that support the lyrics, rather than doing the music first, which was our usual way. This was a fantastic way and not the normal way. You know, if you always go down the same road, after some time you get bored and then no creativity comes out. But I got these lyrics and I said, great, yeah, and I was driving around the neighborhood thinking about the lyrics, thinking about riffs, with the first riffs flying around in my car (laughs) and I drove home, went into my studio and started writing. I got to around seven, eight, nine songs and called the engineer and said, 'Hey, man, come over here. I have some good stuff. Let's put it down for the other guys,' so that they had a picture of what I was doing. Everybody was excited when they heard the stuff."
This is all tied in with yet another complicated worldwide pandemic story, in the Scorpions' case involving the usual canceled tour dates but also a Las Vegas residency, scotched plans to record the album in Los Angeles and ultimately a tight recording schedule back home in Hanover, Germany, due to travel restrictions that affected Dee (coming from Sweden) and Maciwoda (coming from Poland).
But an album that will go down as a late-period classic indeed got finished — and self-produced, another happenstance that Schenker says contributed to the record's heavy metal roots. In fact, there's a song called "Roots in My Boots," which shoots right back to "Blackout," plus a raging metal monster called "Hot and Cold." Quick of attack are "When I Lay My Bones to Rest" and first single "Peacemaker," while "Shining of Your Soul" might be the best song the band have ever done in their very occasional reggae idiom. I bring this one up because inside of it are some of those exotic chord changes that ring vaguely Eastern European or German or Spanish. Really, across a record like Rock Believer, this is the band's ace in the hole. I asked Jabs how aware he was that the band had this thing that bands from America or Britain might be lacking.
"Yes, I know, I'm aware of this," responds Jabs. "We were wondering, you know, for a long time and are still wondering, if that's an influence from the classical music that was very big in Germany; lots of composers come from Germany and Austria. I'm not sure. But you are right, we are not so blues-based and not so pop-orientated like British musicians are, sometimes. Or folk-orientated — Irish folk is a big part of British pop and rock music. Even Led Zeppelin have those melodies. But I don't know; I would assume, if anything, it's the influence of classical."
Finally, I thought I'd hit Schenker up for a comment about the album's intriguing cover art, which takes us right back to 1975's In Trance, and even earlier, into a cool, artsy Krautrock world.
"We had Klaus Voormann, who did The Beatles' Revolver and won a Grammy, do a cover and it was fantastic but didn't quite hit the spot. We used that for the 'Rock Believer' single. So, then we said to the record company, 'Please give us some other possibilities.' And we saw this picture of the woman with the tongue hanging out, a little bit, and also the tattoo on the tongue. Yeah, she is crazy about rock! She's a rock believer. It is a little bit different, and comparable maybe to Blackout. But on the other hand, it's the color red, which we have never used on an album sleeve so far. And that reminded me of an alarm bell or danger, you know? Like red — Scorpions! Yeah, here we are, rock believers! You know, people are telling us rock is dead — no, it's not.
"Rock never dies, and it all comes up from the foundation, from bands like Led Zeppelin, Black Sabbath, The Beatles, Rolling Stones — there's the foundation. Nobody can take that away from them. Everything else is a copy, a nice copy (laughs), but not as strong as the originals."
"But yes, Rock Believer as a title: We are also rock believers from those foundation years. The Scorpions were born in 1965! You know, a few years ago we wanted to do a farewell tour, but then we noticed that there were so many new rock believers. We play now for three generations of them. This is our life! Play MTV Unplugged — fantastic! Go and do Comeblack — great! Then we see that there is the 50th anniversary of the Scorpions name. And now we are coming out with the album that is 50 years after our first album (Lonesome Crow came out in 1972). That's fantastic. Believe in rock. Believe in music. When I was 24, they would ask me, friends and people, 'Hey, what do you want to do when you're 30?' I said, 'I love music and I want to stay with music.' Now these people are … somewhere, but I'm still here."
Get the Collector's Edition of Goldmine's Scorpions issue (June/July 2022, click below), with alternate exclusive cover by photographer Gus Griesinger, numbered slipcase and professional 8X10 print suited for framing (exclusive photo from Frank White).