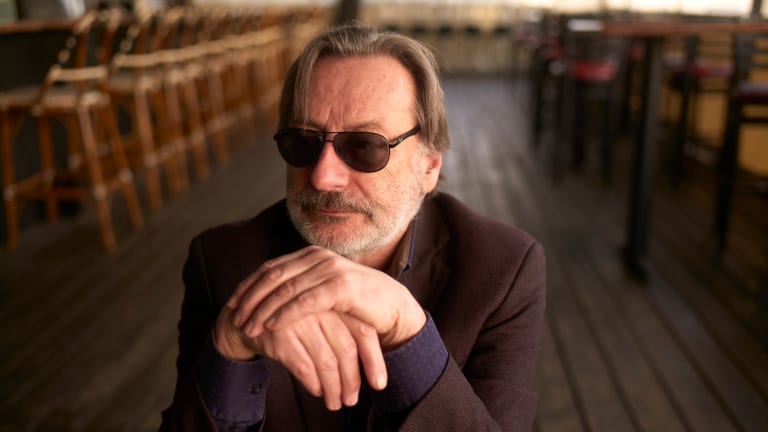 Southside Johnny returns with Tom Waits tribute album
With the rerelease of the album "Grapefruit Moon," Southside Johnny adapts the songs of Tom Waits to a big band sound.
By Ray Chelstowski
I first caught Southside Johnny & the Asbury Jukes at Fairfield University in Connecticut during a fall break from college in 1983. Friends tell me that Marshall Crenshaw may have opened the show. I can't remember. That night Southside's performance was so electrifying that it shut everything else out and kicked off a lifelong connection to a band that seemingly could do it all. In Southside I found someone whose music always spoke right to me. It still does. That's why it's so fantastic to see Pacific Records release Grapefruit Moon: The Songs of Tom Waits Remastered. The album brilliantly adapts the songs of Tom Waits to a big-band sound. It's an incredibly ambitious effort that hits the note again and again, and it marries the talents of two remarkable artists. In a way their approach to music has always shared a special kinship. Through this album the connection Waits and Southside share sparkles, soars and shuns convention. That makes the music stay with you, really take root, and never let go.
Goldmine caught up with Southside Johnny and revisited the making of this iconic record, talked about what might be next, and in the end asked him to offer up some words of wisdom on the topic of love. It's a subject he knows well — it just felt right.
GOLDMINE: With Asbury Jukes albums Reach Up and Touch the Sky and Better Days celebrating 40th and 30th anniversaries this year, respectively, why did you decide to rerelease 2008's Grapefruit Moon first?
SOUTHSIDE JOHNNY: The guys at the record company came to me and said that they wanted to rerelease it. I had no plans to rerelease anything yet. They thought that it was one of those records that should have gotten more recognition. It was different from what I usually do, and it's hard these days to get anybody to pay attention. The record didn't sell all that well, but the people at the label had this idea and I'm glad they are doing it. I've always been very proud of the record and was frankly astonished that it came out as well as it did. It seemed so "adult"! (laughs) So I'm very grateful for them putting it out again, and I hope that it gets more of a hearing. It's got a lot of great stuff on it. Richie Rosenberg (LaBamba) did great arrangements. And of course Tom's songs are just terrific. It was a labor of love, and it cost as much as most labors of love do.
GM: Your version of Waits' "New Coat of Paint" from the album In the Heat (1984) was the most blistering version I had ever heard — until this record. How did you become interested in Tom Waits and his music?
SJ: Well, back in the 1970s, we would buy just about every record that came out. We would try anything that looked intriguing. I bought the first album, and I guess (former New York City rock radio station) WNEW may have played a cut or two. And honestly his music is right up my alley. It's bluesy, it's fun and really touching. So I bought the first album and was so intrigued by the guy. Then when The Heart of Saturday Night (1974) came out, I just thought it was a masterpiece. There were no dead cuts on it. It just knocked me out. Then we started doing "The Heart of Saturday Night" and "New Coat of Paint" live. We did a couple more because we just loved the songs.
GM: This tribute to Waits really stands alone because of the big band approach. What inspired it?
SJ: I had an idea of doing an album of his songs, but I wanted to do it with a big band. Once I knew that LaBamba could arrange things like that and I had enough cash on hand, I thought it was time to do it. You mentioned "New Coat of Paint," and that's a big-band song. I don't know. I just heard it that way. I mean, I grew up listening with my parents when they would play Count Basie and Duke Ellington. So I always had a little of that in my head. It just seemed like the perfect type of music because it's more adventurous, and of course his lyrics are terrific. It just seemed like a perfect combination to me.
GM: The arrangement on "Shiver Me Timbers" is stunning. You took a sailors song and turned it into a smoky torcher. And "Johnsburg, Illinois" just stands out.
SJ: I forget who actually came up with the arrangement for "Johnsburg, Illinois." It's called a brass corral, where they are just holding notes and things like that. When they came to me and said they wanted to do it this way, I said, "Let's try it." They already had it worked out, and it was perfect. The feeling in that song is just great. The brass corral makes it almost elegiac.
GM: How often do you tap into these tracks in concert?
SJ: Well, there are limitations. But we can do "Johnsburg" and we still do "New Coat of Paint." But there are some things like the Count Basie monster orchestra power thing that's tough to do with three horns. But if we wanted to we'd do it anyway. That's the great thing about the Jukes. We're open to anything. It's not going to be the same show every night with the same arrangements. We're out there to make music, not just go through the motions.
GM: How did you pick the songs? Was it how they could translate into big band?
SJ: Well, it's both. I picked out the songs that I really love the best. "Shiver Me Timbers" has been done by a lot of people, but I love the song, so I thought, "What the hell?!" I got to pick half and Richie picked the other half. It was really an open conversation. The other guys contributed, too. There was no real set pattern.
GM: Have you ever received any feedback from Tom on this record?
SJ: Well, I sent a copy of the demo to Tom. He sent back a note saying "Pal! Wow! Yeah!" and I went, "I think that's his OK." Whenever I cover anyone's music, I tell them that I could do it without their permission, but I'd rather let them know, and he was all for it. He actually sings on one song on the album. So I guess he didn't hate it! (laughs)
GM: You have tackled so many different kinds of sounds. Outside of putting out a polka album what kind of pet project would you like to get off the ground?
SJ: We actually did polka on the live album! Just a very slow version! There are so many types of music that I really love. I love singing country and bluegrass. There's a Portuguese music called Fado. I just want to do all of them because they really move me. I don't think I can do them all, but I'd sure like to try. But our bread and butter are R&B, rock and roll and soul music. The Jukes is a perfect medium for that. Even if you're not writing for that kind of thing, say you are writing something like a ballad — when the Jukes get hold of it, it turns into "Jukes music," which I'm very grateful for.
GM: Among many great Jukes shows the best I have seen was at The Chance in Poughkeepsie, New York, on Valentine's Day 1987.
SJ: I remember The Chance very well and playing certain songs there. The bar is right there in front, so it's really high stakes. It was a really cool place to play for us. The Chance is the first place we ever performed "Walk Away Renee," which is now one of the staples of our set. I had heard the song on the radio heading up, and (guitarist) Bobby (Bandiera) and I starting singing it together, and it really kind of worked out. I thought it would be a good song for us to do and we worked up an arrangement. Now we do it just about every night.
GM: Any advice you'd like to share with aspiring lovers out there?
SJ: Don't give all of your heart away. Keep a little for yourself.