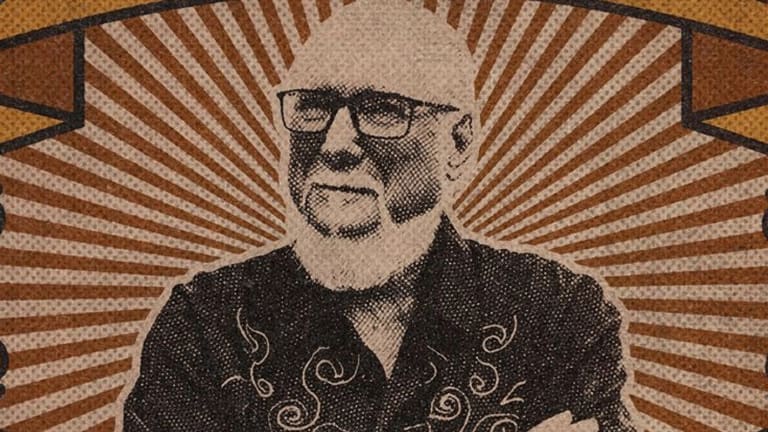 Steve Cropper fires it up with latest album and Grammy nomination
Steve Cropper has a strong history of influential guitar playing, but he is especially proud of his Grammy nomination in the Contemporary Blues Album category for the album "Fire It Up."
By Ray Chelstowski
This past September, an all-star billing that included Billy F. Gibbons, Jeff "Skunk Baxter, Mike Mills and others gathered at Nashville's Ryman Auditorium to celebrate guitar legend Steve Cropper's 80th birthday. 
This special concert was the perfect kick off to an autumn that would find Cropper preparing to deliver what may be the most authentic piece of soul-driven Memphis blues he has ever created. The album, Fire It Up, has a vintage aura but is marked by crisp guitar work, dynamic arrangements and vocals that have the roar and power of a mountain lion. When Cropper says that this is the "most proper" record he has ever recorded, it might well be because it is so carefully constructed and is anchored throughout with his remarkable ability to always find a groove. The Grammy's agree and have given him his first solo nomination for "Best Contemporary Blues Album."
Steve Cropper may be best known for his work with Stax Records in Memphis where as a member of Booker T. and the MG's he laid down some guitar licks that have become as famous as the songs they helped propel up the charts. He was also a co-writer of classics like "Midnight Hour," "Hip Hug-Her," "Soul Man" and "(Sittin' On) The Dock of the Bay." But it was with The Blues Brothers franchise where he was able to step forward and create a unique musical persona that has lasted for over 40 years.
Goldmine was able to connect with Cropper and talk about how this new project came about, what it was like recording during COVID, and what lies ahead for this guitar great who has little intention of slowing down any time soon.
GOLDMINE: You've made a number of albums since 1969. Why do you consider this one to be the most proper?
Steve Cropper: (Laughs) I guess I never knew how bad I was! I knew that I played "OK." But none of those records on MCA sold well. Overseas it sold well but not over here. Maybe it's because they didn't play them enough on the radio.
GM: How did Felix Cavaliere (The Rascals) become involved with this project?
SC: Well, a long time ago we were with The Northwest All-Stars and someone told us that we should make a record together. So I started writing for the project and Felix began to play on a couple of the tracks, but said he wasn't going to sing or write anything else for the album. So I dumped the project. John Tiven (co-producer on Fire It Up) and I picked things up and would write together every Tuesday and sometimes on Fridays. One day he called me and said "We've got all of these tracks. Would you mind if I finished them up?" I said that was fine but we need to find a singer. He told me he had one to which I said, "You better have something that he's done that I can listen to." He did, and when I heard it I said "Where has this guy been all of my life?" He's a good R&B singer, but his career had been in pop music. That's why our paths never crossed.
GM: His vocals are very powerful, very much in the style of Stax legend Eddie Floyd.
SC: He is so seasoned, and the funny thing about this record is that all of his vocals were done through an iPhone because we were in lockdown. We couldn't get together in a studio. Tiven called me and said, "I don't know how this is going to turn out but he has a new iPhone." My engineer and I did mixing that morning, went out for some lunch, and on the way back listened to some mixes in the car. It sounded so good that you wouldn't believe that they weren't done in studio.
GM: So the entire record was done remotely?
SC: We only were together to rehearse for a live performance of four songs from the album. That was the first time we had even seen each other. We had only talked to each other on the phone. I obviously knew John (Tivin) because we had worked together before. The thing about him is that he has a studio in his home, so he always had access to all of the tracks. I'm about five minutes away from RCA, so I went over there to overdub my part. Then we mixed it at my studio. We downloaded everything into Pro Tools and didn't add any enhancement or change any of the vocals. We brought it up to where we needed it to be from a volume perspective, but did nothing EQ-wise. That was it.
GM: This record — Fire It Up — has a real authentic, vintage vibe to it. Did you set out to capture that kind of sound, and did you use the old Fender Harvard amp that is present on all of those old Stax classics?
SC: Well I think that the way we set up the tracks and doing things at Jon's studio helped. He does things "the old way" and I do, too. I just plugged straight in. These days I use a Victoria amp out of Chicago. A lot of greats play through that amp. Its hand made. The Harvard amp you mentioned is in the Smithsonian. When I presented it to them I told them that I couldn't give them the guitar that I played on all of those old tracks because I can't find it. But I'm going to give you the next best thing, the amp I played all of those songs through. That amp was originally purchased, used, by a sergeant on the police force in Memphis, Tennessee. When I was a kid I told my dad that I wanted a guitar and ended up buying an acoustic one from the Sears & Roebuck catalog. My dad told me, "If you learn to play that, I'll buy you a good guitar". His idea of buying me a "good guitar" was one that belonged to someone else (laughs). A guitar came up for sale and we went over together to look at it. I was sure that I wasn't going to get it. Somehow though my Dad wound up with it and surprised me by putting it under the Christmas tree. My mom told me that they wanted to show me something and I walked into the living room and there it was. The case was open with the guitar in it. I played it for years with that little Harvard amp.
GM: The record tracks great and I love that you open with the funky instrumental "Bush Hog, Part 1".
SC: That was John Tiven's idea. He basically wanted to let people know that I can still play instrumentals. We had another title for the song but someone had already registered it. So we had to come up with the name "Bush Hog." Most people don't know what a "Bush Hog" is. If you think in term of farm equipment, it's an oversized lawnmower.
GM: There are no covers on the record. Did you ever consider tapping into your Stax catalog and giving a song or two another run?
SC: No, the only advice I gave John was that we don't want a bunch of superstars on this album. We've already done that. The album Dedicated had Steve Winwood, Delbert McClinton and all of these great people on it. So the only person on the record is John's neighbor Beth Hooker who sings background vocals on "Far Away."
GM: This has been nominated for a Grammy in the category of blues, but to no surprise, it has a good amount of soul roots.
SC: People ask me how I came up with these grooves. I've just had them in my head all of these years. I guess when you are locked down during a pandemic your start remembering these kind of things that might have otherwise been fresh in your mind.
GM: Many people may not know that over the years you have sold off a good amount of gear to raise money for children's charities.
SC: Well the guitar that I'm playing now I've been playing for almost 10 years. I was going to retire it a couple of years ago and raise money for children's' hospitals. But I thought it would just be easier for me to give money. I keep playing that guitar even though it's in rough shape. It still works for me.
GM: After your time with Stax Records you appeared as a guest on so many hit records. What contribution are you most proud of?
SC: People ask me often about the songs I have influenced and there's a song called "Photograph" by Ringo Starr that stands out. Richard Perry was producing the record and he was going to throw the song away. He said "We'll get to that later." None of the guys liked it. I turned to Nicky Hopkins (keyboardist) and said, "Nicky, let's you and I go put a groove on this thing." And we did, and what a big record that became!
GM: The Blues Brothers records and film really gave your career and new chapter.
SC: I'd been in Europe with The Blues Brothers ever since that movie came out. We did a surprise birthday party for Dan Aykroyd back in the 1980s. When we came off stage Lou Marini said to me "Man, that was a lot of fun. We've got to keep that going!" So we reached out to Matt "Guitar" Murphy's manager out of Boston and he booked us a tour for about two or three weeks and we just continued on, for almost 19 years.
GM: What's next?
SC: When I tell you the name of the next person I just played with you're gonna die! I played on William Shatner's new album. Ann Margaret was next and then I played with David Hasselhoff from the old television series Baywatch. With William (Shatner) I play "Route 66," with Hasselhoff I play "Sugar Shack" and with Ann we did "Son of a Preacher Man".