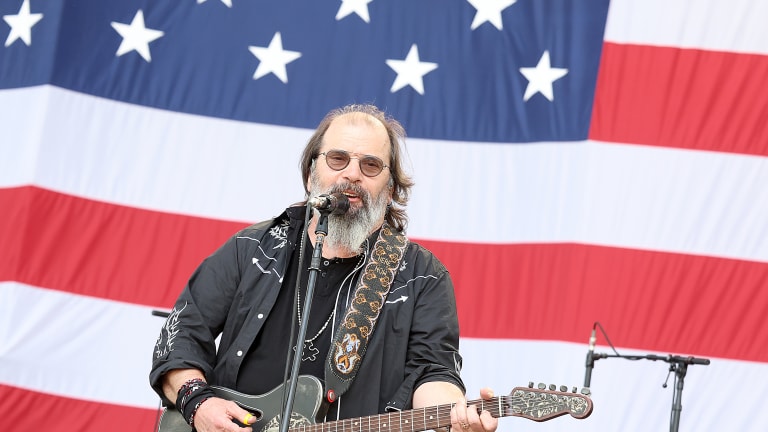 Steve Earle on new 'Jerry Jeff' album, going mono and why vinyl is best format
The prolific singer-songwriter talks new tribute to outlaw country hero Jerry Jeff Walker, revisits early influences and reveals vinyl-first approach to recording
Get Steve Earle albums on colored vinyl in the Goldmine shop
By Lee Zimmerman
He may be best known as an outlaw and insurgent, but that hasn't stopped Steve Earle from exerting his prolific prowess. Over the course of a 20-year career, he's released nearly 30 albums aside from various compilations, averaging approximately an album a year since the mid '90s. That's no small accomplishment of course, but then again Earle is an artist plied with inspiration, and the fact his music runs the gamut from roots to rock to country, folk and bluegrass. Along the way, he's paid homage to his homegrown heroes, including his friends Townes Van Zandt, Guy Clark and now, with his most recent album, Jerry Jeff, he completes a trilogy of sorts as he pays tribute to Jerry Jeff Walker, a singer-songwriter who was helped establish the template for what came to be called "outlaw country," and, in turn, today's Americana music.
That's not to say that Earle can't take credit for etching his own impression on that particular genre. His lengthy list of singular standards are well inscribed in the annals of Americana, among them, "Guitar Town," "I Ain't Ever Satisfied," "Copperhead Road," "The Revolution Starts Now" and "Transcendental Blues," songs that continue to reflect Earle's incisive reputation as an especially tenacious troubadour. So too, with his three Grammys and induction into the Nashville Songwriters Hall of Fame, his notoriety is notched up to the highest plateau.
Of course, Earle's had his share of troubles and travails, including his battles with drug addiction and a period of time spent behind bars. The biggest tragedy to befall him was the death of his son Justin Townes Earle, a promising singer-songwriter in his own right. Sadly, his passing was attributed to an accidental drug overdose. In tribute, the elder Earle released J.T. in January 2021, an album which found him covering his son's songs.

Goldmine recently had the opportunity to talk with Earle to discuss his prodigious output and how his music has motivated him to release a stellar series of albums at a decidedly proficient pace. Happily, while some may consider him surly to a degree, he was anything but throughout the course our conversation, and we found him both amiable and agreeable.

GOLDMINE: Steve, it's a pleasure to speak with you. You are such a remarkably prolific individual, so the first question we'd like to ask you is how you manage to maintain that incredible momentum?

STEVE EARLE: Yeah, I guess Jerry Jeff is like my 20-something release, Is that your understanding? You gotta remember that for four and a half years in the early '90s. I didn't make any records at all. I went to jail and finally got clean. I don't know how many there's been, but I know there's been more than 18 or 20 since then. I make a lot of records, because I have to. Sometimes, I think it would be better if I waited a bit between albums, but as it is, you've heard every single song I've ever written, except for the stuff that I'm writing for a musical that I'm working on now. There's very few things that you haven't heard. There are a few things I've co-written with other people that I've never recorded, and some older songs of mine that I've never recorded, but there are no unreleased tracks out there, no spare tracks or anything. That's not gonna happen. I kind of do that on purpose. I hate outtakes. Charlie Parker knew what the best take he did was and hated the prospect that somebody would come along when he was gone and put some inferior version of something out there. If he didn't think it was good enough to release, he didn't want anybody to hear it. I feel like we ought to respect the guy's wishes. It's his fucking music.
GM: In terms of your proclivity, however, we' would note that in the last 25 years or so you've managed to release a new record every year or two.
SE: As an artist, I do have a certain discipline. That's one reason why I write every day I get up, and even before I take my son John Henry to school, I try to do something while I'm sitting there drinking that first cup of coffee. That's because that's one of the best times of the day, in general. Your head's clear. So even if John Henry is running out in the hallway with no pants on or something, I try to remain focused even despite the distraction.
GM: That's one reason why you're very involved in autism research, right?
SE: I have a 12-year-old that has autism and I'm a single dad nine months of the year and that's what I do. But he went to his mom's yesterday for the summer so I'm getting ready to get on the bus and go on tour. I won't see him much until September.
GM: So tell us where that inspiration to make music came from early on?
SE: Like a lot of hippies, I didn't really grow up with country music. But a lot of the hippies seemed to like the waltzes, and I was one of them. So I related to it, as maybe Bob Dylan did. Some of the people of my generation were that way. Some people just went, "Oh, that's cool" and came over to the music without having experienced any sort of background with it. Some of them made great records, but it's just that there were a lot of waltzes and that's what some of those younger musicians were drawn to. Billy Joe Shaver was big on waltzes, and like him I just happened to grow up in a place where country music was important to people. I don't know how Bob Dylan was connected with it; he seemed somewhat untouched by it, as if he was absolutely innocent as far as it was concerned, but maybe he was that way on purpose. Bob always did what he did on purpose. And the rest of us did it on purpose as well because we followed Bob. In my opinion, the first post-Dylan songwriter of note in Nashville was Kris Kristofferson. Mickey Newbury also had a foot in both worlds. He watched that crossover happen and he knew where he was going. Still, when we saw that some of the better writers like Harlan Howard could write relatable songs and be part of the movement, we stopped, started doing things differently. However we knew that there was a cut off where something different happened, and that's how it all developed.
GM: Obviously Jerry Jeff Walker had an impact on you as well. Hence the new album.
SE: He was. Without him, I would have never have met Townes or Guy. He introduced me to the other two directly and indirectly. I knew about Jerry Jeff long before I knew about any of them. He was like a hero of mine, like John Sebastian or John Lennon or Bob Dylan or Johnny Cash. I knew him from his records. I remember that one of my drama teachers in high school gave me a copy of "Mr. Bojangles" because he wanted me to sing "Mr. Bojangles" in a play that we did. That was my first attempt at singing in front of an audience. I was in the ninth grade. So I knew about Jerry Jeff early on. And then he showed up in concert with this awesome cowboy hat. And from then on, I was always in his loop. I got to know a lot about him and I knew early on that I when I got out on my own, I wanted to follow his lead.
GM: So if you had to sum it up, what do you think Jerry Jeff's contribution was overall?
SE: It's all about songs that he wrote, but also he was a champion of other people's songs. That's how I came to know about Guy.
GM: With all your daring and diversity, what is the one consistent thing you can point to as far as all your albums are concerned?
SE: All my albums consist of only 10 songs now, because when you go beyond that, you start compromising the quality on vinyl, and I make my albums for vinyl now. And when you release your albums on vinyl, you're making making them for nerds. My audience likes vinyl. So I try to pay a lot of attention to that. And I make them in mono because I lost the hearing in my right ear completely. I've suffered plenty of hearing loss from playing too fucking loud. I'm totally deaf in my right ear. I just woke up after Willie's picnic in 2019 and discovered I had no hearing in my right ear. So I can't hear stereo anymore. That's what two years did. And I can't tell anything about the mixes in stereo. So we've gone full Brian Wilson, and just kind of mixed them in mono.
GM: So judging from your MO and precise way of working, we know not to expect the Steve Earle anthology, at least one with a wealth of outtakes and/or rarities.
SE: There's nothing there. Nothing!
GM: So what's on your radar now? 
SE: I'm writing songs for a musical based on the film Tender Mercies now with Daisy (Brooks Foote), (screenwriter/playwright) Horton's daughter, who's doing the screenplay. That's where my writing is focused. I haven't quit writing songs of my own. Even with those four kind of tribute records in a row. I just happened to do last one because Justin died. And I did this one because Jerry Jeff passed away recently. I just knew I had to do it as well. Even so, it's allowed me to put my energy into writing the music for this Broadway play we're putting together for Tender Mercies.
GM: When can we expect that project to come to fruition?
SE: For the album, maybe a year and a half? In my experience, it takes two and a half, three, four years or something like that to launch a Broadway musical. Hopefully it will be well worth the effort.