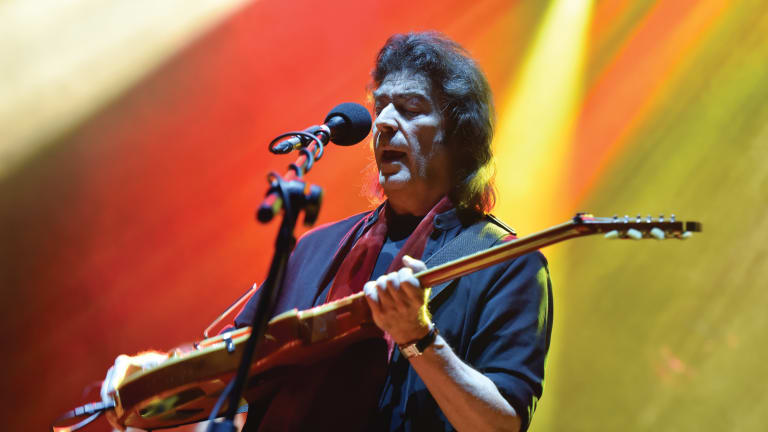 Steve Hackett's travels
Steve Hackett has had a wonderful musical career, from Genesis to the 'supergroup' GTR to his amassed solo work. Hackett's latest release, "Under a Mediterranean Sky," is an acoustic solo album, which takes inspiration from the guitarist's Mediterranean travels.
By Joe Matera
Since leaving prog rockers Genesis in the later part of 1977, guitarist Steve Hackett forged a successful solo career during the ensuing five decades. His back catalog now spans more than 30 albums, covering a range of diverse musical styling. And this prolific output demonstrates the extraordinary versatility of Hackett within both the electric and acoustic guitar realm.
While along the way he has dabbled in various other projects, such as the short-lived supergroup GTR he co-founded with Yes guitarist Steve Howe in 1985, but it's his solo career that has remained a constant throughout.
His newest release, Under a Mediterranean Sky, is Hackett's first acoustic solo album since Tribute in 2008 and takes inspiration from his extensive travels around the Mediterranean with his wife, Jo. Goldmine spoke to Hackett to discuss the new album and to reflect on some of his past glories.
GOLDMINE: Listening to Under a Mediterranean Sky took me on a sonic journey, painting visual imagery with its music, and creating a yearning to travel or tour to distant lands, something that due to the pandemic is not possible.
STEVE HACKETT: Many of the places, I have actually visited personally, and in a way it's a lockdown album. My wife, Jo, and I were frustrated that we couldn't do all the shows we promised people this year, as places were closed down. When we came home from the American tour, we were halfway through the dates before the rest of the year's 60 dates we had booked were all canceled. So I thought it might be nice to do something that was an image journey, the kind of album where people could absorb it with a glass of wine or two and drift off with it. It's a bit like landscaping in a way but with music. My Dad often did landscape paintings, as he was a professional artist, and so this is my version of it.
For example, the track "Sirocco," my wife and I visited Egypt first very briefly a few years ago and then we decided to do the full monty and do the trip up the Nile by boat. To say we were taken by the place would be a complete understatement. I just found that the music and melodies were pouring through me both whilst I was there and afterwards. So it lingered much longer. I felt I was trying to orchestrate all of those feelings I had when I was confronted with these magnificent monuments, tombs, carvings that were just out of this world.
GM: Under a Mediterranean Sky is quite a natural progression from your previous studio outings The Night Siren (2017) and At the Edge of Light (2019), where you explored the influences of world music.
SH: I get very bored with rock, and I want to broaden its shoulders at times. It shouldn't really be the case where you reach a certain point in life and career and where you think, "Rock and roll means Chuck Berry." It was all exciting when I was a certain age, but now I've grown up, so I want something else. I'm very ambitious for music itself. And that continues. At other times I'm happy to sit down with just a nylon guitar and let that orchestrate itself and sometimes that's enough.
GM: You have utilized your downtime due to the pandemic very well. Besides the album you've also had time to finish off your autobiography, A Genesis in My Bed, which was released recently.
SH: I had to get the book finished before the American tour, and then after the American tour was canceled, I came back to it as there was a little bit of time to fill in some gaps before it came out. So part of it was written in lockdown. To be honest, the last part of the book was extremely rushed. I've noticed people have said the only part of the book they really like is the first half, as it then tends turn more into a discography later on. My apologies for that, but the good news is there may be a follow-up edition at some point.
GM: Genesis' A Trick of the Tail album has approached its 45th anniversary – what stands out from that album after all these years, considering it was the first album without Peter Gabriel?
SH: My memory of it was that we were already recording backing tracks without having confirmed who was going to be the singer, which was a very difficult position to be in. I did initially put forth very early on for Phil (Collins) to be the singer, but that idea had been dismissed. Luckily, Phil stayed away while we were recording with someone else on vocals. We played it to him the next day and asked him, "What do you think?" And his exact words were, "I think it sounds f**king average; let me have a go!" So he started recording what was to become the track "Squonk." And as that was going down in the studio, Tony Stratton-Smith the Charisma label boss came by and he took one listen and said, "Hello boys, looks like you found your singer after all, see you later." And he left us to it.
GM: Do you still play anything off that album when you tour?
SH: Yes, I still play stuff off that album. The ones I have played in recent years have included "Dance on a Volcano," which I think is a dynamite number live, and "Los Endos," which I also think is dynamite live. When I was in Genesis playing the tracks, we used to twin the two, so we would top and tail, as it was right at the end of the set. You couldn't beat it. You went from one to the other with a drum solo in the middle, and if that didn't bring the house down, nothing else was going to. Luckily, it always went down a storm. Similarly when I do it now, it goes down an absolute storm, it's a barnstormer. I've also played in recent years "Entangled" as well as "Squonk." I've done most of the album to be honest. And I'm due to be doing it whenever we get back to live gigs and to also do the whole of Seconds Out (1977), which involves a great part of that (A Trick of the Tail) album.
GM: Have you kept in touch with any of the other Genesis members?
SH: Recently I was in touch with both Phil and Peter just to say hi and it was lovely, but don't worry, there are no reunions in the air!
GM: Looking back to the supergroup you formed with Yes guitarist Steve Howe in 1985 called GTR, and the self-titled debut album that was released in 1986, how do you view it now in hindsight?
SH: I think there was one good killer song on that album, "When the Heart Rules the Mind." I have actually rerecorded it with Steve Rothery (Marillion) on additional guitar and Amanda Lehmann on vocals and Roger King (keyboards and programming) and myself; we put it together and did an anniversary night. I basically did lead vocals and between myself and Amanda, we did lots of harmonies that are on it. I came away with a feeling of unfinished business in regards to GTR. Had I had my way, perhaps it would have sounded then like it does now. But one version of the track is the original and the other version is a remake and a revisit. And sometimes these revisits may give people an alternative version of what Steve and I wrote, but it doesn't mean it's better or worse. Basically it was his (Howe's) instrumental stuff on it and my song, but the combination together was mighty.
GM: As a supergroup, there must have been a lot of record company pressure to be commercially successful.
SH: We were trying to survive an industry that was turning a camel into a fish a lot of the time, album artists who were now suddenly being forced to have hit singles. And either you had a hit single or you didn't get re-signed. We were all struggling for credibility, too, within the industry, which was something quite separate from having credibility as far as fans were concerned. Fans that would be happy if you just did everything you did in 1971 all over again. I'm quite sure audiences throughout the world would be happy just to hear Steve Howe play "Roundabout" endlessly. Success can be a great thing, but on the other hand to live up to that is another thing. It's probably a bit like how The Who feel when they're yet again playing "My Generation" and thinking, "I wrote this when I was 15," if you know what I mean.
GM: Over the years, you've never been afraid to delve into diverse genres such as the blues to classical music and beyond.
SH: I think if you want to have great international success, perhaps what you need to do is to write one song and then do variations upon it endlessly. And if you present it in the right way, you'll come up with an identifiable style. Or you take the route of, I've had enough success and what I now need to do is to experiment and inhabit the soul of all these other things, these other genres. I need to be the ghost that comes and goes throughout the birth of these things and try and come up with some hybrids and invent pieces of music that people don't really have a description for. And whatever it is, as long as it sounds alive. If its cinematic that's good, and if it makes you sit up and listen, that's good, too. I've increasingly been interested in things I'm unfamiliar with, eastern scales for example, and people who play instruments that I've never heard of before.
GM: When it comes to your guitar playing, is there anything you've never told an interviewer before?
SH: When I first picked up a guitar and learned to play at 12 years old, I used to have this strange melody I used play on harmonica and I called it "Bats in the Belfry," a little sort of spoof kind of semi-comedic horror film melody I used to play with the chromatic harmonica where you'll get two notes sliding together that were completely out of tune with each other. It wasn't a tune or anything. I ended up recording it many years later on a track called "The Wheel's Turning" (from Wolflight, 2015). I think I used it right at the beginning, and it sounded like a fairground melody.
GM: With a 50-plus-year career, have you ever had any Spinal Tap moments onstage?
SH: I remember falling over backwards onstage once. It was in the early 1990s in Sardinia up in the mountains. We were doing the gig in a tennis court. We were supposed to get a sound check, but because the whole town started arriving, we couldn't really do a sound check. So I just made my way up onto the stage. At one point in the show there was a mighty drum and bass solo happening, with Hugo Degenhardt on drums and Doug Sinclair on bass. So I left the stage and left them to do it and then came back on with the melody. But as I started backing off, I fell over backwards, over a monitor cabinet or two and got wedged down by the weight of my own guitar between the monitor cabinets. And I looked like a dead fly with my feet up in the air! The roadies quickly came to rescue me and picked me up. And though I hadn't injured myself, it was more a case of my pride being wounded.