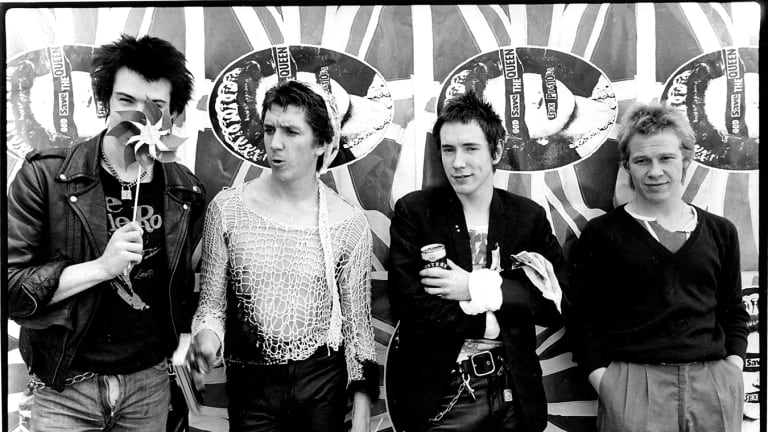 Steve Jones on Sex Pistols TV series, Lydon's voice, the inferior LP sound of 'The Clash' and more
The famed Sex Pistols guitarist talks about the TV series 'Pistol' and relating to the late '70s British punk scene
Get the Sex Pistols Collector's Edition! Find out more by clicking below! 
By Martin Popoff
The Clash, (I'm) Stranded, Damned Damned Damned, Young, Loud and Snotty, The Boomtown Rats, Ramones, Leave Home, Rocket to Russia, The Diodes (Canadian — look it up!). At the end of 1977, that would constitute the rest of the Top 10 punk albums as far as me and my 14-year-old schoolmates were concerned back in Trail, B.C., Canada, still loving all things heavy metal, but now this scourge as well. But not a sullen teenager among us would be so stupid as to deny that Never Mind the Bollocks, Here's The Sex Pistols, issued October 28, 1977, was at the top of the punk heap, with Johnny Rotten shouting down all comers while the rest of the guys quietly stole their guitars and amps.
Every respectable punk poll now still puts the Pistols at pole position, so it's no surprise that interest in the band's one-album career (the most famous one of those ever) persists. This is why there's a six-part bio-pic series launched called Pistol, through FX/Disney/Hulu, directed by Danny Boyle of Trainspotting and Slumdog Millionaire fame.
And no doubt because of the TV series, we're also seeing an album called The Original Recordings, which contains all of Never Mind the Bollocks, plus anything else one might call a Sex Pistols song, most notably band originals "Did You No Wrong," "I Wanna Be Me" and "Satellite." Back to 1977, a fond memory was owning the U.K. original of Bollocks, but then having the Canadian copy arrive in town, with slightly different colors to the cover art and also one extra song, "Submission," which is also included here.
"I mean, you've got everything on there, and I guess it's going to be coincided with the TV show," begins Jones from his L.A. home, rising to the interview despite fighting allergies. "That's the main thing; it's all going to happen at once. You've heard it all before, basically, if you're a fan. I don't even listen to punk anymore. I'd rather listen to Steely Dan, to be honest with you."
But of course, there's the rub: Not to be extreme about it, but Bollocks is the Gaucho of punk rock records. Metalheads loved it because of its pristine yet red-blooded production values, its professional performances and the fact that — like Steely Dan — the lyrics had meat on the bone. But then unlike Walter Becker and Donald Fagen, the album was wall-to-wall power chords. Jones kind of agrees with all this, when asked why the album was such a hit — in fact, it's RIAA-certified platinum right now, making it one of the only original-era punk albums to find gold status. (The other notewothy gold album is The Clash's self-titled debut.)
"Well, my view on it, we spent a lot of time doing that record," says Jones. "We didn't just go in there and go crash bang wallop, like a lot of punk bands did, thinking that's what you had to do. There were no rules, by the way. We just wanted to make it right. And for me, that was the best time of being in The Sex Pistols, was making that album. I didn't care about much of the other stuff, all of the hullabaloo. I mean, it was fun, don't get me wrong, but making Never Mind the Bollocks, we were completely sober, focused and we were on a mission to make it sound great. And I don't think I'd even been playing a year before that, when we were doing that."
Much has been made of the production of the album, to the point where other bands looked down their noses at the Pistols, as did snobbier punk fans, calling the album too commercial.
"Well, I think we got the perfect producer," counters Jones, refreshingly unapologetic about making good product. "Chris Thomas and the engineer Bill Price really spent a lot of time with me working on doing little bits and pieces and cutting the actual tracks. We already had a lot of the tracks ready. There were a few, I guess, new things, like 'EMI.' I don't think we had that when Glen (Matlock, replaced by Sid Vicious) left the band. Because the only thing we did with Glen, the original bass player, was 'Anarchy,' and then, you know, Sid couldn't play, so I ended up playing all the bass. Not that I thought I was a bass player. But I could just go duh-duh-duh, and it seemed to work.
"But when you listen to The Clash's first album — which, I'm a big fan of, The Clash — they used, I think, their sound guy. Like we were going to do originally. We were going to use Dave Goodman. And it was just a disaster in the studio; it got all crazy. And The Clash's first album, I think they used their engineer, and it sounds like it. Sonically it's terrible. Great songs, but that could've been so much better. I still like it, but that's what I mean; when we got Chris Thomas, we were working with a pro, and it made it a lot smoother. And Bill Price was important. The two of them together really gelled with each other. He was definitely the knob-twiddler, Bill. He was definitely the one twiddling the knobs, and Chris would tell him, 'Put a little bit more of this, do this, do that.' But they were a great duo."
Just one of a dozen crazy Pistols storylines is that, yes, the band had a new bassist who couldn't play bass. But like Jones says, no problem: "It's pretty much straight-forward stuff; there were no runs or anything, really. The feel just had to be right, and with Cookie (Paul Cook, drums) and his style, the feel was definitely right. When we cut the tracks, basically it was just me and Cookie. He played the drums and I played guitar, and I put the bass on afterwards. Me and Cookie know how to play together; we've been friends since we were 10 years old. It's like Keith Richards and Charlie Watts when they play all sloppy — I think we're very similar. But yeah, we cut it as guitar and drums, and you just had to imagine there was going to be a bass there."
As for why there was no Sid: "He was in hospital. With hepatitis, thank God."
After which Jones had to teach him how to play. "Yeah, if you could call it teaching, I just told him where to put his fingers, and I put little bits of tape where to put his fingers. But that was not a highlight in my life, trying to teach Sid to play bass. He tried at first, but I think he would've rather played guitar. But he wasn't very good. It's not his fault. He had a musical head, I do believe. He just got thrown in the deep end and he just … you can't teach someone in two weeks how to play bass.
"It's mainly John who wrote the lyrics," answers Jones, asked about songwriting duties. "I wrote a couple of lyrics here and there, 'Lazy Sod,' 'Seventeen' (note: 'Seventeen' is sometimes called 'I'm a Lazy Sod'). But it was mainly John. And me and Glen split the music. He came up with 'Anarchy,' 'God Save the Queen,' 'Pretty Vacant.' I came up with 'Holidays in the Sun,' 'Bodies,' 'No Feelings,' 'EMI,' that was my music. And we just kind of added our ideas. Well, actually, I had to, because when Glen departed, that's when we still had to write songs, and that forced me to come up with the tunes. I didn't really write a lot when Glen was in the band, not really."
Asked if there's a type of song that Glen would write versus himself, Jones says, "Not really. I think at the end of the day, it's played by the same two guys, and I think it meshes into one. So they sound similar, I guess. Whenever Glen played me a tune and he said, 'What do you think of this?' I was like, 'Well, it's a bit like The Beatles. Let's make it more raw.'"
Another thing I'll always remember about playing Never Mind the Bollocks for the first few times back in 1977 was the singing, both Rotten's sour delivery and heavy English accent and then come chorus time, those proto-hardcore gang vocals. Both were elements that scared the bejesus out of us as 14-year-old punk wannabes.
Jones downplays these hollers, remarking that "the chorus in 'Anarchy' is like a singalong course, you know what I mean? But there really ain't a lot of vocals on them. We weren't out there doing 20 takes of backing vocals at all. It just sounds like there is."
As for Rotten, same sort of attitude: "He just sung the way he sung. That's the way it came out of his mouth the first time he sung, and that's the way it stayed. You'd have to ask him that. But yeah, he definitely doesn't sound like what most English guys sound like when they sing, because they sound American. You know, I do, too. It's just that most everyone, they sing with that American thing. But the punk thing was often in that style, keeping the English accent. Even with American punk bands, they kind of sung that way."
But they were copying The Sex Pistols! "Yeah, but then again, why were all the English bands singing with American accents? Our bands were copying Americans."
Dispelling one common misconception about the album, i.e., massive multi-tracking of rhythm guitars, Jones says, "A lot of people think there's like ridiculous amounts of guitars — there's actually not. Maybe 'Anarchy' got a bit more produced than the other tracks. But no more than two or three bits and pieces on each track. As for the solos, I always say that when you're a three-piece and you're not … you know, we were all fairly new musicians at the time, playing live. And if I start playing one note, the ass is going to fall out of it. So when you play Chuck — Chuck Berry — it kind of fills it in; it still keeps it full. And it's easy to play Chuck Berry kind of riffs. So that was a necessity, in my mind, to play like that. It's great, it's rock and roll, and I just played it with more vengeance than Chuck did, you know?"
I asked Jones if he was ever a true-blue "Rocker," or, for that matter, a Skinhead or a Mod or that most extreme version of Rocker, a "Teddy Boy" (let's not debate my upper/lower case of all this).
"Oh, absolutely. I love '50s music — love it," says Jones. "I still listen to '50s music, always. I'll always be a fan. My mom used to be a Teddy Girl, you know? I think that's where I get my rhythm from. Yeah, I mean, I did all that. I was experimenting when I was a kid, man. I just wanted to be a part of something. I didn't care what it was. And I would try it all — Skinhead, Rocker, Greaser, Teddy Boy, the lot — I did the lot."
As for the TV miniseries, Jones says, "If you want to watch it as a documentary, I think you're going to be disappointed. But you've got to make it entertaining. And it ain't all timeline, because it's not a documentary. It is what it is and it's definitely my view on things, you know, 90 percent of it. Of course Danny puts his bit into it because he's trying to make it good. But it's great, I love it. I'm really excited about it. There are really good insights into what happened behind the scenes; it's very interesting."
And again, the reason all this exists at all is one flamethrower of an album called Never Mind the Bollocks, Here's The Sex Pistols. Although I'd be remiss not to mention that there's a pile of great music Jones did after the Pistols, much of which is becoming forgotten. To be sure, the Chequered Past super-group and his first solo album, Mercy, ain't so hot, but another supergroup, Neurotic Outsiders, is killer, as is his second solo album, Fire and Gasoline. Best of all and most forgotten is the band he had right after the Pistols. Unfortunately, it's not a good topic of conversation.
"Well, you know, the Pistols broke up, and I unfortunately went down the road of doing heroin," explains Jones. "Me and Cookie started the band because we didn't know what else to do. 'Silly Thing' and 'Lonely Boy' (which are part of The Original Recordings) were written after we broke up. Even though it comes under the Sex Pistols umbrella, it was just me and Cookie that did 'Silly Thing.' This was around the time when we were doing the band The Professionals. And then 'Lonely Boy,' I just wrote that for the movie, The Great Rock 'n' Roll Swindle."
And that song on Swindle with the singers auditioning to be the next Sex Pistols singer? "No, it wasn't going to happen. That was just in the movie. That was just, you know, Malcolm (McLaren) doing his shtick. We weren't serious about doing it, I don't think. But yeah, with The Professionals, wrote some decent songs, but I was really interested in just checking out and getting high. It wasn't a good time for me. I feel bad for Cookie, that I tortured him in that period. There were some decent songs, but I don't have good memories when I listen to that stuff."
Oddly, the lesson here is "Just say no." And I say oddly, because we're using Never Mind the Bollocks — a record that was no less than a manifesto for anarchy and the attendant destruction of British civilization — as our beacon of sobriety.
"Yeah, it's funny, isn't it," muses Steve. "Everyone was on board. I remember cutting some tracks when it was still daylight. I did a lot of the guitars in the evening, but we never went too late, as far as I remember. It was pretty normal hours. We were so into it; it was great. No one was messed up in the studio. We were in there meaning business. And I think you can tell that it's made well and it sonically sounds great, and the songs are great. It's just one of those time capsules that will be around forever."
Get Sex Pistols, punk vinyl and other collectibles in the Goldmine shop