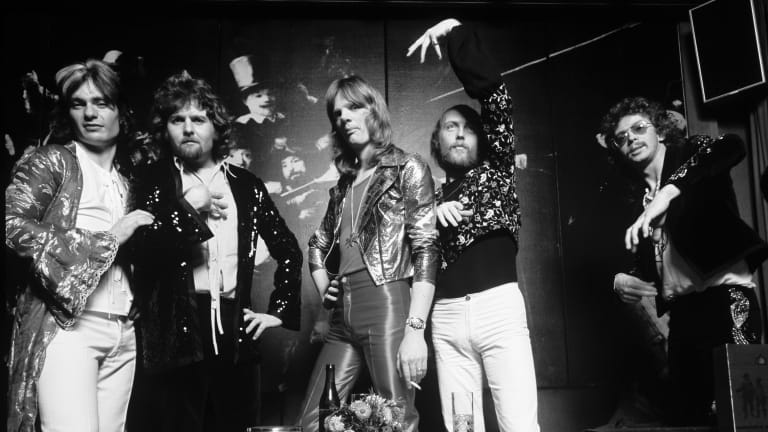 Strawbs make a strong statement with "Settlement"
Strawbs latest studio album, "Settlement," has founding member and multi-instrumentalist Dave Cousins feeling that this is a remarkable achievement, since each track was produced remotely from home studios.
By Dave Thompson
Music television history is loaded with moments that, for those who witnessed them firsthand, are unlikely ever to be forgotten. No matter how hard you try. Bluesy old Rod Stewart turning out in skintight trousers and a Vaudeville vixen's cosmetics tray. Todd Rundgren on The Midnight Special at the height of glam rock, decked out like a pantomime Christmas tree. And, for British viewers of a similar vintage, the Strawbs on Top of the Pops, strumming through the gentle "Lay Down."
Um, was that blue eye shadow?
Dave Cousins' face drops. "If I regret anything," he says slowly, "it was the blue eye shadow. It should have been green; it would have matched the eyes." And then he suggests we change the subject.
Phooey.
The Strawbs have a new album out. Settlement is their 25th studio set, although there are a bunch of live albums, too, and more compilations than you can shake a stick at. To which we can also add two albums by the Strawberry Hill Boys — one with Steve Benbow in 1965, Songs of Ireland, and one with Sandy Denny, around the time the band shortened their name, All Our Own Work. Which is quite a catalog considering the band was effectively on hiatus for 20-some years as well.
It's an organic process. Whereas once, the band — like every other — made albums according to a contracted schedule, these days, says Cousins, "We make albums when the opportunity arrives." Settlement, however, is the product of a perfect storm of circumstance — the pandemic, of course, which leaves Cousins lamenting, "I've not seen a member of the band for a year," but also the disastrous flood which forced him to leave his own home, an ancient building near the English coastal town of Dover — back in March 2020, and take up residence in a friend's church tower.
"I had a flood in the cellar at exactly the same time as the lockdown started, so a friend of mine who lives 20 miles away said, 'You'd better come and stay for a while,' and I've been here ever since. The flood did so much damage … there's a lot of restoration needed, and I've still got go back now and see to that."
He brought with him all that was necessary — including, of course, a guitar. "And it suddenly became a very creative period for me. I don't write songs every day. I'm not one of these people who get up every day and says, 'Right, I'm going to write a song.' I write when the emotion and the atmosphere needs to be put down. Every song the Strawbs have recorded is either autobiographical, or written about places we've been to, or events that are happening in the world around us. They're not 'I love you, babe, get them off.' "
Pressed, he describes them as "sensitive folk music, if you like; ballad songs reflecting the circumstances we're living in." And these are very strange circumstances.
Still, the genesis of Settlement was unusual. "I bought a guitar in Slovakia about a year ago, a Dowina, and I hadn't played it. It's the most beautiful sounding instrument, and I put it in an open E tuning and out came the song 'Settlement.' There it was."
Nothing was planned; the tuning itself was "an unusual one for me, although I have used it once before. But this new guitar had a sound of its own, and it created an ambience, so I started playing it more and more, and ultimately, the whole album bar one song ('Better Days') was written on that guitar. It's just extraordinary; it's a lovely sounding instrument. The funny thing is, since we finished recording in September, I've hardly touched it again."
If the writing came easily, recording presented more of a challenge. Even without the pandemic, the Strawbs are scarcely living a Monkees-like existence, all crammed into a single house. "Chas (Cronk, bass) lives in Hampton, Dave (Lambert, guitars) lives on the Isle of Sheppey, Tony (Fernandez, drums) lives in Portugal, Dave (Bainbridge, keyboards) lives in Lincolnshire, but he's currently in Baltimore, and was actually in Mexico at the time."
Neither was that the end of it. Guest bassist Schalk Joubert, director of the Cape Town Music Academy, was in South Africa; backing vocalist Cathryn Craig was in Northern Ireland; ex-Strawb John Ford, who co-wrote and played on one song, was on Long Island. Even in "normal" times, bringing everybody together to record in the Strawbs' usual manner can be a logistical conundrum. In 2020, it was even harder.
There was also the matter of finding a studio. Back in his own home, Cousins had his own rudimentary setup. A more complete setup once existed, "but I gave it all away because it was too complicated for me to use." Now he had to begin again.
"I turned the spare bedroom upside down to turn it into a studio,, but I didn't have any studio equipment, so I phoned Blue Weaver (himself a former Strawb) in Germany and said, 'What should I buy to record on?' So he told me, it was just a tiny Zoom hand recorder, so I bought one on eBay, and all the recording was done on that.
"I'd also given away my microphones, so I bought a little Neumann one, and then I had to buy a mic stand and all the leads to go with it," and finally he could begin work, "entirely on my own in the spare bedroom and every bit of the recording, all my guitar parts, all the vocals, were done in that spare bedroom. Apart from a slide dulcimer part, which I recorded in the kitchen, on the ironing board."
Video footage exists of the process, too. Mindful that modern audiences love to see the creative process at work, Cousins filmed a lot of his efforts, including the ironing board, to post on the Strawbs' Facebook page. "The last time I played slide dulcimer was in 1972 at Morgan Studios in Willesden when we were recording Grave New World," he wrote. "The track was 'Queen of Dreams,' and I put the dulcimer on the grand piano so that I could see the frets. Times have changed."
Happy with his own parts, Cousins sent the recordings back to Weaver for his feedback. "There was nobody in the room with me while I was recording, no engineer to tell me to move close to the mic or a bit further away. So I'd send half a dozen takes of a song to Blue and he did it — 'No, you're too close, no you're too far away, do it again.' So I'd do it again and send it off, and once we were happy with my guitar demos, I sent them to the rest of the band.
"I then wrote out chord charts for each song, bar by bar, numbered bars with the lyrics, the number of bars for the intro, and then, for example, I'd say to Dave Lambert, 'Can you play a solo over bars 61 to 75.' And that's exactly how it was done. Then Blue took all of those parts, everybody's contributions, and pieced them all together, to make it sound as though the entire band was playing in one room."
The reappearance of Ford, whose time with the band wound up in 1974, is an especial thrill. True, he has made occasional live appearances with the band since then, including 2019's 50th anniversary show in Lakewood, New Jersey, where they played the Grave New World album in its entirety for the first time ever. But to hear him back in the studio with the band is still a banner moment for fans.
"It was the anniversary show that gave me the idea of us writing a song together," says Cousins. "So I sent John some lyrics and asked if he had a tune. He came back with one, and then sent over his vocals and bass parts.
"The funny thing is, Strawbs is a family and we all know it. We might all fall out at times and get back together again, but everyone who has ever been a member of the band still talks affectionately about it."
Discussion of that family, however, is tinged with sadness today. Tony Hooper, a founder member of the band and, before that, Cousin's partner in a folk duo, died November 18, 2020, and Cousins' voice still breaks when the subject comes around. At the time, Cousins acknowledged that, without Hooper, there would never have been a Strawbs, or even a Strawberry Hill Boys, and it's no surprise to see Settlement dedicated to his memory.
"I was very, very said about it," Cousins says softly. "I knew he hadn't been well for three or four months, and I knew he was having treatment for it, but there was nothing I could do to help him." That feeling of powerlessness remains very real, and as the conversation turns to the earliest days of the group, it's easy to believe that it's as much for Cousins' benefit as for you, the reader's.
They were a ragtag unit, Cousins a blur of manic activity as he switched from guitar to banjo to dulcimer to whatever other stringed instrument he could lay his hands on; Hooper more of an anchor, happy to accompany his bandmate through, for example, a blistering version of Earl Scruggs' banjo-battering "Earl's Breakdown," but always there to bring things back to earth, as the pair harmonized their way through the folk catalog of the day.
There is, sadly, little evidence of the original duo's music to be heard today; the BBC tapes were wiped long ago, and while Cousins would eventually amass a collection of tapes of later broadcasts, recorded once the band expanded to a trio, that original broadcast has eluded him. He doesn't even recall what they performed that day, although "Earl's Breakdown" was likely a part of their set, probably alongside "My Horses Ain't Hungry" and "Blue Ridge Mountain Blues."
That first session swiftly led to more. Many more. "We did a helluva lot of them, and that was the curious thing. We were extremely well known because of the BBC, but I couldn't get anyone interested in giving us a record deal. I went to lots of companies, and the only reason we started to record was that I went to Denmark to do a little tour on my own, and I bumped into a guy named Tom Browne. He interviewed me for a folk show he was doing on Danish radio, and we got on famously. "
Talking one day about the Strawberry Hill Boys, Cousins happened to mention that the band had just recruited a new singer, Sandy Denny. "Good God," responded Browne. "I used to go to the cinema and hold hands with her when we were 15."
"Tom took the demo tape to Sonic Records, played it to (label head) Karl Knudsen, and he wanted to sign us. He sent us a contract, which we all signed, and we went over to Denmark and made our first album in 1967." That was All Our Own Work, a set that remained on the shelf until finally seeing widespread release some six years later. By which time the Strawberry Hill Boys had become the Strawbs, and the Strawbs were enormous. And wearing eye shadow on Top of the Pops.
Cousins says, "What happened was Sonic Records were the distributors of A&M in Scandinavia, and the international director of A&M went to Copenhagen, heard our album and loved it, took it back to L.A., and we became the first British band signed to A&M Records.
"A&M were unknown in the U.K. They didn't even have a London office at the time. The only things they'd put out in the U.K. (through Pye Records) were by Herb Alpert and Sergio Mendes, and that was about it. But they put our first record (1969's Strawbs) out at much the same time as the first (one by the) Carpenters, and I'm not exaggerating, it was the Strawbs who kept A&M going for about three years in the U.K. Then the Carpenters began to break through, but the first British band to break through after us was Supertramp in 1974, and we were having hit singles by that time."
And wearing blue eye shadow. In fact, there were only three U.K. hits: "Lay Down" in 1972, followed by "Part of the Union" and "Shine on Silver Sun" the next year. But the albums, however, just got bigger and bigger. Having spent the last three years first pioneering and then perfecting the concept of progressive folk music, the Strawbs' 1972 album, Grave New World, just missed the U.K. Top 10, the following year's Bursting at the Seams only narrowly fell short of No. 1. Ghosts (1975) gave the Strawbs their long-awaited U.S. breakthrough.
And then it was all over, as 1978's Deadlines effectively fell flat, largely because Cousins had already made up his mind to end the band after the previous year's Burning for You, only for management to convince him otherwise. But though sessions were fruitful, the portents were doomy: In the studio next door, The Clash were recording their second album, a constant reminder of just how dramatically the music scene had changed in just a matter of months. Lambert was missing part of the time, the sessions clashing with the recording of his new solo record. And then an engineer accidentally left a live microphone on top of the session tapes and effectively erased them all. The band rerecorded the album, but the enthusiasm was gone.
Still, the label wanted more, so they convened once again to record Heartbreak Hill. At which point, management itself decided to pull the plug. Cousins recalls, "I said, 'Well, what about the album?' And they said, 'Forget it.' " So he did. He moved into radio management, carving out a career that effectively reinvented him. (The album finally made it out in the mid-1990s.)
"I didn't play for 20 years while I was in radio." There would be a handful of Strawbs albums, "but they were all made at the weekend, when I wasn't working."
He returned to action in 2003. "I didn't think anybody would remember who we were, and I was amazed that they did. So I thought we'd better start a record label, which was Witchwood Media. I decided to make a new album, then another one. We made Broken Hearted Bride (2008), and then Pinnacle, our distributors, went bust and almost dragged Witchwood down with it. So I thought the best thing to do would be to make another record, which we did (Dancing to the Devil's Beat, 2009), and we've been back ever since."
Indeed, we are currently in the early stages of a whole new flurry of Strawbs-related activity, as Cherry Red takes over the Witchwood catalog and prepare the kind of wholesale reissue program that they have already proven so adept at with other artists. The company's Esoteric imprint already handles the band's new albums (a relationship birthed with 2017's The Ferryman's Curse); last year saw remastered, expanded editions of Deep Cuts, Burning for You, Deadlines and Heartbreak Hill. Cousins is delighted with them all.
For now, however, his attention remains focused on Settlement, out now on vinyl and, with three bonus tracks linked together beneath the umbrella title Off the Beaten Tracks, CD and download.
His priorities are definitely in the right place. A lot of bands from the Strawbs' era are still up and running, and making good music, too. But Settlement is that rarest of commodities — a genuinely great LP.