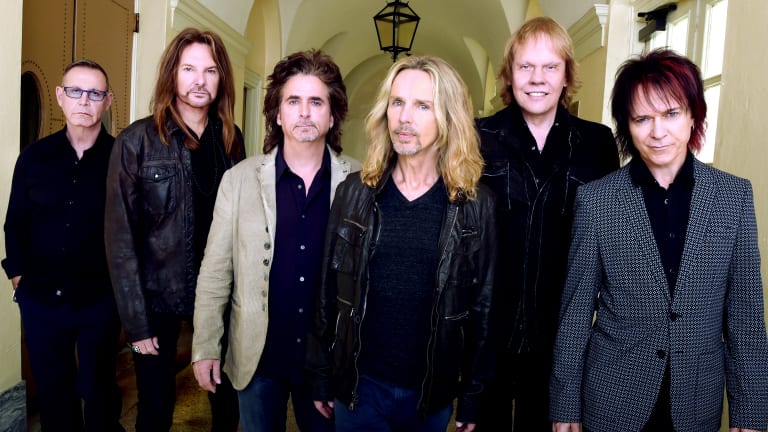 Styx commands the "Crown" with latest music
Styx are back in form with the album "Crash of the Crown," an expansive, proggy endeavor that will delight their most adventurous fans. Longtime Styx guitarist James "JY" Young and bassist Chuck Panozzo chime in.
By Martin Popoff
Might Styx take the crown for first post-pandemic band? It's a strange thought, and probably a pointless one, but the band's new album, Crash of the Crown, is elliptically about the hope and expectation as we break out from lockdown, bursting our self-imposed and government-prescribed bubbles.
Indeed, the record, arriving admirably soon after 2017's The Mission, is the product of these bubbles, with guitarist Tommy Shaw and his songwriting partner Will Evankovich doing much of the work in Nashville together at Shaw's home studio, taking visits from keyboardist Larry Gowan and co-bassist Chuck Panozzo, but with much of the work happening remotely, utilizing modern technologies. So there are workspace bubbles but also manpower bubbles at hand, each Styx album along the way featuring different prime creative drivers.
"Well, it's leaning more prog, that's for sure," chuckles longtime Styx guitarist James "JY" Young, when asked about the similarity of this album with The Mission. "We're definitely trying to spread the lead vocals around like we always do — that's not really different; it's just different members of the band at this point. I think this is the least vocals I've done on a record and I was less involved in the writing.
"I don't know," he adds, "I'm no spring chicken anymore. I passed 65, and there's a lot of issues health-wise in the family that I had to deal with, so I wasn't as involved in the writing process, let's say. But Tommy Shaw loves to write, and his collaborator, Will Evankovich, we met when Tommy was in Damn Yankees, hanging out there in the Bay Area with Jack Blades (Night Ranger) and with (Ted) Nugent, of course, on his ranch or on the farm, or whatever he calls it, in Michigan. But Tommy and him are prolific writers. Nobody sells records like they used to, but we like to just keep putting new things out there."
Asked about the theme of the new record, Young says, "No one has ever articulated an overriding concept to me. The Mission was quite obvious — it was going to be a story about a mission to Mars. This was a pandemic-made record, and I just think it's a reflection of what the world has evolved into from our perspective. 'Crash of the Crown' can be interpreted in so many ways, but no one has ever really told me anything about the title. But one can look to the rise and fall of almost everything, which is happening as we speak — the rapidity of change, the velocity of change has increased. In a sense, we're just kind of hanging on here and reflecting on that. There are hopeful songs on this record, some very upbeat songs, but there's a little darkness there, too. It's kind of standard Styx fare going way, way back to the beginning, influenced by bands like Yes and Pink Floyd — believe it or not, Pink Floyd has snuck into the thinking of Styx from time to time."
Look no further than "Hold Back the Darkness" for that one, but elsewhere, there are the usual evocations of The Beatles and CSNY, but also Soundgarden and Jethro Tull, amidst many wide-angled, half-time grooves and even some banjo. Indeed, Crash of the Crown sounds like it cost millions of dollars (and hours) to make. But, says Young, "It sounds expensive, but technology has advanced to a point where you don't have to go to a multimillion-dollar studio to record. Tommy has a phenomenal home studio in his basement. There are no limitations, basically."
Founding Styx member Chuck Panozzo, as has become tradition given his health issues living with HIV, is involved with the band but performing light duties (drummer Todd Sucherman and second bassist Ricky Phillips round out the group). Still, Panozzo realizes what a treasure this cabal of brothers has represented over the decades.
"I really perform with some of the best singers from all of rock and roll," reflects Panozzo. "It was a comfort zone going to Nashville to do my parts, less pressure than it was in the old days, going to a studio. But because we tour so much, the guys' voices are in great shape. They haven't aged really, which is a problem with many bands when you get older. JY has a great David Bowie-style voice and Tommy just soars. I found the whole experience exciting."
Thematically, adds Panozzo, "Of course, we're going to be affected by the pandemic. I'd say it's about the pandemic, but it's not about during the pandemic — it's about coming out of the pandemic. Which I think now is so timely, because we are pretty much emerging from it. There's definitely some inspiration from Yes in the record but also Queen and the entire 50 years of Styx, which is a very long time. You know, these guys — these guys, my band members, excuse my slang — they just are so into it. They play with their hearts. It's like standing naked. OK, now we have to produce something better than we did last time. That's not always easy to do, but if you have an overriding concept going there and you prepare for it, it just makes it easier to produce."
There's no question the addition of Gowan to the band in May 1999 pushed Styx to new levels. Remarks Panozzo on the multi-talented Canuck, "He's a trained pianist, he's a genius, really, and he's one of the nicest people I ever met. I'd say Lawrence is one of the most talented people I've ever met, and no ego at all, a fun-loving guy and a very, very funny band member. Like I say there's no ego there, which is amazing with someone that talented. The thing is we all have to check our egos at the stage door anyway, because if you bring your ego to the stage, every note, you're screwed. No, Lawrence brings that Canadian element to us."
Adds Young, "Well, I really wish he was a better keyboard player; he really has no facility at all. I say that sarcastically. No, Lawrence Gowan is an amazing human being, an amazing musician, he's written some great songs and he's a very strong performer and a very strong singer. We are known for having three lead vocalists, and he is certainly different from Dennis DeYoung (Note: The album's title track marks the first time in the band's career that they've used all three singers on the same song). Onstage, he is Dennis DeYoung's equal and more — he's an astounding, very engaging showman. Honestly, he's become one of my best friends in the world."
The Styx minions should be out bursting those virus-necessitated bubbles as you read this, witnessing the boys performing live. As is their tradition, look for lots of outdoor venues on the docket, these open-air shows seeming so right for this summery band with their songs of hope. Expect the hits, but also a sampling of this plush and progressive record, an album that again, as Panozzo has articulated, was written during the pandemic but is all about the hope — and hopefully happiness — that comes next.