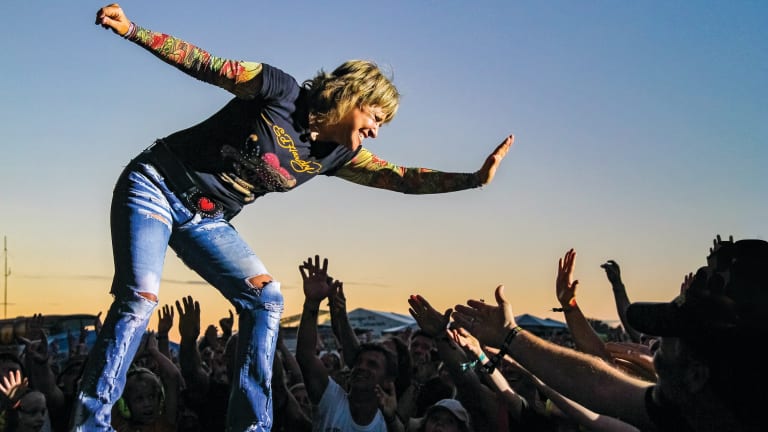 Suzi Quatro remains as driven and determined to rock
With the latest album, "The Devil In Me," this pioneering female rocker remains as driven and determined as ever.
By Lee Zimmerman
Suffice it to say, Suzi Quatro has always defied expectations throughout her entire career. An unapologetic insurgent, she set the standard for every female rocker that followed — Joan Jett, Chrissie Hynde, The Go-Go's, The Bangles and Girlschool among them — by making it a point to break down the boundaries and silly stereotypes imposed on her by members of the "boys club," many of whom insisted that women couldn't rock. These days, at the age of 71, she remains at the peak of her prowess thanks to a searing new album, descriptively titled The Devil in Me, and a determination to parlay her passion without any limits or hesitation. As one of the songs on the new album "Get Outta Jail" insists so incisively, there's always "one more gig to satisfy, one more gig before I die."
"I kind of feel about age like I do about gender, and I don't do either," Quatro insists. "I'm a musician first and foremost. I'm 70(+) and proud of it. I'm not chasing 30. In fact, I tell people my age when I go out onstage. I don't feel any different now than I did when I was 20. I think my secret is that I don't give a sh*t. I really don't. I never have let age define me. I just don't care. I'm still out there shaking my ass and that's got to be worth something, that attitude. I have that famous quote I shared years ago when I was 35, and someone asked me when I was going to retire. I said that would only happen when I go onstage, turn my back on the audience, shake my ass and there's silence. Fortunately, that has not happened yet!"
Indeed, Quatro's own trajectory mirrors the changing face of rock and roll itself over the course of the past 50 years. The Detroit-born rocker was initially inspired to pursue her muse after seeing Elvis Presley perform on The Ed Sullivan Show when she was six, only to eventually connect with her sister Patti in a band euphemistically dubbed The Pleasure Seekers after catching a glimpse of The Beatles on the Sullivan show eight years later. Although she had been trained to play piano and percussion, she picked up the bass when all the other members in the band spoke up first and laid their claims on the other instruments.
After releasing a series of singles with that band, Quatro relocated to the U.K. in 1971. It was there that she was signed to hit producer Mickie Most's newly formed Rak Records and kicked her career into overdrive. Most, whose credits included records by Donavan, the Jeff Beck Group, The Nashville Teens and The Animals, took her under his wing and made her a major star.
"Mickie and I talked deeply about everything," Quatro recalls. "We had this nonstop love. We had a very close relationship. I loved him dearly and I still do even now."
Most, who died in 2003, introduced her to two of England's most successful songwriters, Nicky Chinn and Mike Chapman, and it was with their help that she proceeded to score a series of singles that climbed to the top of the charts — "Can the Can," "48 Crash," "Daytona Demon," and "Devil Gate Drive" — all of which did exceptionally well in Britain, but only scored modest success in the U.S.
"Mike Chapman is not only legendary, but he's also a very talented man and a wonderful man to work with," Quatro says today. "I call him a friend and I love him dearly. I don't see Nicky very often, but we do keep in touch through email."
A recipient of any number of prestigious honors and awards — a doctorate among them — Quatro continued to record consistently in the decades that followed, while also pursuing other passions as well, including the authoring of several books, acting (she had a recurring role as Leather Tuscadero, a resolute rocker, on the hit sitcom Happy Days and starred as Annie Oakley in the musical Annie Get Your Gun in London), and creating her own one-woman stage show, Tallulah Who?, about actress Tallulah Bankhead. A 2005 documentary about her career titled Naked Under Leather featured tributes from the women she inspired — Joan Jett, The Runaways and Tina Weymouth of the Talking Heads (who insists that Quatro was the one who convinced her to first pick up the bass).
Yet even after all these accomplishments, her last album, No Control, released in 2019, found her achieving one of the biggest successes of her career.
"This is my 57th year in this business, and I'm still playing at my peak," Quatro notes. "I still have all the energy I've always had, and I still have something to say. I'm not done yet. Not by a long shot. I'm still coming up with these new songs."
The Devil in Me not only boasts some of the most vibrant rockers of her career in songs such as the title track, "Hey Queenie," "Motor City Riders," and "Love's Gone Bad," but surprisingly, a pair of ballads — the soulful "In the Dark" and the tender and touching "My Heart and Soul." It even finds her ably delving into a bit of blues courtesy of "Isolation Blues," a song that befits this current era when distancing and disconnect have taken on new meaning.
Quatro credits her son Richard, a successful engineer in his own right, for helping to bring the project to fruition.
"Richard gave me a new lease on life big time when we were working on No Control, and then when we worked on The Devil in Me," she recalls. "He just took me out of my comfort zone and reminded me of what my comfort zone really was, and what it could be. He grew up listening to my music, and he kept saying, 'You need to do this kind of thing. After the last album, you found your feet big time.' I agreed. I wanted this album to be as groundbreaking as my first album, and that's what we went for. I think you'll hear that on that album."
Clearly then, Quatro has never lost her enthusiasm when it comes to making music and sharing it with her fans. "My feeling for the business has nothing to do with my need for the business," she insists. "I haven't lost my energy nor my honesty, and I still got something to say. I'm not done yet."
It was little wonder then that prior to the pandemic she was still performing regularly and attracting a loyal legion of fans. "They range from age 16 up to 80," she says. "It's still huge. I still get the screaming kids down in the front rows. Plus, my popularity continues to grow with the help of the internet. It allows a lot of people to get to know my music for the first time."
In light of her extensive history and remarkable career, one has to wonder if she ever finds herself straying back to the past or if she basks in the nostalgia at all?
"No, I don't do that," she responds. "I kind of live in the moment. But occasionally I do go back to it in my head. However, I don't rest on my laurels. I have to tell you that if you go up two flights of stairs in my house here in Germany, this old Victorian mansion that was built in 1590, with all its crooked floors and crooked walls, you'll get to this big wooden door and the door says, 'Eagle room, mind your head.' Once inside, you see the big red book that says, 'This is your life.' In that room, you see all my jumpsuits and my basses. Every space is filled with pictures and posters, videos, CDs, awards… the whole room, and it's all me, and it's the most peaceful room in the house. How do you like that? When friends come over and I let them up there, I don't see them again for two or three hours. You can go up there and you can remember… maybe put on a video. I do that a lot if I'm doing research for something and I have a black hole and I can't remember something I need to recall, I'll go up there and find it. It is the most peaceful room in the house, that eagle room, and if I want to relive some episode out of my life, I go up there. Then, when I come back out, I shut the door. That's how I keep balance in my life."
That said, being forced off the road has had a major impact on her life, and on her work as well. She admits it hasn't been easy.
"I should have been on the road right now," she says. "I had 95 shows booked that had to be postponed. But I told my son, let's not be negative. Two companies are taking the option to have me write an album. So we have to go with the positive. I have my own studio in the garage, so I didn't have to go anywhere to record. I do have two homes — here in Germany and also in the U.K. — but they locked things down here real quick."
She says she maintains her rock regimen by going to her exercise room, grabbing her bass and rocking along with some music. "I gotta stay in shape," she says. "That's one way of doing it."
Nevertheless, Quatro is determined to soldier on once she's able. In the meantime, she takes heart in the fact that so many of the women who came after her still treasure the influence that she had on their lives and careers.
"One of the girls from The Runaways, the ex-lead singer Cherie Currie and I are very good friends. So is Joan Jett. You can see in my documentary what she and the other girls like Joan and Tina Weymouth all said about me with tears in their eyes, how they wouldn't have done it had it not been for me. When I watched that, I was in tears, too. That's the kind of thing that I'll take to my grave."