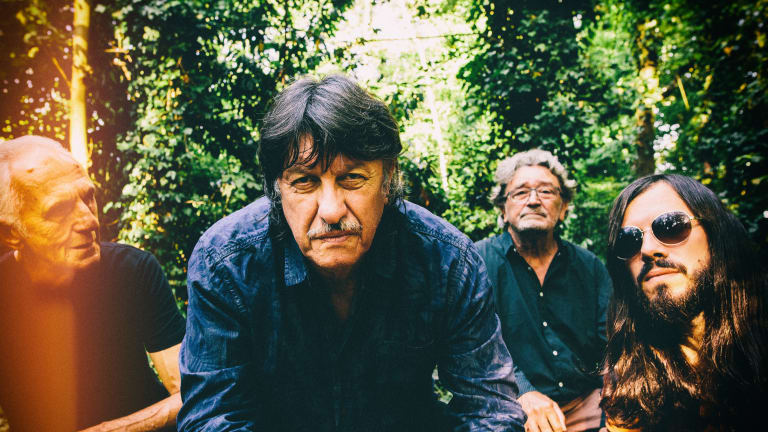 Ten Years After more than 50 years later
Drummer Ric Lee talks to Goldmine about a Ten Years After deluxe edition of the "A Sting in the Tale" album and his memoir, "From Headstocks to Woodstock."
By Mike Greenblatt
When Ten Years After plugged in at Woodstock, the Sunday monsoon had come and gone. We were all wet, tired, hungry, freezing and had to go to the bathroom. Plus, we sorta wanted to go home. It had been four days. But from the first notes of Howlin' Wolf's 1960 "Spoonful" to the final cadenza of guitarist Alvin Lee's iconic "I'm Going Home," there are those who say it was the best set of the weekend. 
Original TYA drummer Ric Lee has a new book out, From Headstocks to Woodstock. Ten Years After — with two original members in Lee and keyboardist Chick Churchill — have put out a deluxe edition of 2017's A Sting in the Tale, complete with live tracks. 
Quick timeline: Alvin Lee died at 68 in 2013. He had left the band to go solo in '73, rejoining in '89 to '03, when he was replaced by Joe Gooch, who lasted until '14. Enter Marcus Bonfanti, who sings and stings that guitar as frontman to this day. Bassist Colin Hodgkinson replaced original bassist Leo Lyons in '14 and still holds down the bottom.
GOLDMINE: I don't think I've ever seen Ten Years After when I wasn't tripping.
RIC LEE: Really?

GM: Be it at the Fillmore East or The Singer Bowl in Queens, New York, on the site of the '64 World's Fair or at Woodstock, yeah.
RL: Amazing. Well, you were young then.

GM: There was this one time I'll never forget. Alvin Lee's hair turned into a lion's mane as actual electric bolts of lightning emanated from his guitar all around me, and your drumming! Man, your drumming was like a locomotive breath of diesel steam. I saw the smoke come out of your snare! I couldn't believe how fast you could drum. It must've been that version of Woody Herman's "Woodchopper's Ball" from your Undead album. Maybe it was "I'm Going Home."
RL: It sounds like the Woody Herman cover we used to do because we used to play "I'm Going Home" much slower. I can't play that fast anymore these days.

GM: You were like a runaway train, going out on a limb, but always returning to the beat. You blew me away and here we are talking about it 53 years later.
RL: Have you heard our Live at the Fillmore 1970 album?
GM: I don't think so.
RL: You have got to get a copy of that! To my mind, that's the band at its peak. I love the way Alvin and I were interacting. I never really realized how in sync I was with Alvin for all those years until 2001, when I found that album in the EMI vaults. I was getting fed up with them regurgitating all the old albums with nothing new for the fans. So we had a search. Found some tracks that were never before released. Found a whole live album, recorded at the Fillmore on February 27 and 28, 1970, just sitting there collecting dust. The reason it was never released is because we were plugging the Cricklewood Green studio album in 1970, so it got lost. (Producer) Eddie Kramer recorded it. He did a fantastic job. Chrysalis finally released it in 2018 on vinyl only. Pretty rare set, eh?
GM: Funny, but when I was a teenager, Ten Years After was MY band, but then when you guys got super-famous and had your biggest hit, "I'd Love to Change the World," everybody loved it but me.
RL: That was Clive Davis. He signed us to Columbia after we had been on London Records at the time. Clive sits us down in his office and says, "I'm going to give you boys a gold record for the first time. But to do that we need a single." So we do our sixth album, A Space in Time, in 1971, with that song and he turned it into a hit single making the album go gold just like he said. How about that? 
I put the drums on that track after they already laid the tune down. I was ill. While I was away, they decided to lay down "I'd Love to Change the World." Alvin strummed it on his acoustic. Dubbed his electric in later. We were in the same London studio where the Stones recorded. Studio #1 was huge because they did film soundtracks and needed to get whole orchestras in there. We were in Studio #2. I loved the sound there because of its natural ambiance. So it was just Chick, Alvin and Leo. Now, you have to realize, there were no click tracks in those days. Nowadays, they want everything to a click track so you only have to play one bar and then they use Pro Tools to cut and paste. Metallica does that. Lars Ulrich is a fine drummer, but all he ever plays on the records is one bar and it's lifted for the duration of whatever track they're doing. It's just easier that way. We've done it ourselves on occasion.
Anyway, I show up and they tell me to play drums on this track they've already finished. I said, "Sure, I'll have a go." So I'm listening to the song's fluctuation of tempo. I thought it quite nice, actually. But to put drums on something like that afterwards? I couldn't figure out what the time signature was as it's different on that song from the verse to the chorus. But all it took me was three takes! The drum kit was set up by the control room window, which was four steps down. I'll never forget the sight of Alvin on the other side of that window egging me on and giving me the thumbs up. I can see him now. He had the biggest smile on his face. And I could barely hear him through the window yelling, "Yeah! You've got it!" I was always really proud of that.

GM: Is it true that you started in '66 and named the band Ten Years After from its original name, The Jaybirds, because it was, indeed, 10 years after Elvis's greatest year?
RL: Alvin told that story so many times, I think he came to believe it, but no. That's not really true. I mean, sure, Alvin was a huge Elvis fan, but I'm not sure where that name came from. I'll tell what I do remember, though. I turned pro in '64 in The Mansfields. In '65, I hung out with a band called The Jaybirds with Alvin and Leo and my friend Dave (Quickmire), who had been giving me drum lessons at my request. He was my mentor. He turned me on to jazz guys like Buddy Rich, Gene Krupa, Art Blakey and Joe Morello. Hell, all I knew was Ringo and Bobby Elliott from The Hollies. Unbeknownst to me, he was grooming me for The Jaybirds drum seat. He was older, fed up and wanted to settle down.
He practically forced me to audition once he announced his departure. I had a couple of pints of beer for courage. I watched them audition a couple of other drummers, and I'm thinking, "I don't have a cat's chance in hell here." Dave was very good. He showed me the kit, adjusted a few things until I felt comfortable, tapped me on the shoulder and said, "Good luck. Go for it." Alvin launches into some Bo Diddley. I remember that beat. Alvin was already taking 10-minute solos, even in those early days. I didn't really know that rhythm, but I kind of made it up as I went along and embellished it. Then Alvin asked me to play "Sweet Little Sixteen." Dave smiled because he knew Alvin would ask for that. And when I did it, Alvin said it was fantastic and asked me to join the band straightaway. I said, "Give me a couple of days to think about it and I'll get back to you." 
They had a residency on Mondays at this ballroom in West Bridgford, a posh suburb of Nottingham. I knew Leo from school even though he was two years above me. I took the offer because I had this feeling in my gut that this guy Alvin Lee was really going to break it big. He was that good. I didn't know at the time that they had been down to London and had starved trying to make it. They had to come home. They literally had no money to buy food despite recording for Joe Meek, who wrote and produced "Telstar" in '62 for The Tornados. Meek offered them "If You Gotta Make a Fool for Someone," which Leo says Alvin hated. It became a big hit for Freddie and the Dreamers (in the U.K.).

GM: Well, you certainly made the right decision in joining the band. From '68 to '73 you had eight hit albums.
RL: I took a leap of faith, jumping into the abyss not knowing what was going to go on.

GM: Woodstock was waiting.
RL: We were on tour in the States. We had played Chicago, the Fillmore East in New York City and the Electric Factory in Philadelphia.

GM: I saw you at The Singer Bowl with the Jeff Beck Group and Vanilla Fudge. You blew me away.
RL: You were there? Oh man, what a night! Led Zeppelin showed up!

GM: I seem to remember Jimmy Page jamming with you.
RL: They all did! That jam had Page and Beck on guitar, Ron Wood, Tim Bogert and, from out of nowhere, Glenn Cornick from Jethro Tull on bass. Rod Stewart and Robert Plant were the vocalists. And three drummers! John Bonham got on the kit first and started bashing out a rhythm. Carmine Appice and I each grabbed a floor tom and just started banging away…

GM: …on "Jailhouse Rock!" I remember it like it was yesterday.
RL: You're right. "Jailhouse Rock" was the first song of the jam. It was a very hot night. Bonham took off his shirt, then his pants, then his underpants. He was playing the drums naked! That was pretty typical of Bonham in those days. The last thing I remember was the police had spotted that and tour manager Peter Grant came onstage and lifted him up and carried him off before he got arrested.

GM: I don't remember that.
RL: That's because you were tripping. (laughs) Rod Stewart didn't remember it either. It's not in his book. But my story is what actually happened. And it's in my book.

GM: Didn't you tour a lot with Jethro Tull?
RL: We were the advance band on a lot of their European tours; we'd play and they'd get all the glory. I didn't exactly like that. We toured a lot with Peter Green's version of Fleetwood Mac, too. There was this one tour of Scandinavia that was fantastic. It's where "I'm Going Home" was born, actually. The opening act was The Fugs.

GM: With Tuli Kupferberg!
RL: Yeah! We always used to play as hard as we could so that nobody could follow us. The only act we couldn't do that to was Janis Joplin. We tried it at the Fillmore East to her once but it didn't work. She beat us at our own game. So we were trying to do that with Fleetwood Mac but they won every night, finishing with "Shake Your Moneymaker." After a few nights of this, Alvin called for a rehearsal and we all went, "What? What drugs have you been taking?" We never had rehearsals! Least of all in the afternoon at a gig's venue like he was calling for. He explains, "I have this new track I want to try out." It was "I'm Going Home," but it really was quite slow! If you listen to "I'm Going Home" from the original Undead album, it's much much slower than what it became. We played it as a shuffle. I'm trying to remember, wait, I have to plumb the dark recesses of this half a mind I still have left. Oh right, I know: Despite rehearsing it, we still could not blow Peter Green off the stage like we wanted to.

GM: We were about to talk Woodstock.
RL: I was one of the few people there who wasn't stoned out of their heads.

GM: Joe Cocker told me the same thing.
RL: I was a beer drinker. That was my thing. I was always well-lubricated backstage at the Fillmore East. Alcohol gave me the aggression and power to drive the music forward. My first wife was with me at Woodstock, and the only thing she ever did was whine. (laughs) She liked wine. We had played St. Louis the night before with Nina Simone. It was a package tour. We had also played the Newport Jazz Festival that summer. It was the first time Newport had rock acts. They were going to host Led Zeppelin but were afraid of them!
GM: Rightly so. Did you know Woodstock was going to be so historical when you were doing it?
RL: No. The first time I connected with it in that way was after the premiere of the film. We saw it on Wilshire Boulevard in Los Angeles. We sat through the whole film with a lot of actors and musicians in the audience and we got a standing ovation in the cinema at the end of "I'm Going Home." Unbelievable! I thought, "Oh blimey, there's something in this!" It was the film that threw us on the world stage. The venues became much bigger. We toured the world. We went to Japan for the first time. 
But in St. Louis the night before Woodstock, it was a seated audience. There was a big barricade between the stage and the crowd. We hated that because we like to be close to our audience. Chick always used to encourage the audience to come up to the front of the stage. So he did. And they did. Security freaked out. They actually jumped onstage and tried to hustle Alvin off right during "I'm Going Home." Alvin shook 'em off and carried on! Then one of the security guys, a complete idiot, threw a chair into the audience. He must have thought that would stop the crowd from advancing any further but, of course, it didn't and it got violent. In those days, beer bottles were allowed in venues and a hailstorm of beer bottles were thrown at the stage. Imagine! The night before Woodstock! So with all this glass being thrown around, our illustrious tour manager, Andy, got hit flush in the face with a broken beer bottle and got cut quite severely. He looked dreadful. He's profusely bleeding and we're still playing "I'm Going Home." The first-aid people had to stitch him up backstage. We all left the stage mid-song at that point. Mrs. Anheuser-Busch was there with her children and was obviously quite concerned. When we convened in the dressing room with our limo drivers, we had two, they volunteered to take us back to the hotel straightaway. It was after 1:00. So we made a mad dash towards the limos and got the hell out of there. Yet at 5:00, we were back in the limos headed towards the airport.
We flew from St. Louis straight to Woodstock. Well, to New York anyway where, at the airport, two more limos were waiting to take us to the festival. But we couldn't get within five miles of the event and had to be driven to the Holiday Inn instead where all the rock stars were waiting for helicopters. Maybe if you hadn't abandoned your car on the highway, we might've been able to get right there.
GM: Wait a minute! We didn't abandon our car. We parked where we were told to park!
RL: Just kidding. We go into the hotel and all the rooms were taken. We were hoping to get some sleep as we hardly slept on the flight after that unnerving experience. We hardly had any food on the plane either. We wound up flopping in Janis Joplin's room where she's holding court and everybody was sprawled out on the floor smoking dope. We had just got settled trying to make the most of it when our American manager, Dee Anthony, barks, "They want you there now, you're on in 30 minutes!" So we go outside to look for the limos and Dee says, "No, no, forget that. We got a 'copter." So we hit the helipad, where a chopper was waiting and idling but when we went to get on it, I was shoved aside by a big guy with shades and a ponytail escorting two other guys who got on instead. It was Albert Grossman with Crosby and Stills. We started to protest but Dee said, "Forget it. Let 'em go. There'll be another one along in a minute. Don't push it." So the next one came and I got on with my first wife and this medic. The other guys in the band got on another chopper. So the medic tells us in the air, "When you get there, don't eat anything that's hasn't been cooked. And don't drink anything that's not from a sealed can. There's a hepatitis infection breaking out, and we don't want an epidemic." I thought, "OK, fine," but what an introduction! Then I was totally gobsmacked when I flew over you guys on the ground. I had never seen that many people in one place at one time. The aerial view was like nothing I will ever forget. I had that image put on the back cover of my book. 
We land as Joe Cocker was singing. It still was a beautiful day at that point. I went and sat on the stage watching him. I'll never forget it. He was so great. Just brilliant. Plus, he was such a fantastic guy. I'm sure you remember.

GM: Oh, do I ever! The brown acid was just kicking in.
RL: Then the storm came. How the hell the towers with the PA survived, I'll never figure out. They were so flimsy. The wind was whipping and the rain was practically horizontal. There was no cover on the stage, so it became like an electrical conductor. The electricity backstage for the cooking was knocked out.

GM: All my stuff was back at the car and I had no idea where the car even was at that point, so I was still in my shorts and T-shirt from four days back. Plus, my friend was missing and I started to panic.
RL: There was nothing but water backstage.

GM: Oh poor you. I would've loved some water at that point.
RL: Michael Lang wouldn't let anybody play until the stage got dried out and he knew it was safe.

GM: Country Joe and the Fish were the first band back. After the monsoon, though, it got real cold and my clothes were wet and I was freezing.
RL: Yeah, an acoustic set, while everybody scurried around backstage getting ready for the electric acts of which we were one. The Fish got the bright idea of throwing some beer to the crowd which were thrown, after being emptied, back at the stage. I think they threw sandwiches out to the crowd, too.

GM: Some lady gave me a loaf of challah bread which I devoured.
RL: So we go on…

GM: ... at 8:30.
RL: It was getting dark.

GM: "Spoonful" was first.
RL: Then we did "Good Morning Little Schoolgirl," but we had to start it four times because the guitars wouldn't stay in tune. There's going to be a "Ten Years After Woodstock" album coming out in the summer which, for the first time, includes all the false starts.

GM: I really liked the new deluxe edition of your 2017 A Sting in the Tale album. Marcus plays a great lead guitar and sings real well. Plus, the material is solid.
RL: It's deluxe because of the four live tracks we added, one of which is "I'd Love to Change the World." We're very happy with it. It was the first time the four of us had written together. We wanted to create a radio-friendly album. Marcus and I wrote 12 songs, so we still have some left. Then Colin went off with Marcus to write as well. He's the riff man. Chick followed suit, too, so Marcus was really the hub. We wondered about how we would split the writing royalties, and we decided to just throw it all into one pot. I thought that was a fantastic idea because we all worked on the arrangements anyway. It was a joint project.
So after we got the rough demos done, we sent them off to everybody and reconvened at Marcus's studio to rehearse. Of course, once you get the act together like that, things change. And they did. Hopefully, for the better. I did the drum tracks on the Welsh border with a friend of mine, sent them to Marcus. Marcus and Colin redid their tracks as well. Chick then did his keyboards. Lastly, Marcus laid his vocals and lead guitar atop it all. So that's how it came together, and we couldn't be more pleased.