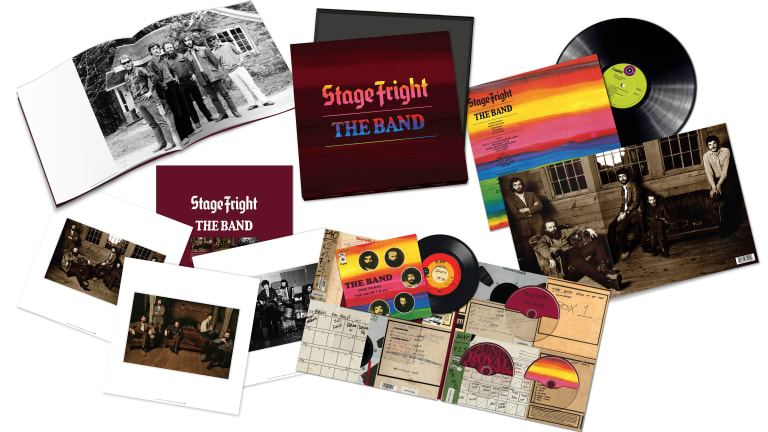 The Band's latest "Stage Fright"
As "Stage Fright," the third studio album by The Band, turns 50, guitarist Robbie Robertson and collaborator Bob Clearmountain revisit the record and remaster it, resequencing its tracks and adding stunning live material.
By Ray Chelstowski
Stage Fright, the third studio album by The Band, has grown over time to be regarded by some as their most impressive studio release. But at the time, it was often misunderstood by those in the media. It was recorded in 1970 at the Woodstock Playhouse after a concert the group had offered to host as a peace offering to the town fell apart. They decided to take the batch of songs they had intended to debut at that show and record their next album, on the Playhouse stage, without an audience. At this point the brotherhood was being tested. The musicians were no longer living together in Big Pink, and the demons that would ultimately undo some of them began to emerge more often. To make the recording process more complex, they also decided to take a breather from John Simon, who had produced the first two albums, and take those duties on themselves. That meant bringing in Todd Rundgren and Glyn Johns to engineer and mix the record. Those results were uneven, and in the end, band member Robbie Robertson jumped in to save the day and preserve a record that truly is one for the ages.
Now as Stage Fright turns 50, Robertson and collaborator Bob Clearmountain have revisited the record, remastering it, resequencing its tracks and adding stunning live material from the Calgary Hotel and from the stage at the Royal Albert Hall in London. In total, the package presents a musical moment that defines the group's inherent greatness and opens a view into how remarkable their musical connection to each other really was.
Goldmine had the great opportunity to once again sit with Robertson to talk about the challenges in recording this record, the brilliance in how The Band approached these powerful songs, and the legacy that they now leave. We also got a peek into what else he has been up to and what we might expect next from this incredibly prolific artist.
GOLDMINE: Stage Fright has emerged as one of The Band's most highly regarded albums. But it certainly seems as though it required a lot from you personally to get it across the finish line.
ROBBIE ROBERTSON: This one was recorded at The Woodstock Playhouse. And, like The Band recording at Sammy Davis Jr.'s place, it was a "thing" where I thought that if could just get these guys into our own sanctum, in our own space, and if we could together really concentrate and focus what we could do with these songs I was writing, it would become something special. We could do something that needs to be done.
This experience was the beginning of hard times in dealing with the guys in the band. People were too intoxicated. We weren't in that collective that I dreamt of and that I knew worked. I knew with Big Pink we could do this thing. I had dreamt of the "clubhouse" setting. With Stage Fright, we weren't living together. We were all in Woodstock, but by then madness had kicked in big time. So it was a bit of a balancing act. A lot of it was trying to get to a place of being effective with this table of five legs. If one or two of them was kind of weak, the whole thing could tip over. It was difficult if not impossible. And it really affected my enthusiasm, excitement, creativity and imagination in writing songs. That put things in a little bit of jeopardy, and I was doing my best to ignore it, to avoid what possibly could go wrong.
At the same moment, we were having an incredible musical time, rejoicing in these songs. Although some of them were more reflective of us and there was a self-indulgence that I wasn't completely comfortable with. I was always trying to be the storyteller, but some of it started to seep uncontrollably into this record.
GM: This 50th edition has a song order that varies from the original album. That seems to make everything flow much better and allows the record to properly unfold.
RR: I told Bob (Clearmountain) that we first made this record and then I sequenced it with what I thought would be a good presentation of the material. At the same time I had been on this quest to try and get everyone to participate as much as possible. This is before I came to the realization that some people write and some people don't. That's just the way it is. I was locked into this way of thinking that you're being lazy or not trying hard enough because everyone can do this! As much as I twisted arms, I finally came to the conclusion that Garth (Hudson) is a remarkable musician, but he doesn't write songs. Rick (Danko) writes a little bit, but he's not a songwriter. He will participate to the best of his ability. Richard (Manuel) does have some of that, but it's hard to pull it out of him. And Levon (Helm) just doesn't write songs. But he did come up with this idea of the song "Strawberry Wine." I encouraged it and then I helped him finish the song, because I really thought that in The Band that's what we should do. I was pushing something up the hill that didn't belong there.
So I sequenced the record and then the guys felt that I was pushing the stuff I had encouraged them to write way down in the record. I was on such a mission to make everyone feel engaged that I changed the sequence to what it became on the released record. I told Clearmountain about this and he said, "Oh man! That (new sequence) gives a whole different impression to the record!" He said, "Please use that!" So we did and as we were mixing it all started to add up and to me telling a completely different story. The whole thing just works!
GM: For someone who so closely manages the entire process from songwriting to final mixing, it had to be difficult to introduce so many new variables with this record.
RR: We weren't working with John Simon on this record. Some of the guys were saying, "John's great, but the recording is all us. We need to just do it ourselves." Once again I was going along with something that I didn't agree with. I would have preferred to have John there doing what he did. It was a really good fit, and I just like him. Todd Rundgren did no producing. He was really just a recording engineer. Some of the guys didn't connect well with him. It was great when I was doing the Jesse Winchester record because it was just Todd and me. So had I thought since we had just done that, it would be easy to move right into this project. We would have our engineer and produce it ourselves. Well, the guys weren't really available at the time for the producing part, so we just put it together with me taking on most of the responsibilities. Then, John Simon came by to visit and he listened to a couple of tracks. He said, "Gosh, when you guys do it, something just magical happens!" But he hated that we weren't working with him.
You know, we never saw Glyn Johns. Todd went to London, and he mixed in one room and Glyn mixed in another. When we finally got the mixes, Garth wasn't happy with some of it. With a group like us, it's almost impossible for anyone to go and mix your record. So, I was very aware of how this was like having one hand tied behind your back. That's what you get for being on the road! When we were on the tour, I even flew back to New York to polish off some things with Todd, the things that I just really didn't like.
So now coming back to this thing without any issues and with Clearmountain, this whole thing has really given me a great sense of satisfaction.
GM: What did you discover about this record that you didn't realize before undertaking the 50th anniversary project?
RR: Well, first it was the track sequence. That was a revelation. Then digging into these tapes with Bob and making it so that you can hear everything that you are supposed to. Bob (Clearmountain) was like, "Glyn and Todd are great, but I think we can do better!" Every time we do this, there's something about the music of The Band that when you try to do more than you are supposed to it just doesn't work. Bob always questions whether he should play with a mix because it already has so much of its own personality as it is. Going in there and laying your hands on it is like looking at a classic painting and saying, "Let's do a little touch-up."
GM: The Calgary Hotel material is terrific. It's very playful and sonically it fits perfectly with the studio and live concert tracks.
RR: Well, the thing is that we didn't even know that it was being recorded. We were in our own world messing around. Then someone says, "Oh, I set down my cassette machine while you guys were playing," and we were like, "You did? Why would you want to do that?!" Then coming back to this all these years later, you hear something that is quite personal that no one has ever heard before. In some cases, I'm singing the lead and the guys are singing harmony, and that was a private thing between us. That's was the songwriter relationship.
GM: The Albert Hall live material is really gritty and reveals what The Band must have sounded like backing Ronnie Hawkins. The performances here really do rock!
RR: We hadn't played at Albert Hall since we played there with Bob Dylan and that was just a bizarre experience. So you have that in the back of your mind. You're going back to the scene of the crime, and you're kinda like, "I hope no one recognizes me!" Then you're going to Royal Albert Hall and you think not only did we experience something so outrageous there the last time we were there, but this is Royal Albert Hall. It's not only one of the most elegant music venues on the planet earth, but there's a feeling of such classical depth in those walls that you hope that your music is going to fit. We didn't know what worked in Royal Albert Hall because of the last experience.
There was a certain feeling of needing to overcome something here. We have to go to the place and f**ing kill it! An old friend of mine, Jack Nicholson, was in London shooting a film and he came to both nights. When he was talking to us after the show, he was talking about the harmonies and he was so excited his feet weren't even touching the ground. He was so locked into this thing that he was way deep inside of. This helped me think "OK, I think we're doing this right!"
This was recorded just on a lark. I think it was only recorded on four-track. So it was just sort of documenting something for nothing. Sometime later when I heard the tapes, I immediately wished that it had been done on multi-track and it had been done with real focus. But with Clearmountain's touch the quality became good enough that the performances knocked me out. In all of the live performances that have been recorded with The Band, I thought that this is right up there because everyone is so into the game. This Stage Fright experience on one hand was extraordinary, and I don't think that it was presented in a way that people could understand how extraordinary it was. When this album came out, some writers were saying, "I think that Robbie had a lobotomy. What's wrong with him?" Now I feel really, really good about this and the Albert Hall part is just wicked!
GM: The old Robert Hilburn piece from the L.A. Times that appears in the album booklet suggested that The Band might fill the void left by The Beatles, who had just broken up. How did you feel about that comparison?
RR: When it was brought to my attention that this article was going to be included in the package, I remember thinking that it was vaguely familiar. It really was incredible that Robert could recognize something in here that really pushed a button that many others didn't. I thought "Bravo!" When we were recording back then, we would run into those guys. When we recorded The Band album, I played it for George Harrison and (he) played me Abbey Road. On one of their sessions, George says to the other guys, "OK, let's do this again. This time play it like The Band!" and John Lennon says, "I've been playing it like The Band all my life!" So they recognized something with The Band. They actually were at Albert Hall when we played there with Bob (Dylan) and they were terrific and encouraging. But when they heard Big Pink, it affected them musically. And by the time The Band album came out it was "all in!"— everyone was trying to do "The Band" their own way: The Bee Gees and Elton (John) and on and on and on. Hilburn understood how our music in many ways was changing the course of music.
GM: This is the first Band album that pulled its name from the track list. Why the song "Stage Fright"?
RR: I just like the sound of it! I even thought in the back of my mind that it was a little private homage to Alfred Hitchcock and his movie of the same name. Me being a movie bug, I liked the way it sounded.
GM: This record, more than the prior two, really shows off your guitar skills. Did that just emerge or was it intended?
RR: It never crossed my mind. It's all about the songs. If the song demanded that of me, I would stand up. It wasn't an issue. I was just trying to honor the song.
GM: We've talked about how you've never been busier. What's next, Robbie?
RR: I'm writing volume 2 of my memoir, and I am starting work on the music for Killers of the Flower Moon, (Martin) Scorsese's next movie. I've also got a half a dozen other projects, including a whole art one that I'm deeply involved in. Some of the things are a little premature for me to talk about just yet, but I am as always up to my ears. The pandemic has contributed to me being able to focus on these things a little bit more. But yeah, I am stone busy, and my creative juices need that. I don't know how to kick the can down the street. I'm someone whose imagination needs to be on "high," and I'm having an incredibly terrific time with all of it.