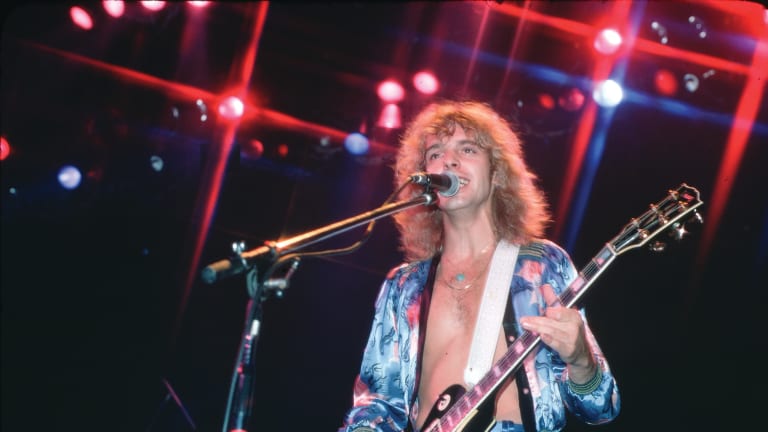 The book on Peter Frampton
Peter Frampton releases an engaging memoir, "Do You Feel Like I Do?," chronicling his personal and professional highs and lows. The guitarist discusses the book with Goldmine.
By Chris M. Junior
By his own admission, he really shouldn't be a guitar player, due to not having long fingers. After telling Fleetwood Mac's Peter Green he was a Taurus, Green abruptly ended their guitar jam. And about a year before he became a superstar, his name was thrown into the proverbial hat by his friends Bill Wyman and Charlie Watts to be the new guitarist in The Rolling Stones.
These are among the many fascinating tidbits and tales Peter Frampton writes about in Do You Feel Like I Do?: A Memoir, released in October by Hachette Books. It's a book for casual as well as hardcore Frampton fans, full of detailed accounts of his days as a member of The Herd and also Humble Pie, his sideman gigs for some of rock's biggest names and, of course, his successful solo career, with plenty of pages devoted to the Frampton Comes Alive! period.
Frampton doesn't shy away from the negatives that came with the success of Comes Alive!, nor does he gloss over his ongoing battle with inclusion body myositis (IBM), a muscle disease that causes weakness in the fingers, wrists and thighs.
GOLDMINE: Was writing a memoir something you'd wanted to do for a long time, or did the impetus for the book come to you recently?
PETER FRAMPTON: It all sort of started to ferment around the same time we decided to do the farewell tour of the U.S. first. We haven't been able to do the South American or European (legs) for obvious reasons. Ken Levitan, my manager, over the years had said, "You know, when you're ready for the book …" I kind of felt that now that the decision had been made to stop touring, it was probably a good time to do the book.
It's not something that I looked forward to — it's purgatory! (laughs) No, I did have fun doing it, but it was hard. It was much more difficult than I thought, and it's not the actual writing of it, it's the mental anguish (laughs) of going through everything that you prefer not to.
GM: Prior to working on your book with Alan Light, how well did you know him personally and professionally?
PF: I read Gregg Allman's book (2012's My Cross to Bear), and I had heard of Alan Light, but I did not know him. I loved Gregg's book, and I'd seen some stuff (Light) had done on (Bob) Dylan. I met with Brant Rumble at Hachette first, and once we decided that we wanted to work together, they suggested different writers to me. I had heard of Alan, I liked his stuff, I read (the Allman book), and that was it. I decided this was a good team.
GM: What parts of your life and career were the most difficult or unpleasant to write about?
PF: Oh, gosh (laughs). I think the Comes Alive! period was the most difficult to write about: what it did to me and those around me. The experience of that, the not-so-good part of that, behind the scenes, I think was the most difficult thing to write about because of the nature of what it was. When you read the book, you understand that (I'm) going from relative unknown to this person that the man on the street all of a sudden looks at me and goes, "I know who you are." When that started to happen, obviously that was a wonderful (feeling of), "Wow, I've actually reached so many people." But I think it was the pressure of having to follow it up; that period was the most difficult to write about.
GM: There's a sense throughout your memoir that in addition to your guitar skills, your people skills have also been a key part of your collaborations with musicians from various genres and eras. Do you view your personality as a professional asset?
PF: That's a good question, isn't it? I've never really thought about that. I'm not a prima donna; I don't like them and would never be one. I'm always a listener; I think the more you listen, the more you learn and know how to deal with people. I think that I have an affable personality, I get along with most people, and I'm pretty easygoing.
So yes, I do (think it's an asset). I think that I'm always open to learning about new stuff, whether it be about the business, my guitar playing. I'm an avid learner of people, places and things. I wasn't a great student, but I did find that I've been to the college of life, as it were, and I'm reading much more than I ever did. … I want to learn a new lick every day, whether it be guitar playing or in life.
GM: So if Pete Townshend's surprise job offer that you write about in Chapter 11 came to fruition, what would a touring version of The Who with you on guitar have sounded like?
PF: Well, as long as he would've been there as well, and he wouldn't have done what he said he was going to do (stay in the band but off the road), it would have been great. But it was obviously a nonstarter idea. When you've been offered it, with the possibility of it, by the horse's mouth (laughs) … I've known Pete since I was 16, 17, so I love Pete, always have. It's one of those ideas when you say, "Oh, did I just say that out loud?" (laughs) … That was just a weird idea. You knew it wasn't feasible to start with, and like I say (in the book), talk about (an enormous) pair of shoes to fill — when they're on the ground (laughs).
GM: "Authenticity adviser" is a cool credit to have, and you clearly enjoyed handling that role in Almost Famous and recounting it in your book. Was it more satisfying than being on camera?
PF: Well, it was definitely more satisfying than being in a certain movie that I did (1978's Sgt. Pepper's Lonely Hearts Club Band). … Being on a movie like Almost Famous, I think I explained it, I feel like I deserve to be on one of the best movies made after I'd been put through the hell of one of the worst being made. I loved being behind the camera. I really enjoyed working with the actors, with Billy (Crudup) especially. I had to teach him guitar; I had to teach him Mike McCready's parts and my parts on the solos. He had to look like he knew what he was doing, and I take my hat off to him.
GM: Late in your book, you write about playing the last U.S. show on your Finale Tour. Let's delve into that some more: With that concert taking place in Northern California, what thoughts ran through your mind that day related to San Francisco's Winterland, the performances you recorded there for Frampton Comes Alive! and what the Bay Area in general has meant to you?
PF: (Years ago), we used to be able to use the term "regional breakout" in radio. The Bay Area had adopted me as soon as the Frampton album came out, which was the one before the live record. After (Frampton) came out, every time I went to San Francisco, it was like I owned the city. It was like going to a different country almost, the level of support I was getting in the Bay Area.
So I have always had a warm place in my heart for the Bay Area. I almost moved there once; I love it up there. So all day (of my final U.S. show) I was thinking about how when we did Winterland, how I didn't know where we were — all I knew is we had to headline that one show, and for the first time in San Francisco. … Walking out that night in 1975 on the Winterland stage, it was welcome but completely unexpected. It bowled us all over, the reception — and you can tell. It's on the record; you can hear it.
I knew what the reaction would be this time, but I didn't know if I was ready for it. It was the last night, and all my family were there: all the kids, my girlfriend and all my ex-wives, local San Francisco family I've known for years — friends. It wasn't as hard as I thought it was going to be. I think it was harder for everyone who came to the show because they didn't want us to leave the stage. I think I explain in the book on the last night of a tour, I thank all of the crew. But this night I had everyone come out on the stage. I don't know who was doing sound or lights because they came out, too. And I hugged every person on that stage. My shoulder was soaked with people's tears as we hugged, and the audience just stood there. I was the last one on the stage as everybody walked off. I'll never forget it. It was unbelievable. That's love, let me tell ya.
GM: How has your health been since that show in October 2019?
PF: The disease is progressing. It's becoming harder to walk; that's the main thing. But it is starting to affect my arms and hands now. I'm still playing good, but it's getting more and more difficult, and that's the downside to this whole story basically, for me.
I mean, look: I'm 70 years old, I probably got arthritis as well (laughs), and people have to slow down when they get in their 70s. I didn't plan on it; I'm a pretty young 70-year-old. But this is beating me, and it's unfortunate that it slowed me down way ahead of when I would normally have slowed down, I think.
GM: When can the public expect the release of the remaining albums you recorded in earnest during 2018-19?
PF: Well, I think the instrumental covers record will be coming out in the spring ... March or April, something like that. We want to keep it coming, so there will be that, and then the next thing might be some more blues, because we have a whole other blues album — a little bit more acoustic blues on that one. And then after that, I still have to finish my next solo record. I'd say we've done a third of it, but we had to stop because we went on tour for 2019, and when we came off tour, it wasn't too long after that when we all got locked down (with the pandemic). That solo record will be finished, and it will probably come out the year after next, I would think.