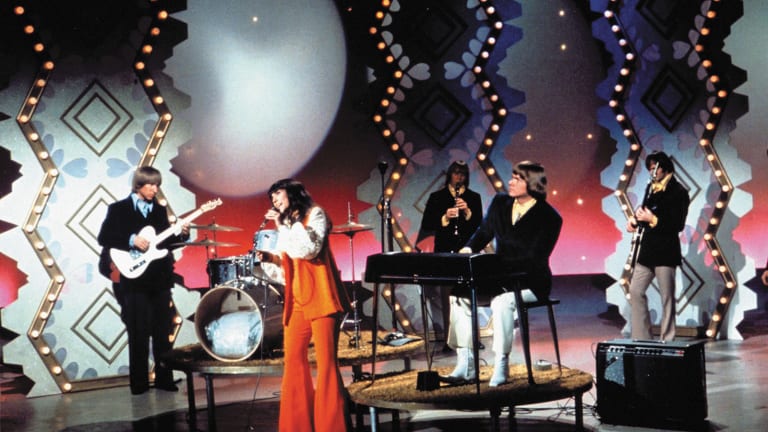 The Carpenters: Richard Carpenter on Beatles meetings, Karen's "old soul," more
Singer reflects on late sister's stunning voice and legacy, plus early influences, hardest songs to record and more.
Get vinyl, CDs, box sets, books, collectibles and Goldmine-only exclusives in the Goldmine shop! 
By Ken Sharp 
"Close to You," "We've Only Just Begun," "For All We Know," "Rainy Days and Mondays, "Goodbye to Love," "Yesterday Once More," "Top of the World"... These are all part of the Carpenters legacy of exquisitely crafted and consummately produced and performed soft rock classics that grow immeasurably year in and year out, garnering new legions of followers to their musical magic. 
An extraordinary book called Carpenters: The Musical Legacy, by Mike Cidoni Lennox and Chris May with Richard Carpenter, eschews the tragedy surrounding the band with the untimely passing of Karen Carpenter in 1983, and instead focuses on what really matters, their sublime catalog of timeless songs, songs graced by her blue, heartbreak-infused voice and the picture perfect arrangements and production by Richard Carpenter. 
Richly illustrated with over 200 images culled from Richard's personal archives and a dazzling array of rare ephemera, the book's text is based on over 100 hours of interviews the authors conducted with Richard. Join us for a conversation with Richard Carpenter for a portrait of the Carpenters in song.
GOLDMINE: Richard, in "Yesterday Once More" you regale the power of radio and memory and nostalgia. What are your memories of hearing The Carpenters' first giant hit "Close to You" on the radio? Were you and Karen together when that happened?
RICHARD CARPENTER: I remember we were together when we first heard songs from The Carpenters, our first album on the radio, because the disc jockey Johnny Magnus let us know he just loved the album and at a certain time in the early evening he was going to debut it. As far as "Close to You," I can't honestly remember whether we were together, but we probably were because we would go back and forth from the studio in one car and we were in the car quite a bit in between runs to the studio. So I would say so. The impact of hearing our music on the radio is impossible for me to put it into words. There's a feeling that you've gone against what a lot of people on the way up said was going to happen, which was not much was going to happen with our demo for one reason or another with the sound. But we believed in it. And of course, Herbie Alpert did. And it was like a vindication, if you will. It sounded really damn good for AM radio. Of course, it was compressed when you go into the second verse and the rhythm, the bass and the drums kick in, you could hear the kick drum being sucked in. But that didn't make all that much difference at least on AM radio.
GM: During that period when Carpenters first hit it big, what vinyl albums were in the heaviest rotation on both of your stereos?
RC: Well, around that time, this would have been a little later, The Beach Boys Surf's Up, the newest Chicago albums and Paul McCartney's Ram, without a doubt. There was also Carole King's Music album and before that, Tapestry, too. It came out right around the time of "Rainy Days and Mondays."
GM: There's an interesting photo of you and Karen from the early '70s and you're photographed with your record collection and Karen's holding and looking at the inside of the Ballad of Todd Rundgren album. Do you remember if you and Karen were fans of that Todd Rundgren album?
RC: Oh, yes, very much. Todd is a talented guy. Some people said about my songs as well that you think they're going to make a certain turn, they're going to go to a particular chord change and it doesn't go there and yet it makes perfect sense when it does make the change, and (Burt) Bacharach's music takes that far and away. I mean, he's the king of that and Todd Rundgren was the same way. It was a different progression of chords, a different structure of the chords. It was a unique sound.
GM: I'd imagine his biggest album, Some-thing/Anything?, that followed the release of Ballad of Todd Rundgren, an album with songs like "I Saw the Light" and "Hello It's Me," would have been in your wheelhouse.
RC: Oh yes. Karen and I were both fans of Something/Anything?.
GM: I'm very impressed with your work not only as a songwriter, but especially as a producer and arranger. How in the world did you have the knowledge and expertise so early on to create a picture-perfect record like Close to You both as a production and in terms of its arrangement? Who were those producers and arrangers that inspired you at that time?
RC: Karen and I were both old souls. I just happened to hear "Close to You" yesterday on the radio and I thought, what a remarkable record. It really is. It's almost the perfect record. There's not much I would do to change it, and Karen had barely turned 20 when she sang it and yet she was way beyond her years as far as interpretation. I think some of it was in my DNA and that Karen and I were old souls. But we had listened to a number of older recordings that my father had in his record collection or that he'd buy as they came onto the radio in the early '50s and mid-'50s and all of that. So I think a lot of that inspiration came from those records, and I need to thank him. The overdub harmonies of Mary Ford, the Les Paul and Mary Ford records, it's tight voicing, and they're overdubbed and of course, when "Tiger Rag" came out, it had the biggest influence on me. I'd say that was 1950, maybe 1951, so I would have been four and a half, and it had such an impact on me.
GM: Your choices as producer and arranger on Close to You are stunning; every decision you made was the perfect choice and to be able to do that so early on in your recording career is remarkable.
RC: Well, it is. When I got down to thinking about this because I was not only in charge of selecting or writing the material but then arranging it. And the arranger is the unsung hero of the business because you could have a proven singer and a proven song, let's say, or a song that will prove to be a big hit and if it doesn't have the correct arrangement, it's not going to go anywhere. Yes, we listened to so many different things and Close to You is definitely influenced, even though I never heard Burt's (Bacharach) arrangement until after ours was done. That's why it has Bacharach-ish influence.
GM: In terms of creating those lush harmonies that you and Karen would do on a song like "Close to You," can you run us through the process you employed to build those trademark Carpenters harmonies?
RC: Well, on the first album, we used eight tracks, so we were severely limited because I wanted to do all these over-dubbed vocals. But starting with the Close to You album, we had 16 tracks, but we still have to do a lot of bouncing. What we did on a typical Carpenter chord is like the end of "Close to You." It's four-part harmony, and we triple it. So there are 12 of us singing the four parts. The opening chord of that is an inversion of D flat major seven. Because we didn't have that many tracks with Karen and I singing together on the outer harmonies, so she'd take the top, I take the bottom and get it until we were satisfied and then double it, and then triple it, and then go into the inner two harmonies, which we call BGs, background. So BG one was the outside harmonies and BG two was the inside harmonies. That's how we worked it. But think about that record. I also wanted some strings on it. I wanted the overdub trumpets, Chuck Findley. Of course, we had the track and there's a little bit of Wurli (Wurlitzer) electric piano near the end and of course, we quickly were running out of tracks.
GM: Were you, Hal Blaine (drums) and Joe Osborn (bass) cutting live?
RC: Yes, but only the rhythm track.
GM: Were you able to nail a track fairly quickly?
RC: Fairly quickly. Except when one came along that took a little more con-centration or attention.
GM: Do you recall a Carpenters recording that was more challenging to get a really great basic track?
RC: Yes, "Close to You."
GM: Why was that challenging?
RC: It's a very deceptive song and a very deceptive arrangement. The whole thing makes it sound like it's an easy song, and the trouble with that one is it was so strict with timing and rhythm. It was very easy to start rushing and ultimately, you never want to admit that you need the click track, but on several of them you do and that was one of them. We finally said,
"OK, we need a click track," so "Close to You" took around 40 takes to get that basic track with bass, piano and drums, but that was an exception.
GM: Your collaboration with lyricist John Bettis on "Goodbye to Love," "Yesterday Once More," "Top of the World," among others, worked very well. What was the inherent magic of your collaborative work, the spark that fueled the creativity?
RC: We were introduced to each other in 1966 by our university choir director. The director knew that I was writing pop songs and I had met John briefly and knew that he was writing songs, too. But to me, his lyrics were the special thing, and I thought we could work well together, which we did in the formative years, and then he took off for parts unknown before the Carpenters hit. And then we did and I wanted to be writing some songs. So of course, publishing at A&M Records were saying, "Well, how about working with Paul Williams or some of our other writers?" And I said, "I know this guy. I feel we work well together, and I need you to find him for me. We didn't know where he was. I think he was up in Northern California or Central California, but the people from A&M tracked him down and brought him to L.A. and he signed with them. And it's a good thing I have an actual talent to see certain talent in other people.
GM: An example of that is "Goodbye to Love." Can you share its back story?
RC: I was watching The Late Late Show or The Late Show and there was a Bing Crosby movie from the early '40s called Rhythm on the River. And in it, he plays a ghost songwriter and he's ghosting for a famous songwriter — this is all fic-tion. He's played by Basil Rathbone, and Basil Rathbone's character was going through a dry spell and Bing, the ghost songwriter, was taking care of that. But they kept referring to Basil Rathbone's biggest hit in this movie and it was called "Goodbye to Love," and you never heard the song "Goodbye to Love" in the film. It was just referred to. And when I heard that I imagined, (sings words) ... "I'll say goodbye to love, no one ever cared if I should live or die..." I kept the melody going and that's where I ran out of lyrics and got ahold of John, and we sat down together and finished the lyric. And right around the same time, we met Tony Peluso, and he was the leader of a group that opened the show for us on one tour. I heard him go into a guitar solo on one particular song every night, usually a college gymnasium, and I'd hear him lay into his solo on this particular song. He's not just playing a lot of notes. It was improvisation, but it was musical. And that's when I got the idea about the guitar solo for "Goodbye to Love." Karen and I had a number of people around us saying, "Why are you doing (this) with an un-known? Why don't you just get someone like Louie Shelton?" And I said, "Because nothing against Louie or anyone else, but I like the way Tony plays, and I just think he's the guy, and he was the guy. We asked him to come to Studio B, and he sat out in the middle of the floor. He had this little fuzz unit called a Big Muff that got just the right sound that I wanted. He said, "I have to tell you, I don't read music" and I said, "I don't need you to read." And I said, "Here's what I want." I gave him a chord sheet and I sang him the melody. This is not at the end. This is the break in the middle of the song. And I said, "I want this much of the melody" and I sang that much of the melody and then I said, "Take it with the chords." Tony got the whole thing with the exception of one spot near the end of his solo in one take.
GM: With that, you pretty much created the template for power ballads to have these gonzo hard rock, fuzzed-out guitar solos.
RC: Yeah, I guess so. (laughs)
GM: You and Karen were big Beatle fans. Carpenters famously covered "Help" and "Ticket to Ride." Tell me about when you and Karen met Paul McCartney at 10cc's Strawberry Studios?
RC: Well, we were touring the U.K. in '74, and we got a message from him that he was recording with his brother, actually. They were recording the Mike McGear album. And he asked if we would like to stop by? So, of course, we'd like to stop by. So we stopped by (laughs) and just watched him with his brother Mike. And then after a while, excused ourselves because of course, they were busy, but it was really nice of him to ask. Paul complimented us and said some really nice things about Karen's singing, too.
GM: Knowing Karen was not as confident as she should have been about what a won-derful singer she was, didn't she have a run-in with Paul's songwriting partner in The Beatles, John Lennon?
RC: Yes. She told me about it on a phone call. She and her beau were heading into a particular restaurant, Beverly Hills. John was coming out and in passing, John said something to Karen, "a lovely voice, luv" or "a beautiful or a great voice luv," and Karen was flabbergasted. I spoke with her and said, "Karen, of course all these people are going to tell you that you're great because you are a great singer!" I don't think she ever realized just how damn great she was. With Barbra Streisand, the same thing. They're kind of bumping (into) each other and she said, "I think you have a lovely instrument" or something to that effect.
GM: "Rainy Days and Mondays" is a classic Carpenters song merging beauty and melancholy. There was a deep melancholy that Karen was able to bring into her singing. Where do you think that wellspring of her ability to connect with the melancholy comes from?
RC: It's a combination of you're made of with your genes and of coming back to the cellar where dad kept his music; that's where we listen to music. And whenever I went down there, if I wasn't playing classical, she wasn't all that crazy about it. But if I was playing any other sort of record, she would come down and listen to the records with me. Our dad had quite a diversification in the types of music he liked. So she heard the older singers, the Nat Coles and Perry Comos, and that all just sank in. She was a receptacle but a natural one. She was just born to sing all this stuff. And as Tom Nolan wrote in his cover piece for Rolling Stone magazine about her life, he said, out "comes that marvelous voice live as it is on record." And he said it was "youth combined with wisdom."
GM: You forged a particularly close relationship with Herb Alpert of A&M Records. It wasn't just a co-head of the record label relationship. It really seemed that he cared and connected with the ethos of The Carpenters. What was it about that relationship that really flourished both in a professional and personal way?
RC: Well, I have to say, first off, Herb and Jerry Moss as heads of A&M were different than just about any other one in that. If they signed an artist, they believed the artist should do what he or she wants, with the exception of what he or she thought was best for them. So you had quite a free reign anyway, but with us, Herb heard the demo with all the vo-cals stacked and, of course, Karen's lead, and he just went half carte blanche. And even after the first Carpenters album didn't happen, and there were rumblings from other people at A&M, he said, "No, I'm going to give them one more chance." And that was one of the great decisions of his life. (laughs) He believed in us big time, and it was marvelous as a pair of young people that we were to be given carte blanche. He didn't say, "I don't want you to waste money on strings, you're a new act." But no, whatever I heard, we were allowed to do.
GM: Let's close with a hypothetical question. If you could be with Karen again, even or an hour, and you were told you can you talk about things and you can play piano and she can sing a few songs with you, what would you talk about and what songs would you choose to have her to sing?
RC: Well, I would once again let her know just how damn great a singer she was. One of the songs I would do with her would be "But Beautiful." It's from one of the Bing Crosby road pictures and went on to be a standard.
GM: And is there a Carpenters song you would love to hear her sing one more time with you?
RC: There are two that, had she lived, we were going to redo because she was only 19 when we did our first album, and I was 22, and in the next two to three years that followed, our voices changed in that they weren't as husky as they were originally. That's why she wanted to redo the lead on "Merry Christmas, Darling" and "Ticket to Ride," the remix from '73 because she wasn't all that wild how husky her voice was. So there were two that happened to be Bettis/Carpenter songs, and one that she wanted to redo. One of them was "Eve" and that's an album cut on the first album. Actually, the other one was on the first album, which is called "Someday." She mentioned it several times. She wanted to redo them, and I wanted to redo them as well.
Read the entire Carpenters feature, which includes am interview with authors Mike Cidoni Lennox and Chris May, get the April/May 2022 print issue of Goldmine in our store!