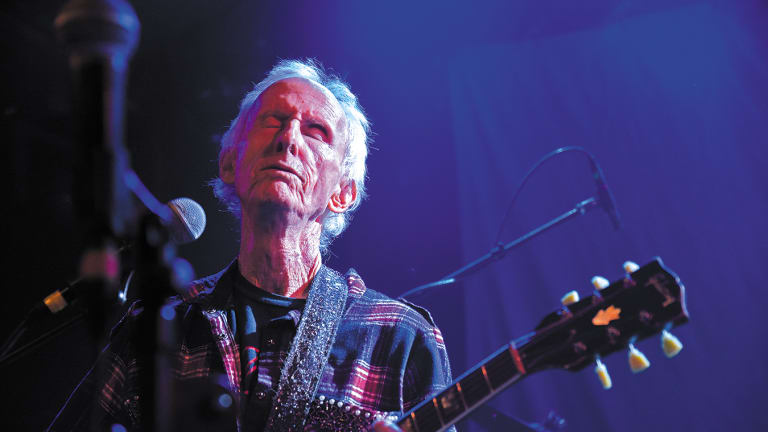 The Doors' Robby Krieger tells how he needed to 'set the record straight' with memoir
It took two decades to finish, but The Doors guitarist has a memoir that gives a different, clearer perspective on The Doors heyday.
For Doors vinyl, collectibles and more go to the Goldmine shop
In Goldmine's Feb/March 2022 issue, The Doors guitarist Robby Krieger tells writer Gillian G. Gaar about his finalized memoir Set the Night on Fire: Living, Dying and Playing Guitar With The Doors.
"I started writing it 20 years ago," says Krieger, "so I had a lot of it done, or outlined at least. And when the pandemic hit, there was, like, nothing to do but stay home; it just seemed like a good time to finish it up. And then I had been working with some guys on a possible movie script that was kind of like The Doors in the early days, from my perspective. And there was this writer guy, the script writer, and his name was Jeff Alulis. And I got along pretty good with him, and so I decided to finish the book. And I couldn't have done it without him (as co-writer) because he kept me going.
"Ray (Manzarek) and John (Densmore)'s books, they each put each other down. It caused so many problems, which ended up being in a lawsuit; the lawsuit wasn't about the books, but that was really the reason for the lawsuit. Ray might have exaggerated a few things that he shouldn't have. But I think they were both more truthful than No One Here Gets Out Alive. And The Doors movie, you know, some of that stuff in that movie even I thought was true! The details in the movie get into your head.
"So I didn't want to add to fuel to the fire. But finally I just said, 'Well, somebody's got to set the record straight.' This book will debunk all the stuff in the movie that's wrong. And hopefully set everybody straight about how it really was.
"It was a little bit tough writing about my heroin problems. I could have left it out, but I think people want to know about that stuff, and I think it shows how anybody can get caught up in it. You know, that was the last thing I thought I would ever do, especially after watching Jim (Morrison) and his decline with it, mostly with liquor, but it's all the same kind of stuff."