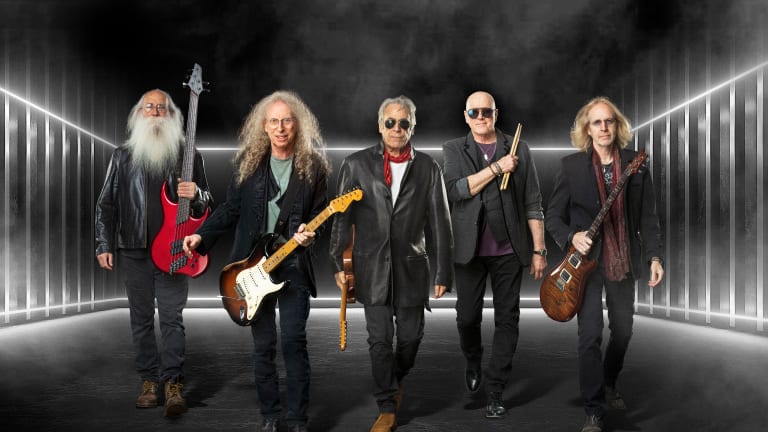 The Immediate Family opt for instant success
The seasoned supergroup Immediate Family — Danny Kortchmar, Waddy Wachtel, Steve Postell, Leland Sklar and Russ Kunkel — lay it all on the line.
By Lee Zimmerman
Supergroups come and go, but oftentimes they are fragile arrangements at best, often sheared apart prematurely as the result of conflicting egos, the desire to go in different directions or simply a willingness to dispense with the need to conform to the other individuals' desires. Consider Crosby, Stills, Nash (and sometimes Young), Blind Faith, Them Crooked Vultures or any number of other all-star alliances that sometimes didn't last longer than a single album.
Then there's the ensemble known as The Immediate Family apart. Most of the band's members have played and/or performed together for the better part of the past 50 years. The group, which consists of guitarists Danny "Kootch" Kortchmar, Waddy Wachtel and Steve Postell, bassist Leland Sklar and drummer Russ Kunkel, have collectively served as support musicians for Jackson Browne, Carole King, David Crosby, Graham Nash, Linda Ronstadt, Don Henley, James Taylor, Warren Zevon, Stevie Nicks, Phil Collins and many other iconic individuals who graced stages and studios while changing the trajectory of modern music in the process. Kortchmar (or "Kootch" as he's often referred to), Kunkel and Sklar first played together almost 50 years ago in The Section, although they and the others opted to form the new band after Kortchmar invited Kunkel, Sklar, Wachtel and Postell to share credits on a 2018 album that had originally been envisioned as a solo set. That album, Honey Don't Leave LA, and a subsequent live album were released only in Japan. That was followed by their initial American release — an EP titled Slippin' and Slidin' — and a newer EP called Can't Stop Progress. To top it all off, a full length self-titled outing is now available.
That said, it's one thing to be labeled a supergroup but quite another to measure up to that hallowed stature with an offering that not only lives up to expectations, but also provides a path forward toward even greater glories. So while The Immediate Family clearly deserve the kudos that come with recognition of their superstar status, they also make it clear they're not content to simply rest on their reputations. This is indeed one band whose credibility and accomplishment are as much a part of the present as their history affirmed them to be early on.
Goldmine recently caught up with Kortchmar and Wachtel to discuss the history and happenstance that brought them to this point.
GOLDMINE: The focal point of the EP seems to be the title track, "Can't Stop Progress." It's also the lead track on the new LP. What was the impetus for that particular song?
DANNY KORTCHMAR: I started writing that with Stan Lynch (original drummer for Tom Petty and the Heartbreakers) quite a while ago. I had the basic chord progressions, and Stan came up with the title "Can't Stop Progress." And then we started adding a few lines to that, but the thing just kind of lay there for a while because there was no outlet for it. There was nobody we had in mind to record it for or anything, so nothing much happened. Then, when The Immediate Family got going, I pulled it out again, and amazingly, it feel into place pretty quickly. At that point, I called Waddy, and we worked on it some more. It pretty much emerged full blown as is.
GM: So given the fact that it's also be on the album, was this EP a preview of sorts? 
WADDY WACHTEL: We had to put out these EPs first because we had to put the pause on the album. We actually finished the album quite a while ago … in November of last year, actually. But we had to wait to release it because of the pandemic.
GM: So were you thinking that once the album comes out, you'll want to tour behind it and get out on the road? Did that factor into your strategy?
WW: Definitely, yeah. So now we're all chomping at the bit. We're not planning on doing any touring until about November because of the risk factor. We want to be at a place where we can comfortably tour and ensure things are safe for the audience, especially if they're crowded together. They're the ones that we're really worried about.

DK: We want to be very careful. But what we're dying to do is get back out in front of people.

GM: From what we understand, the genesis of The Immediate Family was formed around Kootch's solo album.
DK: Yeah, that's actually what happened. I was offered a solo deal from a label in Japan, and I immediately started thinking about what how I was going to approach doing it and whatnot. I just assumed that the boys were going to be out of town because the guys in our band are among the most in-demand musicians in the world. But amazingly, they were around. So at that point, we started to realize, "Hey, this is fun. You know, we could make a band out of this." It just evolved. There was never an "aha" moment, but rather it just kind of evolved into something that was obvious — something we should do.
GM: It almost seems odd that you hadn't done this before. Several of you had played together in The Section, everyone else had done zillions of sessions together. So why did it take all these decades to come about?
WW: Well, we were spread out. We were all out supporting different people. It was those years of touring that had separated us. But the funniest story about it is when the guys had The Section going. And at one point, Danny called me and asked me if I wanted to come play with the band. So I went down and we jammed and we all had a great time. But if you know The Section's music, then you know it was very mature, a very funky jazzy kind of rock music, and also instrumental. So after we played, I looked at my brothers and I said, 'You know, guys, I love you all. You've played on more hit records than anybody in this town. But you guys want to do this kind of music, and I can't really do that right now.' That was where Danny was at years ago. So I had to explain that I can't really do this, but if you guys ever want to rock and roll, then count me in. And now, 45 years later, we're doing exactly that. It's the most wonderful thing in the world.

GM: Looking at it from an outsider's perspective, it really seems like a no-brainer. You're not only gifted musicians, but also great songwriters as well. It just seems like the perfect fit all around.
WW: If someone had hired us several years back, and we were all together in a room for like a whole project, it might have happened back then. But that opportunity just never did come. I would work with Danny, or I'd have Danny come work with me and Russell and Lee, but we'd all end up working on different things. If we had all been in a room together for a period of time, we maybe would have realized this maybe 10 years ago.
DK: It's about timing. It just wasn't gonna happen until it was time for it to happen. That's the way things are in general.
GM: The name seems like an obvious choice, but who came up with it originally?
WW: Danny — the name came to Danny right away. He went, "You guys, you are my family. This is an immediate family. And this is gonna be the name." Again, it was all about the timing. All the elements were lined up correctly.

GM: Each of you have had so many musical milestones during your respective careers. It's actually easier to name people you haven't recorded with than all those you have. So does that set a certain high bar, like we've got to make this thing measure up to those past achievements? Does that kind of thought enter into it at all?
DK: Well, we have a high bar anyway. In other words, we always play the best we can, regardless of the circumstances. So we expect a lot from ourselves. The fact is that we also learn a lot from each other, and I especially learned a tremendous amount about songwriting, about how you put songs together from working with all these genius level songwriters that I've had the pleasure to work with.
WW: Just from growing up with the music, we've learned that is a high bar right there. You can always throw down some tune that doesn't have it. Like, "Here's my new song, isn't it great?" But still, you're up against the best writers and singers in the world. We're both terrible snobs.

GM: You got a nice plug from Keith Richards in a recent issue of Goldmine. You guys have worked with him, so it's not surprising he gave you a big compliment.
WW: Keith and his wife, Patti, came to a show we played prior to the pandemic, and the best part was, they told us before we went on, they couldn't stay for the whole show. But he did stay, and we spent some time backstage afterwards and had a great time. I was so delighted that he came. They had said to us, "Listen, we're sorry, but we can't stay all night. Our daughter is doing a DJ thing across town, and we've got to go there." But they were there through the encore, through every note we played. It was an unbelievable compliment. It was just so wonderful.

GM: You guys have played with so many incredible people. Do you ever feel intimidated when you're walking into the studio to play a session with someone that you haven't backed up before?
DK: I think "pride" is a better word than intimidating. We're certainly terribly impressed with all the genius level people we work with, but we don't have time to be intimidated. We're supposed to go in there and play and come up with something now! So there's no time to sit around and worry about whether you have the chops to do it, or whether you can get it right. Let's just get going. Let's hit it. And so at that point, you muster all your resources and start coming up with stuff. And it's the same way with this band. We're all thrilled to death to be playing together, but we're listening very carefully to the songs and what we can do to make them better.

GM: You have three guitarists in this band. How do you divvy up the solos?
WW: The song dictates what will happen, and it's hard to really try to speculate until you get down and start working on it. Some songs don't require any solo; some songs can really handle three different guys doing three different versions of a solo, where we split them up for short, short solos. There's one song on our album where we all take solos on the ending of the song, and we pass it around and it works fine.
DK: We don't want the band to be about guitar solos, because we feel the focus should be on the song. And we want to do whatever serves the song. I think the world has heard enough guitar solos. We're not a jam band.

GM: The two of you wrote the majority of the songs on the EP, but how did you sort out the songwriting on the (full-length) album? Is it a democratic process that allows everybody to get their shot?
DK: The fact is, whoever's got the best song wins. We want to do the best songs we have. And although we want to be democratic about it, we also want to lead with our best songs. We all generally agree on what we should be doing.

GM: So nobody has to be considered the George Harrison of the group?
WW: That's up to them. Danny writes really great songs. Leland is this unique creature that does what he does, and then plays bass better than a million other people. But Danny is definitely the most prolific one of us, and I'm maybe second and Steve is third. Plus, Russell has really thrown in a lot of great ideas and comes up with great things. He's been involved with so many good records and is very, very good at what he does. So Danny and I sort of lead the charge with the writing coming into it. Danny is a high bar to reach. He has written some fantastic songs.

GM: So is there any kind of competition when it comes to the songwriting?
DK: We're all adults here. We're fine. I learned from the best. We both did. We learned from the best writers, and we spent our careers playing the best songs. So we're not intimidated by one another. We don't say, "Forget it. I'll never be that good." We say, "I want to be that good."
WW: And we keep trying. It's an amazing reality to be this age and to have music still matter as much as it did when I was in school trying to learn Beatle tunes. "What's that chord? Why can't I get that chord right?" Getting that chord right would make my week. Music is still that magical to us. It's that important. It's that all-encompassing. It's all that magical.