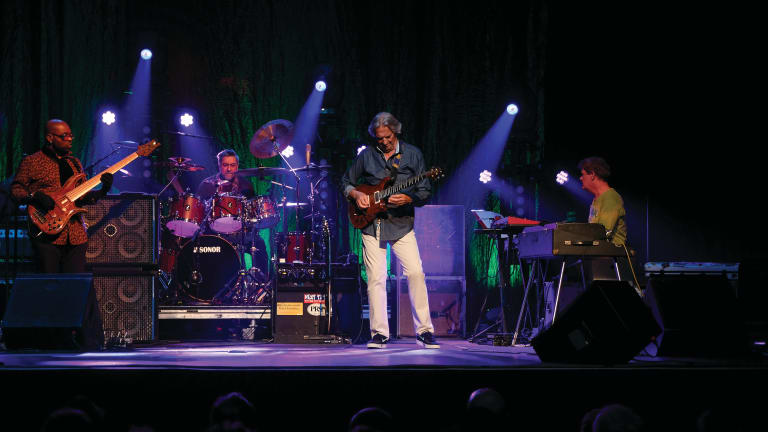 The liberating music of John McLaughlin
With the album "Liberation Time," John McLaughlin, one of the world's most celebrated guitarists, relishes his roots and looks forward to the future.
By Lee Zimmerman
Ask most people to name the most influential guitarists of all time, and the name John McLaughlin inevitably appears at the top of the list. One of the acknowledged, early established templates of jazz-rock fusion, McLaughlin's outfit, the Mahavishnu Orchestra, secured a populist appeal throughout much of the '70s and '80s that enticed fans of both genres, making them one of the most influential outfits of all time. 
For McLaughlin, however, it was a natural progression. Having made his professional debut as a session player in the company of several significant artists during Britain's blues boom of the '60s — his colleagues included Jimmy Page, John Paul Jones, Ginger Baker, Jack Bruce, Georgie Fame, Brian Auger and Graham Bond — McLaughlin's penchant for imagination and exploration brought him to the U.S. in 1969 to join drummer Tony Williams' Lifetime and eventually brought him even more significant status while working with Miles Davis on such epic recordings as In a Silent Way, Bitches Brew, Live Evil, On the Corner, Big Fun and A Tribute to Jack Johnson, albums that paved the way for fusion and bought Davis further fame as an innovative icon. It also gave McLaughlin entry into a selective circle of musicians that shared his outsized enthusiasm — Larry Coryell, Bill Evans, Stanley Clarke, Chick Corea, Carlos Santana, Joe Farrell, Wayne Shorter, Miroslav Vitouš and Carla Bley, among the many.
With Mahavishnu, McLaughlin became a certified star, and yet he wasn't content to stop there. His band Shakti explored his fascination with Indian music, while collaborations with guitarists Paco de Lucía and Al Di Meola under the moniker of The Guitar Trio provided yet another passionate and provocative outlet for his ever-evolving sound. Indeed, it was one of many excursions he undertook over the course of his career, instrumental forays that have melded the boundaries of jazz, rock, classical and Eastern genres into a varied array of remarkable permutations. It's little wonder that such prominent players as Jeff Beck, Pat Metheny, Eric Johnson, Steve Morse and Mike Stern have all cited him as a primary influence on their own efforts. It's also not surprising that he's consistently called one of the greatest guitarists of all time and that his list of honors include numerous Grammys and an honorary Doctorate of Music from the storied Berklee College of Music.
McLaughlin's latest album, aptly titled Liberation Time, finds the now 80-year-old guitarist sharing sounds that bring to bear the effects of the pandemic and the worry and uncertainty it stirred in its wake. Yet, there's also an intimacy and beauty captured there as well, fully explored in a pair of piano pieces, "Shade of Blue" and "Mila Repa," the first of their kind since Love Devotion Surrender, his collaboration with Santana in 1973. The remainder of the album was recorded with his current ensemble, the 4th Dimension, and assembled remotely in flawless fashion.
Goldmine recently had the opportunity to speak with McLaughlin from his home in Monaco, and because we found it tempting to linger on his legendary status, we found him gracious, forthright and eager to share the many highlights of his iconic career.
GOLDMINE: You've been cited as one of the foremost practitioners of a style of music that came to be called fusion. Were you aware at the time — when you began working with Tony Williams, Miles Davis and, of course, your own Mahavishnu Orchestra — that you were sharing a new and innovative kind of sound?
JOHN McLAUGHLIN: Absolutely not. You have to bear in mind that a lot of it was the baggage I'd carried with me since the '50s. I started as a piano player playing classical music. And then, because of my elder brother's influence and growing up in the U.K., I was impacted by the blues boom. That was a real tsunami. It started with me when I was 11, but coupled with that, were all these blues records by Muddy Waters, Bill Broonzy, Lead Belly, Robert Johnson, Mississippi John Hurt. It was a revelation for me. From that point on, it just kind of cultivated my musical tastes, because it brought me into making music, and jazz music specifically. I heard Miles when I was 15, and that was really pivotal in my life. All I wanted to do was to be a musician and play that kind of music. Then, when I was 16, I was introduced to flamenco music, which had a very profound impact on me that manifested itself later in life. Then of course, there was the psychedelic period, when everybody was asking these questions and going to India or going to Asia and looking for answers to the great existential questions. And the minute you start looking at the questions, you get introduced to the music because it's part of the philosophical culture. That's when I arrived, but I couldn't make a living as a jazz musician, so I was playing rhythm and blues and funk. Then when James Brown came on the scene in 1964 and '65, that was radical. But to survive, I also played the blues. Then, when The Beatles arrived, I became a Beatles fan. I realized that we were all on the same boat, and the music is either good or not so good. So you put all these influences together and out it comes.
GM: So how did you connect with Miles Davis?
JM: It happened after I came to New York in 1969 to join Tony Williams. It just so happened that Miles was looking for a guitarist, and I happened to be in the right place at the right time. When Miles started, he was already making the transition. He introduced me to Coltrane and all the great masters of the '60s, and that greatly impacted me. I passed the acid test, and I started to see him quite a bit. Miles invited me to his house, and we'd talk about music and he asked me to bring my guitar. So by the time we got to record Bitches Brew, I had gotten to know him pretty well and see which direction he was moving in. He wanted more and more rhythm on the records. He wanted more vitality, he wanted a guitar player in the band, and so I just had to do the same thing I had done with Tony Williams, who is still one of the most-greatest drummers of the latter part of the 20th century. Eventually, Miles told me that it was time for me to form my own band.
GM: So what steered you in the direction you took with Mahavishnu Orchestra?
JM: Before I started playing with Tony and Lifetime, I had worked with Jack Bruce and Ginger Baker in Graham Bond's band. So we knew each other very well. And, of course, that work was based in the blues. But we were also working with jazz musicians while playing this rhythm-and-blues kind of jazz. It had more passion, it was a little more raunchy, and that's why I started to try to get a little distortion out of it. The times they were a-changing, as Bob Dylan pointed out, The '60s were quite an impressive decade in terms of social upheaval, the Vietnam War going on in America, and everything seemed to be going on in a different direction. It was very obvious musically as well. I remember seeing Sly and the Family Stone and loving it. It was an integrated band. I got the impression that Miles really wanted to have black players with him. He wanted to have the black thing going, and so it seems to me that it must have been kind of a breakthrough to bring this white English fellow into his band.
GM: One of the lessons you seemed to come away with was that same willingness to exercise the kind of freedom and creativity and spontaneity as Miles had allowed you.
JM: I didn't want to mess with the music that came out. I'm sitting with my guitar and I get a riff or a chord structure or something. The rhythm might be weird, and I know it's weird, but I don't want to touch it. I want it to be the way it is. So I write it down or record it or whatever. I don't want to monitor it, so it continues like that to this day. Whatever comes out, I don't want to mess with it. I just want to leave it alone.

GM: The title of your new album epitomizes that liberation that's referred to in the title. And that ties back to what you what you just said. And yet you recorded it during lockdown.
JM: I had a really big European tour planned and some dates in Japan, and they all went down the toilet. I was just trying to figure everything out, but all this music started coming out on its own.
GM: That in itself must have been a really liberating experience.
JM: I need liberation. It's as simple as that. And that's where the title comes from. I've been touring my whole life. I'm a musician, so when I'm playing, and playing regularly, that gives me my feeling of freedom. So what else am I going to do? Wherever I looked, people were under quarantine, so no one was going to come near me. And I wasn't going to go near anybody else.
GM: It's amazing that this album was recorded remotely. The interplay that's going back and forth really makes it sound like you're in the same room with the other musicians.
JM: There was another aspect of the music coming out of me, and that was to direct it in the way it had to go. I just like letting it go. So my instructions without exception to the other musicians were, "Don't play like me." This was one of the lessons I learned from Miles. He wanted everybody to be themselves. Everybody had the knowledge that they could be as free as they wanted to be. So that was liberating as well. When somebody says to be free, it's really nice. You follow the structure, but you can be who you are. It's the moment of truth when you can see who you are in your craziness, or in your sobriety, or in your mellowness, or in your passion — whatever is coming at that moment. That's what's so beautiful. So the musicians all had their instructions and they all nailed it. It was amazing. We were all in different countries, different cities. But when you're gonna play something this way, it's as if you're in the same room, and you're not separated anymore. I think that's the great thing about music. I felt we were in the same room recording together, but of course we weren't. The mind doesn't care if it's in your mind, or outside your mind. It's just about making great music and just playing along. You don't know where you are, but you know you're totally in the music.
GM: It seems like you really have a generosity when it comes to the other musicians you play with. Some players feel a need to dominate the proceedings and make it all about them. But like all your other albums, this album in particular seems like a real collaborative effort. Everybody has their space. Everybody has their room, and at the same time, it coalesces amazingly well. It's a credit to you, and yet at the same time, it's all so seamless as well.
JM: I like to think about what people would like or what they wouldn't like. Otherwise, it's just a waste of energy. You also have to do what makes you happy. That has to do with the two solo piano pieces I chose to include. Those two pieces were actually recorded in the early '80s. I found them in my archives. Yet they felt somehow appropriate with the genre of music that I'd written for the different bands and the different musicians. So why not? They're short pieces. The first one is about Milarepa, who was a Tibetan Buddhist monk in the 11th century. The other one is called "Shade of Blue," because it's just about color.
GM: Some people might be surprised to find John McLaughlin playing piano.
JM: I played piano on the album I did with Carlos Santana, Love Devotion
Surrender.
GM: You've always seemed to find the perfect middle ground between the spiritual and the temporal. Those two elements seem to coexist quite nicely in all your work.
JM: When I was coming out of my psychedelic period, after six to seven trips, I got it. It was like, OK, I know what to do. I have to change myself. This is what I have to work on with myself. And so it's always been like that. That's when I started doing yoga and meditation. And here I am, all these years on. It's all the same thing, because the spirit is everything. The spirit talks to all of us.
GM: It seems like you've done a lot of listening.
JM: I like to listen to the spirit. Every day, in my early morning meditation — but not just during meditation — I pay attention to what the spirits are saying. There are all kinds of messages. We're getting signs all the time, but it's really a matter of whether we pay attention to them. That's the critical thing. It's encouraged me to go deep inside myself, and to ask questions like, "Who am I, and what am I doing?" It's infinite and mysterious and amazing this life that we have. So I try to be alive in the mysterious universe. It's a daily miracle to me. Every minute is a miracle.
GM: Speaking of which, you knew the late Chick Corea. Didn't you even work together at one time?
JM: Actually, I met him the day I originally arrived in New York. We hit it off right away. We even did a duo tour of Europe.
GM: The two of you were creating fusion at the same time, you with the Mahavishnu Orchestra and Chick with Return to Forever. Was there any sort of back and forth between you? I can't imagine that you considered it competition, but at the same time, was there an awareness of what both of your bands were doing simultaneously? Was there any sort of communication back and forth?
JM: Yes, absolutely, because we had played together in a number of different bands with Miles. By then, we were already hanging out together. He came to the first gig we did when we were opening for Gentle Giant. It was a small crowd, maybe a couple of thousand people at most, but Chick came that night, and after the show we were hanging out and he was like blown away. Pretty soon after that, he and Stanley Clarke formed Return to Forever. He was always so gracious. We played so many times together, whenever we had a chance to do so. I miss him. I really do.

GM: I don't think many people realize that you mentored a young Jimmy Page.
JM: I was like 18 and he was maybe 17, and so I showed him a few things. That's when we got to know each other. And then later on in the mid '60s, we were both studio musicians. John Paul Jones was very active in that scene as well. He was the bassist on call, so we played quite a bit together. We were just trying to survive, to make some money we could live on.
GM: That was such a heady time, '60s London. What are your memories of the scene back then?
JM: I was very impressed with what Eric (Clapton) was doing with electric guitar. In my opinion, he had a major impact on Jimi Hendrix. When I met Jimi for the first time, he said he was listening to Eric. But Jimi took it up a notch. When I heard him play "The Star-Spangled Banner," it was so radical and revolutionary. He was revolutionary and a beautiful human being. I met him through Mitch Mitchell, who I had played with in Georgie Fame and the Blue Flames. Mitch was the greatest admirer of Tony Williams. So every time Mitch came to the U.S. with Jimi, we'd be hanging out because he'd come and see me play with Tony. We were playing the Village Vanguard one night, and after the gig, we went with Mitch to Electric Ladyland. There was Jimi and maybe 20 musicians including about six guitar players, and bass players, and Buddy Miles was playing drums. This is when Jimi was making his transition. I got to meet Buddy Miles that night. What a beautiful human being. We started hanging out, and Buddy took me to the gig he played with Band of Gypsys at Madison Square Garden. That was the last time I saw Jimi before we lost him.
GM: It's rumored that there's a tape somewhere of the two of you jamming together.
JM: Everybody was hanging out that evening at Electric Ladyland. The only guitar I had with me was a Hummingbird because I had to sell my other guitar before I left England due to the fact that I ran out of money. I had quit doing studio gigs because that was killing me. So I had to sell my guitar. Jimi was rocking away on this Strat and just freaking out. People have told me that there are tapes somewhere, but I have actually never heard them.
GM: Do you sometimes look back and find yourself actually amazed at all you've experienced in your life and maybe feel like you're looking at yourself in the third person?
JM: I've played the Montreux Jazz Festival in Switzerland since 1971. I've actually lost count of how many times I've been there. They've made a compilation of performances from 1978 to 2016, and I've been listening to my performances with all these different bands and they blew my mind. But I'm living today. Yesterday is gone. So it's all about what's going on inside me now. This album took me back to the 1960s when my heroes were Miles and Coltrane. I'm old school, so whether we sell records or not, I just keep making them.