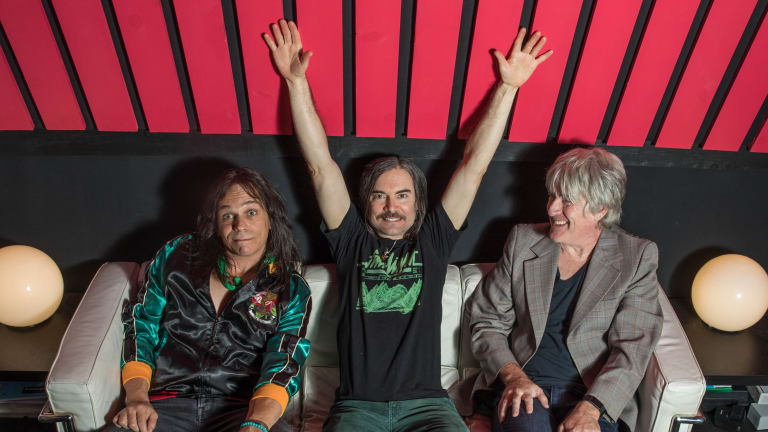 The Lickerish Quartet: Three is the magic number
A new group, The Lickerish Quartet, has released the first in a series of EPs. But the group isn't exactly new, and its it's not a quartet.
By Bill Kopp
Roger Joseph Manning, Eric Dover and Tim Smith first played together more than a quarter century ago in the progressive/art/powerpop rock band Jellyfish. After years of working on other projects --often individually, sometimes together – the three have reunited under the misleading name of The Lickerish Quartet. To those who enjoyed the music they made in the '90s, Threesome Volume 1 will sound both familiar and substantially different.
Ardent fans were devastated when Jellyfish broke up in 1994. In its comparatively brief time together, the group led by Manning and Andy Sturmer had crafted a pair of superb albums. Bellybutton (1990) and 1993's Spilt Milk distilled classic rock influences like Queen, ELO and Supertramp through a modern sensibility, resulting in a high energy and tuneful sound that captured the zeitgeist of the '90s alternative rock movement. But the band's music was more nuanced and carefully constructed than grunge, the prevailing style of that time. Jellyfish tunes like "Baby's Coming Back" and "Joining a Fan Club" – the latter an ode to the KISS Army – may not have set the record charts alight, but for rock fans weaned on a diet of creatively ambitious '70s rock, Jellyfish exemplified a style that was nostalgic and new at the same time.
The Road to Reuniting
When the band's members went their separate ways, each continued to make music that featured many of the characteristics that made their old group special. Though he was the front man in Jellyfish, since the breakup Andy Sturmer has chosen (and continues) to work behind the scenes, writing and producing for other projects including Japanese pop group Puffy AmiYumi and music for animated features.
Roger Manning's first post-Jellyfish project was a collaboration with Brian Kehew, The Moog Cookbook. Outfitted as '70s era astronauts, the duo played wacky and inventive covers of rock favorites, realized completely on vintage analog synthesizers. The comedy rock project would release a pair of albums as well as a rarities compilation, and contributed to the soundtrack of the Robert A. Moog documentary/profile, Moog.
But Manning and the other former members of the group would continue to work with each other in various combinations. Guitarist – and recording artist in his own right – Jason Falkner left Jellyfish after Bellybutton, but he teamed up again with Manning in TV Eyes; more recently, both were members of Beck's touring band. Eric Dover joined Jellyfish after the recording of Spilt Milk, but his experience working with Manning led to a subsequent collaborative project, Imperial Drag. That band released two albums.
Late-period Jellyfish member Tim Smith went on to work as a sideman as well, performing and/or recording with Sheryl Crow, Eric Clapton, The Finn Brothers, Paul Weller and many others. With Rob Aldrige he formed Umajets; that group released one album, 1995's Demolotion; longtime friends Manning and Dover played on the album.
A few years ago, Los Angeles-based Manning reconnected with Smith, who lives in Atlanta. "Originally, I was just going to write with Tim," Manning recalls. "More as a friend reach-out, reconnecting with him in a way that we hadn't [since] Umajets." Once they got talking, bigger ideas blossomed. And they both realized that Eric Dover could bring a lot to the project they had in mind. Manning recalls thinking, "Wouldn't it be great to have Eric in the mix?" Dover agreed, and the new group came into being.
None of those earlier projects was an attempt to copy the Jellyfish sound, but everyone involved in The Lickerish Quartet admits that comparisons are inevitable. "We're the same," says Smith, "in that we're the same people with the same sensibilities about what we like about songwriting." He likens the situation to people who have grown up together, sharing the same set of words in their vocabulary. "They can speak to each other in a certain way without having to explain to each other too much," he says.
And The Lickerish Quartet does bear some similarities to Jellyfish. "Obviously, we weren't getting back together to play a totally different kind of music," Smith admits. "We're not trying to be a fusion band!" He says that the musical sensibilities remain the same, but emphasizes that he, Manning and Dover "were never trying to be Jellyfish Part Two."
Manning says that while "you could tell there was some Jellyfish" in the music he and Dover made with Imperial Drag, "it was its own thing, and we were deliberately headed into a different direction." Both of those observations apply to The Lickerish Quartet as well. "But I'd be very surprised if we don't pick up where we left off," he says. "Because while I hadn't been in touch with Tim and Eric a lot in our time apart, it was pretty clear to me that those are our roots. That style is in our DNA."
Still, listeners should resist the temptation to make too much of the fact that The Lickerish Quartet features three former members of Jellyfish. For starters, there's one very fundamental difference. In the '90s band, all of the music was written by Sturmer and Manning. But in the new group, all three members contribute. "We all chipped in on each other's songs," Smith points out. "That never happened in Jellyfish."
Manning agrees. "The whole Jellyfish break-up was such a tragedy," he says. "And one of the tragedies was that it was very clear to me, while touring [in support of] Spilt Milk, that Eric Dover and Tim Smith were both very good singer-songwriters in their own respect." In fact, he says, as plans were being laid for a third Jellyfish album, he hoped to put those talents to work. "Alas," he says, "that was never to be realized or experimented with, because Andy and I ended our relationship, personally and professionally. And it was always like, 'God, what a crime!'"
He says that the never-made third record would have been a double-LP that showcased each member's songwriting, one side each. "Like Sloan's Commonwealth," Manning suggests. That 2014 double LP "still sounds like Sloan, but you really get each guy's personality. And as a Sloan fan, I was just so envious that they were able to do that … and we weren't."
Manning says that when he got together with Dover and Smith in early 2017, the initial attempts at songwriting were very fruitful. "We thought, 'Let's get together and write, and see what happens,'" he recalls. "And it was clear to me [those songs] were what a lot of the song submissions for a third Jellyfish album would have sounded like."
The "Spaceship" Takes Off
Jellyfish showcased a wide stylistic palette. But The Lickerish Quartet may prove to be an even more eclectic enterprise. "Honestly, we just came with no rules about it," Smith says, other than "just writing songs that we liked for ourselves, and informing those songs as best we can." He allows that some of the music on the new group's first EP "will have some of the sound that people will remember from Jellyfish, but I don't think that was the driving force."
The care and effort that went into making densely-layered tracks like Jellyfish's "Glutton of Sympathy" is something that has carried over to The Lickerish Quartet. That means that the recording process can be a lengthy one. "It took a lot of time to record a lot of the vocal things," Smith says. "You have to be passionate about that, and you have to be willing to sit there for the hours that it takes." He laughs and admits that it's "not sexy to be sitting there, just singing one-syllable phrases over and over again, and multi-tracking yourself doing 'ahh's.'" But with its subtle echoes of Badfinger's "It's Over," a new track like "Lighthouse Spaceship" showcases the group's finely-tuned approach.
Those writing sessions in 2017 yielded a bounty of new material. "We wrote together for about three weeks, and came up with about 20 ideas," Manning says. "I was like, 'We've got enough here for two records! Let's take the best ten or twelve and see what it would be like if we put our money and time into realizing them.'"
The trio called upon an old friend to help them with the drum parts. Jeremy Stacey has earned high regard for his work with a dazzling array of acts, including Ryan Adams, Robbie Williams, Steven Wilson, Noel Gallagher's High Flying Birds and many others. Stacey has been a member of progressive powerhouse King Crimson since 2016. And even though he is an in-demand session musician, the British drummer jumped at the chance to work with The Lickerish Quartet.
"Jeremy was [already] friends with all of us," Manning says with a laugh. "He said, 'Oh my god: you guys have a project? You need a drummer? I will practically do it for free. I want to be on this record! What's that going to take?'"
Another friend provided the final piece of the puzzle. Adam James is a longtime fan of the music Manning, Dover and Smith have all done in the past, and wanted to do what he could to help get The Lickerish Quartet going. "He said, 'How do I get to watch you guys make a record?" Manning recalls. "We entered this business agreement with him where he fronted some funds to help us get the ball rolling." James is credited as Executive Producer on the group's debut release.
Adam James "got to be a fly on the wall," Manning says. "And you know, you can't do that with just everybody. We just basically laid out the rules and regulations and healthy boundaries, and I'm happy to say it worked out." Manning says that the Executive Producer was "fun to have around. Frankly, he was a voice of an unbiased mini-critic, if you will."
Manning credits Stacey and James as critical to the success of The Lickerish Quartet's debut EP. "I don't know how we would have done it without these people really bending over backwards to help us," he says.
Though it's long been clear that there is no chance that Manning and Andy Sturmer will work together again, Manning's friendship with original Jellyfish guitarist Jason Falkner might seem to make him a good way of making The Lickerish Quartet an actual foursome. "That was never a thought," Manning says. "Because he's so immersed – and understandably so – in his solo career."
And even if Falkner did have the time and inclination, it still wouldn't happen. "I'll tell you," says Manning with a slightly nervous laugh, "Three cooks in the kitchen is plenty." He makes it clear that he enjoys working with friends like Dover and Smith, but emphasizes that it is work. "Making any album can be an arduous and really challenging process for any [group of] well-meaning individuals. So I don't know how we would have done this record with four or five members, be it Jason or anybody else. We barely got through with three!"
EPs versus Albums
The Lickerish Quartet made the decision not to release a traditional debut album; instead a series of EPs is planned. Threesome Vol. 1 was released May 15. And while Adam James provided the startup money for the project, funding for the debut EP was completed through a successful pledge campaign.
"We had twelve songs that were close to the finish line," Manning says. "We took four that we felt worked together as a batch for this EP, finished them off with the mixing, and said, 'Let's reconnect with the fans the way I did with my pledge campaign in 2018, and let's see what becomes of all this.'"
He's cautiously optimistic. "If the fans want this, and if the whole process happens as well as we think it can, then it will justify the release of the next two EPs," says Manning. "I'm happy to say, so far so good. The following EPs are slated to happen over the next year and a half."
The other songs are in various stages of completion. "I could probably play you our rough mixes, and for most people, including myself, a lot of them are fine the way they are," Smith says. But he, Dover and Manning will continue to work on those tracks until they meet their highest standard.
Those releases will be scheduled in between the members' other projects. "In between the Lickerish Quartet EPs, I will probably have more solo EPs as well," Manning says. That's a serious workload, because as anyone who has ever heard anything with which Manning has been involved will know, finished recordings take a lot of time. "Our music is very labor intensive," he acknowledges. "And that's fine; I'm very happy with the results." He laughs and muses that it would be nice if he could "knock out a song in a day or two," but that has never been the case.
Tim Smith points out that releasing EPs has another benefit over albums. "We want to be able to have something new come out on a regular basis, so it's not just throwing twelve songs at people all at once," he says. He notes also that there is data suggesting that today's music consumer only listens to the first three or four songs on an album before moving on to something else. So, Smith says, releasing four-song mini-albums is a way to "try to keep people interested in what we're doing a little bit longer."
For The Lickerish Quartet, the writing process is truly a collaborative one. "Obviously, somebody brought in the original kernel of the idea" for each song, Smith admits. The trio chose songs that seemed to work best when grouped together for each EP. None of the three writers made demo recordings before presenting his ideas to the others. "We all pretty much added our stamp to them," Smith says. "Eric wrote lyrics to 'Lighthouse Spaceship' and 'Fadoodle,' which were both Roger music tracks. So it's pretty collaborative."
Lickerish Comes Alive?
Even when the planet reaches a post-pandemic era, the prospect of live performances by The Lickerish Quartet remains an open question. "There is a joy of playing live," Manning admits. "And I know the fans really like to see that personal connection." But the challenges to mounting a tour are substantial. The group's arrangements are complex, and realizing the music onstage would require significant resources. "If there's going to be any level of production, there's got to be some kind of financial infrastructure," he explains. "And that's the biggest challenge."
But live dates aren't completely out of the question. Citing his previous experience touring Japan under his own name, Manning sketches out a scenario that maybe – just maybe – could work. Promoters there organized a tour that included large and small venues, and they managed to subsidize Manning's touring costs.
"Thanks to their business sense, I not only covered all my expenses to rehearse and get a full band out to Japan, but I ended up actually pocketing a little bit of money at the end of the day," he says. "And that was a huge surprise." If something similar can be put together for The Lickerish Quartet – "in the States, Japan, England; I don't care," says Manning, then "Anything is possible. I think we'd all be game."
But in the next breath, Manning cautions against getting one's hopes up about live dates. "We're not 22 years old. We're not getting in a van and sleeping at my friend's house, hoping that there's 50 people at the show." Having toured extensively with Jellyfish and other bands, he knows what the road can be like. Sometimes "you don't take any [money] home, and you're eating McDonald's before you go to bed at night," he observes. "Been there, done that. And that romance has long since passed."
Tim Smith has a similar perspective. "We're all really at a point in our lives where we're not really willing to get in a van and go around and busk our songs out in little coffee shops," he says. "And I don't know that we have the kind of material where we could do that."
What's in a Name?
Still, like its music, The Lickerish Quartet is good-natured. The group's collective playful sense of humor shines through in its name. The Lickerish Quartet is an Italian 1971 soft-porn film described by noted film critic Roger Ebert as "too good for its own good, which makes it very little good at all as a skin flick."
Manning admits that wasn't even the group's first choice for a name, though he won't share the unused possibilities. The process involved "going though hundreds of names and tons of research and finding two or three that we could agree on, only to realize that our first choice was actually in use," he says. Then while perusing the film archives of director Radley Metzger, he happened upon a film he had all but forgotten about. "I was like, 'Damn, that's a good name,'" he says. "At least to me. Tim and Eric liked it, and we just went for it."
Speaking of names, Manning emphasizes that there was never any thought of reviving his old band's name for the new group. "That would be a discredit to all parties, to The Lickerish Quartet and to Jellyfish," he says. "There was never the intention to do some kind of carbon copy or next-best thing." Launching a new band with a new name brings a certain creative freedom. "I also didn't want the project to be limited," Manning says. "There are a couple songs – you'll hear them on the future EPs – that are almost Supergrass-like punk-rock, and [you'll think], 'Wow, Jellyfish would have never done this!'"
Eric Dover, Tim Smith and Roger Joseph Manning are all proud of the work they did in Jellyfish. But they've moved on to new musical horizons with The Lickerish Quartet. And if memories of their first collaboration motivate listeners to discover their new music, that's fine by them. "At the end of the day," Manning says with a smile, "our personalities end up being in the camp of 'post-Jellyfish-friendly,' if you will."