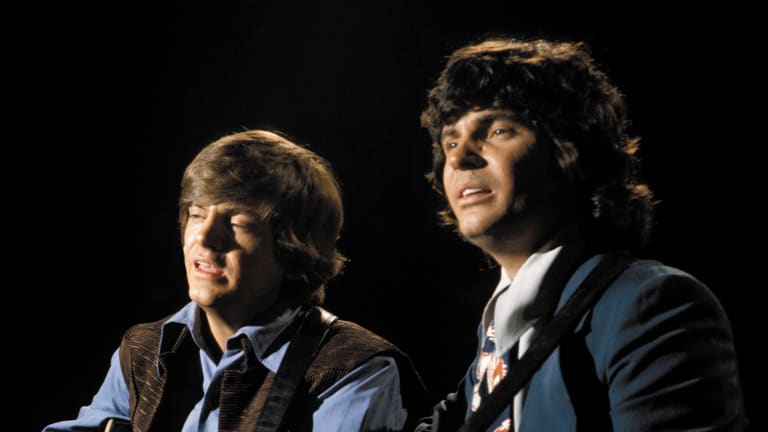 The Lovin' Spoonful's John Sebastian talks "surreal" Everly Brothers collaboration
Singer reflects on duo's "miracle" sound that was "completely new to rock and roll," and inspired The Beatles, The Rolling Stones and many more.
By Elliot Stephen Cohen
"It was a very surreal experience for me," recalls former Lovin' Spoonful leader John Sebastian on working with his childhood heroes, Don and Phil Everly in 1972 for the Stories We Could Tell album. Sebastian, who also wrote the title song, had been recruited to collaborate on the star-studded album, which featured David Crosby, Graham Nash, Delaney Bramlett and Warren Zevon, plus a host of Los Angeles' top studio musicians.
Don Everly, who passed away on August 21, 2021, at age 84, was the last surviving member of the legendary Everly Brothers. Younger brother Phil had predeceased him in 2014 at 75 from lung cancer.
While their early Cadence Records classics like "Bye Bye Love," "All I Have to Do Is Dream," "Bird Dog" and "Wake Up Little Susie," were written by the famous songwriting team of Felice and Boudleaux Bryant, after moving to Warner Bros. Records in 1960, Don composed their most successful single "Cathy's Clown," with Phil being the solo writer of "When Will I Be Loved."
The Everlys established a vocal style that went on to influence generations of artists, including Simon & Garfunkel, Bee Gees, Eagles, Beach Boys, Byrds, Crosby, Stills & Nash, and that still resonates strongly in 2022. Beside harmonies that have been described as coming from heaven, Don Everly, a Nashville Musicians Hall of Fame inductee, was called "one of the best rhythm guitarists I have ever heard" by no less an authority than Keith Richards.
The Everlys' hit-making days in America ended in 1962, although their records stayed moderately popular in the U.K. and other countries for a few more years. In 1966 they released a fine album Two Yanks in England with The Hollies backing them on half the tracks and contributing eight new songs. They continued making excellent music, but much of it was largely passed over in favor of recordings by newer acts. As Phil Everly once bitterly complained to me, "It's just the eventual flux of things. You lose your newness, and the rock press, who was born in the '60s, wasn't interested in yesterday's performers. They all wanted to show how up to date they were, which was all (BS) anyway."
It was no secret that the brothers' personal relationship was far less harmonious than their singing. After one particularly disastrous performance in 1973 at a California club where Phil smashed his guitar, leaving Don to finish the show by himself, the brothers reportedly didn't speak to each other for the next 10 years. However, that changed in September 1983, after Don suggested they reunite for what would become a pair of well-received concerts at London's famed Royal Albert Hall. They last performed together in 2006, while Don's final onstage appearance was a guest spot on one of Paul Simon's concerts four years ago.
Sebastian, who like most musicians has had his touring life interrupted by the pandemic, says, "I've been performing practically nonstop since I was 19, so I'm kind of pleased to be able to do other things." However, he was glad to take the time to reminisce about his childhood idols Don and Phil Everly.
GOLDMINE: What was your initial reaction to hearing the Everlys on the radio for the first time?
JOHN SEBASTIAN: It's funny because Graham Nash was once talking about this, and I said, "That was exactly my same reaction," which was, "Where in the world, or out of this world, did these incredible voices come from?"
GM: When I spoke with Graham shortly after Phil's passing, he said, "Me and David (Crosby) are pretty good, but we ain't The Everly Brothers !"
JS: Yeah, well that's what we all were experiencing. A lot of us are pretty good, but not that good ! (laughs) When I finally did see them on one of those early variety television shows, probably Jimmy Dean's, with the whole synchronicity of the vocals and the big J-200 guitars, it was like, "Oh, please. I just want to be those guys." So, I was as gobsmacked as any of the Englishmen or other folks who heard them at the time. It was awhile before I realized the whole Everlys' sound was mainly coming from Don. Don was the lead singer, and that never varied. He also had that forceful rhythm style that if you hadn't ever heard a guitar approached like that, it was just dumbfounding.
GM: Are there any guitarists you can think of who might have been influenced by Don?
JS: I think we all took as much as we could from Don's rhythm style. I think somebody like John Lennon was highly visible doing that, and some other John from an American band (huge laugh), but maybe not as visible.
GM: The Beatles of course were highly influenced by the Everlys' harmonies to the point where one British journalist referred to them as "the four Everly Brothers." Which early Beatles recordings do you think showed the strongest influence?
JS: That's an interesting question, because they were relating to the Everlys like crazy in those early days, but as to which tunes… In "She Loves You," there's a few Everlys devices they use, which are very bluegrass-like devices. "Please Please Me" shows a big Everlys influence as does "This Boy," even though it's mostly three-part harmonies. The Hollies also were very Beatles influenced when Graham was with them, much more so than when he was in Crosby, Stills & Nash. You can really hear it in songs like "Bus Stop."
GM: What's the story behind your getting the chance of working with The Everly Brothers in '72?
JS: Paul Rothchild (noted producer of The Doors, Janis Joplin, etc.) and I had a long professional relationship by that time. He called me and said, "I've been approached to make a new album with The Everly Brothers, but here's the thing… They've been having all kinds of very angry personal problems. I don't know if I want to be around them if they're going to be at each other all the time, but they like you. Why don't you let them rehearse and record at your house, so they don't get all ramped up about a too familiar setting they don't like anymore." So it was probably just an 8-track machine that was driven up to my little house in Laurel Canyon, and that's when the magic started happening. I think at this point they just wanted to put all the bickering aside and just do something wonderful together.
GM: I'll bet you must have been pinching yourself thinking, "When I was a teenager hearing all those great early records, I never in my wildest dreams could have imagined even just meeting The Everly Brothers, let alone having a chance to work with them as a peer."
JS: For sure! I had more than one occasion to pinch myself. There was one particular time when Paul was not happy about all of the bickering that was going on between them. He said, "Don, you take one mic. Phil, you take the other one, and John, you just sit in the middle and do your guitar part." So, I'm just sitting there quietly between them as kind of a peacemaker pounding away on my guitar, while they're both singing a song I wrote specially for them. I'll tell you, it was better than any childhood dream I could have possibly conjured up.
GM: What else do you remember from that period that was so special?
JS: Well, after a few days at my house, whereby Fritz Richmond, the famous tub and jug player from the Jim Kweskin band, came over to jam with us, Paul was able to convince Don and Phil to go to Elektra's studio in Los Angeles for the actual recording sessions. There they hooked up with all these great musicians they knew as pals. I couldn't believe I was actually in the same room with Buddy Emmons! It was just a remarkable experience.
GM: Let's get back to the Everlys' early records, which I know you're very familiar with.
JS: A lot of people think they were using two J-200s on those records, but I've heard that it was actually a big Martin and an advanced Jumbo. Maybe one of them had been Ike Everly's instrument. After awhile they did start using J-185s, a still curvaceous type of Gibson, but one size down from the J-200, which they eventually abandoned for some reason. I don't know why they did that, but those guitars with the stars and stuff, became known as the Everly Brothers model.
GM: Were there any special tunings used on those early tracks?
JS: Yes. For one thing, what you're hearing on the records are two completely different tunings. The two guitars, which were both very large-bodied, slope-shoulder guitars, had one tuned conventionally, and the other was tuned to the chord. That way one would be open, then on the fifth fret where you're playing all six strings across the board, you're getting the benefits harmonically out of those two tunings, which made it more dense. It was an important part of what made that remarkable Everly Brothers sound.
GM: How important do you think Chet Atkins was to those early records as both a guitarist and producer?
JS: You have to remember, at the time I had no idea who Chet Atkins was. I didn't know it was him playing those little licks that were coming on those records like "All I Have to Do Is Dream." Nobody but Chet could have made those vibrato sounds that were very special. That Gretsch shimmer. You can just tell it's a Gretsch pickup. I think just the combination of his skills as an instrumentalist, plus the clarity and precision of his production was a bigger element than all of us might be willing to admit.
GM: When the Everlys toured with Simon & Garfunkel in 2003 and 2004 as part of their "Old Friends" tour, Art said he observed very closely the vocal interplay between Don and Phil, and agreed with something Graham Nash said…that their growing up together, sleeping in the same bedroom as kids, and singing with each other since they were around three or four years old, plus similar DNA, created a kind of telepathy that only brothers could have. Did you experience anything similar when you worked with them?
JS: That's really a very good simile. When I had the chance to watch the brothers up close singing when we were recording at Elektra's studio, Phil's concentration was so complete, his eyes would almost literally cross from the intensity of trying to stay in perfect sync with Don. Me being so close, I started thinking, "Oh, yeah. I'm getting the real thing now!" When I got to work with Phil on a solo album, I had the wonderful thrill of getting to know him a little more. Don, I have to say, was a little harder to get to know. Phil was just a pure joy to work with. Me and Graham had the same experience of seeing just how hard he'd be trying to duplicate your lead. It was all just a part of what the Everlys' magic was all about.
GM: I'm sure you have many, but what would be your very favorite Everly Brothers records?
JS: Well, "Bye Bye Love" because it was the first one I heard, plus the miracle of discovering those two voices and two guitar styles. "Wake Up Little Susie" certainly, and "Walk Right Back." I just loved the melody and thought it was a really good song. Also, "Bird Dog" because of those scrubbing rhythm guitar styles that if you were a kid, you hadn't even thought of approaching a guitar with that much force. (laughs) I think it's Don's guitar that is really in the forefront.
GM: Why do you think the Everlys' American hits dried up after 1962? It wasn't just because of Beatlemania and the whole British Invasion as many people assume. That didn't happen until two years later.
JS: Losing the services of Felice and Boudleaux Bryant was a big misstep, but if there was anything that was mostly responsible for killing their popularity, it was because those harmonies were heavily recycled by others. Their sound got translated across the ocean, plus there was a whole new musical thing going on in the '60s that just blotted out most of the artists that influenced it.
GM: What would you say the Everly Brothers' greatest legacy will be when people read about them many years from now?
JS: Their greatest legacy has got to be showing the world the incredible capabilities of sibling harmony. Yes, people may have heard that before, but it was mostly in sister groups where there were more than two sisters. That sound was completely new to rock and roll, and copied by so many guys my age. Of course, also hearing the force of those guitars. People had never heard big, nasty acoustic guitar sounds like that. That must have been a production decision by Archie Bleyer who owned Cadence Records, and it obviously worked.