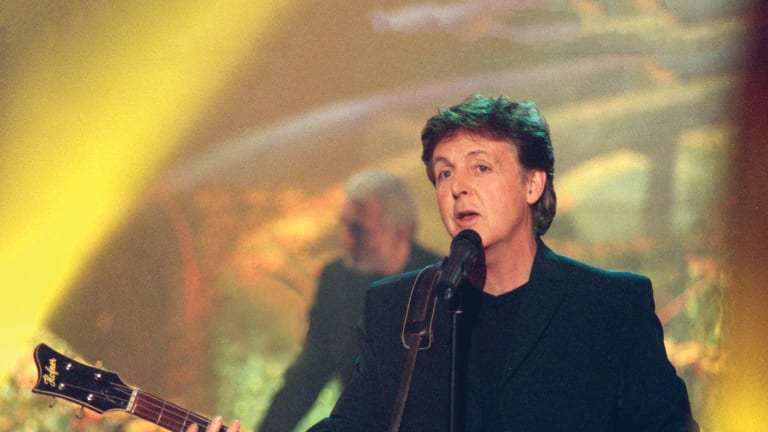 The making of Paul McCartney's "Flaming Pie"
As part of the Paul McCartney Archive Collection, 1997's "Flaming Pie," which stands as one of McCartney's most successful solo albums, is released in various formats for music collectors.
As part of the Paul McCartney Archive Collection, 1997's "Flaming Pie," which stands as one of McCartney's most successful solo albums, is released in various formats for music collectors.
By Gillian G. Gaar
On September 3, 1992, Paul McCartney entered his home studio, Hog Hill Mill (aka "The Mill"), on his farm in Sussex, England, and recorded two songs, "Calico Skies" and "Great Day," with former Beatles producer George Martin at his side, co-producing. But it would be another five years before the tracks would see release on the album Flaming Pie. The long wait would be worth it. One of McCartney's strongest works, Flaming Pie peaked at No. 2 in the U.S., becoming his first album to hit the Top 5 in 15 years, and selling over half a million copies stateside.
It was McCartney's first album released after the massive Beatles Anthology project, and there were reflections of The Beatles era in a number of tracks, most notably the title song. It was also the last album released before the death of McCartney's wife, Linda, in April 1998; her photographs for the project (including the cover shot), giving the release an additional poignancy.
Flaming Pie is now the latest in the Paul McCartney Archive Collection series of reissues, with the album being issued on vinyl, CD and in two box sets, a Deluxe Edition and Collector's Edition.
The box sets have the most bonus material: a CD of home demos; a CD of alternate studio recordings (both these CDs having plenty of previously unreleased material); a CD of B-sides and other tracks recorded during the same time period (including "Ballad of the Skeletons," his collaboration with Allen Ginsberg and Philip Glass), and the first six episodes of McCartney's radio show Oobu Joobu; and a CD with an hourlong interview with McCartney, titled Flaming Pie at the Mill. The two DVDs feature the album's videos and the "making of" documentary In the World Tonight. And then the extras that have become de rigueur for pricey box sets, the most notable of which is a 128-page book about the making of the album, with new interviews, and lavishly illustrated with Linda's photos. Facsimiles of the studio notebook kept at the time and the Flaming Pie edition of the official fan club magazine, Club Sandwich, are also entertaining. The Collector's Edition also adds the album on vinyl, and a set of Linda McCartney art prints. The box sets give you the most in-depth look at the creation of this impressive album, but the 2-CD set does serve up 21 bonus tracks. It's another strong addition to the Archive series, due in no small part to how good the album is.
When those first Flaming Pie songs were laid down in September 1992, McCartney was actually preparing Off the Ground for release, and "Calico Skies" and "Great Day" might have ended up on that album. The former song was written in 1991, in the middle of a power outage while McCartney was vacationing in Long Island. He entertained his family by playing guitar to pass the time, and "Calico Skies" was one of the impromptu melodies that became a proper song. "I wanted to write something acoustic, in the vein of 'Blackbird,'" he later explained. He ultimately decided the gentle, acoustic-based number — which doesn't differ greatly from the home demo — would be out of place on the more rock-oriented Off the Ground. It's the only true solo number on the album, with McCartney accompanying himself on guitar and providing "knee slap" percussion.
"Great Day" was a playful number that Paul and Linda used to sing to their children when they were young. "I've always liked the song, but never really had an opportunity to record it," McCartney said, "so during the 'Calico Skies' session with George Martin, since it had been so easy to record that one little acoustic thing, I told George that I had this song, too."
Recording was then put on hold for a few years, as McCartney was involved in a variety of other projects. Off the Ground was released in February 1993, followed by a world tour. The same year saw the U.K. release of Strawberries Oceans Ships Forest, an album of ambient music McCartney created with Youth (bassist for the band Killing Joke), credited to The Fireman; U.S. release followed in 1994.
Then The Beatles took center stage, with Live at the BBC released in 1994, while 1995 and 1996 saw the release of The Beatles Anthology albums, TV series and video series. The deep dive into his past provided McCartney with plenty of inspiration for Flaming Pie. "The early (Beatles) tapes were so simple and direct and easy to listen to, and yet they were good little songs," he told USA Today. "I thought I should try and do the same thing on this album and just keep things simple."
Two weeks after sessions for the second Beatles reunion single "Real Love" in February 1995, McCartney headed for Sun Valley, Idaho, to record with Steve Miller. The two musicians had a history, having recorded the song "My Dark Hour" together on May 9, 1969, at Olympic Studios in London, following a Beatles session that had broken down due to an argument. The song was later released on the Steve Miller Band's Brave New World album.
Years later, McCartney's son, James, discovered the song, prompting McCartney to contact Miller about teaming up again. So Miller invited McCartney to his home studio, where work on "Young Boy" began on February 22, 1995. McCartney had written the song on August 18, 1994, while his wife was being interviewed about her vegetarian recipes ("I wrote it in the time that it took Linda to cook a lunch for a feature in The New York Times"). As "Put It There" (from Flowers in the Dirt) was an affectionate tribute to his father, "Young Boy," with its wistful musings about the search for love, is clearly directed at son James.
Miller, who provided backing vocals and guitar work, described working on the song as "really a lot of fun. It was really a neat trip for me, because it was completely different than anything that I would normally play and record."
Then it was McCartney's turn to play host, with Miller coming to The Mill, where the main recording sessions for the album would be held. The second McCartney/Miller sessions began on May 4. Among the tracks recorded was the laidback "Used to Be Bad," a bluesy number that grew out of a jam. "I like blues, but don't do a lot of it," McCartney admitted, "so when Steve Miller said that he wanted to get me singing 'Texas blues,' it sounded like a good offer." Miller came up with main lyrical idea, and the two sang alternate lines at the microphone, nailing the vocal in one take.
"If You Wanna" was written in Minneapolis in 1993, while McCartney was on tour. "This is the kind of song you might hear when you're driving across the desert in America, Easy Rider country," he said. "Broomstick," another song with a blues feel, became a B-side on the second "Young Boy" single.
The two also recorded a number of other tracks, including the original version of the tight rocker "Whole Life." McCartney recorded a version with Dave Stewart and his current touring band in 2005 for the charity release 46664: One Year On. The bluesier quality of the McCartney/Miller version would've fit nicely on Flaming Pie, but it apparently wasn't a contender. Other songs known to have been recorded during the sessions include "Sweet Home Country Girl" and "Soul Boy."
Sessions recommenced on November 1, 1995 with "Somedays," a haunting song McCartney had written the previous year, again while his wife was being interviewed about her vegetarian cooking. After the number was recorded, McCartney decided to build up the track by asking George Martin to write an orchestral arrangement for it.
"When I heard 'Somedays,' it immediately reminded me of the vintage Paul,'" Martin said. "It was nice to see that Paul was getting back to his roots, because I think 'Somedays' is a classic song. I think it's one of those simple ones, deceivingly simple, but so difficult to write." Martin wrote a typically tasteful score, recorded by a 14-piece group of musicians (strings, flutes, English horn and percussion) on June 10, 1996 at Martin's AIR Studios in London.
McCartney then brought in Jeff Lynne, with whom he'd recently worked on The Beatles reunion tracks, to co-produce (and perform on) a few numbers. The nostalgic "The Songs We Were Singing," written while McCartney was on vacation in Jamaica in January 1995, was described by him as a look back at his youth, "good memories of the Sixties, of dossing around late at night, chatting, smoking, drinking wine, hanging out, jawing through the night." The bass McCartney played on the number was a stand-up bass once owned by Bill Black, who played on Elvis Presley's classic 1950s records; Linda had purchased the instrument for Paul as a present for his 32nd birthday, on June 18, 1974.
"The World Tonight" was written just a few months before the sessions, in August, in response to Linda's request that Paul tap into his rockier side, and put his lead guitar abilities more on display (she still felt that Paul "could have wound up a couple more solos on the album"). In contrast to the restrained home demo, the final version is aggressive, with a steady undercurrent of apprehension.
The delicate "Little Willow" was written in tribute for Ringo Starr's former wife, Maureen, who'd died of cancer on December 30, 1994. McCartney wrote the song the next month, hoping to bring some comfort to Maureen's family. Lynne's contributions on harmony vocal and electric spinette harpsichord fill out the song nicely.
The sessions were then broken off due to a sudden crisis; Linda was diagnosed with breast cancer. Treatment and surgery followed, and all seemed to be well. "Luckily it was caught in time," McCartney said in a public statement.
Work on the album resumed in February 1996, with two new songs recorded. "Souvenir" was also written during the January 1995 Jamaican holiday, composed with the soulful feel of Wilson Pickett in mind. This home demo has a nice ambience, with the sounds of rainfall and a phone ringing. The song's studio recording also led to the creation of another number. While overdubbing guitar parts, McCartney and Lynne began vamping, "and found a few chords and some funky riffs," in McCartney's words, which he then decided to flesh out into a complete song. Later, while riding horses on his estate with his wife, "I was musing and dreaming about the lyrics, looking for a rhyme for 'sky,' going through the alphabet, when I got to 'pie.' The words 'flaming pie' fitted, and I got quite excited about it."
It's not surprising McCartney felt the words "flaming pie" fit together, as they reference John Lennon's humorous description of how The Beatles got their name. "It came in a vision," he wrote in "Being a Short Diversion on the Dubious Origins of Beatles," which appeared in the first issue of the Liverpool music paper Mersey Beat. "A man appeared on a flaming pie and said unto them 'From this day on you are Beatles with an A.' Thank you, Mister Man, they said, thanking him." The song's lyrics emulated the same freewheeling spirit, which McCartney said he had "great fun" in writing: "I took my brains out and stretched 'em on the rack/Now I'm not so sure I'm ever gonna get 'em back."
The next round of sessions began on May 13. This time, McCartney invited Starr to join him and ended up recording three numbers with his fellow ex-Beatle. The lush "Beautiful Night" had been written a decade ago and was first recorded in New York in 1986. "But I always felt that we hadn't quite 'pulled it off' — you know?" McCartney said. "We had a good evening and a great time, but I just didn't feel that it was the one. Also, I was still changing a few lyrics." The original version later appeared in an episode of McCartney's radio series, Oobu Joobu, which is included on the box sets, along with a 1995 home demo of the song.
The number was also considered for Off the Ground. By the time it was recorded again for Flaming Pie, McCartney had written a new ending, a faster, upbeat section for the song's fade-out. Linda provided backing vocals, and the orchestral arrangement was again written by George Martin, and recorded on February 14, 1997, at Abbey Road.
"Really Love You" was another song that emerged from a series of jams, this time following the "Beautiful Night" session, resulting in the first McCartney/Starkey songwriting credit. "I love to play drums when Paul's playing bass," said Starr. "He's such a fine player, still the most melodic. We were just jamming and he was shouting these words, and it turned into a song."
Making up the lyrics as he went along was a bit of a challenge for McCartney. "There's one verse that doesn't make any sense," he recalled. "'I love you, like a bear needs a break.' A bear needs a break? What are you talking about? 'I want your heart, baby, hopping on a plate.' Hopping on a plate? Wait a minute — but you've got to keep going, because it's a jam."
"Looking for You," another song from the jam session, was later issued on the first U.K. "Young Boy" single, and first U.S. "The World Tonight" single. Another unknown song was also recorded that has not been released.
The last song recorded for the album was "Heaven on a Sunday," the sessions beginning on September 16. McCartney began writing the song the previous month, while on vacation in the U.S. "I like to sail when I'm on holiday: just me, the wind, and a little boat — a Sunfish," said McCartney. "I was having a very relaxing time, and this is when I came up with the song. The opening line ('Peaceful, like heaven on a Sunday') led me through. I like the idea of heaven being busy in the week and peaceful on a Sunday."
In addition to Linda on backing vocals, the couple's son, James, made his recording debut on the track, trading guitar lines with Paul. "James is getting really good on guitar," McCartney enthused at the time. "I played some, he answered it, I played some more, he answered some more, and he came up with some really good phrases. The studio guys were quite impressed with his playing. I was very proud." When Linda heard a completed mix of the song, it moved her to tears. "A lovely moment, obviously," McCartney said.
Now the album's running order had to be determined. "The Song We Were Singing" became the lead track. "I think it works as an opening track — it creeps you into the album and sets it up nicely," McCartney said. The rest of the tracks were as follows: "The World Tonight," "If You Wanna," "Somedays," "Young Boy," "Calico Skies," "Flaming Pie," "Heaven on a Sunday," "Used to Be Bad," "Souvenir," "Little Willow," "Really Love You" and "Beautiful Night."
"Beautiful Night" brought the album to a big, showy conclusion. But McCartney thought that a simpler ending might suit the mood of the album better. So he placed "Great Day" in the closing spot, then took it off, then put it back in, on the advice of his children. "This is here to balance the 'big-ness' of the previous track," he explained, "following on from 'Beautiful Night' in the way that 'Her Majesty' came after 'The End' on Abbey Road." As the less conventional choice, it was a perfect decision.
Just prior to the album's release, McCartney received one of England's highest honors when he was knighted, becoming Sir Paul McCartney on March 11, 1997. Flaming Pie came out two months later, May 12 in the U.K., May 27 in the U.S. McCartney promoted the album heavily, but there would be no tour, as his wife's declining health became his primary concern. Though he didn't realize it at the time, Flaming Pie would mark the end of an era. As a recording artist and a touring musician, he was about to go down a very different road.