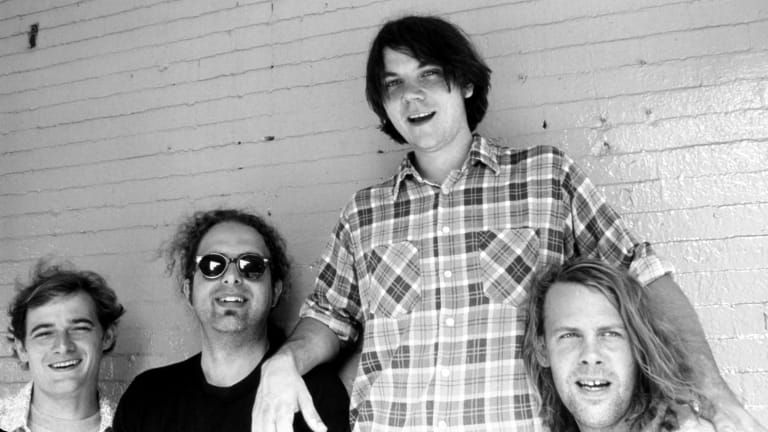 The making of Wilco's "Summerteeth"
The making of Wilco's "Summerteeth": Looking to the past pointed the way to the future, explains bassist John Stirratt.
Released in 1999, Wilco's third album, Summerteeth, represented a turning point for the band. The first album from the group to sell in excess of 200,000 copies, Summerteeth — a musical departure from the band's original alt-country origins — ended up on many publications' best-of lists for that year. Pitchfork ranked Summerteeth No. 31 among all albums released in the final decade of the 20th century. And the album's success spurred the band onto more critical successes and even greater commercial heights.
In celebration of the album's importance, Rhino Entertainment released a significantly expanded 4-CD version of the landmark record on November 6, 2020. Summerteeth Expanded Edition appends the original album with related studio outtakes, alternate versions, demos and a complete recording of a 1999 concert.
By the time Wilco began work on their third album in late 1997, the band had undergone significant shifts. Begun in 1994 from the ashes of alt-country band Uncle Tupelo, Wilco were led by guitarist and songwriter Jeff Tweedy and originally featured the entire Uncle Tupelo lineup minus songwriter Jay Farrar. Wilco's 1995 debut album, A.M., didn't represent a major departure from the style of Tweedy's previous group. Wilco's second album, Being There (1996), found Tweedy writing more finely tuned songs, and in contrast to the band's debut, the arrangements featured keyboards, trumpets, saxophones and violins in addition to the kind of standard acoustic and electric instrumentation most readily associated with alt-country.
As Wilco convened to begin recording Summerteeth, the band looked very different from two years prior. In fact, only Tweedy and bassist John Stirratt remained from the lineup that made A.M. And according to reports at the time, the balance of power and influence within the band had shifted as well: Multi-instrumentalist Jay Bennett — who had joined the band shortly after A.M. was released — took on a larger role in the making of what would become Summerteeth.
But Stirratt — who, along with Tweedy, remains a member of Wilco today — suggests that reports of the band's rhythm section being frozen out of sessions are a bit overblown. All four musicians were involved when initial sessions began. Stirratt recalls that two members of the band had recently discovered just how good Willie Nelson's studio in Spicewood, Texas, was. "Jay Bennett and (Wilco drummer) Ken Coomer had done a session there with a songwriter named Jeff Black," Stirratt says. "So we told Jeff (Tweedy) about it, enthusiastically."
Stirratt says that the "core" of Summerteeth was made in that studio. "We started fleshing out songs and (doing) basic tracking sessions," he explains. A number of demo recordings had already been made, and those provided at least some direction regarding how the finished songs would sound. Eleven of those demos — including songs that didn't make it onto Summerteeth — are featured on the second disc of Rhino's new expanded release.
"I remember the arrangements being tight going in," Stirratt says. "Jeff and Jay really (had) a good grasp on that." He says that some tweaking of the songs was done during those sessions, but recalls there wasn't "a lot of just flat-out writing going on in the studio."
And Stirratt recalls that some of the album's signature sounds had their beginnings at the Texas sessions. "We were digging around the studio, looking at what they had," he says. "And they had a few pieces of gear there that were inspiring. I remember in particular the Maestro Rover guitar effect that Jay used on 'She's a Jar.' "
An early '70s effects box, the Rover was an attempt by musical gear manufacturer Maestro to replicate the "spinning speaker" Doppler Effect sound often used with electric organs (the massive Leslie speaker cabinet) in a smaller package for guitarists. "It was this big bird cage of an effect," Stirratt recalls with a chuckle. "It was basically a small rotating speaker in a cage." In those days, the band was buying up all manner of interesting instruments and effects. "We were buying a lot of stuff," he says. Gear "was a lot more available than it is now, and a more affordable price. So it was exciting."
The Rover effect was more the domain of guitarists like Pink Floyd's David Gilmour; it certainly wasn't in keeping with the country-flavored sounds of Wilco's earliest work. But its use on the early Summerteeth sessions was a hint of things to come. But first, there would be a detour.
In early 1998, Wilco collaborated with British musician Billy Bragg on a musical project based on previously unused lyrics by American songwriting legend Woody Guthrie. Those sessions in Boston, Chicago and Dublin, Ireland, took all of the band's focus. Twenty-plus years on, specific dates are lost in the mists of time, but Stirratt does recall that the band was "in Dublin for so long that early part of the year." As a result, the Summerteeth material was set aside. The product of those often contentious sessions with Bragg were released over time as 1998's Mermaid Avenue, 2000's Mermaid Avenue Vol. II and eventually a 2012 three-disc set, Mermaid Avenue: The Complete Sessions, combining both albums and adding a third disc of songs finished later.
With much of Summerteeth's basic tracks long since completed, the remaining work on the album would consist of overdubs, done mostly at Kingsize Studio in Tweedy's hometown, Chicago. "A lot of the overdub sessions on that material took place with Jay and Jeff," Stirratt says. Unfortunately, the rhythm section — he and drummer Coomer — lived elsewhere. So there were times when sessions and other work on the album went on without them.
"There was a fair amount of project work that Jay and Jeff — or Jay alone — worked on," Stirratt says. A great deal of that work centered around the Mellotron, a classic instrument most closely associated with the late '60s and early 1970s psychedelic and progressive music of bands like the Moody Blues, King Crimson and Yes. The Mellotron — often considered the first sampling keyboard thanks to its use of tapes featuring prerecorded violins, flutes, choirs and the like — would impart a distinctive character to Summerteeth, one that set it apart from its predecessors, threatening to leave Wilco's alt-country roots in the dust.
"Jay had bought a classic one," Stirratt remembers. The band first came into direct contact with the Chamberlin — a close mechanical relative of the fabled (and temperamental) Mellotron — sometime earlier, when they were visiting famed producer Mitch Easter (R.E.M, Game Theory, Velvet Crush) at his Drive-In Studio outside of Winston-Salem, North Carolina. "We were still recording on the road a little bit in that era," he says. Played by Bennett, the Mellotron would feature prominently on Summerteeth. The wobbly "ohhh" vocal chorus from the keyboard can be heard on the finished recording of "Candyfloss."
Stirratt says that Tweedy and Bennett were doing more and more of the work outside of the official, scheduled band sessions. "It just became clear that they weren't adhering to this idea of 'all the work will happen in the session,' " he says. Realizing that it was important to be close to where things were happening, Stirratt relocated to Chicago. "I decided, 'I need to get there so I can be (available) every day and not have to fly in,' " he says.
The bassist emphasizes that it wasn't a case of Tweedy and Bennett wanting to exclude him and Coomer from the project. "They were just excited and ready to work, whenever," he says, while admitting that communication among the band members was "not always the best" at the time. But he and the drummer made it clear that they wanted to be involved. "So it was like, 'Hey, you're still working? We want to be a part of it,'" Stirratt recalls. "And then that sort of became the new norm."
And Stirratt has warm memories of those sessions. He recalls in particular the making of "Nothing'severgonnastandinmyway(Again)," one of only three Summerteeth songs to have a Stirratt co-credit (with Tweedy and Bennett). "Some of the best memories I have of the record are playing the acoustic guitar," he says, "tracking with Ken on drums, and me, Jeff, and Jay on acoustic guitars." Stirratt gives special mention to the song's arrangement. "Working on that — trying to get the percussive acoustics working together — is one of the most distinct memories I have of that session," he says.
Another song he co-wrote, "A Shot in the Arm," came together quite differently. "Ken had a death in the family and had to take off," Stirratt recalls. "We had a really limited amount of time to work on that session. I remember Jay doing drums on that." His favorite part of the song is what he characterizes as call-and-response. "The bass part is like a response to the vocal," he says. "It was wonderfully collaborative in terms of how fast the parts came together." He's pretty sure that upon returning, Coomer quickly replaced Bennett's drum part with his own. "It all flowed pretty fast," he says.
The sound and character of Summerteeth reflect in part the influences of Wilco's members. Bennett, for instance, "had a really focused musical lexicon to work with," Stirratt recalls. "He was a massive (Elvis) Costello freak, and he loved The Clash. It was a pretty interesting, but slightly narrow time period of music that he was really into." But the album's extensive use of vintage musical tools like the Maestro Rover and the Mellotron grew out of the other members' love of '60s pop.
"I remember The Beatles' Anthology coming out, and (listening to) that on the road a lot in '95 and '96," Stirratt says. The band also spent time listening to The Left Banke, The Zombies' 1968 Odessey and Oracle and similarly orchestrated, light-classics-oriented recordings of the era. "I think that kind of 'ork-pop' had a lot of influence on the (album's) vocal arrangements," he suggests.
Summerteeth was completed by November 1998, and the album was released the following March. Wilco's third album was greeted with near-unanimous critical praise. By February '99 — even before the album's official release — Wilco were back on the road; that year the band would play 97 shows in 75 cities in Europe, Canada and the U.S. Two of the four discs in the CD version of Summerteeth Expanded Edition document a November 1 show at the Boulder Theater. The 5-LP vinyl version doesn't include that performance; instead it features An Unmitigated Disaster, a recording of Wilco playing at Tower Records for Chicago's WXRT-FM on March 11, 1999.
The four-piece Wilco expanded for that tour. "Leroy Bach (was) brought in to cover keyboard parts, and to (play) piano when Jay was on the Mellotron," Stirratt points out. And there was a learning curve for performing the music live, too: He says that initially, "it was just hard to cover all of (Summerteeth's sounds). I remember thinking, 'Ah, I wish we could make this part come through live.'"
For Wilco's '99 tour, loading a cumbersome and fragile vintage Mellotron onto the stage was never seriously discussed, and today Stirratt laughs heartily at the idea. "Can you imagine the tech support? Oh my god, what a nightmare driving over highways (with a Mellotron) in the back of a semi!" Though today modern and relatively compact digital-age Mellotrons have solved that problem, at the tail end of the '90s, keyboards hadn't yet risen to the task of re-creating its signature sounds. "I think that we didn't really have a (proper) Mellotron sound on stage until 2000 or 2001," Stirratt says.
He concedes that when Summerteeth was being made, little thought was given to the mechanics of how the songs would eventually be played live onstage. "It does sort of cross our minds when we're in the latter parts of the tracking," Stirratt says. "There is thought put into it, but I don't think there was a slavish idea to cover everything." He points out that for Wilco, the pace of creating moves so quickly that there's rarely time for such considerations.
"We were just making records so fast," the bassist says. "We were doing the best we could at the time." And as Summerteeth — both in its original configuration and on the new expanded set — makes plain, the group did quite well. Naming the album as a personal favorite, Stirratt sums up Wilco's Summerteeth succinctly: "When you go into the studio confidently like (we did), things tend to happen."