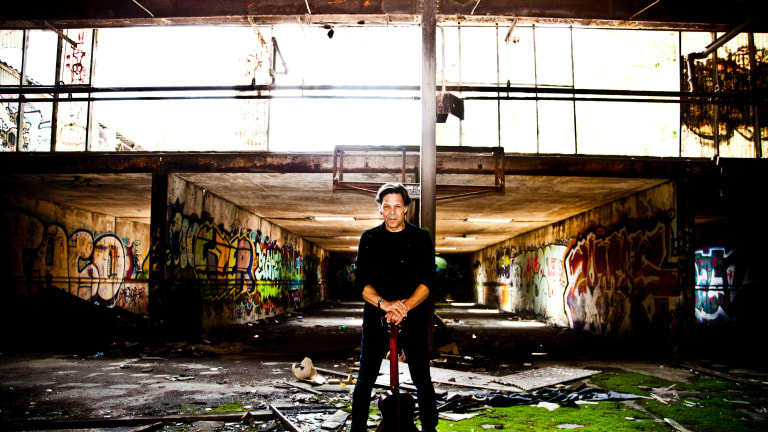 The new sound of Kasim Sulton
Kasim Sulton has always been one of rock's best kept secrets. As a member of Utopia, Sulton's impressive vocals and instrumental virtuosity helped that band forge success both on records and in concert. His latest album, "Kasim 2021," is a finely tuned marvel of songwriting excellence, consummate arrangements and Kasim's rich McCartney-esque voice.
By Ken Sharp
Kasim Sulton has always been one of rock's best kept secrets. As a member of Utopia, Kasim's impressive vocals and instrumental virtuosity helped that band forge success both on records and in concert. He's been an integral parts on both touring and recording with artists ranging from Meat Loaf to Hall and Oates, Joan Jett to The Eagles' Don Felder. While a song on his new album, Kasim 2021, "Unsung" is both a lyrical tongue in cheek, there's some truth that hits close to home. But for those knowledgeable music aficionados, Kasim is no mere sideman but he's always been, like his long time musical partner Todd Rundgren, a true star. 
His new solo album peels off like a newspaper in terms of lyrical topicalities redolent of these turbulent times. With exquisite songs like "Fast Car," "Her Love is Sunshine" and "Sweetest Fascination," the record is a finely tuned marvel of songwriting excellence, consummate arrangements and Kasim's rich McCartney-esque voice.
What story does the album Kasim 2021 tell?
Kasim Sulton: I guess if I had to marry the album to a story in my life, it would probably be about relinquishing control. I don't normally work with producers. I do every so often, but for the most part, I like to do everything myself and hand it off to somebody to maybe do the final mix or to add a part here or there or to make a suggestion about something. But I do all the mixing and all the producing myself. I decided that it was time to work with Phil Thornalley who I've been writing with for maybe 25 years. Also, handing over the reins on the production to someone else was a big step for me because part of me is a control freak. Maybe some people don't like to admit that, but I will and it was a very freeing experience and scary too. So I think the story is that on this album I took a passenger seat and let somebody else drive the bus and was pleasantly surprised at the reaction that I've gotten from people.
As for the album title, Kasim 2021, I feel it's a very apt title because when you listen to the record, there's lots of dual meanings in songs, and it deals with both the interior of a person's life and the exterior of what's happening in the world.
Yeah, I played around with a few titles. At one point, the suggestion was to replace the A in my name with number four as it's written in 1-2-3-4 and that got shot down and then played around with a few more and it just seemed to pigeonhole it a little bit too much so I really thought that I needed a more broad explanation of what the record was. It just made a lot of sense to just call it "Kasim 2021."
When you listen to the record, it's like a diary of what's happening in your life and what's happening in a lot of other people's lives, too, with the frustration and the feeling of isolation, lack of connection and anger over the pandemic.
Yeah. We kind of lost 18 months on one hand, but on the other hand, for me, it was a time of retrospect and just taking a look at where I was in my life and my career and the ability to not be running every five minutes, going from one tour to the next or one music project to the next. So that was a breath of fresh air.
A lot of artists that I've been speaking with have described this period of self-imposed isolation due to COVID as being a very creative time for them. Has it been that way for you?
Yeah, it really has. Nobody saw this coming. I was on a Kasim Sulton's Utopia tour when the country shut down. I'm actually in Chicago right now and this is exactly where I was in March of 2020 when we got the call. We had another six or seven shows to do, we played one more show and then I went home. I wound up staying home for eight months. I was in the midst of a 16 city tour for my own version of Utopia, and it was doing very well. We had just played a sold out show in Chicago and was on our way to Evansville, Illinois. We had to get the okay to do that show from the Mayor and then that was it. I went home the next day.
Kasim, my favorite song on the record is "Her Love Is Sunshine", which is next level Beatle quality and it's appears as the second to last song on the album.
Part of me thought who sits down and listens to a record from track one to track ten or eleven or twelve anymore? No one. Most people just sit down and skip around and put shuffle on their Spotify or Pandora or Apple Music. But to me, being old school, it was really important to sequence the record in a way that told a little bit of a story about the music. So it starts off with a very positive note, with the song "More Love," which is something that everyone can relate to. I hope that if there's any one thing we need in this world right now, it's certainly a little bit more love and that's not only love for our fellow man, but just love in general and then with the next batch of songs I talk about myself for a little while.
So what's the back story behind "Her Love Is Sunshine"?
That was a complete co-write between myself and Phil. It was one of the earlier songs written on the record. The record started in September, October of 2019. I was over in England visiting Phil and just kind of knocking around for a week or two between tours. I went to Phil's studio and he said, "Are you thinking of doing another record anytime soon?" And I was like, "I really haven't really thought about it." And he said, "Do you have any material that you're working on, any songs that you're working on?" I played him a couple of things, maybe two or three ideas. And he said, "Okay, we're starting the record now right now. Let's go." And he comes up with a drum pattern for one of the ideas. And he's like, "Okay, this the first song that we're going to work on. Let's see, what are we doing next?" Phil lit a fire under me to do this. "Her Love Is Sunshine" was one of the first within the first batch of songs that we worked on and it just came about organically. There was a chord change that we came up with, and then of course a little bit of a melody; actually, I think that was one of the first ideas that I brought in.
"Unsung" is another standout. Speaking as someone a part of the music fabric for decades, it's about the unglamorous side of the music business, perhaps what you see through the prism of a rock and roll star is not the real reality. Tell us about the song. Do you feel unsung, do you feel undervalued?
Well, do I feel undervalued? I take poetic license in lyrics all the time. It's tongue in cheek. But wait a second. Who doesn't at some point in their life feel a little bit undervalued? I mean, there are certainly people who walk around as apex predators and think that the sun shines just for them and everyone else just happens to be occupying the space in their world. I brought that song in with no lyrics but just a melody, and the chord changes to Phil. And at that time, I was working on a television pilot with my manager Scott Kushner and Michael Simon for a TV series that was loosely based on someone like me. And I said, "Phil, first of all, the most important thing about the song is that I'm a Sara Bareilles fan and one of my favorite songs that she does is "Love Song," which has the lyrics, "I'm not going to write you a love song". I really related to that because it's very similar in content to the song that I wrote for Utopia, "Set Me Free." She wrote that song because the record company insisted that they needed a love song for her first record. So what did she write? "I'm not going to write you a love song" as a thumbing of her nose at the record company and I wrote "Set Me Free" as a thumbing of my nose to Bearsville Records. "Set Me Free" wasn't as big of a hit, but it was a hit. I really like the way that Sara's song was put together, the way it's arranged with the chord sequence and how it's produced. So I sat down to rewrite that song. That's what songwriters do all the time, they steal. (laughs) And so I brought the song into Phil and as I'm playing him the song, I'm telling him about this television pilot that we're creating, and he puts two and two together and came up with the idea of "Unsung" for the lyric. And so it is somewhat autobiographical, but it's also very tongue in cheek. But there are some truths in the song. I do appreciate the fact that I work with Todd (Rundgren) and I'm on the road paying bills. The bottom line is, I do this not just because I love it, it's how I make a living.
And there's the "Thank God for Rundgren" line.
Yeah. We had a bunch of fans on the background vocals singing "Love Todd Rundgren." You were one of them too. We put about 40 or 50 fans on the record singing that one part. They're all thanked on the record.
Has there been someone in your life that you could always turn to that would always tell you the truth about what you're doing either in your life or your career?

My sister would be the one person who always brings me back to center. I guess in most people's lives, your really good friends want to make you feel good and don't want to necessarily give you the unvarnished, unbleached, unblemished truth because they want you to feel good. So if you ask them, is it black or white? They might say, "Well, it's a little bit of both. There's a little grey in there somewhere." But if you had to ask me, "I'd say it's right down the center." But my sister would always be the person that would say, "You're out of your mind, it's white! What are you, stupid? Don't be ridiculous!" (laughs) So I'd have to credit my sister with being the voice of reason in my life all the time who brings me back to Earth when I might get a little ahead of myself.
Given this interview is for Goldmine, a music collector magazine, what are your thoughts on the resurgence of vinyl? Also, in your formative years, what were the vinyl records that you listened to the most?
I listened to my Led Zeppelin records, Jeff Beck, "Beckola" and a lot of Beatles music, "Rubber Soul," "Sgt. Pepper, for sure, and "The White Album." I remember getting "The White Album" and bringing it home and looking at the poster while I listened to the record. I absolutely love vinyl and I just wish it wasn't so incredibly expensive to produce. Not only is it expensive, but it takes between the time that you put an order in for a couple of 100 vinyl records, two months before you get them back. I did a short run on my last project, which was a live bootleg. We found somebody who had his own lathe and cut 50 records by hand, numbered them and we had pre-orders for those 50 . Unfortunately, it's such a niche market now that it makes it very difficult for an independent artist or a smaller artist to print up 300 vinyl records and hope that you can make your money back on the cost.
Kasim, you took part in a forthcoming tribute to Todd's classic album, Something/Anything overseen by multi-instrumentalist/producer extraordinaire Fernando Perdomo that I contributed a track and in complete transparency, I also had the privilege of singing background vocals on the track you appear on.
Well, first of all, I have to thank you for covering some of the background parts that I didn't have time for. You did a fantastic job and I am honored and proud to have you on that track as well. Fernando is a huge Todd fan. He loves everything Todd. So it made perfect sense that he would put this project together for the 50th anniversary of "Something/Anything," a seminal record by Todd that was really groundbreaking in a lot of respects. So he said, "I'm doing this project, would you consider singing on a song?" There's a few songs on that record that I love. I'm a huge "Marlene" fan. I think that's a beautiful song. Of course, "I Saw the Light" is on that record, and there's a couple of other songs that really are close and dear to my heart. And it's funny, because as a listener, as a music aficionado, there's always one or two songs on a record that hold a little bit more special place in my heart than the others and that's not to say that the others aren't as important to me. There's just one or two, usually on any given record that are like, "Oh, I really like that song. It speaks to my emotions, to my sense of musicality, to me, as a person, to my life." So having said that, there's just something about "The Night the Carousel Burnt Down" that I remember more than anything off of that record. So I said to Fernando, "If I do this, there's only one song that I think I could do justice to" and it was that one. I knew that I had to do a really good job. It wasn't going to be something that I could just throw down in a day and send it off and move on to something else. So I listened to the song. I tried singing it a few times, and then after I got a vocal that I was happy with, I sent it off to Fernando, and he said, "Well, that was a very interesting take on the vocal" and I'm like, "Excuse me, what do you mean?" He's like, "Well, you straightened it out a little bit; Todd did a much more jazzy version but your version was your version." And I kind of got a little weirded out by what he said to me, because on one hand, I wanted to do a strict rendition of Todd's vocal but on the other hand I wanted to do my own version of it. And I think without even realizing it, I sang the song the way I heard it, not the way Todd sang it. I think it's a beautiful piece of music. And you, Fernando, and Ritchie Rubini did a brilliant production on the song. It's a very dense track, and there's a lot of stuff going on in there, and I really have to hand it to them. I've told him this in a couple of phone calls and emails that I was really kind of floored by the production.
Looking back, what was the most rewarding aspect of the Utopia reunion tour?
Sometimes in life, you don't realize what you have until you don't have it anymore. When you're in the midst of something, your main focus is just on that particular moment in time and what you're doing. You don't really have a chance to reflect on it. It wasn't until Utopia took an extremely long sabbatical. I look back on that time in my life, ten years that I spent in the band, and just wished that I would have been a little bit more of a fly on the wall instead of right in the midst of it . So when we got together again in 2018 to do the tour, I was determined to enjoy every second of it. And the best part of that tour was the joy that we brought to the audiences that we played in front of. They were just so hungry for that band to play again. Listen, we're not selling millions of tickets. We're not selling hundreds of thousands of records. We're not breaking box office records and I'm not going home to my mansion in Scarsdale, New York (laughs) but we brought a lot of joy to a lot of people and we provided the soundtrack to a lot of people's lives for a very, very long time, still do to this day, Todd certainly still does. There was something about Utopia that not only was important to a whole bunch of people, but also to musicians that I grew up listening to. When I see Steve Lukather, he's a big fan of mine. I can say that Paul Gilbert is a Utopia fan. Jason Falkner is a Utopia fan. There's a lot of people out there that I consider really important to my musical career that are fans of mine and that says a lot. The Utopia albums are really good records, and I think on a certain level, it's important to keep that music alive and that's part of the reason why I go out with my version of Utopia.
Lastly, tell us more about your new TV project.
It started off as a television project that we were hoping to pitch to some networks like Netflix, Hulu, Apple TV, Amazon or HBO or Showtime. My manager Scott Kushner and Michael Simon decided we would have a lot better chance at raising awareness about something like this if we did a podcast first. So we hired a writing team, some actors and produced six episodes. It's a comedy series podcast that we're going to bring to market next February. It's called "Unsung," loosely based on my life and career, a fictionalized version of myself. It's about a seminal rock musician who has three children and has a heart attack on stage and while he was not there for his family and his kids because he was on the road all the time, he still provided for them and loved them like nobody's business. But now it's their turn to take care of him. It's very funny,  heartwarming, poignant  interesting. We're hoping that we can do a second set of episodes providing that everything goes well with these first.
Kasim Sulton's Utopia shows:
March 1st, Sony Hall NYC
March 2nd, Ardmore Music Hall PA
March 4th, Riverhead Theater, NY

March 7th, Jergles, Warrendale PA

March 8th, Kent Stage, Kent OH

March 10th, Arcada Theater, St. Charles IL

March 11th, Ludlows Garage, Cincinnati OH