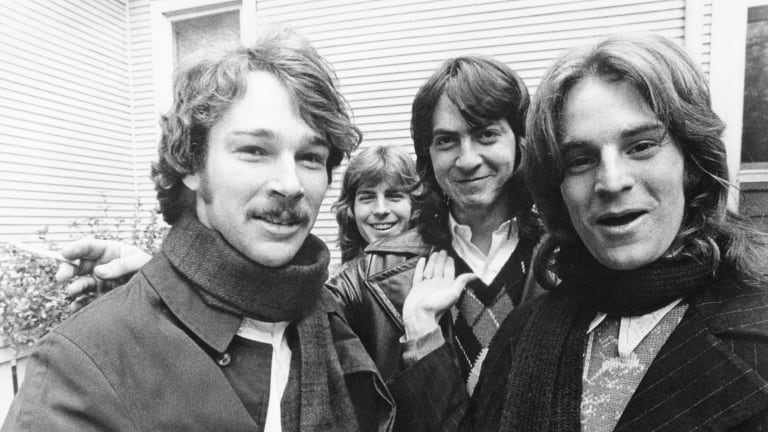 The No. 1 records of Big Star reissued on vinyl
Recent Big Star reissues emphasize the initial energy the band sparked amongst fans. Drummer Jody Stephens shares his thoughts on the band's first two albums.
By Ray Chelstowski
In rock and roll, there are moments when bands poised to break barriers and redefine an era are held back from their destiny because of logistics, promotional neglect, bandwidth, or all of the above. In the early 1970s there was no bigger victim of all three than the band Big Star. What began as a Memphis–based quartet soon became a power trio. They were a group who created a pop rock sound that would frame the musical future of bands like R.E.M. and The Replacements (It's safe to say that Matthew Sweet's 1991 hit record Girlfriend wouldn't exist if it hadn't been for Big Star). Even Paul Stanley of KISS has called them "an early influence." Their moment was brief but lasting.
The Memphis band was formed in 1971 by singer-songwriters Alex Chilton, Chris Bell, drummer Jody Stephens and bassist Andy Hummel. Working with Ardent Records' founder and engineer John Fry, Chilton laid down guitar and vocal tracks — often in one take, while Bell added polish with overdubs and harmonies to songs like "The Ballad of El Goodo," "Thirteen" and "In The Street." #1 Record was released to wide critical acclaim, yet distribution issues severely limited the album's availability in stores. It would sell fewer than 10,000 copies. Things didn't improve with the two releases that followed and the band quickly dissolved.
Since then, awareness of their music has only grown, widening the band's base and spreading their influence. The music they made was expansive, ambitious and anchored in their love for the British Invasion of the 1960s. The bands that lead that charge can regularly be heard within the seams and between the folds of Big Star's infectious production. They were never focused on fame or fortune. Instead, Big Star was a creative hot shop with boundless imagination and a drive to make music that aligned strictly to their personal vision.
Now, Craft Recordings is about to reissue Big Star's first two albums on 180-gram vinyl. It's a Memphis based affair. Jeff Powell at Memphis' Take Out Vinyl conducted an all-analog mastering, and manufacturing is being handled locally at Memphis Record Pressing. This is fitting for a band that is now part of the cultural fabric of Memphis.
Goldmine spoke with Jody Stephens, the last surviving member and the rhythmic heart of Big Star, about this rerelease and what he thinks matters most about the band's enduring legacy.
GM: How do you gauge success with this remaster? What will make you the most happy?
JODY STEPHENS: We continue to build an audience. People continue to be into the music and it gives us a platform to do the "Big Star's Third Live" performances. [Live performances of Big Star's 3rd album.] It also gives a platform for Those Pretty Wrongs with Luther Russell. We released a new album in September with Burger Records. We also did seven dates in England and two in Scotland and it was really enabled by having been in Big Star. It's great to just to continue to play these songs, play them for this community and feel connected. I never attach physical sales or anything to it. It would be awesome if it sold a lot so that Concord (Craft Recordings) will keep doing this and continue to make the music available. That keeps us relevant and maintains our profile.
GM: Were there any demos or alt-takes from these sessions that you thought about adding to this offering?
JS: Well, in terms of box sets we have pretty much exhausted the catalog with demos. I think Concord just wanted to reissue the records in the way they were presented in '72 and '73. That would always be my preference because a lot of people are new to the music. To tell you the truth, it's probably best not to have all of those distractions. If someone gets into the music they can seek out all of those other things online. To see how a song evolves is really cool but to just hear different versions or mixes? I'd rather leave it up to the artist's ear and to what sounded best to them at that moment.
GM: Poor distribution was said to be the principal reason that Big Star didn't get the radio play they deserved. Do you agree?
JS: I think that distribution is a necessary step for all of that. But even if we had the proper distribution in stores who knows what would have happened. I love what we did. It was exciting to me. And that pretty much was enough. If we could have made a career out of it that would have been cool. But as it is we all led really wonderful lives. Andy Hummell figured out that we weren't going to make a career out of it and he went on and finished his degree and raised a great family. Alex got to do whatever Alex wanted to because the music kept finding its way to making money. Just like That '70s Show theme song. "I'm In Love With a Girl" was in Heineken commercials that ran during the Grammys. The latest was that "Thirteen" was picked up by a grocery store chain in France. They did a four minute video that is on YouTube and it's adorable. It's the expensive video that was never made for "Thirteen" and it's actually longer than the original song.
GM: "When My Baby's Beside Me" has everything a hit record needs. It's still surprising that it didn't chart.
JS: I agree. I think (producers) Chris Stamey and Mitch Easter tell their story about hearing that song on the radio in North Carolina and thinking that the rest of the country was hearing it too, that it was a big hit and all. Chris heard it on the radio and had to literally pull off to the side of the road to listen. So at least it had its impact in some of the right places.
GM: Almost 20 years after these Big Star records were released a long line of bands and artists began to successfully mine your signature sound. It's almost as though the market had finally become ready for it.
JS: Yeah, we were lucky on a lot of fronts. John King was the album promotions guy (at Ardent Records) and he made sure the journalists got the record. Then he brought them all to Memphis for a rock writer's convention that we played. It tightened the connection. Then Mike Mills and Peter Buck (R.E.M.) would talk about us. I was a fan of their music. I wasn't much into a lot of '80s music that was on the radio, but I loved R.E.M. Then there was Afghan Whigs, just a lot of really cool bands. It's one of the perks of having been in Big Star. It's an icebreaker and a bridge to meeting a lot of artists that I'm a fan of.
GM: You've been covered by big acts. I'm particularly fond of what the Counting Crows did with "The Ballad of El Goodo." Do you have any favorites?
JS: Yes. Mike Mills did a version of "Jesus Christ" for an R.E.M. Christmas record. Wilco did a great version of "Thirteen" that was really good. Afghan Whigs did a version of "Nighttime" that was pretty awesome.
GM: Your drumming style with Big Star was really intricate and at times complex. What was the biggest difference in drumming here compared to playing with, say, Golden Smog?
JS: Well, there are different songs and different players. I loved playing in Golden Smog — that was so much fun. There's a different tempo with Alex and Chris, especially with Alex, that lends itself to a particular thing. (Producer) John Fry would capture it after we'd do a take. Then we would go into the studio and listen. That would influence the performance. It's not like we did lots of takes. A lot of it's the energy and the way John Fry captured it. I used that same drum kit, that '72 Ludwig set, on the Golden Smog record. We cut it back in studio C with a different engineer. It's just a different sound and a different time. With Big Star I was just trying to do justice to the songs. I loved the way Andy played bass and I loved the way Alex played guitar and my drumming was more of a response to the vocals than anything else. Certainly with the energy from the intro to "September Gurls" and intro "O My Soul," you don't know what you're going to do but it just happens. That's was all dictated by the energy of the guitar. Of course roles changed when Chris (Bell) left because we were all of a sudden a three-piece so it left a lot more room and a lot more space to do things. Alex just wrote these songs where the faster the tempo the less contribution you make other than energy. If you're talking about composition, then the slower the tempo the more thought you can give to the melody of the drum. With "Life Is White" and "September Gurls," their tempos and energies just kind of dictated that.
GM: When you perform as Big Star's Third Live, does having folks like Mike Mills, Chris Stamey and Mitch Easter on board ever make you approach songs differently?
JS: It's Chris Stamey's vision and I think he wanted to be pretty true to the original material. The cool thing is that everybody who comes to the table for this brings the same sort of spirit to it. That in itself kind of helps bring the original spirit to life alive again.
GM: For the person who has never heard of Big Star how would you describe the band's sound?
JS: Wow! How do you describe an emotion — because that's what it is? It's basically capturing an audio explanation of whatever emotion that we all kind of portrayed or felt in those songs. It's very melody oriented, great guitar lines, and I would always mention the sonics that John Fry brought to things. I think that one thing we were good at was capturing a particular sort of way that Alex and Chris were feeling at the time and how they expressed that through their music. I think we all stayed true to that in all of our performances. 
***