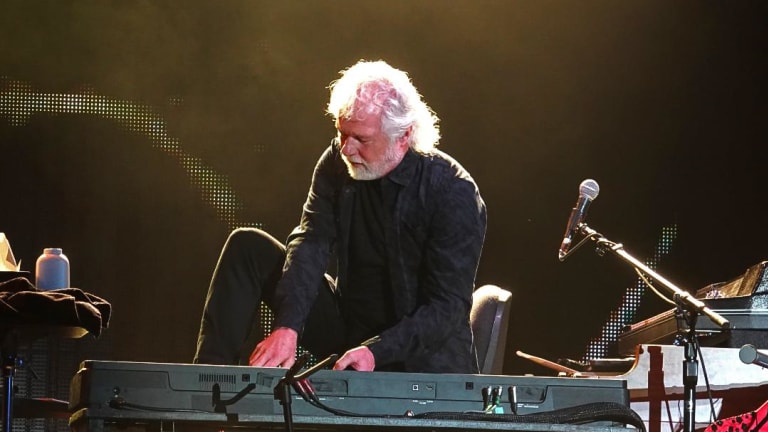 The Rolling Stones (Re)Group
Chuck Leavell gives Goldmine readers an exclusive report on Rolling Stones' rehearsals and the current No Filter tour.
By Ivor Levene
The world was saddened on August 24 to learn of the passing of Charlie Watts.  Although his death was unexpected, his absence from this leg of the No Filter tour was anticipated, giving The Rolling Stones room to make adjustments if needed.  On the day before the Pittsburgh concert date, musical director Chuck Leavell was kind enough to share his recollections on band rehearsals and his thoughts on the future with Goldmine.  
The interview is presented here without any edits.
Goldmine: It's the first day of rehearsals, and you're all meeting for the first time. Can you describe the atmosphere?
Chuck Leavell: I had done a good bit of homework before I arrived. Listening back to some of the huge body of work, practicing on technique to get my chops up, listening to some live versions of songs we've played through the years. And don't forget that for me it is almost 40 years that I've worked with these guys. I had also gone back to look at the setlists from the last tour as well as the setlists from the cities we would be playing in the last time we played them. All of that helps me to prepare for the rehearsals. So, I had a pretty high confidence level going in. Of course, we all knew that there would be adjustments with Steve Jordan coming in on drums. But Steve pretty much knows the Stones book anyway, and what bits he would have to work on, I knew he would be a quick study.
The overall feeling was a combination of sadness losing Charlie…of course, we knew Steve would be on this tour prior to Charlie's passing…and that Charlie had given him his blessing to take the chair. But at least for me, I did not anticipate that Charlie was going to die. I had been told that there was a high percentage that he would recover…but that it would take time. So to start the rehearsals within a couple of days of the news was certainly an emotional thing for all of us. I've said many times that Charlie Watts would never want to be the reason the Stones would stop…so there was also a feeling of honoring Charlie by all of us doing the best we can…to really work to make the band tight, to work on everything…the arrangements, the dynamics, the sounds of our instruments, the interaction between all of us. Every aspect of the performance. But in addition to those thoughts going in, there was the feeling of joy that we could finally get together again as a band…and as friends…to share what we've been doing since we were apart…to share time both in rehearsals and in-between…and after rehearsals…and to get to play these awesome songs again. And also to grieve together at the loss of Charlie while celebrating him at the same time.
GM: Keith had been working with Steve Jordan prior to rehearsals, what did they work on?
CL: Well, I wasn't there…but I'm sure it was a matter of picking certain songs and just going for it…as well as perhaps listening to some of the original recordings of some of the tunes. Also, at some point, Bernard Fowler came in, which no doubt helped immensely. No doubt also an exercise to work on chops.
GM: Rehearsals in Boston went quite a bit longer than normal, didn't they?
CL: Maybe a bit longer…not a whole lot. We took weekends off, working five days a week, probably six or so hours a day. We didn't want to try and cram it all into a short period of time and risk a bit of burn-out…so we took our time, explored probably eighty or so songs during the process…and we wanted to make sure we were having fun and taking time to enjoy what we were going through.
GM: What changes in orchestration had to be made? For instance, the tempo change during Midnight Rambler, where Keith used to signal Charlie.
CL: Some of those things took repetition to get comfortable and right. We would discuss the issues…then go through it and play…and do it again, leave it for a day or two, come back to it. It was a process, but the more we did it, the more comfortable we all were with the fine points of the arrangements.
GM: How many songs were rehearsed?
CL: At least the eighty I mentioned earlier…and there were some jams of old blues numbers and such. I remember at one point Darryl starting the riff of "I Want To Thank You", the Sly Stone song…we all joined in and started playing it…and Mick quickly looked up the lyrics on his iPad to sing it. Those were very fun moments and raised the "joy factor" from time to time.
GM: Did Steve have to adjust his style at all? Was there any attempt made to emulate Charlie?
CL: Steve worked his ass off. He recorded every song every day on his iPhone and would go back after rehearsals and listen for hours. He would also reference the original or live recordings of the songs…comparing how they have changed and developed over the decades. He has to be his own man, and he is…but he honors Charlie's parts and his spirit with love and respect. In my mind, there is no one else that would be better in that seat. Plus, he's a great guy…fun, and funny, so he fits in nicely in terms of personality. He also is displaying a certain reverence and humility in his role. And don't forget that we've worked with Steve through the years…Keith with him in The Winos, me and Keith with him on the Chuck Berry "Hail, Hail Rock and Roll" film, and some other sessions through the years.
GM: You mentioned that you did three days of full rehearsals, can you elaborate on that? How does it differ from the regular rehearsals?
CL: Well, what I was referring to was production rehearsals on the big stage. Before that, we did the private show in Boston for Robert Kraft's birthday…that was a great exercise. Sort of like the old days when we would do a club show before a tour. After the Kraft gig, we transferred to St. Louis, where the big stage had been set up. So, for three days we had the opportunity to get re-familiarized with what it is like to work on it, with the lights and other production aspects. The first two days, we went through some of the songs we thought we needed to review that would eventually make it into the set, as well as touching on an icon or two. On the third day, we did a full run-through of the set we had put together. We wound up making a couple of small changes to the setlist for the actual show after that…but the bottom line is that we did our best to use the time wisely to make that first show have a strong impact. I think it worked…
GM: What changes (if any) did you have to make as Musical Director, to accommodate Steve Jordan?
CL: Steve was so prepared that I didn't have to do much in that regard. But I did make some comments along the way…about dynamics here and there…intros, tempos, breakdown sections, and such. He also took direction from everyone…Mick, Keith, Ronnie…Darryl. It was a very comfortable situation and he always listened to the comments with an open mind and with heart and soul. You see…with Charlie, he often wasn't sure when certain parts of the songs would be in the arrangements…might not be sure about certain endings and such…so I would give him lots of cues…hand signals and such. But Steve has a great capacity to memorize these things, so I don't have to do much of that with him. It makes my job easier…but at the same time, it is just in my DNA after all these years to still look over that way and make motions every now and then. Old habits die hard sometimes.
GM: There are usually people who stop by the rehearsals. Who stopped by this time?
CL: No one, really…just our crew and staff, mainly due to our Covid Lockdown. Everyone…band, principals, staff, crew, and any family are tested twice a week and discouraged from going out much or bringing anyone into our bubble. Much like the major sports teams have done. We have doctors, nurses, a Covid compliance person, and medical equipment with us…we don't allow anyone backstage on this tour…and we can't mingle with our guests as we have done in the past. Very strict protocols in place…all very necessary to make sure we get through this run smoothly, without negative incidence. It makes things very different, but in some ways, it brings us together as a unit, not just the band, but all in our entourage. So while it is sometimes frustrating, it has its upsides. Main thing is Safety First.
GM: Overall, what differences has Steve Jordan brought to the band. Many are saying that the band sounds invigorated. Were there any songs rehearsed that were particularly difficult?
CL: I think invigorated is a good word. Steve has a more aggressive style. His timing and technique are excellent…and he is an intense musician. We have all been grateful to have him with us…and we are all pulling for him…and he is pulling for us. So the bottom line is that we are adjusting to him and him to us. So far it is working really, really well. I can't think of any songs that have been "difficult" for him or for the rest of us…there have been some songs that required more work and repetition than others, but at the end of the day, once we have the arrangements down, we can just relax and go for it.
   -----
As Musical Director for The Rolling Stones, Chuck plays a pivotal role within the band, both onstage and off.  He keeps detailed notes on every song played at every concert going back more than forty years.  The band depends on him for a multitude of tasks, and he handles all of them with aplomb and grace. As Steve Jordan was hand-picked by Charlie, Chuck Leavell was hand-picked by Ian Stewart, a founding member of the band.  His importance cannot be overstated.
GM: "19th Nervous Breakdown" seems to be getting more airtime, any reason this song was chosen?
CL: We have tried it in rehearsals in the past, but it never quite jelled. Steve plays it very strongly…and helps all of us to make it a bit more "punk"…Charlie would not have been able to put that element in, as he was more of a jazzer. Of course, Charlie's original part on the record is wonderful, and Steve takes elements from that and sort of embellishes them. Keith and Ronnie worked hard to get the guitar parts down and the rest of us found parts to play that worked. It's nice to have an iconic number that we have hardly done in the past and makes it fun for the fans.
GM: Did Charlie have any favorite songs he loved playing?
CL: Oh, I think he loved playing all of them…and I wouldn't want to try and read his mind to say which ones he liked over others. He did his best on all of them.
GM: Will there be any showcasing of Tattoo You songs due to the 40th-anniversary release?
CL: We've already introduced "Trouble's A Comin'" in Charlotte…stay tuned for other possibilities.
GM: During Keith's mini-set, are the song choices determined in the same manner as the other songs played? Does he reference your book of songs?
CL: Keith always chooses what he wants and we all do our best to support him.
On touring during a global pandemic, Leavell had this to say:
GM: How is life on the road during Covid? I've heard that "the bubble" has been very restrictive in order to protect the band.
CL: It does make it very different, as I referred to earlier. But this is a very high stakes situation, and we all have to be extra careful and make sure we do the due diligence to follow the protocols. Everyone out here "gets it" and we are all cooperating with each other to stay safe and keep the train on the tracks.
GM: You normally enjoy being a tourist while the band is on the road, has that changed because of Covid?
CL: Absolutely. We don't go out as before. When we do have the occasional dinner outside our hotel, we are careful not to be in a place too crowded, and masked up anytime we go out. I can do things like find a nice park to walk through, or just walk the streets as long as it's not too crowded. But I try not to have interactions with friends on this run outside our bubble…even if they are double vaxed. As we know, breakthrough cases do happen. My wife had a breakthrough case. It does take some of the fun out of touring to have to be in this lockdown situation…and I have to fight the boredom sometimes on the off days. But I have a pretty good keyboard in my room, and my electric mandola with me…and I like watching sports, so I tune into the football and baseball games…and the occasional soccer game or tennis. My Crimson Tide has been rolling nicely this season so far…
GM: Were there any directives from management to the band concerning masks, vaccinations, or social distancing?
CL: Yes, as described in the previous answers, we are very "Covid Aware" and have had written information in addition to having had some meetings concerning the risks and procedures. The goal is to hunker down, put on the best shows possible, and get to Austin without any major problems. I believe we can, and that we will, but only if we follow these rules, protocols and use common sense. We all love what we do so much and are acutely aware of what it takes to make this tour happen all the way to the finish line.
See Chuck's documentary, "Chuck Leavell: The Tree Man", available on Amazon Prime and most all streaming services: https://www.chuckleavellthetreeman.com/
For an in-depth look at Chuck Leavell and his legacy, please visit https://www.goldminemag.com/interviews/rolling-stones-pianist-chuck-leavell-explores-his-roots