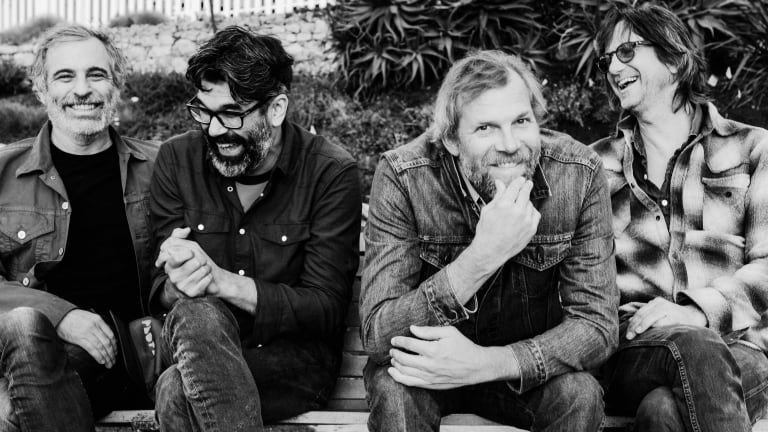 Thirty years with the Mother Hips
Popular West Coast band Mother Hips reissues their entire studio catalog on vinyl for the first time.
By Bill Kopp
Some artists have made a successful career out of establishing a signature sound and then sticking with it over the course of their entire catalog. Other artists take a potentially riskier approach, following their muse wherever it takes them. The latter description certainly fits Northern California group the Mother Hips: across 10 studio albums, the group have recorded and released music that can be variously described as alternative rock, jam, folk rock, psychedelic, Americana and even power pop. And along the way, the Mother Hips have built and cultivated a loyal fan base.
Last year marked the 30th anniversary of the band's formation in Chico, California. In the absence of a tour — the COVID-19 pandemic made that impossible — the band instead launched a reissue campaign in February; the entire catalog will be reissued one title per month. And for the first time, the band's albums are being pressed onto vinyl.
Guitarist, vocalist and songwriter Tim Bluhm addresses the point about the Mother Hips' ongoing stylistic metamorphosis. "Some bands have had a lot of success making the same records over and over again," he observes, "once the label and the band have found an equation that is successful." He chuckles when he explains that the Mother Hips "definitely found some equations that were successful, but none of them were commercially successful."
And perhaps counter-intuitively, that lack of major commercial success brought with it a kind of creative freedom. "I think that (commercially) successful bands can get pigeonholed," Bluhm says, "because it makes money for everybody. And that's understandable." The Mother Hips exercised the latitude that their comparatively under-the-radar status provided.
Having explained some of the motivation for changing things up from album to album, Bluhm good-naturedly goes on to refute the basic point. "We've always pretty much just played whatever was in our heads," he says, "but I personally don't think (our style) has varied all that much through the years."
The fact is, when the Mother Hips recorded their debut album, 1992's Back to the Grotto, most of the members were barely out of their teenage years. "We probably didn't think we were 'just kids,'" Bluhm says with a laugh. "But we didn't know anything about making records, or really even about being in bands, other than just watching famous bands and admiring them from afar." In Chico — which at the time had a population of around 45,000 — the band was disconnected from the larger musical world. "We really didn't have a lot of people around us who had more experience than we did," Bluhm says. "So we were just making a record that was extremely isolated, and unique because of that."
But despite — of perhaps in part because of — the band members' tender years and relative isolation, songs like "Hey Emilie," the opening track on that debut LP, have worn well, with a breezy, easygoing character that showcases the band's assets. Inspired playing, an arrangement that builds from gentle folkiness to swaggering arena rock, and tight vocal harmonies are hallmarks of the tune. And those fundamental musical qualities would characterize the majority of the Mother Hips' subsequent work.
Greg Loiacono founded the band with Bluhm; the lineup would change over time, and today they're the only founding members still in the group. Loiacono doesn't look back at the Mother Hips' body of work as the product of any sort of plan, much less a grand design. "I can remember going into each record — or at least quite a few of them — thinking, 'We should do this kind of thing,' or, 'This one's going to really rock,'" he says. But as the writing and recording got underway, the music sometimes seemed to have ideas of its own.
"Inevitably," Loiacono observes, "it just morphs into whatever is happening, whatever is coming out of us in the moment." He laughs when he predicts that the Mother Hips will probably never make a concept album. Each record, he says, "takes on its own life. We don't know what it's going to end up being."
Bluhm concedes that the Mother Hips fan base isn't as large as the following of some other groups, but he believes that their followers' loyalty more than makes up for their numbers. "They're very dedicated to what we do," he says. But that doesn't mean that they accept everything uncritically. "We get feedback from them about what they like," he says, "and what they don't like. They're very vocal." And that feedback isn't ignored. Bluhm says that fan reaction influences the Mother Hips' musical direction "probably more than we realize."
Yet it's not as if the band are conducting focus groups to figure out what creative avenues to pursue on each successive album. The reality is more subtle and nuanced. Loaicono says that in part, the Mother Hips sometimes use their live performances as a testing ground for new ideas. "Especially early on when we were on the road so much, our sound checks were rehearsals for new material," he explains. "Then, we'd play a lot of those new songs live, before we'd record them." By the time the band arrived at a studio session, the nature of the songs had been influenced by the crowds' reaction to them.
"There are songs that we started playing live," Loaicono says, "and we'd realize, 'Oh, well: The way that started wasn't great. We need to figure out a better intro.' The crowd gave us in-time feedback."
"You can tell right away when the crowd isn't into something that they're hearing," Bluhm says. That kind of real-time quality control is something that the Mother Hips take seriously. And because of live performance being sidelined for a year and counting, "we don't really have that any more, right now," Bluhm says. "Nobody does."
Touring the country for years affected the kind of music that the Mother Hips would go on to make. So, too, did a move in the '90s from Chico to the vibrant cultural hub of San Francisco. But relocating to the big city didn't change things that much. "The road was really our home," Loiacono says. "When we'd come home to San Francisco, it was only for maybe a week or two at a time. Since we started touring, we were just 'in the machine.' "
Bluhm agrees. "We were traveling so much," he says, "and we were at that age where the whole concept of living somewhere and having a home had no significance; it didn't really matter." He says that most of the factors that influence the kind of music he writes came to him early. "Some strong threads keep showing up, and I think that they come from the music that we worshiped when we were forming our musical identities." He chuckles as he makes an admission: "I still try to copy the same songs that I was trying to copy when I was 20 years old!"
But San Francisco did widen the band's perspective. "We've never been a super social band," Loiacono admits. "But we met a lot of people there. We made some really good musical friends. It felt like we were part of something larger than our little Chico bubble."
Very early on, the band caught the attention of producer and label head Rick Rubin; he signed the Mother Hips to his American Recordings label, which would release 1995's Part-Timer Goes Full and 1996's Shootout. "That was definitely the first — and arguably the most important — push we ever had in our careers," Bluhm says.
With the benefit of hindsight, Bluhm says that he and his bandmates "didn't even realize how big of a deal it was. We didn't have the perspective," he explains. "We just started a band, made a record, and got signed to a major label. We were just like, 'Oh, cool! That was easy.' We didn't have an idea of how rare or valuable that opportunity was." American Recordings gave the Mother Hips significant tour support. "They also gave us some pretty healthy recording budgets to make those two records," Bluhm says. "We reached a lot of people. That's really what took us out of our little regional bubble."
Another turning point followed on the heels of the American Recordings deal. The Mother Hips were added to the H.O.R.D.E. tour lineup, bringing their music to an even wider audience. The band would take part in two H.O.R.D.E. tours in 1994 and '95. Loiacono and Bluhm recall being thrilled to be on the same bill with The Black Crowes, Sheryl Crow, Wilco and Blues Traveler.
"We started in Wisconsin and ended near San Francisco at the Shoreline Amphitheater," Bluhm recalls. "And by that time, we were headlining the side stage. It was a big moment for us: a lot of people say that's the first time they saw us."
In 2007, around the time of the release of their seventh album, Kiss the Crystal Flake, the Mother Hips launched a festival of their own. In collaboration with Britt Govea of music events coordinators FolkYEAH, they debuted the Hipnic Festival in Big Sur. Focusing on rock, folk and psychedelic music, Hypnic combines the eclecticism of a large festival with the intimacy of a family get-together. "That's always been a special thing about it," Loaicono says. "Every year it gets bigger and better, but it doesn't get much beyond 400-500 people, including the bands." Due to the pandemic, the 2020 festival didn't happen, but with a bit of luck, this year's Hipnic is scheduled for late September.
It hasn't been all good news for the band, though. Along with the good, the Mother Hips have endured their share of setbacks. "If you're in a band 30 years, sh*t's going to happen," Loaicono says. "Hiatuses, kids, marriages, divorces and everything else." In 2015, Tim Bluhm suffered a hang-gliding accident. That led to a succession of hospital stays, one lasting 62 days. "There were times when we weren't sure if he was going to make it," Loaicono says.
"That was unfortunate from several angles," Blum says with understatement. "We basically had to stop touring for a year, which was not ideal." But today he places the incident into a larger perspective. "Historically, when we've taken breaks — which we've done a couple times — it kind of resets everything," he says. "We usually come back stronger than before. So it's not all bad."
The album-reissue project has been keeping the band members busy. Blue Rose Music has licensed the albums from their original labels, and proceeds from vinyl reissues will benefit the affiliated Blue Rose Foundation. Bluhm explains that that organization "puts on charity events to raise money for disadvantaged preschool-age children so they can get scholarships to go to preschool."
Taking full advantage of time off the road, the Mother Hips have been doing more than overseeing the reissue of their back catalog. They've also been writing and recording an album of new material, scheduled for release later this year. And Loiacono emphasizes that the let's-see-where-it-goes approach they've followed on previous releases remains their standard operating procedure. "We're in it right now," he says. "And it's always cool, because we really don't know where it's going to go."
On the occasion of the Mother Hips' 30th anniversary, it makes sense to screen a little video made in 1992, A Hot Lunch with the Mother Hips. That short film captures the original band in the moments before they broke out with their debut record. "We all have that experience of going back and looking at old photographs and stuff," Bluhm says. Doing that brings back the feelings of that time. "There's a sense of discovery; everything around you is brand new, and that's what youth is."
Loaicono agrees, and he looks back at those flickering images with a sense of wonder. "It was such a different world," he says. "Every place we went to was all about music, whether we had a show or not. We were just constantly absorbed in that world; that's all we did."
Thirty years on, the Mother Hips still aim to capture that magic in their lives and music. "Us old people are always trying to figure out, 'It used to be magic! Where is it? We can get it!' " Bluhm says with a knowing laugh. "Mostly, it's right there when you look at those old pictures and those old videos, we were just in it. And we've all been there, all of us."