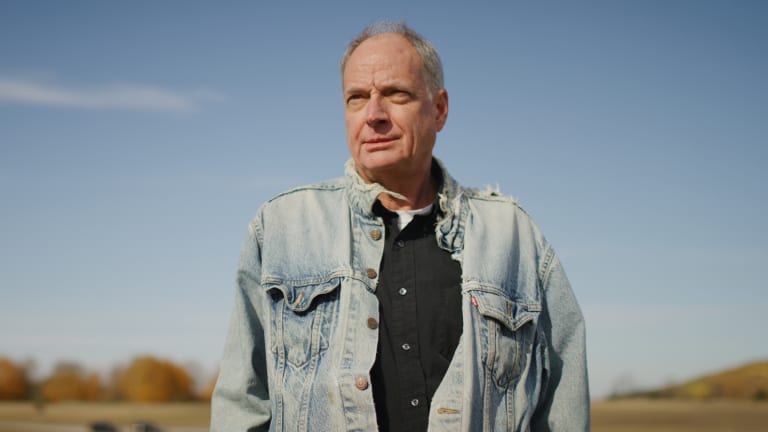 Tobin Sprout looks to spread hope and redemption with the new album "Empty Horses"
"Empty Horses" is an album that Tobin Sprout hopes will ignite a search to find the better person in all of us.
By Alan Brostoff
Founder of the new wave '80s band fig.4 and former member of American indie rockers Guided By Voices, guitarist/vocalist Tobin Sprout releases his 7th studio album, Empty Horses, in September 2020.
Via Fire Records, the LP and CD of Empty Horses comes with a 24-page book of photos, lyrics and Sprout's own paintings. It's an album filled with dark, thoughtful music that should please Sprout's supporters and die-hard Guided By Voices fans.
Sprout answered Goldmine's questions about Empty Horses and record collecting in the following Q&A.
GOLDMINE: Your new album, Empty Horses, comes out on September 18 and is being released in several formats, some of which have already sold out before the release date. How involved were you in the creation of the different packaging formats? 
TOBIN SPROUT: I simply delivered the artwork to Fire Records, and they put it all together. It was their idea to make the book with my artwork for the CD, and to sell a limited-edition print of one of them. They did a beautiful job with the packaging. I think it turned out really nice.
GM: The albums first song, "Wings Prelude," starts with a single note that just hangs there and really helps create a mysterious tone to the song, what is the thought that you want people to take away from this album? 
TS: Redemption maybe; the search to find the better person in us. I am relatively happy and thankful for where I have taken my life. But it's a series of ups and downs. It's a rather dark album, but I think it has a light at the end of the tunnel. It's sad, but hopeful, too, in a very melancholy way.
GM: Where did the name Empty Horses come from? 
TS: It came from the song, "Empty Horses." I recorded some chords on the guitar, and then just threw lyrics and melody at it. Very train of thought. It came together very quickly. I went back in and rewrote a few lines and it was finished. Empty Horses was just something that came to mind as I was singing it. It was one of those songs I was just fooling around with, never intended to use, but after hearing it back I began to like it more and more.
GM: You have been playing music since the '80s with fig. 4 and Guided By Voices, as well as many solo albums. What has changed about music for you during those years? What has stayed the same? 
TS: I think my lyrics have changed. I've been writing more personal lyrics lately, as in, "Every Sweet Soul" and "Breaking Down," where before I was writing more stories. "Inside the Blockhouse" and "Hit Junky Dives," for example. I seem to be writing in a more traditional form, something I think I started doing on Moonflower Plastic. Traditional in that they are songs I can just sit down and play at the piano. Not really written to play as a band. Although some do work out well with the band. I think I still write the same way. I spending a week just trying to write and getting Ideas down. Through the week I flesh them out, tossing the ones that just don't work, then rewriting and rewriting.
GM: Do you have a record collection? 
TS: I do, but I sold about half of it a year or so ago. Just wanted to purge some of the records I really don't play anymore.
GM: Any gem that you are looking for to add to your collection? 
TS: Unicorn, an album produced by David Gilmour. He (Gilmour) did a cover of one of their songs, "No Way Out of Here".
GM: Do you have any favorite record stores that you like to visit? 
TS: Yes, RPM in Traverse City. A great store for vinyl LPs and 45s. They also have vintage stereos, posters and collectibles. And they buy vinyl.
"I send my best to all the clubs and those in the business, and hope they can survive and have a speedy return." —Tobin Sprout
GM: What bands are you listening to? 
TS: The last album I bought was Phoebe Bridgers' Punisher. Really good. I love "Moon Song" and "Graceland Too" off that album. Also been listening a bit to War On Drugs and Kurt Vile. Great guitar work on both of those.
GM: Any new or exciting endeavors you have discovered during this Covid-19 time? 
TS: Wouldn't say exciting, but with the down time I have been able to make some serious repairs to my house. Other than that, I have always worked from home, so lockdown hasn't changed much in the way I work. But it has put a delay on performing live. I send my best to all the clubs and those in the business, and hope they can survive and have a speedy return.
GM: Are you planning on touring to support this record once Covid passes? 
TS: Yes, we have a few shows lined up: January 8, 2021 at The Listening Room in Grand Rapids, Mi; January 9 at the Yellow Cab in Dayton, Oh; January 14 at Berlin in New York City and January 16 at Johnny Brenda's in Philadelphia. Should be more to come, God willing.
RELATED CONTENT:
Check out Goldmine's Modern Rock In Motion column