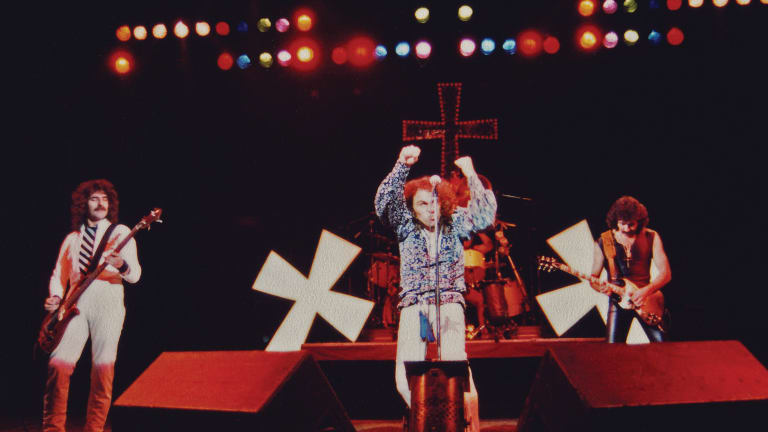 Tony Iommi and Geezer Butler recall the Dio Years
With the release of "Heaven and Hell" and "The Mob Rules" in deluxe-edition formats, guitarist Tony Iommi and bassist Geezer Butler recollect how vocalist Ronnie James Dio reinvigorated the band upon joining in 1979.
By Martin Popoff
''The music you listened to when you were 16 stays with you all your life."
I've heard variations on that corollary so many times, it's gotta have a load of truth in it. Yet there are always certain albums that transcend fans' "point of entry" with a band (to quote the mighty Judas Priest), and Black Sabbath's Heaven and Hell is one of those records. In other words, I'm coming around to the reality — from having polled readers of my books over the years (including three on the Sabs) — that pretty soon Heaven and Hell is going to regularly win the ranking wars as the greatest Black Sabbath album of all time, despite it not being one of the first eight with Ozzy Osbourne, indeed despite the fact that Sabbath's recording career spans 50 years of such potential introduction points to this band of Birmingham, England, legends.
Of course, what happened with Sabbath at this time is that Osbourne was replaced by ex-Rainbow druid of doom Ronnie James Dio, issuing Heaven and Hell in 1980 and Mob Rules in 1981 (also rising fast in these polls), a pair of records celebrated now 40 years later in deluxe-edition format through Warner/Rhino.
There are no crazy non-LP studio tracks added to these expanded reissues, but we do get mono edits, remixes, both versions of "The Mob Rules" (album version and the earlier take from the Heavy Metal soundtrack album), plus a plethora of previously released and previously unreleased live tracks. Of particular scholarly interest is the Heaven and Hell reissue, which allows one to quickly compare what these songs sounded like with Bill Ward drumming as well as with his replacement Vinny Appice, who is also the drummer on the Mob Rules studio album and all the live material attached to the makeover version of that monster record.
To take you back, in 1980, something called the New Wave of British Heavy Metal was raising the stakes for the music that Osbourne, Ward, Tony Iommi and Geezer Butler had invented through the issue of Black Sabbath one Friday the 13th in February 1970. Fortunately, after two commercial duds with Osbourne, the band were about to deliver an immediate rush of recorded adrenaline that could compete with the headbanged fare of any young upstarts who would dare question the continued relevance of the undisputed masters of metal.
"Once Ronnie came into the fold, we had a different voice all together," begins Iommi, underscoring the freshness of Black Sabbath 2.0. "It encouraged us to write in a different way, really. The whole field was open again to trying different things. Ronnie could sort of adapt, with his voice, and it created a different vibe altogether and started us off writing some different new material. We had been in a bit of a doldrums. Once Ronnie got involved, it made us work and made us think more about what we were going to do. And he was encouraging us to do more. It was really refreshing."
"It was obvious that Sabbath needed a change," says Butler. "It felt like the original lineup had to come to an end. By the end of the '70s, it just wasn't happening together. Ozzy was really unhappy doing stuff, I was thinking about leaving, and the record company seemed to have lost interest in us. It either needed to completely split up or get somebody else in that was into what we were doing."
And to be sure, the most pertinent puzzle piece was Dio, the ex-Rainbow singer from upstate New York, but another addition to the team was producer Martin Birch, also of Rainbow fame and, previous to that, Deep Purple fame.
"We definitely needed a producer," agrees Butler. "We tried to produce ourselves, and it was a bit of a disaster. The Never Say Die album was all over the place. There was like some instrumental that should've had vocals on it, and we just needed someone to come in and listen to what we were doing and give us a direction, which is what Martin Birch brought. Especially having a new singer. When Ronnie came in, we didn't really know how Ronnie used to work. And he had done stuff with Martin Birch before and really liked him. So it was good to have somebody from the outside come in and see what this new lineup had."
As Iommi puts it, Birch was "somebody to come in and take the reins, really. But we worked together, because there are certain ways of recording Sabbath that Martin really didn't know, particularly with Geezer's bass sound. Martin was a great engineer/producer and I said to Martin — because he would go for a regular bass sound — 'Well, no, Sabbath is not a regular bass sound. Geezer's sound is raunchier.' Because over the years you always get those engineers that we've worked with that have gone, 'Oh, the guitar is a bit distorted' or 'The bass is distorted.' I'd always have to say, 'I know, but that's part of the sound. You don't listen to them individually. You listen to them as a band altogether and it blends in, and that's part of our sound.' And it was much the same with Martin, and then he said, 'Oh, yeah, it really does work.' "
This turned out to be the key to Heaven and Hell's success, the application of this quite uncommonly tight, bright, midrange-heavy sound, a meeting of the minds, as can be heard instantly when opener "Neon Knights" explodes from the speakers, the band off to the races en route to "Children of the Sea," "Lady Evil" and the epic title track — and that's just side one.
Speaking of "Neon Knights," Iommi says that, "The thing with Ronnie was, you could do some up-tempo stuff, because he was able to; he was good at the up-tempo stuff as well, as was Ozzy in the early days. Also, Ronnie would really be up for you doing guitar solos. It wasn't like, 'Oh, we don't need a guitar solo.' He used to encourage me to play as well as write in a different way. To me, the album was tighter and more professional, with more excitement to what we had done before."
"Yeah, like Tony says, fast songs are harder to write than slower songs," explains Butler. "Some fast songs can turn really corny if you don't do them right. So yeah, Ronnie encouraged us to do that. 'Neon Knights' and 'Die Young' were both quite fast. But I love 'Lonely is the Word.' It's fun to play bass on that one. 'Walk Away'… that was an ironic title, because I left the band. (laughs). That was the song we were doing when I had to go back to England. 'Wishing Well' wasn't one of our greatest but it was good."
Heaven and Hell was recorded in Miami, with the band staying at Barry Gibb's house. One of the reasons for the move across the country was that in L.A., the record company kept pressuring Iommi to bring music over and they weren't getting any done — this was still when they were trying to make it work with Osbourne. The other reason was that Don Arden "had a certain reputation," as Butler says, and when they decided to move on with Dio, Arden was not happy, calling all the time and forcing the guys out of the band house — this was after first surprising the guys by having the furniture removed.
"We used to see Barry a lot," recalls Iommi, about better times in Florida, "because we were working in Criteria, and Barry was working in Criteria as well. One time we bought this blow-up doll, and we filled it with helium and we were going outside to launch it. Of course, The Bee Gees, Barry, was working there, and they'd come out and wonder what was going on. And there's this thing floating up in the air, this blow-up doll."
As Butler recalls the incident, "Andy Gibb used to come into the studio, and he brought this laughing gas with him, and we were all like messing about with this laughing gas. His lips turned purple. (laughs) And I can't remember who it was, but somebody brought a blow-up doll, and we filled it with this laughing gas and let it go, and there was this doll hovering over Miami."
Plus, Dio would cook for the guys. "He wouldn't cook for me, because I'm vegan," laughs Butler. "I wouldn't have taken anything off him when he had already been cooking meat. I'd make my own stuff. I've been vegetarian since I was a kid, and I turned vegan, 30, 40 years ago."
But among the gang staying at the house, Iommi says, "Ronnie was the cook, all the time. It's quite funny, actually; we had some great laughs. He'd be standing in the kitchen there in his shorts with his little thin legs, cooking a curry or doing some pasta or something. He loved it and we loved it too; it was a great atmosphere, really."
Heaven and Hell would become both a commercial and critical success, as was the ensuing tour, although partway through, Ward bolted, leaving Appice to take over. "Bill wouldn't fly," says Butler, "and he just got in his Winnebago during the night and pissed off without telling anybody. His brother used to drive him around, and he was really bad on booze at the time. You know, he was making wrong decisions that he regretted later. We didn't have time to think. It was like a panicky situation. But Vinny knew most of the songs anyway, and he worked miracles, really. He only had a couple of days to rehearse before we had to go to Hawaii and play to like 30,000 people in the football stadium there."
Another big shift at this time was the fact that Butler was no longer writing Black Sabbath's lyrics. "Oh, I was just really glad to have somebody else do the lyrics," he explains. "I heard Ronnie's lyrics, and it's nothing like I'd write. I felt like I'd come to the end of my lyrics, on the Never Say Die album, I just had nothing else to write about. So it was an incredible relief to have somebody come in and do that. His stuff, I think it's more fantasy and dragons and all that kind of stuff. Mine was more a lot of politics and everyday occurrences, while his were more surreal and out of this world kind of thing. When it came to the second album, the only thing that was said to him was like, no rainbows and no dragons. (laughs) That was it. He got the message and did what he did."
Mob Rules, issued November 4, 1981, would be certified gold in the U.S., and it would be the last studio album for the band — until a reunion that resulted in 1992's Dehumanizer, plus more reunion work years after that.
Explains Iommi on this second collaboration, "The actual first thing we came up with was the track 'The Mob Rules,' which we did at John Lennon's house, for the Heavy Metal movie. That was sort of the basis of it. Once we'd done that, we went to L.A. and then started writing Mob Rules. It took us a while, but there were a lot of different ideas coming out. We wanted to do more of a heavier song on it as well, so we did 'Sign of the Southern Cross,' which I really liked."
Then there was "Country Girl." Laughs Iommi, "At the time it was, 'Oh, "Country Girl," that sounds a bit wimpy,' sort of thing, for that riff. That's one we actually did moan about. I remember Geezer going, 'You can't … you know, that's crap.' But of course it ended up being on there, because we had the riff and it's quite a heavy riff. But when Ronnie goes, 'Fell in love with a country girl,' it's a bit like one of these beer-drinking songs. But we went over it and we liked it in the end, even though it was a problem at first.
" 'Slipping Away'… I think the thing was that with these albums, whatever we'd come up with, if we liked it, we would do it, whether it was in context with the rest of the stuff or not. That's always been our thing anyway, with Sabbath. We always ended up putting something on that doesn't sound like it goes with this album. How we looked on it, it's Sabbath doing it, so it's a Black Sabbath song. And 'Slipping Away' was one of those."
Laughs Butler, "The title 'Country Girl' sounded like, I don't know, Johnny Cash or something. Anyway, 'Sign of the Southern Cross' is probably my favorite, because I was using new bass pedals on that. When we toured Japan on the Heaven and Hell tour, I got this Yamaha prototype pedal board. And I used that on 'Sign of the Southern Cross,' and they never manufactured that pedal board — that was the only one. Of course, it got stolen somewhere along the way.
"With Heaven and Hell I used minimal equipment," continues Butler. "Because we did that in Miami, and the guys had already put most of the tracks down without me. Because I had left the band for a time. I came back and so I used minimal stuff. And Mob Rules, I used like half the stage set. (laughs) Which is a stupid thing to do, looking back on it. It took me like 10 days to get a decent bass sound."
As for the new drummer, "Vinny was like, straight. He had done quite a lot of session work and had been with other bands, so he was really professional. He would just get on with it, whereas Bill at that time, he was drunk and everything. Bill was an incredible drummer, and more of a percussionist, you would say. He used to like adding bits in there, which is great, but Vinny was more straightforward.
"But yes," continues Butler, "the biggest problem was getting the same sound from the Heavy Metal version of 'The Mob Rules,' the bass sound on that, and finally really liking the guitar sounds. We had just used beat-up old amps. We came up with 'The Mob Rules' in a couple of days and laid it down at John Lennon's place, and I was using this, like, little Italian bass amp, or bass combo. It was a really good sound. And when we got to Los Angeles to do the album, Martin Birch said we had to rerecord 'The Mob Rules' because it didn't match up with the rest of the album's sound, and it took us ages to get as good a recording as the Heavy Metal soundtrack."
As mentioned, both versions of this rough 'n' raucous classic are included on the new reissue, not to mention a 2021 mix of the song — plus a couple of live renditions, one from the Hammersmith Odeon on New Year's Eve 1981 and one from four months later in Portland, Oregon.
Across town in the competing Osbourne camp, things were looking promising with two hit albums. But then tragedy struck the heavy metal world when the band's guitarist, Randy Rhoads, was killed in an on-tour fly-by prank on March 19, 1982. Recalls Butler, "The only time we thought about Ozzy was when Randy got killed in the air crash. We were in the hotel on tour, and it came on the radio: 'Members of Ozzy Osbourne's band killed in a plane crash.' And we all panicked and called the management, his management, and they said it was Randy that got killed and Ozzy was OK. We were on tour somewhere in America. I don't think any of us ever met Randy."
Post-Mob Rules, Black Sabbath would issue a double live album called Live Evil before Dio would bolt for a successful solo career with his band Dio, kicked off with the release of Holy Diver. But the collaboration that produced the classic monoliths that are Heaven and Hell and Mob Rules was to resume, first, with 1992's Dehumanizer and second, with a rechristening of the band as Heaven & Hell. This magical situation was to produce singer Dio's swansong recordings before his death from cancer May 16, 2010, namely a crushing studio album called The Devil You Know, buttressed by extensive touring and the documenting of those dates across two live albums. It was a majestic coda on one of the most accomplished careers in all of heavy metal. If you want to see where it first started, check out his three studio albums with Rainbow — in particular Rising and Long Live Rock 'n' Roll — but if you want to see where Ronnie came into his own, these deluxe editions of Heaven and Hell and Mob Rules are where you need to be.