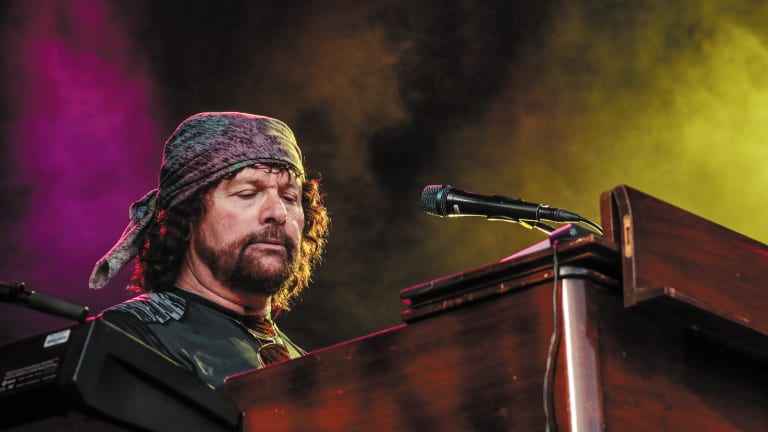 Vanilla Fudge's Mark Stein stays true to himself with solo album
As a forefather of a heavy psychedelic rock sound, keyboardist Mark Stein left a formidable impression and lingering influence on other rock and roll luminaries. Now, with his latest album, 'There's a Light, he bares his soul on relevant topics and delivers music with a powerfully passionate punch.
By Lee Zimmerman
Few musicians can claim as prodigious a career as Mark Stein. Even aside from his tenure at the helm of of the '60s proto/prog hard rock Vanilla Fudge, he can list a lengthy string of credits and accomplishments working alongside such superstars as Dave Mason, Ted Nugent, Tommy Bolin and Alice Cooper, among the many, while also leaving a formidable impression and lingering influence on others, including Led Zeppelin, Uriah Heep, Styx, Yes and Deep Purple.
The Fudge made their mark early with a daringly dramatic version of The Supremes hit "You Keep Me Hangin' On," as well as covers of such Beatles classics as "Eleanor Rigby" and "Ticket to Ride." Although the band broke up for the first time in 1970, the members have reunited several times since, including the occasion for their induction into the Long Island Music Hall of Fame in 2006. They've been touring ever since.
Stein himself continues to stay busy, with and without Vanilla Fudge. He released his first solo album, White Magik, in 2003, followed by his 2011 autobiography, You Keep Me Hangin' On. After a sizable delay, he's now finally offered up a much-delayed sophomore effort, There's a Light, a set of songs that holds to the Fudge tradition of offering up distinctive covers ("Ball of Confusion," "People Got to Be Free," "America the Beautiful") and seven originals that deal with a common theme, that is, the trouble and turmoil that's gripped this nation in recent years.
Being the multitasker that he is, he's also celebrating a series of singles that includes classic covers from the Zeppelin catalog, all culled from the band's 2007 album tribute titled Out Through the In Door.
Goldmine had the chance to catch up with Stein from his home in Florida, offering an opportunity for him to elaborate on his various projects and his history in general.
GOLDMINE: Where is the divide between what you do as a solo artist and what you might do with the Fudge?
MARK STEIN: The paths do cross. They always will. Everybody in the band does solo things and play with different people. But the foundation is always the band. Everybody always kind of comes back to the mothership.
GM: You yourself have played with a lot of people, but in fact, this is really only your second solo album.
MS: It's getting really great reviews. It's a collection of songs I put together over the last few years to reflect my patriotism and love of country and comments on some social issues. And it all came together with a common thread that includes a spiritual side to it as well.
GM: What's striking about There's a Light is that fact that it's a positive call to action, but it's not overtly political, which is kind of unique these days considering how everybody's either on one side or the other in terms of the divide.
MS: There were some people that thought some of the songs were really controversial, the songs "Racism" and "All Lives Matter," and "We Are One" in particular. I've had to explain the meaning of those to some people,
GM: How so?
MS: "All Lives Matter" was a little controversial, because when people say "black lives matter" or "blue lives matter," well, the fact is, white lives matter, too. All lives matter. Some of my African American fans reached out to me in the beginning and said, "Well, you don't understand. Black Lives Matter, the organization, is what we stand for." And I said, "Well, what you're talking about is a political thing. I'm talking about this in a rational, inoffensive spiritual sense. I'm saying, all lives matter to God. He's our creator." Then they said, "Oh, I never thought of it that way." I'm glad that maybe they could see the other side of the fence after they began to understand where I was coming from.
GM: It's clear that if you look at all the songs as a whole and the overall context in general, the overriding message you convey is one of unity and peace. For example, you do a great cover of The Rascals song, "People Got to Be Free." That really puts everything into perspective. It goes to the same theme.
MS: I was gonna do a video for the song "Racism," but the people I had involved all kind of converged on me and said they didn't want to do it. They said people would come to the shows with signs and say I was a racist and all of that stuff. So I finally said, "Well, I'm not gonna do it." But now, a couple years later, it's a different vibe. Now all of a sudden, it makes more sense.
GM: Again, it fits into the context of the album. Your final song of the set is this stirring version of "America the Beautiful," so how much clearer can the message be? That wraps things up perfectly.
MS: Exactly. I did "America the Beautiful" in what I like to call a Ray Charles-inspired blues approach. It's got Jim Campagnola doing a real soulful sax part and Jimmy Haslip, the Grammy-winning bass player, played on it along with a bunch of other great players. You're right: I think it does pull the whole album together. This is still the greatest country in the world. America is beautiful now and always will be. Even though we're going through an incredible divide politically, and with health issues and with economics, we'll survive and move forward.
GM: "America the Beautiful" was on your first album, White Magik, but many people never had a chance to hear that one.
MS: I'm promoting this record as my first solo album. It's the first one released on a real label (Deko), so this has been sort of like a reintroduction.
GM: So too, maybe this is a first introduction to you as a solo artist at this point.
MS: I've written lots of songs and I've recorded a lot of them. So for this album, I wanted to do them in my own way.
GM: You do a cover of that great soul classic "Ball of Confusion" by The Temptations. That goes back to your roots, when Vanilla Fudge had its first hit with "You Keep Me Hangin' On." You've taken the same treatment, that anthemic approach, and transformed it entirely.
MS: I produced that arrangement of "Ball of Confusion" for a soundtrack for a movie called Rockin' the Wall, a really cool documentary which examines the fall of the Berlin Wall and the downfall of communism through rock music. It's pretty cool. So when I was looking for tracks to do a whole album, that was one of the songs that was in there, and it seemed to fit the theme of the album as a whole. "Ball of Confusion" is just as relevant today as it was in the '70s.
GM: You could say the same thing about "People Got to Be Free," and you certainly do an amazing version of that amazing song as well. How you came to choose that particular song?
MS: I also did that for the Rockin' the Wall documentary. I didn't really do it differently than Felix (Cavaliere) and The Rascals did it. I just did it with a little more power to it. I also put a little bit of a gospel approach to it.
GM: That's your trademark. You take these classic songs, and you make them into anthems in a way, and it makes it an entirely different piece. A lot of people do covers, but they'd probably love a lesson in how to do a song and not make it just sound like a cover, but instead, an entirely original song. What do you do to bring it out in that way and give it an entirely new identity?
MS: Reimagining other people's songs always came naturally to me when I was a kid. In a sense it's kind of like writing. It's like rewriting the arrangements, rewriting the song, but not rewriting the lyrics, but instead, rewriting the whole musical approach to the lyrics. I've always had that ability.
GM: You're a brave soul because you've been able to tackle Beatle songs with the Fudge. That certainly takes some daring. It's a high bar. Your version of "Eleanor Rigby" was one of those examples early on.
MS: I've heard that from other people, too. There was a podcast that I did, and they actually asked me about that. We never looked at it like that. We never felt like, oh, we shouldn't even fool around with a Beatles song. We never had that fear, because we knew we weren't gonna do it the same way. We had our own ideas. Like with "Eleanor Rigby"… we took that song and completely slowed it down and made it a drama, made it into a play, and took a very airy approach to the lyrics. George Harrison was really impressed by the way we did that and also the way we did "Ticket to Ride." He played it for people all over England. Jimi Hendrix used to do the same thing.

GM: Those are some pretty impressive people to have touted your records.
MS: Ironically, we went on to tour with Hendrix in '68. We did about 15 shows with him.
GM: Did you realize at the time that you were making history, and that you were a part of that history, part of this amazing movement in rock and music in general?
MS: I didn't at the time. We were just excited to be part of the pop scene. It takes a lot of time to look back in retrospect to see the reality of what was really happening a half a century ago. We were just out there doing our thing and becoming a part of the pop culture. I was such a big fan of all the groups that we got to meet, and they became fans of ours around the music and our musical style. So it was really cool. And we definitely were right there at the center of the pop music universe at that time, which was really a blessing in itself.
GM: But do you ever think, "I can't believe I was there. I can't believe I did what I did."
MS: I'm constantly reminded about it from other people like yourself and a lot of journalists. It forces me to go back in time and relive a lot of that stuff. And as I said, it really was pretty amazing to have lived that life and to be part of all that music.
GM: Did you have classical training early on? Your imaginative arrangements might suggest that you did. You seem to have a knack for incorporating some really symphonic sounds.
MS: No, I didn't, but I love listening to movie soundtracks. Back in those days, I would listen to to the soundtracks for films like Goldfinger and Ben-Hur and The Ten Commandments. I used to love the majesty and all the power and the beauty of it all. So that had something to do with the way I brought all these dynamic approaches to the table in those days. If you listen to our version of "Eleanor Rigby," I actually took some of the lines from the Goldfinger soundtrack and I slowed it down. Some people accused me of plagiarism, but I just believe that I'm a product of my influences.
GM: To be able to add these elements in and bend the boundaries in the way that you have is certainly pretty awesome. And you've had a tremendous influence on so many other people — like Deep Purple's Jon Lord, who credited you as such.
MS: He was a great rock organist and an accomplished keyboardist as well. He also was a very private person, but he agreed to do an interview for my book (You Keep Me Hangin' On). He was all set to do it and then apparently he started getting ill. He never did get to do the interview, and then he died from from cancer, which was a sad thing.
GM: Your influence can also be heard in bands like ELO and Strawbs, and all these other bands that had these magnificent arrangements applied to rock melodies that helped the songs soar skyward.
MS: We dared to be different. I think we broke the mold that way. Jimmy Pankow from Chicago told us he used to listen to Vanilla Fudge and it gave them the balls to be experimental in (their) own way. Obviously, we didn't sound anything like Chicago, or vice versa, but they felt like we had given them the freedom to be experimental. Chicago was breaking the boundaries. Thank God for the advent of underground radio and the FM stations. Because in the beginning, you couldn't get a song played on the radio if it was more than two minutes and 50 seconds long, or maybe three minutes tops. So thank goodness for underground radio stations like WABC-FM in New York with Scott Muni and Alison Steele, who was known as "The Nightbird." They would play us all the time. There was no limit on the length of the song. It just played off your creativity and they let it flow and let people hear it. And that spread to all the underground stations in L.A. and Chicago, San Francisco and New York. It opened up all the doors.

GM: You must have some great memories.
MS: Yeah man, it was magic. I'd go to a place called the Avalon Ballroom in San Francisco or the Fillmore West in San Francisco and hear a band like Moby Grape. They had three guitar players in that band and a big hit called "Omaha." Then I saw the amazing Janis Joplin before anyone had really discovered her. She was up there onstage with Big Brother and The Holding Company. They were just about to break. I guess they already did with the Monterey Pop Festival, but I saw her before she was any kind of commercial entity.
GM: After you had your big hit with "You Keep Me Hangin' On," did you ever get any reaction from The Supremes? Did they have anything to say about your version of their song?
MS: Supposedly Lamont Dozier and Brian and Eddie Holland, the writers of the song, said that ours was their favorite version. I ran into Mary Wilson of The Supremes at the American Music Awards in L.A. in the mid-'80s. I went up and introduced myself and we started talking. She was really sweet. I'm so sorry that she passed on. She was a beautiful lady. I asked her what she was doing and she told me, "Well, I'm actually trying to get back into the business." Then all of a sudden the Mary Wilson show was on the road and was doing really well. She got herself back into to the circus. She was doing great again. It was really cool.
GM: Are you looking forward to getting back on the road again?
MS: We were on the road; we did a bunch of shows with Robby Krieger from The Doors. We'll be back out again in 2022.