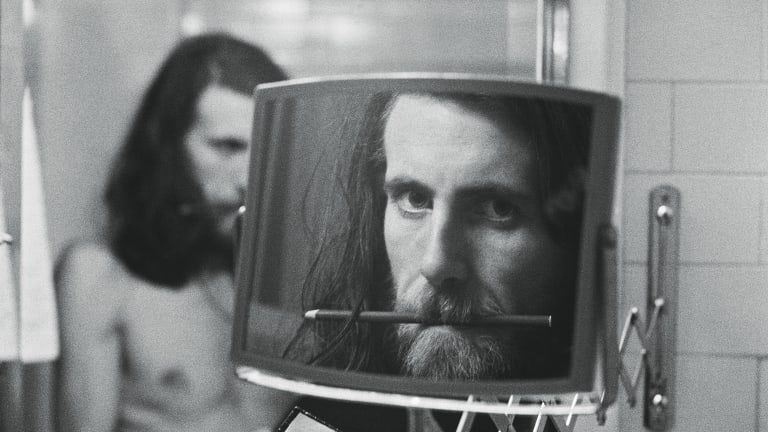 View Graham Nash's photos, with added insights on Laurel Canyon, Hollies, more
A striking book of photos finds the one-time Hollie and the 'N' in CSN and CSNY reflecting on music, memories and an ongoing love for photography
Graham Nash's Life In Focus is available in the Goldmine shop
By Lee Zimmerman
One would be hard pressed to name an artist who's seen firsthand the trajectory of rock from the '60s through the present than Graham Nash. Given the vital role he's personally played in that evolution, he can also be credited with helping to maintain the musical momentum to a great degree. From his earliest efforts with The Hollies, a band that proudly served at the forefront of the British Invasion while contributing their own abundance of hits, to prominent residency in Laurel Canyon and one of the very first bona fide supergroups, Crosby, Stills and Nash, he's practically seen it all.
"I'm a very lucky boy," he says somewhat modestly, eschewing any bragging rights that would otherwise be his due.
In fact, he has plenty of kudos and credentials he could lean on, including a two-time induction into the Rock and Roll Hall of Fame (for both The Hollies and CSN), double honors from the Songwriters Hall of Fame (as a solo artist and contributor to CSN), a Grammy nod, his honors by Queen Elizabeth II as an Officer of the Most Excellent Order of the British Empire, and a New York Times bestselling author for his autobiography Wild Tales. It's also clear from conversation that as he approaches 80, he has no intention of slowing down anytime soon. His latest album, 2016's This Path Tonight, makes that assumption perfectly clear.
Indeed, Nash's talent seems unbounded. In addition to his exceptional skills as a singer, songwriter and musician, he's a gifted photographer who first became enamored with that visual ability at age 10, when he first began taking photos, and then continued through his decades of touring as he documented his efforts with camera in hand.
Which brings us to Nash's latest offering, A Life in Focus: The Photography of Graham Nash. A sumptuous coffee table book of photos taken by Nash, as well as those shared by his friend and colleague Joel Bernstein, it offers intimate images of the artists he's worked with and the memorable events that he's been such an integral part of. The photos are accompanied by his personal reflections, giving an added intimacy to this exclusive collection of photographs and stills.
Goldmine was given the opportunity to speak to Nash about this project, which also offered him a chance to reminisce about various other events that occurred in a life so well lived.

GOLDMINE: You're a renaissance man, Mr. Nash. There's no other way to put it precisely.
GRAHAM NASH: I appreciate that because this book absolutely shares some of my favorite periods of my life.
GM: So how did you go about choosing the photos you used for this book? And how long did that process take?
GN: About seven months.
GM: When you began assembling this book, did you call Joel Bernstein or any other members of your inner circle to help make the decisions on which photos to use?
GN: Not on the choices of the images. That was between the director of the company and me. Joel and Cameron Crowe were most generous with their words in the book. I always get a little nervous about what people will say, but nobody slagged me off. So that was all right.

GM: Well, sir, at this point in your career, the prospect of you being slagged off is pretty remote.
GN: It is, but I'm always expecting it.
GM: You still retain a little bit of insecurity, even after all that you've accomplished?
GN: Oh, yes, of course. You never know how you're doing. You write a song like "Teach your Children" and figure, "Well, that's a pretty little song," but I must tell you the first time that I ever played it for Stephen (Stills), after I finished the song, he looked at me and said, "That's a really good song. Don't ever play it like that again. You sound like Henry the Eighth." He played my song back to me with that beautiful, right-hand picking style that Stephen is so well known for. And obviously he turned my Henry the Eighth song into something special.
GM: I guess when you have a combination of individuals with so many different talents and skill sets, that's all part of the input.
GN: And don't forget, you still have to listen. At least I listened to Stephen and at least I didn't get upset that he didn't like the way I sang my song. So when he played it back to me, it was obvious that that's the way that song should go. And of course, (Jerry) Garcia put in his pedal steel on our record for the very first time. It was fabulous.
GM: The Déjà Vu box set is so remarkable because we get to hear many of those songs in their seminal states.
GN: The truth is that normally, under normal circumstances, you would never hear anything like that. But when we were doing the Déjà Vu box set, I wanted to put stuff in there that the people who loved us would be really happy to see and hear. I thought that they would really like to hear Joni and I singing "Our House" for the first time. Normally, you would never hear that. But in this particular case, it was perfect for that box.
GM: Speaking of which, it seems like you've taken the lead in curating those CSN and CSNY boxes. You even oversaw Stills' box set at one point. That's pretty impressive that you were the one charged with that responsibility.
GN: Well, the truth is, they trust me. They chose me to make sure that I showed them in the best possible light. Stephen trusted me to do his 4-CD box. David (Crosby) trusted me to do his, and then of course, I did my own. I did them with Joel Bernstein and Stanley Johnston, our engineer who unfortunately passed away two or three years ago.
GM: Are you a nostalgic individual? I mean, when you look at these photos and when you do the box sets and you go back through your own history, is there a whiff of nostalgia that's present due to those endeavors?
GN: I think that we did decent work. Yes, we argued with each other, particularly during CSNY. Of course we did. Did we ever stab each other in the back? Slightly, but it's totally unimportant to me. The only important thing is, what sort of music did we make? How did we make people feel? Did we make people think? Did we make people smile? I'm very proud of what we did.

GM: Can we assume you felt the same way about The Hollies?
GN: Somebody just sent me 60 songs The Hollies did on the BBC. In the early '60s, those BBC engineers were unbelievably great. They were able to capture the sound of our songs live. It's not like you can get halfway through the first verse and forget the words and stop. It's live on the BBC. And so you've got to keep going, and those 60 songs sound fantastic.
GM: It's always incredible to hear those BBC recordings, particularly with the band like The Hollies who had those immaculate harmonies. It's still so precise, and it's remarkable that you could duplicate that in the studio setting straight through.
GN: In answer to your question, do I feel nostalgic, yes, I do. But there's a lot of pride in what I do. I never want to piss people off. I never want to make them feel bad. I have a lot of stuff in my life that I can show people that will make their lives a little better, or at least I hope so.
GM: Well, the fact is, and it's no exaggeration to say this, but you have been an integral part of the soundtrack of our lives. And at the same time, you have witnessed the transformation of popular music, from the '60s to the present, beginning with that fabled era in England during the '60s, when the British Invasion was taking root, and then continuing through the Laurel Canyon era, which was transformative as well. Are you ever in awe of what you've done and what you've witnessed? Can you ever separate yourself from that and look back at it and say, "Wow, that was me. I can't believe it'
GN: Yeah, there's a lot of things in my life where I go, "Wow." When Paul (McCartney) called me and said, "Hey, we're doing this worldwide live broadcast thing at Abbey Road," which they did for "All You Need Is Love," and he asked, "Do you want to come down?" Yes, there have been some incredible moments in my life, like singing "Happy Birthday" to Bill Clinton on the lawn of the White House. Getting the chance to sing with The Everly Brothers, who were my heroes. Being given the OBE by Her Majesty (Queen Elizabeth II). Standing in Buckingham Palace talking to the queen, and thinking how unbelievably proud my parents would be had they been alive.
GM: So, with this book, when you look at these photos, do they literally bring you back to the time and place where the photos were taken? Or do you look at some of them and think, "I don't remember that."
GN: No, I remember every one of them. I've spent my life with images and music, and yeah, I'm just amazed at what my life has been so far.
GM: And clearly, it doesn't seem like you're ready to quit anytime soon. Still, it's amazing in that you've accomplished so much and been present in so many of these special moments, and yet, you don't take any of it for granted. You still seem to possess that wonder.
GN: Yeah, I've always been a curious man about the world. When I wrote Wild Tales, my autobiography, I did a book tour in Manchester. I was sitting at the desk and people would line up and I'd sign the book. This lad comes up to me, and he gives me this eight-and-a-half by 11-inch manila envelope. And then he said, "You need this." I said, "Really? What is it?" He said, "I'm not telling you, but open it up when you get back to the hotel." Wow, that was kind of weird. So I said, OK, and I gave it (to) my roadie to make sure that I got it. When I got back to the hotel, I opened up this mysterious envelope and inside was my school report card from when I was 11.
GM: Wow! How did he get that?
GN: I have no idea, but the very first comment by a teacher was "This boy wants to know everything."
GM: How wonderful to have your life so well documented, especially with these wonderful photos. How precious is that?
GN: As I said, I'm a lucky man.
GM: Not only did you have the talent and the passion for the photography, but you also had the foresight to capture those special moments. Were you aware at the time that these events would become so significant?
GN: I was too busy enjoying the moment. We were all too busy enjoying what we were doing. Every day was another piece of magic. You know, we'd be making Déjà Vu and Neil (Young) would come up and he goes, "Hey, have you heard this? 'Helpless'?" And I remember going to Stephen and saying, you know, we don't have a "Suite: Judy Blue Eyes" on here. So he says, "I know. We used it on the first record." I said, "No, no, no, you misunderstand me. We don't have that kind of a song, where you can guarantee that no one is going to get up and take the needle off the record. We need an opening song like that." Two days later, he comes to me and he goes, "Hey, what about this?"
GM: In addition to the photos you took, there are also photos taken of you by Joel Bernstein. So when you look back at these photos of yourself, are you able to connect to the young man that you were in those pictures?
GN: I'm still waiting to grow up! It's astounding. I still have so much stuff to do. I still have so much music to make and so many images to show. I better get on with my life.
GM: Ultimately, what a joy it must be to be able to share your life like you have with this book.
GN: My dad would be proud.
GM: I would imagine. So when you got your first camera at the age of 10, you jumped into it immediately, correct?
GN: I saw the magic. I was moved by the magic when you when you put a blank piece of paper into a colorless liquid and then wait 30 seconds and see this image appear from out of nowhere. That's magic. I'll never forget that moment.

GM: What is the earliest photo in the book?
GN: The image I shot of my mother when I was 11.
GM: Did you ever consider becoming a professional photographer as opposed to making music?
GN: No, no, no. Music took me by the balls.
GM: You've always been a strong activist for any number of important causes. What is your latest crusade?
GN: We still have to fight the nuclear industry, to keep making sure that people understand what exactly it is, and what's going on with all these people who say, "Well, now we should use the small nukes, because they're much safer." We really have no choice but to continue that fight.
The entire interview with Graham Nash can be read in the Feb/Mar 2022 cover date of Goldmine's print edition, available in the Goldmine shop (below). It covers more of Nash's passions and a separate discussion about Hollies bandmate/friend Allan Clarke, with more of Nash's wonderful photographs.