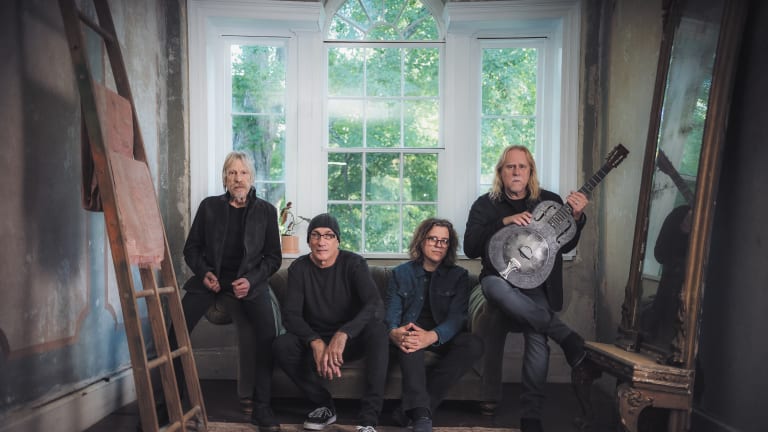 Warren Haynes and Gov't Mule deliver electrifying takes on blues standards
Guitarist Warren Haynes released an electrifying album with his band Gov't Mule. "Heavy Load Blues" delivers brilliant takes on blues standards.
By Ray Chelstowski
Warren Haynes is known in the music world for a good many things. The first is his tireless commitment to being on the road and performing in front of audiences. He is also regarded as one of the most accomplished performers of music made famous by others. His live tributes to classic records like Joe Cocker's Mad Dogs & Englishmen are heralded for their precision to detail and subtle interpretations.
The pandemic halted his ability to stay in front of audiences. But it also afforded him the time he needed to dedicate himself to a project he has been kicking around for years. The result is the brilliant blues album Heavy Load Blues. Recorded with his band Gov't Mule, the album delivers electrifying takes on blues standards like the Junior Wells classic "Snatch It Back and Hold It." The album was recorded live in the studio at The Power Station New England. It was laid down on analog tape, utilizing vintage guitars, amps and other equipment in an effort to capture the most authentic sound possible. Across 13 tracks of covers and original songs, Haynes and the band deliver a world-class musical experience. Throughout, the sound is fresh and unfolds as a balanced bag of fun. Long regarded as one of rocks great custodians, Haynes delivers another master class in musical history.
Goldmine spoke with Haynes about the process of making this record, what songs inspired him the most and why, as well as what song was the most difficult to get his arms around for a tribute show and if another Allman Brothers Band alumni reunion might be possible down the road.
GOLDMINE: This record reminds me of Johnny Winter's album Nothin' But the Blues. I know he was an influence. Did that record inspire you?
WARREN HAYNES: I heard it a little. I listened mostly to his earlier work. I stopped keeping up with his music somewhere around the time that the album Saints & Sinners came out. From the beginning up until that point, I followed him pretty closely.
GM: The Mule have always had one foot in the blues. Why was this the right time to dive in with both feet?
WH: I have been thinking and talking about it for years. But I didn't know if it was going to be a solo record or a Mule record. When the idea of doing a new record came up, our manager suggested doing one that was all blues. I thought it was a really cool idea, but at the same time, I had written a ton of songs during the COVID lockdown. I wanted to make a new Mule record as well, so I suggested that we do two records at the same time. We had all of this time on our hands because we couldn't go on tour, so we decided to move forward. We looked for a place where we could have two different setups in the same building and be able to bounce back and forth from recording a Mule record to recording a blues record. And we did. We found The Power Station New England. There was a big room where we set up to do the Mule record. Then there's an adjoining smaller room where we set up completely different gear. It had a low ceiling, so we used small amps and a small drum kit. Every day we would record Mule songs, and when it got late, we'd move over to the blues room and record blues. It was fantastic.
GM: The promotional video for the record shows a lot of vintage gear. Is that all from your own collection?
WH: We brought it all in. That studio is only a little more than an hour from my house, so we got a truck and brought tons of gear – things we use onstage and a lot of my collection of guitars and amps. A lot of those guitars and amps I had never used in a recording session, and it frankly was a good time to go through everything and see what was working and what wasn't. The last time we used the Mule gear was in Jamaica. It was outdoors and there was a lot of rain, so we didn't really know if it would all work properly.
GM: What guitar got most attention in these sessions?
WH: I used a lot of different guitars, especially for the blues record. But everything I used on the blues record is completely different than what I used on the Mule record. There were, however, a few items that overlapped. My 1959 Les Paul and my 1961 Gibson 335 were used on both records. I did bring out this old Supro that didn't wind up on the record. But I loved the way it sounded and look forward to recording with it in the future.
GM: What song here has been with you the longest?
WH: "Feel Like Breaking Up Somebody's Home" is the only song that we had played live prior to recording. I wanted this to be all new stuff. But we had worked up a special version of that song over the years. The first version I had ever heard of the song was by Johnny Adams. Our version is kind of a hodgepodge of many. On the bonus tracks we did a version of the Muddy Waters' song "Long Distance Call" and one of the Willie Dixon songs, "You Know My Love," that both go way, way back for me. But on the main CD, "I Asked for Water," that Howlin' Wolf tune is one I have loved forever.
GM: Bobby Bland's "Ain't No Love in the Heart of the City" is the only track that's close to the original. Why?
WH: I love that Bobby Blue Bland feel so much. The song "Hole in My Soul," an original song, kind of goes for that Bobby Blue Bland feel as well. I wanted to keep "Ain't No Love" more traditional, however, the guitar solo at the end is a little more overdriven and "blues rock" than most of the record. In general, I tended to go for cleaner, more authentic sounds throughout.
GM: On "Snatch It Back and Hold It," you don't include any harp. How much do you feel like you need to tip your hat to original artists like Junior Wells?
WH: Well, I think that the vocals are very influenced by Junior, and the guitar playing is influenced by Buddy Guy's style. I kinda like the idea of it being stripped down like it is. I'm a big fan of that record, and Junior in general. That version segues into this instrumental called "Hold It Back," which is very psychedelic and funky. It's an odd juxtaposition of styles, really.
GM: You've famously covered rock classics like Mad Dogs & Englishmen wire to wire. Is there a blues record that you'd consider giving a live tribute to?
WH: A few years ago we did what we called "The Three Kings." We did a B.B. King set, a Freddie King set and an Albert King set. That was really cool. I would even consider going back and remixing it. The only thing available now is the original live mix. If I were to cover an album like that, Live Wire/ Blues Power by Albert King would be great. Freddie King's Burglar is as well.
GM: In these tribute shows what's the song that has been the hardest to get your arms around?
WH: I think when we covered Led Zeppelin's "Achilles Last Stand." It's pretty complex, and we probably could have used more time to let it soak in. I was happy with the version we did, but we were sweatin' it up to the very last minute.
GM: You've headed out on tour with Trombone Shorty. How did that come about?
WH: We've done some stuff in the past. I played on one of his records, and he's been to Christmas Jam. We've been onstage together many times. It's an interesting pairing because we have different audiences that overlap a little bit. I think that it's a cool combination.
GM: You were booked for the Willie Nelson outlaw tour. How do you decide who to collaborate with?
WH: I like to be involved with packages where the musicians, artists and bands do what's in their heart. I love anybody that doesn't second guess what they think the audience expects from them or tries to change their approach to records. Music with integrity should be important in this day and age. I pride myself with being involved with a lot of people who are keeping that philosophy alive, and I'm fortunate to be around a lot of amazing artists that just do what is in their heart.
GM: The Brothers' 50th anniversary concert was a magical night. Is there any chance you and the guys might take that out on the road?
WH: Well, it was intended to be a one-time thing. I know that we all had a blast doing it. For me it was a beautiful and extremely special night. I don't really foresee us doing it again, but I've learned to never say never. 
Keep up to date on Warren Haynes/Gov't Mule tour dates!
RELATED CONTENT:  When Warren Haynes made his bow to The Band